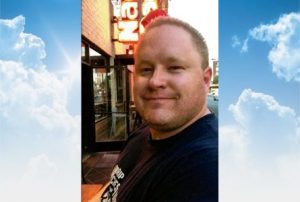 A memorial mass for Kyle G. Foster, 43, Tucson, AZ formerly of Sanborn, ND will be on September 13, 2019 at 10:30 AM in Sacred Heart Catholic Church, Sanborn.
Visitation will be held at the church on Thursday from 5-7 with a prayer service beginning at 7:00. Kyle passed away on Friday, September 6, 2019.
Kyle Gene Foster was born March 27, 1976 to Bruce and Cheryl (Hesch) Foster at Mercy Hospital in Valley City, ND. Kyle attended school at North Central of Barnes where he graduated in 1994. After graduating high school, Kyle enlisted in the United States Air Force where he served his country for seven years before being medically discharged. Kyle then went to the University of Phoenix and earned his Bachelor of Science in Information Technologies. He worked for First Magnus Financial Corporation and the University of Arizona.
Kyle enjoyed spending time with his wife and daughter, friends and family, he loved playing with his dogs, but most importantly just loved relaxing in the comfort of his home.
Kyle is survived by his wife, Michelle; daughter, Jade; parents, Bruce and Cheryl; sister, Morgan; mothers-in-law, Pat Perkins and Susan Mendel; father-in-law, Harry Mendel; brothers-in-law, Michael Mendel and Cody Perkins; nieces, Evie and Ruby; godparents, Larry Hesch and Mary (Foster) Jones; his dog, Hercules; and several friends and family members.
Kyle was preceded in death by his grandparents, Roscoe and Eunice Foster and Garvis and Bernice Hesch; uncle, Robert Foster; and several great aunts, uncles, cousins and friends.
Kyle and his brother, Jeremie were called Home together. Brothers and best friends in life, now together for all eternity.
Lerud Mathias Funeral Home is assisting Kyle's family with arrangements. An online guestbook is available at www.lerudschuldt.com