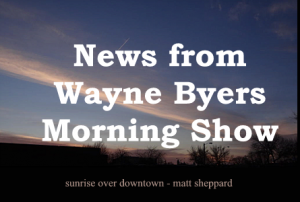 CSi Weather… UPDATE
REST OF TODAY.. Mostly cloudy. Highs in the upper 60s. Northwest winds 5 to 10 mph. Highs in the upper 60s. Northwest winds 5 to 10 mph.
.TONIGHT…Cloudy with chance of rain showers and slight chance
of thunderstorms. Lows in the lower 50s. Northeast winds 5 to
10 mph. Chance of precipitation 40 percent in the Jamestown area, 50 percent in the Valley City area.
.WEDNESDAY…Cloudy. Chance of rain showers and slight chance of
thunderstorms in the morning, then rain showers likely and slight
chance of thunderstorms in the afternoon. Highs in the lower 60s.
Northeast winds 10 to 20 mph. Chance of precipitation 60 percent in the Jamestown area, 70 percent in the Valley City area.
.WEDNESDAY NIGHT…Rain showers and slight chance of
thunderstorms. Lows in the lower 50s. East winds around 15 mph
with gusts to around 30 mph.
.THURSDAY…Rain showers and slight chance of thunderstorms.
Highs around 60. Northeast winds 10 to 15 mph shifting to the
north in the afternoon.
.THURSDAY NIGHT…Mostly cloudy. Chance of rain showers and
slight chance of thunderstorms in the evening, then chance of
rain showers after midnight. Lows in the upper 40s. Chance of
precipitation 40 percent.
.FRIDAY…Mostly cloudy with slight chance of rain showers in the
morning, then sunny in the afternoon. Highs in the lower 60s.
.FRIDAY NIGHT…Mostly clear. Lows in the mid 40s.
.SATURDAY…Mostly sunny. Highs in the lower 70s.
.SATURDAY NIGHT…Mostly clear. Lows in the lower 50s.
.SUNDAY…Mostly sunny. Highs in the lower 70s.
.SUNDAY NIGHT…Partly cloudy. Lows in the mid 50s.
.MONDAY…Mostly sunny. Highs in the mid 70s.
Rain chances increase once again early Wednesday morning, with
widespread rain Wednesday night through Thursday night, tapering
off Friday morning. Rainfall amounts of 1 to 2 inches are
possible.
New…
Jamestown  (CSi)  Jamestown Public Works reports, that Today, Tuesday, September 10, 2019, 3rd Ave SW along the 2600 block SW will be closed throughout the day.
Motorist's should use extreme caution in this area. Please use alternate routes.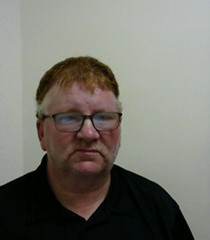 Jamestown  (CSi)  The Jamestown Police Department warns residents of a convicted sex offender who has relocated in Jamestown.
Leroy John Hanson now lives at 1530 6th Avenue, SW, No. 33 Buffalo Motel, Jamestown, ND
Hanson is a 55 year old White Male five feet seven inches tall weighing 210 pounds with blue eyes and red hair.
He has been assigned a high risk assessment by the North Dakota risk level committee of the North Dakota Attorney General's Office.
Offense:  Gross Sexual Imposition,  in 2004 involving  with a 14 year old girl.
Conviction: April 2004, Ward County District Court.
Disposition:  10 years with 5 years suspended.
He is currently on GPS Monitoring.
Hanson is not currently wanted by police and has served the sentence imposed by the court. This and other notifications are meant for public safety and not to increase fear in the community. Anyone who uses the information to threaten, assault, and intimidate the offender will be turned over for prosecution.
Hanson is currently on probation with North Dakota Parole and Probation.
More information on registered sex offenders is available at the North Dakota Attorney General's web site: www.sexoffender.nd.gov
Valley City  (KLJ)  Traffic flow changes announced by KLJ on Central Avenue and 12th Street North in Valley City.
Traffic will be switched from the westbound lane to the eastbound lane on 12th Street North, with one lane of traffic being maintained and controlled by temporary traffic signals. Central Avenue will continue to be closed to traffic from the entrance to Hanna Field north to 12th Street North.
Access to the Sheyenne Care Center and Hanna Field Parking lot will continue to be provided from the south.  Access to the residential area north of 12th Street, including Central Avenue, 14th Street Northwest and Courts A, B & C will continue to be provided to the north and on 3rd Avenue Northwest.
There is a closure at the intersection of 6th Street North and Central Avenue North to facilitate the concrete repairs at that location. The intersection closure is anticipated to last approximately one week.
Anyone with questions about these projects should call the KLJ office in Valley City.
JRMC  (CSi)  Jamestown Regional Medical Center's Family BirthPlace is among the first in the nation to successfully complete the EMPower Training initiative.
EMPower is a skills-based competency training in evidence-based maternity practices supportive of optimal infant nutrition. JRMC Family BirthPlace received access to training modules, support services and other resources on breastfeeding practices.
JRMC is one of only two North Dakota birthing hospitals selected for this program. Sanford Health, Bismarck, was also selected. EMPower Training initiative chose only 90 hospitals nationwide.
Funded by the Centers for Disease Control and Prevention (CDC), the EMPower Training initiative is committed to safe implementation of maternity care practices to support optimal infant nutrition, including breastfeeding, toward the ultimate goal of improving the public's health.
JRMC Family BirthPlace Manager, Emily Woodley, says, "JRMC is excited for this opportunity to learn how best to support and assist moms, babies and families in getting off to a great start with breastfeeding."
About 350 babies are born at JRMC each year.
JRMC Chief Nursing Officer Trisha Jungels. "JRMC strives to be the best hospital in the country for patients to receive care, employees to work and providers to practice. EMPower Training initiative ensures that our Family BirthPlace team will have the tools and resources necessary to support a mother to be able to breastfeed.  Those first few hours and days that a mom and her baby spend learning to breastfeed are critical."
The initiative began in August 2018 with an in-person training course to learn a five-hour curriculum. The training initiative was completed in August 2019. With the help of the training, JRMC's Family BirthPlace is now equipped with the skills needed to support mothers in the safe implementation of optimal infant nutrition.
To learn more about EMPower Training, Family BirthPlace and breastfeeding, contact JRMC Family BirthPlace at (701) 952-4807 or visit www.jrmcnd.com/family-birthplace/.
About Jamestown Regional Medical Center
Jamestown Regional Medical Center is located at 2422 20th St. SW, Jamestown, N.D. and serves approximately 55,000 people in nine counties. In 2019, it was named a "Top 100 Critical Access Hospital" as well as a "Best Places to Work in Healthcare." For more information, visit www.jrmcnd.com or call 701-952-1050.
Jamestown  (UJ)   University of Jamestown has again received the highest regional college rankings of all North Dakota institutions in U.S. News and World Report's "Best Colleges 2020" edition, released Sept. 9.
UJ President, Dr. Polly Peterson  says, "We are pleased to once again be recognized by U.S. News and World Report as a best regional college in the Midwest.  As the top ranked University in the state in any category, we are proud to be recognized for the quality of the educational experience we provide and the successes that our alumni achieve after graduation."
U.S. News and World Report's "Best Colleges" is the most recognized and popular of all college rankings. The report evaluates colleges and universities annually by assessing criteria such as peer assessment, graduation rate, student/faculty ratios, class size, alumni giving, and student testing scores. Categories are Regional Colleges, Regional Universities, National Universities, and National Liberal Arts Colleges.
Dr. Peterson expanded on why she feels the University stands out in the region, saying, "Our mission is to provide a holistic educational experience where learning occurs both in the classroom and through extensive co-curricular learning opportunities – all rooted in our commitment to Christian faith. Through internships, co-ops, study abroad and campus involvement, our students are prepared for success as they enter the work force upon graduation."
Established in 1883, the University of Jamestown is a private, liberal arts university granting Bachelor of Arts, Bachelor of Science and Science in Nursing degrees, as well as Master's Degrees in Education, Clinical Counseling and Leadership, and a Fargo-based Doctor of Physical Therapy degree. The University of Jamestown offers more than 40 areas of study, integrating the liberal arts with sound professional programs. With the Jamestown Journey to Success, emphasis is placed not only on preparing students academically in their chosen areas of study, but also on preparing them through a student-centered experience.
Valley City  (VCSU)   – Valley City State University has been ranked the No. 2 public regional college in the Midwest in the 2020 U.S. News Best College Rankings. VCSU was ranked third in the 2019 rankings.
VCSU has now appeared in the U.S. News "Best College" rankings for 22 consecutive years, and the university has been ranked in the top three Midwest public regional colleges each year since 2010.
President Alan LaFave,  says, "Valley City State has maintained a record of academic excellence for decades,  and we're proud to see VCSU once again ranked among the top public schools in our region. The rankings speak to the good work done together by our students, faculty and staff, along with the strong support of our alumni, friends and the Valley City community."
The U.S. News rankings are based on data including retention and six-year graduation rates, graduation rates for low-income students (based on federal Pell Grant recipients), measures of student excellence (ACT/SAT scores and high school class standing), the alumni giving rate, and educational expenditure per student. A peer assessment by college and university officers also factors into the rankings.
ESMOND, N.D. (AP) — The North Dakota Highway Patrol has identified the driver of a pickup truck who died in a fiery crash with a semi in Benson County.
The patrol says 68-year-old Emil Vetsch, of Balta, was killed when he missed a stop sign at a Highway 19 intersection near Esmond Saturday, was struck by the semi and caught fire. Officials say the road was wet at the time because of light rain.
A 33-year-old Mandan man driving the semi was not injured.
BILLINGS, Mont. (AP) — Montana is considering setting statewide regulations covering the disposal of radioactive oilfield waste.
Currently rules are addressed on a case-by-case basis when landfills are licensed.
The Billings Gazette reports the proposal by the Department of Environmental Quality would apply to naturally occurring radioactive material.
The radioactive material is released during fracking for oil and gas. It accumulates in filters used to strain liquids during oil production or in sludge.
The proposed rules would increase the amount of radiation allowed per load brought to a landfill. They're meant to discourage illegal dumping, which has happened in Montana and North Dakota.
The Northern Plains Resource Council questions why the state would increase the amount of radiation allowed when most of the waste is coming from North Dakota.
MINNEAPOLIS (AP) — A divisive fight over a crude-oil pipeline across Minnesota is pinning Democratic presidential hopefuls between environmentalists and trade unions in the 2020 battleground state.
And that's testing those candidates' campaign promises to ease away from fossil fuels.
Progressive candidates Elizabeth Warren and Bernie Sanders have condemned a Canadian company's plan to replace and expand capacity of its old and deteriorating Line 3 pipeline. The line carries Canadian crude across the forests and wetlands of northern Minnesota into northern Wisconsin. Warren and Sanders are siding with environmentalists and tribal groups who have been trying to stop the project for years.
Other candidates have been largely silent, mindful that such projects are job creators for some of the working-class voters they may need to win the state in 2020.
In sports…
BELLEVUE, Neb.  (uj.edu)– The University of Jamestown women's golf team is in third place after the first round of the Bellevue University Fall Invite, being held at Platteview Golf Club.
Amber Domres (SO/Bismarck, N.D.) and Izzy Marchino (SO/Highlands Ranch, Colo.) are tied for eighth after day one on the par 72, 5866-yard course. Both golfers carded an 11-over par 83.
Paige Argent (JR/Minot, N.D.) and Sarah Azure (SO/Jamestown, N.D.) both shot 14-over 86 and are tied for 11th. Jayme Carlson (FR/Hartford, S.D.) is tied for 20th after a 22-over 94.
Haley Malone (FR/Moorhead, Minn.), playing as an individual, is 27th at 29-over par 101.
The Jimmies' team score of 338 is five shots behind second-place Bellevue University and 13 shots behind William Penn (Iowa) University.
Tuesday's final round will begin at 9 a.m. with a shotgun start.
High School Football Polls
Class AAA
Team Rec. Pts. LW
1. Bismarck Century (15) 2-0 79 1
2. West Fargo Sheyenne (1) 2-0 64 2
3. Fargo South 2-0 49 3
4. Fargo Davies 1-1 20 NR
5. Fargo Shanley 2-0 17 NR
OTHERS RECEIVING VOTES: Mandan (1-1), Minot High (1-1), Williston (2-0) and Grand Forks Red River (1-1)
Class AA
Team Rec. Pts. LW
1. Hillsboro-Central Valley (10) 2-0 71 1
2. Bismarck St. Mary's (5) 1-1 64 2
3. Beulah (1) 2-0 53 3
4. Hazen 2-0 32 5
5. Kindred 2-0 16 NR
OTHERS RECEIVING VOTES: Devils Lake (1-1)
BISMARCK, N.D. (AP) — North Dakota's annual pheasant brood survey shows that total pheasants are up 10% from last year and broods have increased by 17%, which state Game and Fish Department officials describe as steady improvement from a dismal year in 2017.
The numbers released Monday are particularly encouraging in the northwest, up 49% percent from 2018, and southeast, which saw a 32% increase. Upland game biologist RJ Gross says this was the first year "in a while" with good residual cover to start the year and good weather for nesting and brood-rearing.
Gross says the state's primary pheasant hunting district, in southwestern North Dakota, is "slowly improving" although total birds were down 7%.
Neighboring states South Dakota and Minnesota each saw 17% drops in total pheasants from last year.
NFL..
UNDATED (AP) _ The New Orleans Saints have opened their NFL schedule with a comeback win.
Will Lutz drilled a 58-yard field goal as time expired to kick the Saints to a 30-28 victory against the Houston Texans. Lutz also hit a 47-yarder late in the fourth quarter to give New Orleans a 27-21 cushion in the final minute, but New Orleans needed his sturdy leg again after DeShaun Watson hit Kenny Stills for a 37-yard touchdown with 37 seconds to play.
The Saints trailed 14-3 and 21-10 before getting the victory.
Drew Brees (breez) was 32 of 43 for 370 yards, two touchdowns and one interception. Alvin Kamara (kah-MAH'-rah) rushed for 97 yards on 13 carries, Michael Thomas caught 10 passes for 123 yards and Ted Ginn Jr. had seven receptions for 101 yards.
Watson was 20 of 30 passing for 268 yards, three scores and an interception for the Texans.
The Raiders didn't miss Antonio Brown at all in a 24-16 victory over the Denver Broncos. Tyrell Williams had six receptions for 105 yards and one touchdown, two days after Brown was released and signed by the Patriots. Darren Waller had six catches for 70 yards for Oakland, who led throughout after Derek Carr threw a touchdown pass on the opening drive.
Carr was 22 of 26 for 259 yards and no interceptions.
Joshua Jacobs was productive in his NFL debut, carrying 23 times for 85 yards and two scores.
Joe Flacco completed 21 of his 31 passes for 268 yards, one TD and no interceptions in his first game as a Bronco.
NFL-NEWS
Jags get Dobbs from Steelers
JACKSONVILLE, Fla. (AP) _ The Jacksonville Jaguars have brought in a reinforcement after losing their starting quarterback.
The Jags have acquired Josh Dobbs from the Steelers for a fifth-round pick in next year's NFL draft. The move gives the Jaguars a backup while Nick Foles recovers from a broken collarbone suffered in Sunday's season-opening loss to Kansas City.
Dobbs was in his third season with the Steelers after being taken by Pittsburgh in the 2017 draft. He has played in five career NFL games, completing 6 of 12 passes for 43 yards and an interception.
Gardner Minshew is the starter after replacing Foles in Sunday's 40-26 loss. He put up good numbers in his NFL debut, completing 22 of 25 passes for 275 yards, two touchdowns and an interception.
Elsewhere in the NFL:
_ Colts coach Frank Reich (ryk) says receiver Devin Funchess will be placed on injured reserve after having surgery on a broken collarbone. Funchess was injured during a 30-24 loss at the Chargers while diving to catch a pass in the end zone in the final minute of regulation. Reich says he expects Funchess to return later this season.
_ Ravens cornerback Jimmy Smith will miss several weeks after spraining his knee in the game against Miami. Coach John Harbaugh says Smith has a Grade 2 sprain of the right knee. Harbaugh said Smith will miss "multiple weeks" but added that the injury is "not a season-ender by any stretch."
_ The Falcons have lost rookie right guard Chris Lindstrom to a broken foot, and the No. 14 overall draft pick will undergo surgery that will keep him on injured reserve for the next eight weeks. Coach Dan Quinn says Jamon Brown will replace Lindstrom as a starter.
_ A person with knowledge of the situation tells The Associated Press that Redskins running back Derrius Guice (GYS) underwent an MRI on his right knee the morning after making his NFL debut. Guice is just over a year removed from tearing the ACL in his left knee. He ran for just 18 yards on 10 carries in a loss to Philadelphia but downplayed concern about a trip to the injury tent during the game.
_ The NFL plans to speak with Browns star Odell Beckham Jr. about wearing a watch during a game. The flashy wide receiver sported an expensive watch _ worth over $250,000 _ while catching seven passes for 71 yards in his Cleveland debut. A league spokesman said there are no rules prohibiting jewelry, but there is one for hard objects.
_ An attorney and Saints fan says he will go no further with his court fight against the NFL over game officials' failure to call an obvious penalty at a crucial point in a January playoff game. The so-called "Nola No-call" helped the Rams beat the Saints and advance to the Super Bowl. The lawsuit alleging fraud by the NFL was filed by lawyer Antonio LeMon and three others. It was dismissed Friday by Louisiana's Supreme Court.
MLB…
Braves whip Phils for 10th win in 11 games
UNDATED (AP) _ The Atlanta Braves moved another step toward an NL East championship while also hampering Philadelphia's playoff push.
Mike Foltynewicz (fohl-tih-NAY'-vihch) threw seven impressive innings and the Braves homered twice in a 7-2 win over the Phillies. Foltynewicz retired the first 13 batters before Corey Dickerson went deep in the fifth. He gave up a run and three hits while striking out seven in his fifth straight win since a 1-5 start.
Ronald Acuna (ah-KOON'-yah) Jr. led off the game with his 38th home run. Josh Donaldson ripped an opposite-field, three-run shot off Nick Pivetta in the seventh to give the Braves a 7-1 lead.
The Braves' 10th win in 11 games leaves them with a magic number of 10. The Phillies are three games behind the Cubs for the second NL wild card.
The Cubs rolled to a 10-2 win over the Padres as touted prospect Nico Hoerner had three hits and four RBIs in his big league debut. Hoerner also made some nice plays at shortstop following his recall from Double-A Tennessee.
Nicholas Castellanos (kas-tee-AH'-nohs) slammed a two-run homer in the first inning and Kyle Schwarber provided a solo shot leading off the five-run fifth.
Elsewhere on major league diamonds:
_ The Brewers have a four-game winning streak after rookie Trent Grisham had a career-high five hits and two RBIs in an 8-3 win at Miami. Milwaukee led 4-3 in the seventh until Grisham hit a two-run triple and scored on Yasmani Grandal's (yahs-MAH'-nee grahn-DAHLZ') two-run homer. Lorenzo Cain was 3-for-5 with an RBI to help the Brewers stay two games behind the Cubs for the second NL wild card with 19 to play.
_ Rookie Pete Alonso took over the big league home run lead by belting his 46th and 47th in the Mets' 3-1 win over the Diamondbacks. Jacob deGrom struck out 11 over seven innings while holding Arizona to three hits, including a solo blast by former teammate Wilmer Flores. Seth Lugo fanned four in a two-inning save as the Mets dropped the DBacks 2 ½ games out of an NL playoff slot.
_ Robinson Chirinos (chih-REE'-nohs) and Yordan (yohr-DAHN') Alvarez each homered twice and the Astros hit a major league-record six round-trippers over the first two innings of a 15-0 shellacking of the Athletics. Alex Bregman started the offensive display with a three-run homer and Jose Altuve (al-TOO'-vay) added a two-run blast to open the scoring in the second inning. Michael Brantley also went deep and Zack Greinke (GREHN'-kee) allowed two hits over six innings as Houston stayed tied with the Yankees for the best record in the majors.
_ Cleveland's 6-2 win over the Los Angeles Angels leaves the Indians a half-game behind Oakland for the second AL wild card. Shane Bieber improved to 14-7 by holding the Halos to one run and five hits while striking out eight over seven innings. Jason Kipnis belted a two-run homer and Yu Chang smacked his first major league blast, a three-run shot that put the Indians ahead, 6-1 in the sixth inning.
_ James Paxton won his eighth straight start and the Yankees officially eliminated the Red Sox from the AL East race by blanking the defending World Series champs, 5-0 at Fenway Park. Paxton gave up four hits over 6 2/3 innings to improve to 13-6. Austin Romine and Gio Urshela (ur-SHEH'-lah) each hit solo homers as the Yankees finished 14-5 versus their arch-rivals this season.
_ Bryan Reynolds laced a go-ahead single against his former team during a four-run ninth that pushed the Pirates past the Giants, 6-4. Kevin Newman tied it with a two-run single before Reynolds delivered his second hit of the game. Brandon Belt had three hits, including a two-run double for San Francisco.
MLB-NEWS
Ortiz throws out first pitch
UNDATED (AP) _ Former slugger David Ortiz threw the first pitch before Monday's game between the Red Sox and New York Yankees in Boston.
It was his first public appearance since he was shot and seriously injured in a Santo Domingo nightclub on June 9. Ortiz took a microphone on the pitcher's mound and thanked the fans for their prayers and support after he threw the pitch to Jason Varitek (VAR'-ih-tehk), a catcher and teammate on Boston's 2004 and '07 championship clubs.
Also around the majors:
_ Angels slugger Mike Trout has undergone a cryoablation procedure to alleviate pain in his right foot. Manager Brad Ausmus calls it a minor procedure and says Trout could return later in their series with the Indians. Trout is batting .291 with an AL-leading 45 homers and 104 RBIs despite being bothered by nerve pain in his foot for several weeks.
_ Cubs shortstop Javier Báez saw a hand specialist who has confirmed the slugger has a hairline fracture of his left thumb. He is expected to miss the rest of this month, but the team says he will continue his rehab in hopes of playing in October. Baez is batting .281 with 29 home runs and 85 RBIs in 133 games this season.
_ Yankees outfielder Mike Tauchman is expected to be sidelined for six to eight weeks. The rookie suffered a Grade 2 strain in his left calf while fielding a ball in Sunday night's 10-5 win over the Red Sox. The AL playoffs begin Oct. 2 and it's uncertain whether Tauchman would be able to recover, rehab and be ready to play in the postseason.
NCAA-COLLEGE ATHLETE SPONSORSHIPS
California closer to letting college athletes make money
SACRAMENTO, Calif. (AP) _ The California Assembly has passed a bill to let college athletes make money. The bill would let college athletes hire agents and be paid for the use of their name, image or likeness. And it would stop universities and the NCAA from banning athletes who take the money.
The bill also sets up a confrontation with the NCAA that could jeopardize the athletic futures of programs at USC, UCLA and Stanford.
Universities oppose the bill, and the NCAA has warned the bill could mean California universities would be ineligible for national championships.
BASKETBALL-WORLD CUP-US-BRAZIL
US reaches World Cup quarters
SHENZHEN, China (AP) _ The United States men's basketball team has formally wrapped up a berth in the Tokyo Olympics by advancing to the World Cup quarterfinals.
The Americans moved on with a convincing 89-73 win against Brazil. Kemba Walker and Myles Turner each scored 16 points for the U.S., which has the top seed in the quarterfinals.
TENNIS-RANKINGS
Andreescu climbs rankings
NEW YORK (AP) _ The latest WTA rankings show a big jump for the U.S. Open women's champion.
Bianca Andreescu (an-dree-EHS'-koo) has gone from 15th to a career-best fifth in the WTA rankings. The 19-year-old Canadian knocked off Serena Williams in straight sets on Saturday for her first major title.
Ash Barty has replaced Naomi Osaka at No. 1.
Rafael Nadal (nah-DAHL') remains No. 2 in the ATP rankings, but he closed the gap on No. 1 Novak Djokovic (NOH'-vak JOH'-kuh-vich) by capturing the U.S. Open men's title for the fourth time.
Open runner-up Daniil Medvedev (DAN'-ihl MEHD'-veh-dehv) went up to a career-best No. 4.
WIMBLEDON-CEO LEAVING
Wimbledon CEO to leave after 2020 tournament
WIMBLEDON, England (AP) — The chief executive of Wimbledon says he will step down after eight years in the role.
Richard Lewis will leave after next year's grass-court Grand Slam event at the All England Club.
The departure of Lewis, who joined as CEO in 2012, coincides with the handover of the role of Wimbledon chairman from Philip Brook to Ian Hewitt.
Under Lewis there was a 160% increase in player prize money, Court No. 1 was rebuilt and the grass-court season was extended.
Brook says Lewis has delivered "a phenomenal period of change that will long be recognized in our history."
In world and national news…
WASHINGTON (AP) — President Donald Trump is urging North Carolina voters to "take the first steps" toward removing House Speaker Nancy Pelosi and "winning the back the House in 2020."
Trump is in Fayetteville campaigning on behalf of Republican Dan Bishop in a closely watched special election that takes place Tuesday. Bishop is running against Democrat Dan McCready for a House seat.
Trump is trying to fire up GOP voters by trashing Democrats. He says a vote for any Democrat in 2020 is "a vote for the rise of radical socialism and the destruction of the American dream."
He says he offers "the only positive vision for the people of North Carolina."
He says, "Our first task is a giant victory tomorrow."
NASSAU, Bahamas (AP) — Thousands of hurricane survivors are filing off boats and planes in the capital of the Bahamas, facing the need to start new lives after Hurricane Dorian but with little ideas on how or where to begin.
Some sat in hotel lobbies Monday as they debated their next steps. Others were bused to shelters jammed to capacity. Some got rides from friends or family who offered a temporary place to stay on New Providence, an island of some 13,000 residents that has never seen so many people arrive on its shores in recent history.
Carla Ferguson walked out of a small airport in Nassau with her daughter and other relatives and looked around as the sun set.
Then she said: "We don't know where we're going to stay. We don't know."
SAN DIEGO (AP) — A conservative television network is suing Rachel Maddow for calling it "paid Russian propaganda."
One America News seeks $10 million in a federal suit filed Monday in San Diego.
The family-owned network is challenging Fox News for conservative viewers.
The suit alleges that Maddow's comments on her July 22 show were retaliation after OAN's president accused Comcast of censorship for refusing to carry the channel. The suit also names MSNBC, its parent and Comcast.
Maddow's comment referenced the fact that an OAN employee also wrote for Sputnik News, which is linked to the Russian government.
OAN says his Sputnik freelance work was unrelated to his OAN duties.
A message seeking comment from MSNBC wasn't immediately returned.
However, the lawsuit includes a letter from an MSNBC lawyer disputing the defamation allegations.
HEFF SHIRMAL, India (AP) — Residents of a dozen villages in the disputed Kashmir region say Indian troops have raided their homes in an apparent campaign of intimidation.
In more than 50 interviews, residents told The Associated Press that soldiers inflicted beatings and electric shocks and poisoned their food supplies or killed livestock.
Thousands of young men have been arrested. The raids have occurred since the government in New Delhi stripped the region of its statehood in August.
Army spokesman Col. Rajesh Kalia dismissed the villagers' accounts as "completely baseless and false" and asserted the Indian army values human rights.