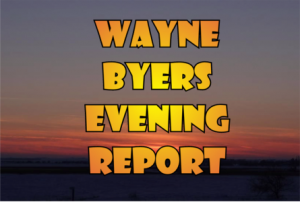 CSi Weather…
.TONIGHT…Cloudy with a 30 percent chance of rain showers and slight chance of thunderstorms. Lows in the lower 50s. Northeast winds 5 to10 mph. Chance of precipitation  50 percent in the Valley City area.
.WEDNESDAY…Cloudy. Chance of rain showers and slight chance of
thunderstorms in the morning, then rain showers likely and slight
chance of thunderstorms in the afternoon. Highs in the lower 60s.
Northeast winds 10 to 20 mph. Chance of precipitation 30 percent in the Jamestown area, 70 percent in the Valley City area.
.WEDNESDAY NIGHT…Rain showers and slight chance of
thunderstorms. Lows in the lower 50s. East winds around 15 mph
with gusts to around 30 mph.
.THURSDAY…Rain showers and slight chance of thunderstorms.
Highs around 60. Northeast winds 10 to 15 mph shifting to the
north in the afternoon.
.THURSDAY NIGHT…Mostly cloudy. Chance of rain showers and
slight chance of thunderstorms in the evening, then chance of
rain showers after midnight. Lows in the upper 40s. Chance of
precipitation 40 percent.
.FRIDAY…Mostly cloudy with slight chance of rain showers in the
morning, then sunny in the afternoon. Highs in the lower 60s.
.FRIDAY NIGHT…Mostly clear. Lows in the mid 40s.
.SATURDAY…Mostly sunny. Highs in the lower 70s.
.SATURDAY NIGHT…Mostly clear. Lows in the lower 50s.
.SUNDAY…Mostly sunny. Highs in the lower 70s.
.SUNDAY NIGHT…Partly cloudy. Lows in the mid 50s.
.MONDAY…Mostly sunny. Highs in the mid 70s.
Rain chances increase once again early Wednesday morning, with
widespread rain Wednesday night through Thursday night, tapering
off Friday morning. Rainfall amounts of 1 to 2 inches are
possible.
Jamestown  (CSi)  The Jamestown City Fire Department was called to the Maple Mall in Downtown Jamestown about 1:42-p.m., Tuesday.
Lt. Sheldon Mohr says, the fire department ventilated the building, as MDU crews responded to the scene to  shut off the gas valve, located in the boiler unit in the basement of the building.
Businesses self- evacuated as a precaution.
Police  sealed off that block of 1st Avenue as a precaution.
A contractor was called to determine the cause of the gas leak.
All tenants then returned to the buidling.
No injuries, and there was no danger to people in adjacent buildings or Jamestown Middle School across the street to the rear of the building.
Thee City Fire Units and seven fire fighters were on the scene.
21 Fire fighters were on stand-by at the City Fire Hall.
The scene cleared at 2:44-p.m.
More information as it becomes available.
Jamestown  (CSi)  The traffic signal at 10th Street Southeast and 7th Avenue Southeast that has been out of service since Labor Day is now functioning.
The traffic light at 17th Street Southwest and Highway 281 South, atop Mill Hill,  that has also been out of service since then is still not functioning, with signs stopping traffic four ways at the intersection until the traffic signal is back in service, which could be for another week.
Interstate Engineer says, yet to be determined is if the either or both outages were related to the electrical storm that hit Jamestown on Labor Day, or another cause.
If storm related, the costs will be reimbursed the city's insurance carrier.
Jamestown  (CSi)  –  On a recent Wayne Byers Show on CSi Cable 2, Jamestown Mayor Dwaine Heinrich who is also on the Jamestown/Stutsman Development Board said planned is  a new National Guard Armory planned for land at Jamestown Regional Airport.  For the last several years, the Armory has shared space at the Jamestown Civic Center, leasing  space at $14,000, annually.
The new facility will allow the National Guard to keep the Armory in Jamestown.
At Monday's JSDC Board meeting, the board approved a $350,000 one-time payment for a 40-year lease of 16 acres of land from Jamestown Regional Airport at the industrial park.
Preliminary estimates place the cost of the National Guard armory at between $26 million and $28 million.
With the 40-year lease of the land by the city of Jamestown the National Guard will pay the JSDC the share of the development costs of the land and then construct a building.
On  Tuesday's Wayne Byers Show on CSi Cable 2, JSDC Business Development Director Corry Shevlin added, work on the Airport Industrial Park is nearing completion although it is behind schedule, due to rain and wet ground conditions along with underground rocks causing delays. The project was to be  completed by the end of June this .
He added that the Jamestown Airport Industrial Park includes 90 acres of leasable land including about 30 acres that are reserved for aeronautical use.
Jamestown  (CSi)  Senator Kevin Cramer's Office has announced, that the U.S. Department of Agriculture (USDA) Rural Development (RD) awarded grants totaling $620,054 to eight recipients for Rural Business Development initiatives, including a grant to the Jamestown/Stutsman Development Corporation.
These funds are given to help enhance local economic development and improve quality of life in rural areas. Specifically, this investment will directly create at least 23 jobs within these localities.
Jamestown/Stutsman Development Corporation received $63,300…earmarked for the Entrepreneur Center.
Other recipient of USDA Funds included:
Adams County Development Corporation received $150,000.
Leeds Economic Development Corporation received $150,000.
Turtle Mountain Band of Chippewa received $109,821.
Tribal Nations Research Group received $51,577.
Linton Industrial Development Corporation received $46,600.
Hettinger County received $27,000.
Bowman County Development Corporation received $21,756.
Jamestown  (CSi)  Following a Public Hearing the Jamestown Park Board approved the  2020 final budget, at 37.24 mills. Parks and Recreation Director Doug Hogan says the annual property tax increase on a $100,000 residential home will be $6.89.
The total amount levied by the board increased by $152,450, for a total of $1,827,250 for 2020.
In other business, Hogan said bids will be opened for new Jack Brown Stadium bleaches on October 1.  Once construction begins in early October the project's finishing deadline is March 31, 2020.
FARGO, N.D. (AP) — A federal judge in North Dakota has blocked a state law passed earlier this year that required physicians to tell women they may reverse a so-called medication abortion if they have second thoughts.
North Dakota is among eight states to pass or amend laws requiring doctors to tell women undergoing medication abortions they can still have a live birth after the procedure. The North Dakota law also would require doctors to tell the patient "time is of the essence" if she changes her mind.
Tammi Kromenaker, director of North Dakota's sole abortion clinic in Fargo, says the law would force doctors to give information "simply false and not backed up by science.
U.S. District Judge Daniel Hovland says state lawmakers should not be mandating unproven medical treatments.
FARGO, N.D. (AP) — The union representing public school teachers in North Dakota's largest city is taking the school board to court over a stalemate on contract negotiations.
KFGO radio reports that the Fargo Education Association believes the board broke state law by declaring an impasse without union approval. The teachers want a judge to order the board to resume contract talks.
Teacher safety and pay are issues that have separated the two sides. Teachers in North Dakota do not have the right to go on strike.
Court documents do not list an attorney for the Fargo School Board.
In world and national news…
WASHINGTON (AP) — Iran is claiming credit for President Donald Trump's dismissal of his hawkish national security adviser John Bolton.
An adviser to President Hassan Rouhani (hah-SAHN' roh-HAH'-nee) said Bolton's departure was the result of Iran's resistance to Trump's maximum pressure campaign.
The adviser (Hesameddin Ashena) said in a tweet that the move is a sign of the pressure campaign's failure and proof that Iran is able to "manage" U.S. policies on Iran.
Trump and Bolton disagreed on numerous issues, including over the president's willingness to consider meeting with Rouhani.
Previously…
WASHINGTON (AP) — President Donald Trump on Tuesday abruptly forced out John Bolton, his hawkish national security  adviser, with whom he had strong disagreements on Iran, Afghanistan and a cascade of other global challenges.
The two men offered opposing accounts on Bolton's less-than-friendly departure, final shots for what had been a fractious relationship almost from the start.
Trump tweeted that he told Bolton Monday night his services were no longer needed at the White House and Bolton submitted his resignation Tuesday morning. Bolton responded in a tweet of his own that he offered to resign Monday "and President Trump said, 'Let's talk about it tomorrow.'"
Trump said that he had "disagreed strongly" with many of Bolton's suggestions as national security adviser, "as did others in the administration."
The departure comes at a trying moment for the Trump administration on the world stage, weeks ahead of the United Nations General Assembly and as the president faces pressing decisions on a host of foreign policy issues.
As pressure has mounted amid global troubles and signs of an economic slowdown at home, Trump has increasingly favored aides who are willing to defend him on television. Bolton was tentatively booked to appear on a pair of Sunday talk shows in late August but backed out, saying he was not comfortable with some of the administration's plans, and that drew the president's ire, according to a White House official not authorized to discuss private conversations
Also, tensions have risen between Bolton and Secretary of State Mike Pompeo over influence in the president's orbit and how to manage the president's desire to negotiate with some of the world's most unsavory actors.
WASHINGTON (AP) — Income for the median U.S. household last year finally matched its previous peak set in 1999 after growing at the slowest annual pace since 2014.
Government figures show that after more than a decade of economic growth — the longest expansion on record — Americans are earning no more than they did two decades ago once inflation is taken into account.
The Census Bureau says that median household income rose 0.9% in 2018 to an inflation-adjusted $63,179 from $62,626 in 2017.
The poverty rate fell to 11.8%, the lowest annual level since 2001. That improvement reflects increased income over the past several years for many workers in low-wage jobs.
At the same time, the proportion of Americans with health insurance fell to 91.5% from 92.15 in 2017.
FAYETTEVILLE, N.C. (AP) — One voter says he's fed up with the Republican Party and frightened by President Donald Trump. Another voter says she doesn't want to see the country become a socialist nation.
Those are just two of the diverging viewpoints at the polls in North Carolina on Tuesday for a special congressional election.
Retiree Susie Sisk of Mint Hill told The Associated Press that she's voting for Republican state Sen. Dan Bishop. Sisk said Bishop is for the Second Amendment, against illegal immigration and won't raise taxes.
Bishop is in a close battle with Democrat Dan McCready for a vacant seat in the 9th District.
Another Mint Hill retiree, Bob Southern, said he voted for McCready because he's fed up with the Republican Party's agenda and President Trump.
The election's results could foreshadow the 2020 presidential race.
JERUSALEM (AP) — The Israeli military says that it intercepted two rockets launched from the Gaza Strip toward the southern city of Ashdod.
The rocket fire interrupted a Likud party campaign rally where Prime Minister Benjamin Netanyahu was speaking.
After being taken away by security guards, Netanyahu returned minutes later and continued addressing the crowd.
No injuries were reported. There was no immediate claim of responsibility for the rocket launches.
TEHRAN, Iran (AP) — An Iranian female soccer fan has died after setting herself on fire outside a court after learning she may have to serve a six-month sentence for trying to enter a soccer stadium.
Women in Iran are banned from soccer stadiums, though they are allowed at some other sports, such as volleyball.
The semi-official Shafaghna news agency reported on Tuesday that 30-year old woman identified only as Sahar died at a Tehran hospital.
Sahar was known as "Blue Girl" on social media for the colors of her favorite team, Esteghlal.
She set herself on fire a week ago, reportedly after learning she may have to go to prison for trying to enter a stadium in February to watch an Esteghlal match.
No verdict had been delivered in her case so far.
JEKYLL ISLAND, Ga. (AP) — The head of a company whose salvage workers rescued four crew members from a capsized ship off the Georgia coast says the men survived "hellish conditions" perched on pipes and plumbing above deep water in pitch darkness and oven-like temperatures.
Tim Ferris of the salvage firm Defiant Marine told The Associated Press on Tuesday the South Korean sailors "were being cooked" in the engine room of the overturned cargo ship Golden Ray with temperatures reaching 150 degrees (65.5 Celsius). He said rescuers had to stuff their own pockets with bags of ice to withstand the heat.
Ferris says the most daunting rescue was a crewman trapped in a control room with the door underwater. He was behind blast-proof glass designed to withstand an explosion. Rescuers had to use a diamond-tipped cutter to create an opening.
Ferris called it "a rescue of a lifetime."
ANKARA, Turkey (AP) — A Turkish newspaper says in his final words, slain Saudi journalist Jamal Khashoggi urged his killers not to cover his mouth because he suffered from asthma and could suffocate.
The Sabah newspaper this week published new excerpts of a recording of Khashoggi's conversation with members of a Saudi hit squad sent to kill him. The paper says the recording of Khashoggi's grisly Oct. 2, 2018, killing and dismemberment at the Saudi Consulate in Istanbul was obtained by Turkey's intelligence agency.
According to the reported transcript, a member of the hit squad tells Khashoggi that he has to be taken back to Riyadh because of an Interpol order.
The man is also heard trying to force Khashoggi to send his son a message telling him not to worry if he doesn't hear from him.
CUPERTINO, Calif. (AP) — Apple's new iPhones will resemble recent models, but with better cameras and new colors.
The most-expensive models, the iPhone 11 Pro and iPhone 11 Pro Max, will now have three cameras on the back, including a new, wider-angle one to squeeze more of the landscape into the picture. They start at $1,000, the same as before.
The cheaper model called the iPhone 11 will start at $700, down from $750 for the iPhone XR. It now gets two lenses instead of one. The lower price reverses a trend in which premium phones get more expensive as people upgrade them less often.
The new phones come out Sept. 20.
Apple unveiled the new phones, along with a new iPad and Apple Watch, at a product event Tuesday at its Cupertino, California.