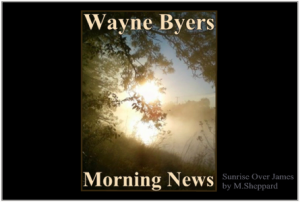 CSi Weather…
.REST OF TODAY…Cloudy. Highs around 60. Northeast winds 10 to 15 mph.  Chance of precipitation 30 percent in the Jamestown area, 20 percent in the Valley City area.
.TONIGHT…Rain showers and slight chance of thunderstorms. Lows in the lower 50s. Northeast winds 15 to 20 mph.  Chance of showers near 100 percent.
.THURSDAY…Rain showers and slight chance of thunderstorms.
Highs in the upper 50s. North winds 10 to 20 mph.  Chance of showers 90 percent.
.THURSDAY NIGHT…Cloudy. Rain showers likely and slight chance
of thunderstorms in the evening, then chance of rain showers
after midnight. Lows in the upper 40s. Northwest winds 15 to
20 mph with gusts to around 35 mph. Chance of precipitation
60 percent in the Jamestown area, 70 percent in the Valley City area.
.FRIDAY…Mostly cloudy in the morning then clearing. Highs in
the lower 60s. Northwest winds 10 to 20 mph with gusts to around
35 mph.
.FRIDAY NIGHT…Mostly clear. Lows in the mid 40s.
.SATURDAY…Mostly sunny. A 20 percent chance of rain showers and
thunderstorms in the afternoon. Highs in the lower 70s.
.SATURDAY NIGHT…Mostly clear. Lows in the lower 50s.
.SUNDAY…Sunny. Highs in the mid 70s.
.SUNDAY NIGHT…Mostly clear. Lows in the upper 50s.
.MONDAY…Sunny. Highs in the upper 70s.
.MONDAY NIGHT…Partly cloudy. Lows around 60.
.TUESDAY…Mostly sunny. Slight chance of showers and
thunderstorms in the morning. Highs in the mid 70s.
Widespread rain Wednesday night through Thursday night, tapering off Friday morning. Rainfall amounts of 1 to 2 inches are possible.
A few Thunderstorms, including a few strong thunderstorms, are
possible Wednesday afternoon and evening along and south of the
I-94 corridor.
Wednesday, September 11th, 2019 marks the 18 year anniversary of the 9/11 terrorist attacks on the World Trade Center in New York City, the Pentagon, and United Airlines Flight 93 which crashed in suburban Pennsylvania. Patriot Day serves as a remembrance of the lives lost on that September morning.
By a joint resolution approved 12/18/2001, (Public Law 107-89) has designated September 11th  of each year as "Patriot Day" which also directs the flags be lowered to half-staff for the entire day on September 11.
Jamestown  (CSi)  The Annual Freedom Walk, and dinner, and Patriots Day, and 9-11 observance  on Wednesday September 11, 2019.
The activities will begin at Zonta Park in Jamestown, starting at 5:15-p.m., and go to the All Vets Club on 1st Street East in Jamestown.
Walkers will head south from Zonta Park to Jamestown Middle School and then to the All Vets Club.
At Zonta Park their will be a presentation before the walk.
At the All Vets Club, a talk will be given by Jamestown Mayor, Dwaine Heinrich, followed by a light lunch, at no cost.
The Remembrance Walk is sponsored by the Jamestown Patriotic Council.
The community is invited to participate in all events especially law enforcement and first responders are encouraged  to participate.
On Wednesday the Retro Replay of the 2014 Freedom Walk in Jamestown is showing on CSi 10 The Replay Channel.
Update…
Jamestown  (CSi)  The City of Jamestown informs motorists that Underground utility work is causing the extended closure of a street in Southwest Jamestown through Wednesday, September, 11.
Crews blocked the 2600 block of 3rd Avenue Southwest on Tuesday, and the closure has been extended through Wednesday.
Travelers in the area are asked to use caution and use alternative routes in the area.
Jamestown  (CSi)  The traffic signal at 10th Street Southeast and 7th Avenue Southeast that has been out of service since Labor Day is now functioning.
The traffic light at 17th Street Southwest and Highway 281 South, atop Mill Hill,  that has also been out of service since then is still not functioning, with signs stopping traffic four ways at the intersection until the traffic signal is back in service, which could be for another week.
Interstate Engineering says, yet to be determined is if the either or both outages were related to the electrical storm that hit Jamestown on Labor Day, or another cause.
If storm related, the costs will be reimbursed the city's insurance carrier.
Update…
Jamestown (CSi) Grassroots Cannabis now plans to open the Herbology dispensary in Jamestown at the end of September.
The dispensary is at 1513 Business Loop East in Jamestown.
The dispensary will operate from 10 a.m. to 7 p.m. Tuesday through Saturday.
Jamestown  (CSi)  –  On a recent Wayne Byers Show on CSi Cable 2, Jamestown Mayor Dwaine Heinrich who is also on the Jamestown/Stutsman Development Board said planned is  a new National Guard Armory planned for land at Jamestown Regional Airport.  For the last several years, the Armory has shared space at the Jamestown Civic Center, leasing  space at $14,000, annually.
The new facility will allow the National Guard to keep the Armory in Jamestown.
At Monday's JSDC Board meeting, the board approved a $350,000 one-time payment for a 40-year lease of 16 acres of land from Jamestown Regional Airport at the industrial park.
Preliminary estimates place the cost of the National Guard armory at between $26 million and $28 million.
With the 40-year lease of the land by the city of Jamestown the National Guard will pay the JSDC the share of the development costs of the land and then construct a building.
On  Tuesday's Wayne Byers Show on CSi Cable 2, JSDC Business Development Director Corry Shevlin added, work on the Airport Industrial Park is nearing completion although it is behind schedule, due to rain and wet ground conditions along with underground rocks causing delays. The project was to be  completed by the end of June this .
He said that the Jamestown Airport Industrial Park includes 90 acres of leasable land including about 30 acres that are reserved for aeronautical use.
Another proposal that will be looked at is a developer with plans at the site of the former Eagles Club in Downtown Jamestown that will involved tearing down the structure and constructing a new building at that location, a four-story apartment building with 33 low and moderate income units.  The estimated cost of the project is $4.8 million.
The  developer  Commonwealth Companies, says the project is still in the preliminary stages.
Discussion of the developer's request for a city  payment in lieu of taxes may be discussed at the  City Council's Finance and Legal Committee meeting on September 24. If all tax breaks requested by the developer are approved, the project could start in the spring of 2020.
Jamestown  (CSi)  Senator Kevin Cramer's Office has announced, that the U.S. Department of Agriculture (USDA) Rural Development (RD) awarded grants totaling $620,054 to eight recipients for Rural Business Development initiatives, including a grant to the Jamestown/Stutsman Development Corporation.
JSDC received $63,300…earmarked for the Entrepreneur Center.
Other recipient of USDA Funds included:
Adams County Development Corporation received $150,000.
Leeds Economic Development Corporation received $150,000.
Turtle Mountain Band of Chippewa received $109,821.
Tribal Nations Research Group received $51,577.
Linton Industrial Development Corporation received $46,600.
Hettinger County received $27,000.
Bowman County Development Corporation received $21,756.
These funds are given to help enhance local economic development and improve quality of life in rural areas. Specifically, this investment will directly create at least 23 jobs within these localities.
Jamestown  (CSi)  Following a Public Hearing the Jamestown Park Board approved the  2020 final budget, at 37.24 mills. Parks and Recreation Director Doug Hogan says the annual property tax increase on a $100,000 residential home will be $6.89.
The total amount levied by the board increased by $152,450, for a total of $1,827,250 for 2020.
In other business, Hogan said bids will be opened for new Jack Brown Stadium bleaches on October 1.  Once construction begins in early October the project's finishing deadline is March 31, 2020.
FARGO, N.D. (AP) — A federal judge in North Dakota has blocked a state law passed earlier this year that required physicians to tell women they may reverse a so-called medication abortion if they have second thoughts.
North Dakota is among eight states to pass or amend laws requiring doctors to tell women undergoing medication abortions they can still have a live birth after the procedure. The North Dakota law also would require doctors to tell the patient "time is of the essence" if she changes her mind.
Tammi Kromenaker, director of North Dakota's sole abortion clinic in Fargo, says the law would force doctors to give information "simply false and not backed up by science.
U.S. District Judge Daniel Hovland says state lawmakers should not be mandating unproven medical treatments.
FARGO, N.D. (AP) — The union representing public school teachers in North Dakota's largest city is taking the school board to court over a stalemate on contract negotiations.
KFGO radio reports that the Fargo Education Association believes the board broke state law by declaring an impasse without union approval. The teachers want a judge to order the board to resume contract talks.
Teacher safety and pay are issues that have separated the two sides. Teachers in North Dakota do not have the right to go on strike.
Court documents do not list an attorney for the Fargo School Board.
In sports…
Tuesday
Boys soccer
Jamestown 3, Century 3.
Shanley/OG/PC/CC 3, Fargo North 0.
Bismarck 3, Mandan 0.
Minot 2, Williston 0.
Fargo South, 0 Fargo Davies 0.
GF Central 3, West Fargo 2.
GF Red River 2, WF-Sheyenne 2.
High School Volleyball…
Bismarck High def. Jamestown, 17-25, 27-29, 25-21, 25-20, 15-10
Sheyenne def. Valley City, 25-20, 25-13, 25-16
LaMoure-Litchville-Marion def. Maple Valley, 25-11, 25-14, 25-16
Linton-HMB def. Shiloh Christian, 17-25, 25-11, 25-17, 25-16
Barnes County North def. Ellendale, 25-15, 25-15, 25-15
Napoleon def. Lisbon, 25-17, 25-18, 22-25, 22-25, 15-11
Bishop Ryan def. Nedrose, 25-18, 25-20, 22-25, 25-18
Bismarck Century def. Bismarck Legacy, 25-18, 25-16, 25-16
Bottineau def. Surrey, 16-25, 25-18, 25-17, 25-12
Des Lacs-Burlington def. Drake/Anamoose, 25-16, 25-13, 25-12
Enderlin def. Finley-Sharon/Hope-Page, 25-21, 25-20, 25-19
Fargo Davies def. Fargo Shanley, 25-16, 22-25, 25-23, 25-18
Fargo North def. Devils Lake, 25-22, 25-18, 25-13
Glenburn def. Parshall, 25-8, 25-12, 25-13
Grafton/St. Thomas def. Larimore, 25-16, 25-19, 25-18
Grand Forks Red River def. Grand Forks Central, 25-17, 25-23, 24-26, 25-16
Grant County def. Mott-Regent, 25-20, 25-23, 22-25, 25-22
Killdeer def. New Town, 25-23, 25-15, 25-13
Lakota def. Four Winds/Minnewaukan, 25-21, 27-25, 25-14
Lewis and Clark def. Stanley, 25-20, 14-25, 25-17, 25-20
May Port CG def. Dakota Prairie, 25-16, 25-9, 25-16
Minot def. Watford City, 25-18, 25-10, 25-23
North Border def. Midway-Minto, 28-26, 20-25, 25-21, 27-25
Northern Cass def. Park River/Fordville Lankin, 25-10, 25-8, 23-25, 25-19
Our Redeemer's def. Hazen, 25-11, 25-15, 25-13
Powers Lake def. Burke County, 3-0
Rolla def. Rolette-Wolford, 25-9, 25-17, 25-14
Rugby def. St. John, 25-10, 25-8, 25-14
South Prairie def. Velva, 25-16, 25-12
Thompson def. Hillsboro/Central Valley, 25-16, 25-20, 25-18
Towner-Granville-Upham def. Benson County, 3-1
West Fargo def. Wahpeton, 25-15, 25-12, 25-12
Wyndmere-Lidgerwood def. Central Cass, 16-25, 25-20, 25-23, 25-12
College Women's Golf…
BELLEVUE, Neb.  (uj.edu)– The University of Jamestown women's golf team finished fourth at the Bellevue University Fall Invite, which wrapped up Tuesday at Platteview Golf Club.
The Jimmies shot a second round score of 348 to give them a two-day total of 686, 11 shots behind Briar Cliff (Iowa) for third place. William Penn (Iowa) University was first at 653 (325-328), followed by Bellevue (Neb.) at 671 (333-338).
Amber Domres (SO/Bismarck, N.D.) and Izzy Marchino (SO/Highlands Ranch, Colo.) were UJ's top two finishers, placing in a tie for eighth at 24-over 168 (83-85).
Paige Argent (JR/Minot, N.D.) was 14th with 173 (86-87), Sarah Azure (SO/Jamestown, N.D.) tied for 15th at 177 (86-91), and Jayme Carlson (FR/Hartford, S.D.) tied for 23rd at 188 (94-94). Haley Malone (FR/Moorhead, Minn.) was 27th at 198 (101-97).
Next up for the Jimmies is the Jimmie Fall Invite, which will be held at CrossRoads Golf Course in Carrington, N.D., on September 16-17.
College Volleyball…
VALLEY CITY  (VCSU)   – The Valley City State volleyball team took a victory in a five-game thriller Tuesday night against Concordia College-Moorhead.
The Vikings defeated the Cobbers 25-16, 25-15, 20-25, 19-25, 15-11.
Tuesday's victory was just VCSU's second home match of the season, and the Vikings fed off the crowd's energy – especially in the decisive fifth set.
"I don't think there's a greater place to play than in Graichen Gymnasium," said Longmore. "It's just a great atmosphere every night we're at home."
Valley City State took the first two matches handily 25-16 and 25-15. In the third set with the Vikings up 11-9, a Viking error fueled the Cobbers on a 6-1 run to take the lead 15-12. Valley City State would never recover as they fell 20-25 in set three.
"It looked to me like the service errors in that third set dictated how we played most of the rest of the match," said Longmore. "We got them revitalized a little bit between the fourth and the fifth set. I said what I felt I needed to say to get them so they were confident again like the first two sets."
The Vikings battled hard in the fourth set, never trailing by more than four points until a Concordia kill by outside hitter Anna Brakke put the Cobbers ahead 21-16. Concordia went on to win the set, sealed by a Brakke ace serve.
The Valley City State student section was standing throughout the entire fifth set fueling the fire on the court. The fifth set was back-and-forth as the Vikings and Cobbers started out tied 9-9. A Bailey Nelson kill then put Valley City State back in the lead for the remainder of the game, as the Vikings took set five 15-11.
Valley City State has now won four of their last six matches.
"We've had a lot of development already this season," he said. "If you look statistically at our first matches of the year, we were hitting negative as a team. We've spent a good bulk of our time lately working on being better, especially on out of system balls, and I think that really showed tonight."
The Vikings had four hitters who contributed double-digit kills. Katie Juarez and Bailey Nelson each tallied 13 while Clara Wieland and Caitlyn Fischbach each added 10.
Valley City State also recorded 11 ace serves as a team with Charlotte Huschka, Kallene Klever, and Reagan Ingstad each tallying three and Morganne Eppard adding two.
Huschka recorded 26 digs to lead the Viking defense. Ingstad and Alexa Walby each contributed 25 assists for Valley City State.
Valley City State improves to 4-6 while Concordia College-Moorhead falls to 1-7 on the season.
UP NEXT: Valley City State travels to the NDSCS Invitational to play four scrimmages Friday and Saturday in Wahpeton, N.D. The Vikings return home Friday, Sept. 20th, when they host Waldorf University to open conference play at 7 p.m. in Graichen Gym.
AMERICAN ASSOCIATION PLAYOFFS..
St. Paul   —On Tuesday evening the St. Paul Saints ended the season for the Fargo-Moorhead RedHawks.
In the American Association best-of-five North Division Championship Series, the RedHawks fell 9-7 on Tuesday at CHS Field in St. Paul.
The Saints, will take on the Sioux City Explorers in a best-of-five series for the league title, beginning Wednesday night in Iowa.
UNDATED (AP) _ The Nationals lost in Minnesota as Jose Berrios (beh-REE'-ohs) combined with two relievers on a two-hitter in the Twins' 5-0 shutout. Nats starter Anibal (AH'-nih-bahl) Sanchez blanked the AL Central leaders until Mitch Garver slammed a two-run homer in the seventh. Berrios gave up two hits over seven innings to move to 12-8.
The Los Angeles Dodgers are the first major league team to wrap up a postseason berth this season.
The Dodgers have captured their seventh consecutive NL West title with a 7-3 victory at Baltimore. Corey Seager drove in five runs with a pair of homers for Los Angeles, which took sole possession of first place on April 17 and led by 21 games on August 24. Seager hit a three-run shot in the first inning and added a two-run drive in the third.
Walker Buehler was outstanding in the clincher, striking out 11 and holding the Orioles to four hits over seven scoreless innings.
This is the earliest that the Dodgers have ever clinched the division, both in terms of date and games.
_ The Rockies rode Nolan Arenado's (ar-eh-NAH'-dohz) two-run, 482-foot blast in the first inning to a 2-1 verdict over the Cardinals. Chi Chi González allowed one run and four hits in six innings for his first big league victory in four years. The NL Central leaders lost for only the eighth time in their last 31 games.
_ The Cards still top their division by four games over Chicago after Steve Cishek (SEE'-shehk) walked three straight hitters in the bottom of the 10th to allow the Padres to come away with a 9-8 victory over the Cubs. Manuel Margot (mahr-GOH') walked with the bases loaded for his second RBI of the night as San Diego trimmed Chicago's lead for the second NL wild card to one game over Milwaukee. The Padres led 8-5 in the eighth until Kris Bryant and Jason Heyward each hit their second homers of the game to tie it up.
_ Corey Dickerson homered twice and had three RBIs in the Phillies' 6-5 victory against the Braves. Philadelphia blew a 4-0 lead before Scott Kingery hit an inside-the-park solo homer in the third inning. J.T. Realmuto (ree-al-MOO'-toh), Bryce Harper and Dickerson belted first-inning homers for the Phils, who kept Atlanta's lead in the NL East at 9 ½ games over Washington.
_ Tyler Austin's sacrifice fly in the top of the ninth broke a tie in the Brewers' 4-3 triumph at Miami. Hernan Perez belted a two-run homer and Yasmani Grandal (yahs-MAH'-nee grahn-DAHL') was 2-for-4 with an RBI in Milwaukee's fifth consecutive win. The Brewers will get within one game of Chicago for the second NL wild card if the Cubs lose at San Diego tonight, but they will be playing out the season without Christian Yelich (YEH'-lihch) because of a broken kneecap.
_ A pair of Texas errors helped the Rays score twice in the 11th inning to beat the Rangers, 5-3. Nate Lowe scored the tiebreaking run from third on an error by second baseman Rougned Odor (ROOG'-nehd) oh-DOHR') with two out before Guillermo Heredia (gee-HER'-moh heh-REH'-dee-uh) followed with an RBI single. Austin Meadows tied the game with a two-run homer in the eighth before Tampa Bay won for the 11th time in 12 games to stay 1 ½ games ahead of Oakland for the first AL wild card.
_ Matt Olson and Sean Murphy both homered twice and the Athletics set a season high for runs in a 21-7 thrashing of the Astros. Khris Davis and Marcus Semien also went deep as part of Oakland's season-best 25-hit attack. The A's tagged Wade Miley for seven runs in the first inning and ripped a team that had outscored its opponents 36-1 in its previous two games.
_ Rookie Zach Plesac (PLEE'-sahk) allowed four hits in his first complete game as the Indians thumped the Angels, 8-0 to stay a half-game behind Oakland for the second AL wild card. The rookie right-hander had allowed 10 earned runs in his last two starts before shutting down Los Angeles. Francisco Lindor (lihn-DOHR') hit a solo shot to join Alex Rodriguez as the only major league shortstops to have three or more seasons of at least 30 home runs before turning 26.
_ The Tigers avoided their major league-leading 101st loss by beating the AL East-leading Yankees, 12-11 on Jordy Mercer's RBI single in the bottom of the ninth. Christin Stewart hit a solo homer and had two RBIs, while Jeimer (JAY'-mur) Candelario went 3-for-5 with three ribbies. Brett Gardner and Didi Gregorius (DEE'-dee greh-GOHR'-ee-uhs) homered twice for the Yanks, who also got round-trippers from Gleyber (GLAY'-bur) Torres and Edwin Encarnacion (ehn-kahr-nah-see-OHN').
_ Todd Frazier drove in three runs and Zack Wheeler scattered seven hits over seven innings as the Mets downed the Diamondbacks for the second straight night, 3-2. Wheeler struck out seven and blanked Arizona after Eduardo Escobar hit an RBI single in the top of the first. Justin Wilson picked up a four-out save to help New York bolster its slim playoff hopes.
_ Johnny Cueto (KWAY'-toh) was terrific in his return from Tommy John surgery, tossing one-hit ball over five shutout innings to help the Giants nip the Pirates, 5-4. Stephen Vogt (voht) smacked a two-run homer and drove in four runs. His two-run single in the first off rookie Mitch Keller staked Cueto to a quick lead.
_ Toronto stopped a seven-game slide by homering three times in a 4-3 win against the Red Sox. Rowdy Tellez (the'-LEHZ) hit a two-run home run and Cavan Biggio (KA'-van BEE'0-zhee-oh) and Reese McGuire added solo shots as the Blue Jays handed Boston its fourth straight loss. Mookie Betts went deep for the Bosox.
_ The White Sox knocked off the Royals, 7-3 as rookie Eloy (EE'-loy) Jiménez hit his first career grand slam and Yoán Moncada (yoh-AHN' mohn-KAH'-dah) launched a mammoth two-run homer. Adam Engel added a solo shot as Chicago won for just the fourth time in 14 games. Adalberto Mondesi (ad-ul-BEHR'-toh MAHN'-deh-see), Alex Gordon and Ryan O'Hearn went deep for the Royals.
_ The Mariners pulled out a 4-3 win over the Reds on Kyle Seager's two-run homer in the bottom of the eighth. Kyle Lewis ripped his first major league homer and Dylan Moore added a solo shot for Seattle. M's starter Justus Sheffield allowed one run over six innings to get a no-decision.
MLB-NEWS
_ Twins outfielder Byron Buxton has been placed on the 60-day injured list with a shoulder injury that required surgery on Tuesday. Buxton sustained a partial dislocation after crashing into the outfield wall while making a catch on Aug. 1. The Twins also reinstated starting pitcher Kyle Gibson from the 10-day injured list and promoted infielder Ronald Torreyes (toh-RAY'-ehs) from Triple-A Rochester.
The Brewers' playoff hopes were dealt a very big blow on Tuesday.
Reigning National League MVP Christian Yelich (YEH'-lihch) broke his right kneecap on a foul ball during Milwaukee's win over the Marlins. Yelich did it while batting in the first inning and spent several minutes on the ground before limping off the field.
The Brewers didn't say whether the reigning NL MVP might be able to return for the playoffs that begin Oct. 1 if they make it that far. Yelich will return to Milwaukee on Wednesday for further evaluation.
Yelich hit .329 with 44 home runs and 97 RBIs along with 30 stolen bases this season. The outfielder was leading the majors in slugging percentage and OPS when he was hurt.
In other MLB news:
_ Mets starting pitcher Noah Syndergaard (SIHN'-dur-gahrd) says it is "unfortunate" that his complaints to New York's front office and coaching staff about catcher Wilson Ramos were made public and denied any role in leaking the conversations. Syndergaard says it is "completely false" that he was livid in conversations with club officials.
_ Outfielder Mike Tauchman (TAWK'-man) has become the Yankees' 30th player on the injured list this year, the most in the major leagues in at least 15 years. The 28-year-old strained his left calf Sunday and is expected to miss the rest of the season. Outfielder Giancarlo Stanton could be nearing a return after homering in a simulated game.
NFL-NEWS
Patriots' Brown accused of rape
UNDATED (AP) _ Newly-acquired Patriots wide receiver Antonio Brown has been accused of rape by a former trainer.
Britney Taylor says Brown sexually assaulted her on three occasions, according to a lawsuit filed Tuesday in the Southern District of Florida.
Brown has denied the allegations.
Elsewhere in the NFL:
_Texans center Nick Martin has signed a three-year, $33 million contract extension that runs through the 2022 season. Martin has appeared in 31 games for the Texans since being selected in the second round of the 2016 draft. He is set to make just more than $1.1 million this season while playing alongside new left tackle Laremy Tunsil, who was acquired from Miami on Aug. 31.
_ Houston also released cornerback Aaron Colvin, who gave up two touchdowns in the second half of Monday's 30-28 loss at New Orleans. Colvin was in the second year of a four-year, $34 million contract that had $18 million guaranteed.
_ The Seahawks have re-signed veteran cornerback Jamar Taylor, who was one of the team's final cuts at the end of training camp after signing a contract in May. Seattle released cornerback Parry Nickerson to clear a roster spot for Taylor.
_ The Jets have picked up wide receiver Demaryius Thomas from the Patriots for a 2021 sixth-round draft pick, according to a person with direct knowledge of the deal. Thomas has 688 career receptions for 9,330 yards and 62 touchdowns.
_ Jets defensive lineman Nathan Shepherd has received a six-game suspension from the NFL for violating the league's policy on performance-enhancers. Shepherd told NFL.com he failed two tests this summer while recovering from shoulder and groin injuries.
_ Sam Ficken is the fourth kicker to be signed by the Jets since July. The Jets cut Kaare Vedvik (KAH'-ree VEHD'-vihk) after he missed an extra point and a 45-yard field-goal attempt in the Jets' 17-16 season-opening loss to the Bills on Sunday.
_ The Steelers will likely be without fullback and special teams captain Rosie Nix for Sunday's clash with Seattle. Coach Mike Tomlin says Nix is dealing with a knee injury sustained in Sunday night's 33-3 loss to New England.
NHL-DEVILS-ZACHA
Devils re-sign Zacha
NEWARK, N.J. (AP) _ New Jersey Devils center Pavel Zacha has signed a three-year, $6.75 million contract just days before he's scheduled to report to training camp.
The 22-year-old Czech scored a career-high 13 goals in 61 games last season before becoming a free agent in July. The former first-round pick had considered signing with the Russian-based Kontinental Hockey League.
Zacha has 29 goals and 47 assists for 76 points in 201 career NHL games.
COLLEGE CORRUPTION
Adidas fixer gets probation
NEW YORK (AP) _ A former Adidas consultant who became a key government witness in a college basketball corruption case has been sentenced to one year of probation. Thomas "T.J." Gassnola received the term on Tuesday in federal court in Manhattan.
Gassnola had pleaded guilty in a scheme to funnel secret payments to the families of top recruits and agreed to testify against a former Adidas executive and two other defendants at a 2018 trial.
FOOTBALL-OBIT-BALL
Former linebacker Ball dies
UNDATED (AP) _ Former Oakland Raiders and Florida Gators linebacker Neiron Ball has died at age 27.
His death came nearly a year after he suffered a brain aneurysm and was placed in a medically induced coma. His family announced in late July that the Georgia native was out of the coma but was a quadriplegic.
Ball missed his sophomore season at Florida in 2011 because of a congenital condition that causes the brain's blood vessels to get tangled and rupture.
In world and national news…
NEW YORK (AP) — Americans are commemorating 9/11 with mournful ceremonies, volunteering, appeals to "never forget" and rising attention to the terror attacks' extended toll on responders.
A crowd of victims' relatives is expected at ground zero Wednesday. President Donald Trump is scheduled to join an observance at the Pentagon.
Vice President Mike Pence is to speak at the third attack site, near Shanksville, Pennsylvania.
Eighteen years after the deadliest terror attack on American soil, the nation is still grappling with the aftermath at ground zero, in Congress and beyond.
The attacks' aftermath is visible from airport security checkpoints to Afghanistan, where a post-9/11 invasion has become America's longest war.
Nearly 3,000 people were killed when hijacked planes rammed into the World Trade Center, the Pentagon and a Shanksville field on Sept. 11, 20
TEHRAN, Iran (AP) — Iran's president says the U.S. should "put warmongers aside" as tensions roil the Persian Gul amid an escalating crisis between Washington and Tehran in the wake of the collapsing nuclear deal with world powers.
Hassan Rouhani's remarks signaled approval of President Donald Trump's abrupt dismissal of John Bolton as national security adviser. Bolton had been hawkish on Iran and other global challenges.
Rouhani's website quoted him on Wednesday as further urging the U.S. to "abandon warmongering and its maximum pressure policy" on Iran. He spoke at a Cabinet meeting in Tehran.
Ali Rabiei, a government spokesman, said after the meeting that Bolton's dismissal may help the U.S. have a "less biased" attitude toward Iran.
Trump last year pulled the U.S. out of the nuclear deal and intensified sanctions on Iran.
FAYETTEVILLE, N.C. (AP) — Conservative Republican Dan Bishop has won a special election for an open House seat in North Carolina, averting a demoralizing Democratic capture of a district the GOP has held for nearly six decades.
But Bishop's narrow victory over centrist Democrat Dan McCready didn't erase questions about whether President Donald Trump and his party's congressional candidates face troubling headwinds approaching 2020.
Bishop is a state senator best known for a North Carolina law dictating which public bathrooms transgender people can use. He tied himself tightly to Trump, who staged an election-eve rally for him, and Tuesday's voting seemed no less than a referendum on the president.
Trump quickly took credit for the triumph, proclaiming a "BIG NIGHT FOR THE REPUBLICAN PARTY" on Twitter.
LONDON (AP) — German Chancellor Angela Merkel says an orderly departure of Britain from the European Union remains possible, less than two months before the deadline.
The United Kingdom is due to leave the bloc on Oct. 31 with little sign that British Prime Minister Boris Johnson will get the new Brexit deal he wants with the EU.
Merkel told lawmakers Wednesday that "it's my firm conviction that we still have a chance to achieve this in an orderly way."
But she noted that Germany is also prepared for a Brexit without a deal that will result in "an economic competitor at our door."
Merkel added that Germany wants to keep close economic and security ties to Britain after Brexit.