Twins outfielder Byron Buxton has been placed on the 60-day injured list with a shoulder injury that required surgery on Tuesday. Buxton sustained a partial dislocation after crashing into the outfield wall while making a catch on Aug. 1. The Twins also reinstated starting pitcher Kyle Gibson from the 10-day injured list and promoted infielder Ronald Torreyes (toh-RAY'-ehs) from Triple-A.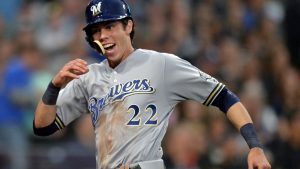 The Brewers' playoff hopes were dealt a very big blow on Tuesday.
Reigning National League MVP Christian Yelich (YEH'-lihch) broke his right kneecap on a foul ball during Milwaukee's win over the Marlins. Yelich did it while batting in the first inning and spent several minutes on the ground before limping off the field.
The Brewers didn't say whether the reigning NL MVP might be able to return for the playoffs that begin Oct. 1 if they make it that far. Yelich will return to Milwaukee on Wednesday for further evaluation.
Yelich hit .329 with 44 home runs and 97 RBIs along with 30 stolen bases this season. The outfielder was leading the majors in slugging percentage and OPS when he was hurt.