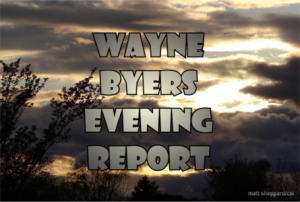 CSi Weather…
.TONIGHT…Cloudy. Chance of rain showers in the evening, then rain showers and slight chance of thunderstorms after midnight. Lows in the lower 50s. Northeast winds 15 to 20 mph.
Chance of precipitation near 100 percent.
.THURSDAY…Rain showers and chance of thunderstorms. Highs in
the mid 50s. Northeast winds 15 to 20 mph shifting to the north
in the afternoon.  Chance of precipitation near 100 percent.
.THURSDAY NIGHT…Rain showers likely. Lows in the upper 40s.
Northwest winds 15 to 25 mph. Chance of showers 70 percent.
.FRIDAY…Partly sunny with a 30 percent chance of rain showers
in the morning, in the Jamestown area, 40 percent in the Valley City area,  then sunny in the afternoon. Highs in the lower
60s. Northwest winds 15 to 25 mph.
.FRIDAY NIGHT…Mostly clear. Lows in the mid 40s.
.SATURDAY…Mostly sunny. A 20 percent chance of rain showers and
thunderstorms in the afternoon. Highs in the lower 70s.
.SATURDAY NIGHT…Mostly clear. Lows in the lower 50s.
.SUNDAY…Sunny. Highs in the mid 70s.
.SUNDAY NIGHT…Mostly clear. Lows in the upper 50s.
.MONDAY…Sunny. Highs in the upper 70s.
.MONDAY NIGHT…Partly cloudy. Lows around 60.
.TUESDAY…Mostly sunny. Slight chance of showers and
thunderstorms in the morning. Highs in the mid 70s.
A few Thunderstorms, including a few strong thunderstorms, are
possible Wednesday evening along and south of the I-94 corridor.
Widespread rain Wednesday night through Thursday night, tapering off Friday morning. Rainfall amounts of 1 to 2 inches are possible.
Heading into Saturday,  a slight chance for showers and storms to portions of the region.
Warm air develops and starts a warming trend across the Northern Plains. High temperatures on Saturday look to be near normal, about 10 degrees warmer than normal.
For Saturday evening through at least Tuesday warm temperatures.
This will result in daytime high temperatures in the 70s (Sunday) and 80s
early next week.
Mid to late next week, signals  a wetter period again as a low
pressure system progresses into the Northern Plains.
Jamestown  (CSi)  The City of Jamestown informs motorists that Underground utility work is causing the extended closure of a street in Southwest Jamestown through Wednesday, September, 11.
Crews blocked the 2600 block of 3rd Avenue Southwest on Tuesday, and the closure has been extended through Wednesday.
Travelers in the area are asked to use caution and use alternative routes in the area.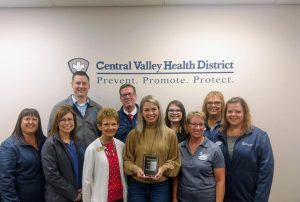 Jamestown  (Chamber)  Members of the Jamestown Area Chamber of Commerce Ambassador Committee and the Young Professionals of Jamestown presented the Customer Service Award for September to Shannon Kaiser of Central Valley Health for her outstanding customer service.  The chamber honors individuals who demonstrate a consistent commitment to delivering products or services that satisfy customers by exceeding their requirements or expectations.
Their letter of nomination stated, "We called Shannon to meet with her when we got back to Jamestown. She took it upon herself to schedule us time with a car seat expert in Fargo, so we could drive home knowing our baby was safe. She went above and beyond, and we are very thankful!"
Congratulations to Shannon, who along with all the other monthly winners, will be recognized at the Chamber's annual banquet in January 2020.  Customer Service Award nomination forms are available at the Chamber office and on their website at www.jamestownchamber.com or call 701-252-4830.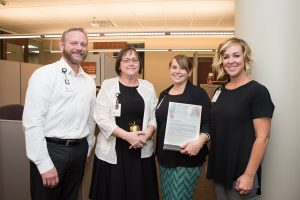 Jamestown  (JRMC)  — Jamestown Regional Medical Center (JRMC) recently announced Cindy Tag Nygord as its most recent Legend Award recipient.
The Legend Award is the most prestigious distinction for a JRMC employee. The Legend Award recognizes employees who exceed expectations and make THE difference in the lives of those they serve.
JRMC CEO & President, Mike Delfs, nominated Nygord because of her willingness to be THE difference and always exceed expectations.
Delfs says, "Anyone who has worked at JRMC knows that Cindy Tag Nygord, executive assistant, consistently exceeds expectations.  Whether she is credentialing a physician, setting up a visit for a potential recruit, ordering office supplies or planning an event, Cindy ensures no detail is missed at JRMC.  Most recently, Cindy worked far beyond her role, taking her personal time to care for a patient's dog: Joey. She even found time to take Joey to visit the patient, who was in a nursing home under the care of JRMC Hospice.  For this kindness and so many others, thank you, Cindy Tag Nygord, for being a legend. The nominations inspire staff members to continually be the best, exceed expectations and make THE difference in the lives of those we serve.
Nygord joined the JRMC team in 1985 and resides in Jamestown.
JRMC's 350 employees cast anonymous votes to select each Legend Award winner.
The purpose of the Legend Award is to inspire, motivate and capture the moments that define JRMC. The goal is to help employees and volunteers connect to the sense of purpose that brought them to the organization. This award is for employees who've made extreme efforts to benefit their patients and colleagues.
Once nominated, both JRMC administration and employees vote on their favorite nominees and their stories.
JRMC Chief Operating Officer, Ricki Ramlo  says,  "Cindy is a tenured and very deserving employee who works tirelessly to ensure that no detail or task goes unchecked.  She takes pride and joy in her daily responsibilities. She is THE difference at JRMC."
The Legend Award first began in 2012. Since then, more than 35 individuals have been named Legends and more than 110 employees were nominated.
To read Nygord's full story, visit www.jrmcnd.com.
BISMARCK, N.D. (AP) — A judge has reversed course and sided with a family and not the state of North Dakota over oil and gas mineral rights under a Missouri River reservoir.
Northwest District Judge Paul Jacobson issued the decision late last week after the state Supreme Court reversed his initial ruling and sent the case back for further consideration.
The lawsuit, filed in 2012, centers around who owns the mineral interest under land that the federal government acquired from J.T. and Evelyn Wilkinson in 1958 as part of the Garrison Dam project that created Lake Sakakawea.
The plaintiffs, who are descendants of the Wilkinsons, maintain that the family retained the mineral rights and that it was unconstitutional for the state to take them.
The state Board of University and School Lands, which manages state-owned minerals for the benefit of state schools, has disputed their ownership. It leased some of the minerals that are now being contested. The board is named as a defendant in the suit along with several oil companies.
Joshua Swanson, an attorney representing the family, said the decision could impact hundreds of mineral owners with interests under Lake Sakakawea.
"You have a decade of production they haven't been paid on, and there's a lot of oil and gas wells out there," Swanson told the Bismarck Tribune. "The total dollar amount for my clients and other mineral owners is significant."
Swanson estimates the family is owed over $1 million in oil and gas royalties. He said the land board and Statoil, which has a lease with the state, will now have to sort out how to pay the family.
Land Commissioner Jodi Smith said the land board's attorney is reviewing the ruling.
Statoil, a Norway-based oil producer, operates in the Bakken and now goes by the name Equinor. The company declined to comment, citing the potential for an appeal.
ULEN, Minn. (AP) — Classmates of a teenager recently killed in a car crash in northwestern Minnesota have honored her memory in a special way.
Alivia Mortensen was posthumously crowed homecoming queen at Ulen-Hitterdahl high school this week.
The 17-year-old standout athlete and honor student died in a crash in Clay County June 2, just days after finishing her junior year.
KFGO reports school counselor Kim Skjold explains that last spring before school was out, Alivia was selected as a candidate for homecoming queen. Skjold says that when the senior class and senior court were making a selection this summer, the students decided there was no better person to receive the honor than Mortensen.
Her family agreed. Members attended Monday night's coronation and accepted the crown in Alivia's honor.
In world and national news…
NEW YORK (AP) — Vice President Mike Pence is crediting the crew and passengers who fought back against hijackers on 9/11 with protecting the U.S.
Pence spoke at the commemoration Wednesday of the hijacked Flight 93, which crashed in a Pennsylvania field, killing 40 passengers and crew.
The Flight 93 National Memorial marks the site near Shanksville where the plane went down at 10:03 a.m., after passengers fought back. Officials concluded the attackers had aimed the Boeing 757 toward Washington, D.C.
Pence says the memory of those killed in the crash is "carved into the hearts and memories of the American people."
The terrorists also flew two planes into the World Trade Center skyscrapers in New York and a fourth into the Pentagon in Arlington, Virginia.
WASHINGTON (AP) — President Donald Trump says his administration will propose banning thousands of flavors used in e-cigarettes amid an outbreak of breathing problems tied to vaping.
State and federal health authorities are investigating hundreds of breathing illnesses reported in people who have used e-cigarettes and other vaping devices.
No single device, ingredient or additive has been identified.
Health and Human Services Secretary Alex Azar says the Food and Drug Administration will develop guidelines to remove all e-cigarette flavors from the market, especially those favored by children.
The FDA regulates e-cigarettes and has authority to ban vaping flavors, but has resisted calls to take that step.
Instead, the agency has said it is studying the role of flavors in vaping products, including whether they help adult smokers quit traditional cigarettes.
LONDON (AP) — German Chancellor Angela Merkel says an orderly departure of Britain from the European Union remains possible, less than two months before the deadline.
The United Kingdom is due to leave the bloc on Oct. 31 with little sign that British Prime Minister Boris Johnson will get the new Brexit deal he wants with the EU.
Merkel told lawmakers Wednesday that "it's my firm conviction that we still have a chance to achieve this in an orderly way."
But she noted that Germany is also prepared for a Brexit without a deal that will result in "an economic competitor at our door."
Merkel added that Germany wants to keep close economic and security ties to Britain after Brexit.