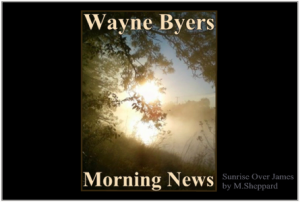 CSi Weather…
TODAY… Rain showers and slight chance of thunderstorms in the afternoon. Highs in the upper 50s. Northeast winds 10 to 15 mph.
.TONIGHT…Rain showers. Lows in the upper 40s. Northwest winds 15 to 20 mph.
.FRIDAY… A 50 percent chance of rain showers in the
morning, in the Valley City area.  Decreasing clouds. Highs in the lower 60s. Northwest winds 15 to 20 mph.
.FRIDAY NIGHT…Mostly clear. Lows in the mid 40s. West winds
around 5 mph with gusts to around 20 mph shifting to the south
after midnight.
.SATURDAY…Partly sunny in the morning then clearing. Highs in
the lower 70s. South winds 5 to 10 mph.
.SATURDAY NIGHT…Mostly clear. Lows in the lower 50s.
.SUNDAY…Sunny. Highs in the upper 70s.
.SUNDAY NIGHT…Mostly clear. Lows around 60.
.MONDAY…Sunny. Highs in the lower 80s.
.MONDAY NIGHT…Mostly clear. Lows in the lower 60s.
.TUESDAY…Mostly sunny. Slight chance of showers and
thunderstorms in the morning. Highs in the upper 70s.
.TUESDAY NIGHT…Partly cloudy. A 20 percent chance of showers
and thunderstorms after midnight. Lows around 60.
.WEDNESDAY…Mostly sunny with a 20 percent chance of showers and
thunderstorms. Highs in the lower 70s.
Widespread rain will continue through Thursday night, and end Friday from the west to the east.
A few thunderstorms can`t be ruled out Thursday afternoon and evening. Severe thunderstorms are not expected.
Widespread rainfall amounts of 1-2 inches are likely, with locally higher
amounts possible. Localized flooding due to ponding while not
likely can`t be ruled out through tonight.
Jamestown  (CSi)  The Annual Freedom Walk, and dinner, and Patriots Day, and 9-11 observance  was held on Wednesday.
The activities began at Zonta Park in Jamestown, and the walk went to the All Vets Club on 1st Street East in Jamestown.
At Zonta Park,  words shared by Vice Chair of the Coordinating Council & Legislative Rep for Disabled American Veterans (DAV).Rod Olin, quoted former president George W. Bush, in an address on September 11, 2001.
Following the walk a dinner was served at the All Vets Club, with the speaker, Jamestown Mayor, Dwaine Heinrich.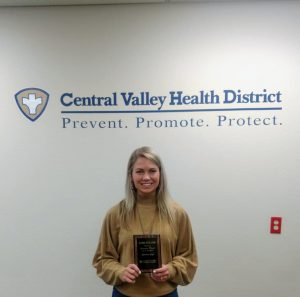 Jamestown  (Chamber)  Members of the Jamestown Area Chamber of Commerce Ambassador Committee and the Young Professionals of Jamestown presented the Customer Service Award for September to Shannon Kaiser of Central Valley Health for her outstanding customer service.  The chamber honors individuals who demonstrate a consistent commitment to delivering products or services that satisfy customers by exceeding their requirements or expectations.
Their letter of nomination stated, "We called Shannon to meet with her when we got back to Jamestown. She took it upon herself to schedule us time with a car seat expert in Fargo, so we could drive home knowing our baby was safe. She went above and beyond, and we are very thankful!"
Congratulations to Shannon, who along with all the other monthly winners, will be recognized at the Chamber's annual banquet in January 2020.  Customer Service Award nomination forms are available at the Chamber office and on their website at www.jamestownchamber.com or call 701-252-4830.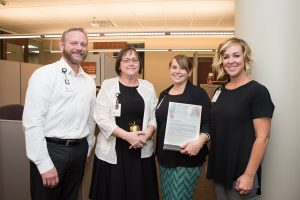 Jamestown  (JRMC)  — Jamestown Regional Medical Center (JRMC) recently announced Cindy Tag Nygord as its most recent Legend Award recipient.
The Legend Award is the most prestigious distinction for a JRMC employee. The Legend Award recognizes employees who exceed expectations and make THE difference in the lives of those they serve.
JRMC CEO & President, Mike Delfs, nominated Nygord because of her willingness to be THE difference and always exceed expectations.
Delfs says, "Anyone who has worked at JRMC knows that Cindy Tag Nygord, executive assistant, consistently exceeds expectations.  Whether she is credentialing a physician, setting up a visit for a potential recruit, ordering office supplies or planning an event, Cindy ensures no detail is missed at JRMC.  Most recently, Cindy worked far beyond her role, taking her personal time to care for a patient's dog: Joey. She even found time to take Joey to visit the patient, who was in a nursing home under the care of JRMC Hospice.  For this kindness and so many others, thank you, Cindy Tag Nygord, for being a legend. The nominations inspire staff members to continually be the best, exceed expectations and make THE difference in the lives of those we serve.
Nygord joined the JRMC team in 1985 and resides in Jamestown.
JRMC's 350 employees cast anonymous votes to select each Legend Award winner.
The purpose of the Legend Award is to inspire, motivate and capture the moments that define JRMC. The goal is to help employees and volunteers connect to the sense of purpose that brought them to the organization. This award is for employees who've made extreme efforts to benefit their patients and colleagues.
Once nominated, both JRMC administration and employees vote on their favorite nominees and their stories.
JRMC Chief Operating Officer, Ricki Ramlo  says,  "Cindy is a tenured and very deserving employee who works tirelessly to ensure that no detail or task goes unchecked.  She takes pride and joy in her daily responsibilities. She is THE difference at JRMC."
The Legend Award first began in 2012. Since then, more than 35 individuals have been named Legends and more than 110 employees were nominated.
To read Nygord's full story, visit www.jrmcnd.com.
BISMARCK, N.D. (AP) — A judge has sided with a family in a lawsuit over oil and gas mineral rights under a Missouri River reservoir.
The Bismarck Tribune reports Northwest District Judge Paul Jacobson issued the decision late last week after the state Supreme Court reversed his initial ruling and sent the case back for further consideration.
The lawsuit centers around who owns the mineral interest under land that the federal government acquired from the Wilkinson family in 1958 as part of the Garrison Dam project that created Lake Sakakawea.
The judge initially sided with the state, and the family appealed. The family argued it was unconstitutional for the state to take the mineral rights.
A family attorney says the decision could impact hundreds of mineral owners with interests under Lake Sakakawea.
BILLINGS, Mont. (AP) — Attorneys for the Trump administration are asking a federal judge to throw out a lawsuit from Native American tribes that want to block the proposed Keystone XL oil pipeline.
Tribes in Montana and South Dakota say President Donald Trump approved the pipeline in March without considering potential damage to cultural sites from spills and construction.
The Assiniboine and Gros Ventre tribes of the Fort Belknap Indian Reservation and South Dakota's Rosebud Sioux tribe say Trump's action violated their rights under treaties from the mid-1800s.
The administration argues Trump's presidential permit applies only to a 1-mile (1.6-kilometer) section of pipeline along the U.S.-Canada border in northern Montana.
U.S. District Judge Brian Morris will preside over a Thursday hearing on the government's attempt to dismiss the case.
ULEN, Minn. (AP) — Classmates of a teenager recently killed in a car crash in northwestern Minnesota have honored her memory in a special way.
Alivia Mortensen was posthumously crowed homecoming queen at Ulen-Hitterdahl high school this week.
The 17-year-old standout athlete and honor student died in a crash in Clay County June 2, just days after finishing her junior year.
KFGO reports school counselor Kim Skjold explains that last spring before school was out, Alivia was selected as a candidate for homecoming queen. Skjold says that when the senior class and senior court were making a selection this summer, the students decided there was no better person to receive the honor than Mortensen.
Her family agreed. Members attended Monday night's coronation and accepted the crown in Alivia's honor.
In sports…
College Baseball…
From uj.edu
Lincoln Trujillo (SR/Cheyenne, WY) was 3-for-3 with a pair of home runs and four RBI while Dirk Eymundson (SO/Parkland County, AB, Canada), Chase Hacker (SR/Millcreek, WA), and Ben Pedigo (JR/Olympia, WA) also homered as the University of Jamestown baseball team opened its fall schedule with a 13-5 win over Valley City State (N.D.) University Wednesday evening at Jack Brown Stadium.
Trujillo's second long ball of the game, a three-run shot, came in the Jimmies' five-run fourth inning that saw them take a 7-3 lead.
The Vikings scored single runs in the fifth and sixth innings to get within 7-5, but Pedigo connected on a three-run homer to left to extend UJ's advantage to 10-5.
VCSU jumped out to a 2-0 lead in the first against Jimmie starter Andy Reed (SR/Woodinville, WA). A groundout by JT Reed and a sacrifice fly by Alex Guiterrez accounted for the first two runs. Reed left after pitching 3 1/3 innings and allowing three runs on six hits, walking two and striking out two.
Mitchell Dennis (FR/Okotoks, AB, Canada) (1-0) earned the win with 2 2/3 innings of relief. He allowed two runs on three hits, striking out four and walking one.
Aaron Pugh (SR/Boissevain, MB, Canada) worked a scoreless seventh and eighth before Austin Pesicka (SR/West Linn, OR) needed just 12 pitches to finish the ninth.
Eymundson, Hacker and Pedigo all finished with a pair of hits. Kendall Yackley (SO/Lynnwood, WA), Tayler Cullen (JR/Santa Rosa, Calif.), Matt Meraz (SR/Aurora, CO), and Dylan Dudley (JR/Cottage Grove, OR) also recorded hits.
Chase Feller was 3-for-5 to lead the Vikings. Marcus Niemann (0-1) took the loss, giving up four runs on two hits in a third of an inning. Each of the seven VCSU pitchers the Jimmies faced allowed at least one run.
Next up for the Jimmies is a single nine-inning game against Mayville State (N.D.) University on Tuesday, September 17. First pitch is set for 4 p.m.
NOTES: Trujillo homered twice in a game for the second time in his career (April 20, 2019 vs. Morningside)…UJ improved to 52-3 against VCSU in their last 55 meetings…Reed made his first career start as a Jimmie after 22 appearances out of the bullpen in the spring…Jamestown is now 24-4 in fall games since beginning fall ball in September 2016…Wednesday's five home runs were the most in a game for the Jimmies since they clubbed six in an 11-9 win over Morningside on April 20, 2019…Pugh's outing was his longest scoreless stint as a Jimmie.
–Ryan Mikkelson, University of Jamestown Sports Information Director
NAIA Women's Volleyball Coaches' Top 25 Poll
Sept. 11
(First-place votes in parenthesis)
Team Rec. Points
1. Missouri Baptist (11) 11-3 577
2. Northwestern, Iowa (9) 12-0 564
3. Park, Mo. (3) 8-1 557
4. Indiana Wesleyan 12-0 536
5. Southern Oregon 11-1 451
6. Viterbo, Wis. 13-3 473
7. Grand View, Iowa 6-5 463
8. Eastern Oregon 11-1 451
9. Midland, Neb. 8-3 439
10. Lindsey Wilson, Ky. 8-2 438
11. Corban, Ore. 5-3 382
12. Columbia, Mo. 6-2 376
13. Jamestown, N.D. 10-2 366
14T. Central Methodist, Mo. 11-2 323
14T. Bellevue, Neb. 10-3 323
16. Providence, Mont. 9-1 322
17. Westmont, Calif. 10-2 315
18. Montana Tech 12-2 261
19. Dordt, Iowa 8-4 250
20. College of Idaho 6-3 232
21. Vanguard, Calif. 10-2 205
22. Marian, Ind. 10-0 196
23. Rocky Mountain, Mont. 8-4 195
24. Oklahoma City 8-1 114
25T. College of Saint Mary, Neb. 15-3 112
25T. The Master's, Calif. 6-5 112
Others receiving votes: Saint Francis (Ind.) 84, Morningside (Iowa) 71, Lawrence Tech (Mich.) 46, Evangel (Mo.) 43, Embry-Riddle (Ariz.) 35, Reinhardt (Ga.) 28, Ottawa (Kan.) 20, SAGU (Texas) 11, Aquinas (Mich.) 10, Doane (Neb.) 3.
AMERICAN ASSOCIATION PLAYOFFS..
Wednesday…
St. Paul 12 Sioux City 3
St. Paul leads the series 1-0
WNBA PLAYOFFS
EVERETT, Wash. (AP) — Jordin Canada scored a career-high 26 points and the defending WNBA champion Seattle Storm beat the seventh-seeded Minnesota Lynx 84-74 Wednesday night in a first-round, winner-take-all playoff game.
With Jewell Loyd adding 22 points, the No. 6 Storm, who play at third-seeded Los Angeles on Sunday in the single-elimination second round, got 48 out of their backcourt. Minnesota had one point from starting guards Odyssey Sims and Danielle Robinson. Mercedes Russell contributed 13 points for Seattle.
Sylvia Fowles scored inside with 5:52 to play in the fourth quarter to pull Minnesota within 71-67. The Lynx then went nine straight possessions without scoring. By the time Napheesa Collier made a free throw with 1:11 to play, Seattle was up 76-68.
Damiris Dantas led the Lynx with 20 points.
CHICAGO (AP) — Diamond DeShields scored 25 points and the fifth-seeded Chicago Sky used a dominating second half for a 105-76 win over the eighth-seeded Phoenix Mercury in a first-round, winner-take-all playoff game on Wednesday night.
MLB…
Twins fall, allowing Indians to close gap
UNDATED (AP) _ The AL Central race is a little tighter following Minnesota's loss to Washington and Cleveland's victory over the Los Angeles Angels.
The Nationals won for just the third time in their last nine games as Ryan Zimmerman belted a two-run homer and drove in three to lead a 6-2 win at Minnesota. Zimmerman's blast off losing pitcher Martín (mahr-TEEN') Pérez gave the Nats a 5-0 lead in the third inning.
Stephen Strasburg gave up a two-run homer to Jorge Polanco in the third, but he allowed only four hits and two walks with seven strikeouts over six innings to improve to 17-6 for the NL wild-card leaders.
The Indians are within four games of Minnesota following Cleveland's fourth straight win, 4-3 over the Angels. Carlos Carrasco got his first victory in five appearances since returning from his battle with leukemia, tossing 1 2/3 shutout innings. Carlos Santana and Francisco Lindor (lihn-DOHR') homered while the Indians were building a 4-0 lead.
Elsewhere on major league diamonds:
_ Tyler Flowers slammed a three-run homer and Dallas Keuchel (KY'-kul) struck out eight in six innings as the Braves topped the Phillies, 3-1. Keuchel gave up one run and three hits to win his fifth straight start and help the NL East leaders slash their magic number to eight. Jean Segura's throwing error at shortstop led to three unearned runs in the fourth inning.
_ The Cubs dropped a 4-0 decision at San Diego as Chris Paddock scattered three hits while fanning seven over six innings. Manuel Margot (mahn-WEHL' mahr-GOH') broke a scoreless tie with a solo blast in the fifth inning. Wil Myers added insurance with a two-run single in the seventh to secure the Padres' second straight win over Chicago.
_ Jesús Luzardo looked sharp in his major league debut as the Athletics won for the fourth time in five games, 5-3 at Houston. Luzardo allowed one hit over three innings and retired his final seven hitters after winning pitcher Brett Anderson gave up two runs over five innings. Marcus Semien hit his career-high 28th home run and Sean Murphy went deep in a four-run sixth that allowed the A's to stay a half-game ahead of Cleveland for the second AL wild card.
_ Oakland is within a half-game of Tampa Bay for the first AL wild card after Rougned Odor (ROOG'-nehd oh-DOHR') crushed a go-ahead, three-run homer in the seventh inning to send the Rangers past the Rays, 10-9. Danny Santana supplied a two-run single while the Rangers scored seven times in the first. Ji-Man Choi drove in four runs with a pair of homers, but the Rays lost for just the second time in 13 games.
_ Ian Desmond's sixth-inning home run broke a 1-1 deadlock in the Rockies' second straight, 2-1 win over the Cardinals. Tony Wolters tied it with an RBI double and Antonio Senzatela held St. Louis to a run and four hits over six innings, including Paul Goldschmidt's RBI double in the third. The Redbirds lead the NL Central by four games over the Cubs and Milwaukee.
_ Mike Moustakas (moos-TAH'-kahs) launched a two-run homer in the ninth inning to send the Brewers past the Marlins, 7-5. Moustakas also hit a three-run shot in the third and finished with five RBIs as Milwaukee won its sixth in a row. Trent Grisham also went deep for the Brewers, who moved into a tie with Chicago for the second NL wild card.
_ Jeff McNeil was 3-for-4 with a pair of homers, three RBIs and three runs scored as the Mets downed the Diamondbacks for the third straight night, 9-0. Todd Frazier also homered twice and Brandon Nimmo delivered a solo shot that capped New York's five-run first inning. Steve Matz tossed six innings of four-hit ball for the Mets, who are two games off an NL wild-card slot and a half-game ahead of Arizona.
_ The big league single-season record for total homers was broken when Orioles infielder Jonathan Villar (vee-AHR') clubbed a three-run shot in a 7-3 win over the Dodgers. It was the 6,106th home run hit in the majors this year, topping the old mark set in 2017. John Means limited the NL West champions to two runs and four hits over 6 1/3 innings, one day after Los Angeles wrapped up their seventh consecutive division title.
_ Toronto handed Boston its fifth straight loss as Teoscar (tay-AHS'-kur) Hernández and Rowdy Tellez (teh-LEHZ') homered in the Blue Jays' 8-0 rout. Trent Thornton got the victory with five innings work and combined with three others on a two-hitter. Vladimir Guerrero (guh-REHR'-oh) Jr. had three RBIs and Cavan Biggio was 2-for-3 with two runs scored in the Jays' second straight win since a seven-game skid.
_ Rookie Kyle Lewis broke up a no-hitter bid with a home run for the second consecutive game to jumpstart the Mariners' comeback in a 5-3 win against the Reds. Lewis sent Sonny Gray's 105th pitch of the game into right field for a go-ahead, three-run homer in the seventh, his second major league hit.
_ Felipe Vázquez earned his 27th save in the Pirates' 6-3 win at San Diego, two days after fighting teammate Kyle Crick in the clubhouse. Colin Moran and Adam Frazier each had two hits and an RBI for Pittsburgh. Jose Osuna (oh-SOO'-nah) was 2-for-4 with three runs scored in the victory.
_ Jorge Soler (HOHR'-hay soh-LEHR') smacked a pair of two-run homers while tying a career high with four hits in the Royals' 8-6 verdict over the White Sox. Soler has 43 homers this season, two behind AL Mike Trout of the Angels. Adalberto Mondesi (ad-ul-BEHR'-toh MAHN'-deh-see), Bubba Starling and Ryan O'Hearn also connected as Kansas City beat Chicago for the fifth time in six games.
_ The Tigers and Yankees were rained out in Detroit. The game has been rescheduled as part of a Thursday afternoon doubleheader, when CC Sabathia (suh-BATH'-ee-uh) will make his return to the mound for the Yankees. The 39-year-old Sabathia hasn't pitched since Aug. 30 due to a troublesome right knee.
NFL-NEWS
Brown practices with Pats
UNDATED (AP) _ Wide receiver Antonio Brown went through his first practice with the New England Patriots yesterday.
Brown wore a No. 1 jersey and a visor with his helmet while going through warmup drills with teammates during the small portion of practice that was open to the media. He has worn No. 84 throughout his previous nine NFL seasons, but that number is currently being worn by Patriots tight end Ben Watson.
Wednesday's workout was held one day after Brown's former trainer filed a civil lawsuit in Florida accusing him of sexually assaulting her on three occasions. Britney Taylor filed the suit and says she will cooperate with the NFL and any other agencies.
Patriots coach Bill Belichick (BEHL'-ih-chik) declined to comment on additional questions about Brown other than to say the team takes the allegations very seriously. Belichick also sidestepped questions about Brown's status for Sunday's game in Miami.
Brown has denied all allegations through his attorney.
Elsewhere in the NFL:
_ Broncos inside linebacker Todd Davis practiced Wednesday for the first time since tearing his left calf muscle on the first day of training camp. The team's leading tackler last season says he hopes to play against the Bears on Sunday.
_ Bengals receiver A.J. Green has started running for the first time since injuring his ankle during the opening practice of training camp, an indication he's healing quickly from surgery. Green was out of his protective boot for the first time since the injury.
_ Jets wide receiver Quincy Enunwa (eh-NOON'-wah) will be sidelined the rest of the season after suffering a neck injury for the second time in three seasons. Enunwa was injured during the first half of New York's loss to Buffalo on Sunday. Coach Adam Gase says Enunwa is still undergoing tests.
_ Rookie defensive end Nick Bosa (BOH'-sah) was not practicing as the 49ers began three days of workouts at Youngstown State. The No. 2 overall pick from Ohio State missed the entire preseason with a high ankle sprain but played 39 total snaps and had a sack Sunday. 49ers coach Kyle Shanahan will update Bosa's status following the conclusion of the outdoor practice.
_ Chargers tight end Hunter Henry will be placed on injured reserve because of a knee injury. Henry fractured the upper part of his left tibia during the second half of Sunday's overtime win over the Indianapolis Colts. He managed to return to the game and finished with four receptions for 60 yards, including a 17-yard catch in overtime.
_ Raiders rookie safety Johnathan Abram will be placed on injured reserve after injuring his shoulder in the season opener. Abram injured himself in the first half against the Denver Broncos. He finished the game but will need to undergo surgery and will miss the rest of the season.
_ Former Steelers guard Sam Davis has died at age 75. Davis played 168 games with the Steelers from 1967-79 and started each of their four Super Bowl victories in the 1970. Davis was found dead Tuesday at New Life Personal Care in McKeesport southeast of Pittsburgh, where he was suffering from dementia and was legally blind.
NCAA-CALIFORNIA-NEWSOM
NCAA Board wants Cal Gov. to nix college bill
INDIANAPOLIS (AP) _ The NCAA Board of Governors wants California Gov. Gavin Newsom to reject a new attempt to pay college athletes.
State lawmakers have sent the governor a bill to allow athletes at California colleges to hire agents and sign endorsement deals. The legislation is known as the Fair Pay to Play Act and would allow college athletes to be paid for the use of their names, likenesses and images. It would stop universities and the NCAA from banning athletes that take the money.
However, the NCAA board warned that California schools may be declared ineligible for NCAA competition if the bill becomes law because they would have an unfair recruiting advantage.
Newsom has not said whether he will sign the bill.
SEMENYA-GOLD MEDAL
Semenya to finally get her gold medal from 2011 worlds
JOHANNESBURG (AP) — Caster Semenya is finally getting her gold medal from the 2011 world championships after Russian runner Maria Savinova was stripped of the title for doping.
South Africa's track federation says it will receive the medal from the IAAF on Semenya's behalf at the world championships in Doha, Qatar, this month. Semenya won't be present for any ceremony in Doha after she was barred from defending her latest 800-meter world title because she has refused to follow new IAAF rules that require her to medically reduce her natural testosterone level to be allowed to compete.
Her second legal appeal against the rules is still being considered by the Swiss supreme court.
Athletics South Africa says it will decide on an appropriate event to hand the medal to Semenya in South Africa.
HORSE RACING-JUSTIFY-DRUG TEST
NYT says Justify failed drug test before Triple Crown run
NEW YORK (AP) _ The New York Times says Justify won the 2018 Triple Crown after a failed postrace drug test at a California track that could have kept the horse out of the Kentucky Derby.
The newspaper reported Wednesday that the Bob Baffert-trained colt tested positive for the drug scopolamine after winning the Santa Anita Derby, one of the final prep races for the Kentucky Derby.
The Times said instead of a speedy disqualification, the California Horse Racing Board took more than a month to confirm the results.
GOLF-PLAYER OF THE YEAR
McIlroy tops Koepka for PGA Tour player of the year
PONTE VEDRA BEACH, Fla. (AP) _ Rory McIlroy (MAK'-ihl-roy) has been voted PGA Tour player of the year over Brooks Koepka (KEHP'-kuh) after posting the most top-10 finishes and winning the FedEx Cup.
It's the third time McIlroy has won the Jack Nicklaus Award, and the first without having won a major.
McIlroy had three victories among his tour-best 14 finishes in the top 10, including The Players Championship. He also won the Canadian Open and the Tour Championship, giving him the FedEx Cup for the second time.
NHL-NEWS
Bruins extend Cassidy's deal
UNDATED (AP) _ The Wild have re-signed left wing Kevin Fiala (fee-AH'-lah) to a two-year, $6 million contract, two days before the team holds its first preseason practice. Fiala split last season with the Wild and Nashville Predators, scoring 13 goals and 39 points in 83 games.
The Boston Bruins have signed coach Bruce Cassidy to a multiyear contract extension, rewarding him for the team's trip to the Stanley Cup Final in just his second full season on the bench.
Cassidy is 117-74 as the Bruins' coach, leading Boston to back-to-back 100-point seasons. The Bruins reached Game 7 of the Stanley Cup Final in June, losing to the St. Louis Blues 4-1.
In world and national news…
WASHINGTON (AP) — The Supreme Court is allowing nationwide enforcement of a new Trump administration rule that prevents most Central American immigrants from seeking asylum in the United States.
The justices' order late Wednesday temporarily undoes a lower-court ruling that had blocked the new asylum policy in some states along the southern border. The policy is meant to deny asylum to anyone who passes through another country on the way to the U.S. without seeking protection there.
Most people crossing the southern border are Central Americans fleeing violence and poverty. They are largely ineligible under the new rule.
Justices Ruth Bader Ginsburg and Sonia Sotomayor dissented from the high court's order. Sotomayor says the rule upends "longstanding practices regarding refugees who seek shelter from persecution."
AKRON, Ohio (AP) — Public officials in Akron, Ohio, say no amount of money will restore the families and institutions that have been upended by the opioid crisis.
OxyContin maker Purdue Pharma struck a proposed deal Wednesday with about half the states and thousands of local governments over its role in the epidemic. That could mean that public agencies will one day be paid back for the cost of responding to the crisis.
Akron was hit hard by overdose deaths. Some people say it will never be the same. Fire Chief Clarence Tucker says he sometimes felt as if his community was under attack.
Hundreds of deaths shattered families, orphaned children, exhausted first responders and drained public resources. At one point, city officials needed a mobile morgue to house all the corpses.
LONDON (AP) — A Belfast court has rejected a claim that the British government's Brexit strategy would harm Northern Ireland's peace process.
Three linked cases had argued that a no-deal Brexit on Oct. 31 would undermine agreements between the British and Irish governments that were struck during the peace process.
Judge Bernard McCloskey rejected the arguments on Thursday.
The case is one of several challenges to Prime Minister Boris Johnson's plan to take Britain out of the European Union, with or without a divorce deal.
The U.K. Supreme Court is due to make the final on all the cases after a hearing next week.
LAPEER, Mich. (AP) — Experts are raising concerns that sewage sludge used as fertilizer around the U.S. could contaminate crops with potentially harmful chemicals.
About half of the 7 million tons of sludge generated each year is applied to farm fields and other lands. It's a high-quality, low-cost soil additive.
But some contains chemicals known as PFAS. Studies show they can be absorbed into crops such as lettuce and tomatoes.
Scientists say the extent of any threat to food supplies is unknown because little testing has been done.
The federal government hasn't limited PFAS in fertilizer or developed a standard for determining safe levels.
A dairy farm in Maine that used sludge shut down after high PFAS levels were found in its milk. Cities in Michigan and Wisconsin have stopped providing sludge to local farms.