CSi Weather…
.TONIGHT…Rain showers. Lows in the upper 40s. Northwest winds 15 to 20 mph. Chance of showers 70 percent.
.FRIDAY… A 20 percent chance of rain showers in the morning, in the Valley City area. Decreasing clouds. Highs in the lower 60s. Northwest winds 15 to 20 mph.
.FRIDAY NIGHT…Mostly clear. Lows in the mid 40s. West winds
around 5 mph with gusts to around 20 mph shifting to the south
after midnight.
.SATURDAY…Partly sunny in the morning then clearing. Highs in
the lower 70s. South winds 5 to 10 mph.
.SATURDAY NIGHT…Mostly clear. Lows in the lower 50s.
.SUNDAY…Sunny. Highs in the upper 70s.
.SUNDAY NIGHT…Mostly clear. Lows around 60.
.MONDAY…Sunny. Highs in the lower 80s.
.MONDAY NIGHT…Mostly clear. Lows in the lower 60s.
.TUESDAY…Mostly sunny. Slight chance of showers and
thunderstorms in the morning. Highs in the upper 70s.
.TUESDAY NIGHT…Partly cloudy. A 20 percent chance of showers
and thunderstorms after midnight. Lows around 60.
.WEDNESDAY…Mostly sunny with a 20 percent chance of showers and
thunderstorms. Highs in the lower 70s.
Widespread rain will continue through Thursday night, and end Friday from the west to the east.
A few thunderstorms can`t be ruled out Thursday afternoon and evening. Severe thunderstorms are not expected.
Widespread rainfall amounts of 1-2 inches are likely, with locally higher
amounts possible. Localized flooding due to ponding while not likely can`t be ruled out through tonight.
FARGO, N.D.  (AgWeek)— A district court judge has refused to leave in place an injunction prohibiting Spiritwood Energy Park Association from terminating a contract with North Dakota Soybean Processors to build a $287 million soybean processing plant soybean-crushing plant in Spiritwood.
East District Judge Stephannie Stiel on Thursday, Sept. 12, 2019 ruled from the bench at the Cass County Courthouse that NDSP was "unlikely to prevail on the merits" of the case. Stiel said there is a "great public interest" in building a soybean-crushing plant in Spiritwood.
We very much appreciate the Court's ruling today as both a matter of law and as a matter of common sense. Our goal remains unchanged: to build and to bring to life North Dakota's first soybean processing facility that will create new jobs and new economic opportunities for North Dakota farmers," Connie Ova, CEO of the Jamestown/Stutsman Development Corp. and SEPA, said in a statement.
Representatives of North Dakota Soybean Processors Association declined to comment.
More information at CSiNewsNow.com
Jamestown  (NDFU) – North Dakota Farmers Union President Mark Watne made the following statement on the Environmental Protection Agency's announcement to repeal the 2015 Waters of the U.S. (WOTUS) rule, which restores pre-2015 regulations for all states while EPA works to finalize a replacement for WOTUS.
"We are glad a determination has been made on WOTUS. The language was confusing and definitions were limited, creating uncertainty as to the depth and impact on farmers and agriculture. We were also concerned about the potential of another agency having oversight of water on our farms and believe that oversight should always be held within USDA.
"Farmers must be at the table when determining any revised regulations that will impact the water associated with the land they farm."
Jamestown  (CSi)  Jamestown airline boardings were up in August this year compared to August of 2018.
The North Dakota Aeronautics Commission reports boardings at Jamestown Regional Airport in August this year were, 1,127 compared to 1,085 in August of 2018, an increase of 3.8-percent.
Year to date through August 2019 there were 7,471 boardings compared to  8,366 in 2018 down 10-percent.
Valley City  (CSi)   A time to share memories at the closing of the Valley City VFW, will be on Friday September 13, 2019, Saturday September 14.
The club closes after serving the area veterans for 84 years.
KFGO reports, the manager says the club wasn't able to recover after issues created by previous management.
Post 2764 was chartered in 1935 by World War I Veterans.
On Friday, September 13 a fish fry will be held, from 5-p.m., to 8-p.m., and on Saturday September 14 there will be a spaghetti supper 5-p.m., to 8-p.m.
A meat raffle and free pool both nights.
Breakfast will be available Sunday midnight to 3-a.m.
Memorabilia should be picked up at the VFW Club this coming this weekend.
Purchased furniture is available for pickup on Sunday, September 15.
Jamestown  (CSi)  El Zagal Shriners will be in Jamestown the weekend of September 13th and 14th for their fall ceremonial.
Potentate Illustrious Sir Rick Qual will be leading the weekend's events.
Shriners from around the area will have a  parade of all units on Saturday September 14th at 10:30-am in downtown Jamestown.
Click on the Photo to see the 2010 parade here, covered by The Replay Channel.
A celebration of beer, brats and lederhosen.
Saturday, September 14 from 5:30 – 8:30 pm
in The Hansen Arts Park.
Oktoberfest is a Munich tradition since 1810, when it celebrated the betrothal of the Bavarian King Ludwig I to Princess Therese.  Since that time, Oktoberfest has grown to a worldwide phenomenon, a celebration of all things German… in particular the especially potent Oktoberfest beer!
On September 14th, The Arts Center is proud to sponsor our own annual Oktoberfest celebration!  This year, for the first time we are holding Oktoberfest downtown in our own Hansen Arts Park, the perfect venue for this popular fundraiser.  This year's celebration includes:
Oktoberfest beers on tap
German style bratwurst and snacks as part of the admission price
Live music
German style games and raffles
It's as close as you can come to a trip to Bavaria without leaving ND… a real Oktoberfest celebration right here in downtown Jamestown!
Enjoy great beer and food, live music and best of all, genuine German gemütlichkeit… all at The Arts Center's Oktoberfest!  We hope to see on September 14th!
Tickets are $35 and are available from Cork & Barrel, The Arts Center, Arts Center Board members and at the gate.
BISMARCK, N.D. (AP) — The presence of a weed that researchers say can drastically reduce crop yields has been confirmed in a seventh North Dakota county, according to a state agency.
The state Department of Agriculture said Wednesday it found a Palmer amaranth plant in Emmons County, south of the state, just weeks after it found it in nearby Grant County. The North Dakota State University Extension tested the crop's DNA, and the National Agricultural Genotyping Center in Fargo confirmed both discoveries.
Palmer amaranth can grow up to 7 feet (2.13 meters) and is resistant to many herbicides, the Bismarck Tribune reported. Purdue University research shows the plant's heavy infestation can cut soybean yields by as much as 79% and corn yields by up to 91%.
The weed discoveries in Grant and Emmons counties were in fields with millet, said NDSU Weed Scientist Brian Jenks.
Agriculture Commissioner Doug Goehring said agricultural producers should monitor their millet plantings for Palmer amaranth, as millet may be a source of the infestation.
"With harvest season in full swing, farmers are encouraged to scout fields and clean excess dirt and plant debris off equipment between fields to prevent unintentional spread," Goehring said.
The weed is native to the desert regions of the southwestern U.S. and northern Mexico. It has been slowly spreading, moving into the Upper Midwest in recent years.
NDSU Weed Science officials named Palmer amaranth their "weed of the year" in 2014 and 2015, even though at the time it hadn't yet been found in the state. The state Department of Agriculture last January added the plant to the state's list of noxious weeds, which are required to be controlled under state law.
The recent discoveries in southern North Dakota don't necessarily indicate that the weed is becoming established in the state.
Jenks noted that growers in Emmons and Grant counties are doing their best to prevent its further spread, but he expressed concern about this year's findings.
"I am much more concerned about what we've found in 2019 because Palmer density was much higher in the millet fields," he said.
BISMARCK, N.D. (AP) — A newly formed panel for North Dakota's voter-approved ethics commission chose its top two officers and set monthly meetings through next spring.
The five-member panel on Thursday chose retired district judge Ron Goodman as chairman. Cynthia Lindquist, president of Cankdeska Cikana Community College in Fort Totten, was chosen as the panel's vice chairman.
The governor and Senate majority and minority leaders last month selected the commission members to oversee the conduct of legislators, statewide officials, candidates and lobbyists.
Other members are former Williston mayor Ward Koeser, attorney Paul Richard, and retired North Dakota Army Guard general David Anderson.
The commission is seen as key to implementing a constitutional amendment to overhaul North Dakota's government ethics.
MINNEAPOLIS (AP) — A deadly deer virus has been confirmed in a group of whitetails in central Minnesota.
Epizootic hemorrhagic disease, known as EHD, isn't contagious but can sharply reduce deer herds before the danger concludes with the first frost, according to state wildlife officials.
The outbreak in Stearns County is said to have killed up to 20 or more deer. Two deer carcasses were tested for the disease and both were positive at National Veterinary Services Laboratories in Ames, Iowa.
The Minnesota Department of Natural Resources announced the lab results Wednesday, the Star Tribune reported.
"All of our neighboring states have been dealing with EHD for years," said DNR Wildlife Research Manager Lou Cornicelli. "So it was always a question of when it would show up in Minnesota."
The rapidly developing disease is carried by biting midges, also known as gnats and no-see-ums. Most deer die within 36 hours of exhibiting signs of the virus.
The disease initially showed up in Minnesota last year on a deer farm, ultimately killing six animals.
The DNR urged the public to report deer deaths, Cornicelli said, particularly when numbers of deer die in proximity to each other for unknown causes.
In sports…
Due to rain on Thursday September 12, the Jamestown Blue Jays have reschedule contests.
Boys tennis vs. Minot is been postponed to September 26 at 4:15 p.m. at Bolinger Courts.
The Blue Jay girls golf had their Minot Invitational scheduled for Friday, Sept. 13,  cancelled along with the Aberdeen cross country invitational.
Blue Jay X-Country and girls golf will play again this Saturday.
Cross Country at the Devils Lake Meet.
Girls Golf at the Williston Invite is at The Links of North Dakota.
Class A, Class B, 9-Man Football Polls…
Class A
Langdon/Edmore/Munich (17) 3-0 89
Oakes 2-0 66
Bishop Ryan (1)  3-0 49
Velva 2-0 39
Thompson 2-0 23
Others Receiving Votes: Shiloh Christian 3-0 Bowman County 1-1, Lisbon  2-0
Class B 9-Man
New Rockford-Sheyenne (16) 3-0 88
Cavalier (2) 3-0 74
MayPort CG 3-0 50
Lamoure LM 3-0 21
Beach 3-0 16
Other Teams Receiving votes: Linton HMB  3-0, Central McLEan  3-0 , St John 2-1, Finley Sharon HP 3-0.
Bismarck  (NDG&F)  The North Dakota Game and Fish Department reminds hunters to monitor on- and off-road travel conditions as many hunting seasons will open this weekend.
Recent moisture will make travel difficult on section line trails, unimproved roads and in harvested grain fields where hunting might take place.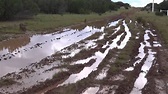 Game and Fish strongly discourages driving on soft, muddy roads, trails and section lines. In addition, hunters are advised to seek permission from landowners before attempting any off-road travel in fields.
In world and national news…
EL PASO, Texas (AP) — The suspect in the mass shooting in El Paso has been indicted on a capital murder charge.
An indictment announced Thursday charges 21-year-old Patrick Crusius in the Aug. 3 mass shooting that left 22 dead. He is jailed without bond.
El Paso prosecutors are seeking the death penalty.
Authorities say Crusius confessed to targeting Mexicans in the shooting at a busy Walmart and believe he posted a racist, anti-immigrant screed online shortly before opening fire.
Most of those who died had Hispanic surnames, and eight were Mexican citizens.
Federal authorities plan to bring separate capital murder charges against the suspect.
The Department of Justice is investigating the case as an act of domestic terrorism and a hate crime.