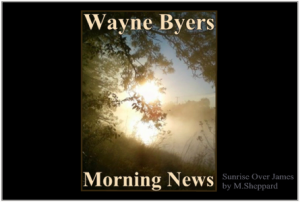 CSi Weather….
.REST OF TODAY…Partly sunny. Highs in the lower 60s. Northwest winds 15 to 20 mph.
.TONIGHT…Mostly clear. Lows in the upper 40s. South winds 5 to 10 mph.
.SATURDAY…Partly sunny. Highs in the lower 70s. Southwest winds 5 to 10 mph.
.SATURDAY NIGHT…Mostly clear. Lows in the lower 50s. West winds
around 5 mph.
.SUNDAY…Sunny. Highs in the upper 70s. Southwest winds 5 to
10 mph.
.SUNDAY NIGHT…Mostly clear. Lows in the upper 50s.
.MONDAY…Sunny. Highs in the lower 80s.
.MONDAY NIGHT…Mostly clear. Lows in the mid 60s.
.TUESDAY…Mostly sunny. Highs in the lower 80s.
.TUESDAY NIGHT…Partly cloudy. Lows in the lower 60s.
.WEDNESDAY…Mostly sunny with a 20 percent chance of showers and
thunderstorms. Highs in the mid 70s.
.WEDNESDAY NIGHT…Partly cloudy with a 20 percent chance of rain
showers and thunderstorms. Lows in the mid 50s.
.THURSDAY…Partly sunny with chance of rain showers and slight
chance of thunderstorms. Highs in the upper 60s. Chance of
precipitation 30 percent.
Friday afternoon dry air moves into the Northern Plains.
Warmer  with highs low 60s and low 70s southwest.
Dry weather and a very nice moderation in temperatures will result as high temperatures warm back into the 80s by Monday and for the most part Tuesday.
This Day In History – September 13, 1872 – Northern Pacific Railroad crews and the rail they are throwing down reach Jamestown ND (1872)  *** from the 125th Anniversary Calendar of Jamestown History. Photo from State Historical Society of North Dakota.***
FARGO, N.D.  (AgWeek)— A district court judge has refused to leave in place an injunction prohibiting Spiritwood Energy Park Association from terminating a contract with North Dakota Soybean Processors to build a $287 million soybean processing plant soybean-crushing plant in Spiritwood.
East District Judge Stephannie Stiel on Thursday, Sept. 12, 2019 ruled from the bench at the Cass County Courthouse that NDSP was "unlikely to prevail on the merits" of the case. Stiel said there is a "great public interest" in building a soybean-crushing plant in Spiritwood.
JSDC and SEPA, CEO Connie Ova Says, "We very much appreciate the Court's ruling today as both a matter of law and as a matter of common sense. Our goal remains unchanged: to build and to bring to life North Dakota's first soybean processing facility that will create new jobs and new economic opportunities for North Dakota farmers."
Representatives of North Dakota Soybean Processors Association declined to comment.
More information at CSiNewsNow.com
SEPA  News release…
Fargo – Sep 12 – North Dakota East Central District Judge Stephannie Stiel today dissolved a temporary restraining order placed upon Spiritwood Energy Park Association, LLC (SEPA) in August in connection with a lawsuit filed against the organization by North Dakota Soybean Processors, LLC (NDSP). In a decision from the bench, Judge Stiel found that NDSP had failed to meet the legal and factual standards required to keep the TRO in place. The ruling came at the conclusion of a two-hour hearing in which both parties presented arguments to the Court.
"We very much appreciate the Court's ruling today as both a matter of law and as a matter of common sense," said Connie Ova, SEPA's Chief Operations Officer. "Our goal remains unchanged: to build and to bring to life North Dakota's first soybean processing facility that will create new jobs and new economic opportunities for North Dakota farmers."
Judge Stiel's ruling today affirms SEPA's decision to terminate its preliminary agreement with NDSP and to continue its efforts to seek a new construction partner for what would be North Dakota's first soybean processing facility.
Ova continued: "Our sole purpose is to create jobs and economic activity for Jamestown, for Stutsman County and the surrounding area, and for North Dakota. We have no interest in defending unfounded lawsuits when our time and resources could be better spent creating jobs for our residents and markets for our farmers. This ruling lets us achieve those goals."
About Spiritwood Energy Park Association
SEPA's sole function is to manage the Spiritwood Energy Park, a 551-acre industrial park located approximately 10 miles east of Jamestown, North Dakota, and just south of Spiritwood, North Dakota.  The park adjoins the Great River Energy combined heat and power plant, and is currently home to Dakota Spirit AgEnergy, a 65 million-gallon-per-year bio-refinery that produces ethanol, distillers grains, and fuel-grade corn oil.
SEPA provides common-use transportation infrastructure, industrial lots, property management and value-added services on a fee-for-service basis to new and expanding businesses of the industrial park.  The association is majority-owned and operated by the Jamestown/Stutsman Development Corporation with Great River Energy being the minority owner. JSDC was organized to develop employment, improve business conditions, and advance the interests of the City of Jamestown and Stutsman County, North Dakota, by implementing and sustaining an organized effort to attract new business and industry, support existing business and industry, and encourage new business starts.
Jamestown  (CSi)  Jamestown airline boardings were up in August this year compared to August of 2018.
The North Dakota Aeronautics Commission reports boardings at Jamestown Regional Airport in August this year were, 1,127 compared to 1,085 in August of 2018, an increase of 3.8-percent.
Year to date through August 2019 there were 7,471 boardings compared to  8,366 in 2018 down 10-percent.
Valley City  (CSi)   A time to share memories at the closing of the Valley City VFW, will be on Friday September 13, 2019, Saturday September 14.
The club closes after serving the area veterans for 84 years.
KFGO reports, the manager says the club wasn't able to recover after issues created by previous management.
Post 2764 was chartered in 1935 by World War I Veterans.
On Friday, September 13 a fish fry will be held, from 5-p.m., to 8-p.m., and on Saturday September 14 there will be a spaghetti supper 5-p.m., to 8-p.m.
A meat raffle and free pool both nights.
Breakfast will be available Sunday midnight to 3-a.m.
Memorabilia should be picked up at the VFW Club this coming this weekend.
Purchased furniture is available for pickup on Sunday, September 15.
Jamestown  (CSi)  El Zagal Shriners will be in Jamestown the weekend of September 13th and 14th for their fall ceremonial.
Potentate Illustrious Sir Rick Qual will be leading the weekend's events.
Shriners from around the area will have a  parade of all units on Saturday September 14th at 10:30-am in downtown Jamestown.
Click on the Photo to see the 2010 parade here, covered by The Replay Channel.
A celebration of beer, brats and lederhosen.
Saturday, September 14 from 5:30 – 8:30 pm
in The Hansen Arts Park.
Oktoberfest is a Munich tradition since 1810, when it celebrated the betrothal of the Bavarian King Ludwig I to Princess Therese.  Since that time, Oktoberfest has grown to a worldwide phenomenon, a celebration of all things German… in particular the especially potent Oktoberfest beer!
On September 14th, The Arts Center is proud to sponsor our own annual Oktoberfest celebration!  This year, for the first time we are holding Oktoberfest downtown in our own Hansen Arts Park, the perfect venue for this popular fundraiser.  This year's celebration includes:
Oktoberfest beers on tap
German style bratwurst and snacks as part of the admission price
Live music
German style games and raffles
It's as close as you can come to a trip to Bavaria without leaving ND… a real Oktoberfest celebration right here in downtown Jamestown!
Enjoy great beer and food, live music and best of all, genuine German gemütlichkeit… all at The Arts Center's Oktoberfest!  We hope to see on September 14th!
Tickets are $35 and are available from Cork & Barrel, The Arts Center, Arts Center Board members and at the gate.
Jamestown  (NDFU) – ND Farmers Union President Mark Watne made the following statement on the EPA's announcement to repeal the 2015 Waters of the U.S. (WOTUS) rule, which restores pre-2015 regulations for all states while EPA works to finalize a replacement for WOTUS.
"We are glad a determination has been made on WOTUS. The language was confusing and definitions were limited, creating uncertainty as to the depth and impact on farmers and agriculture. We were also concerned about the potential of another agency having oversight of water on our farms and believe that oversight should always be held within USDA. Farmers must be at the table when determining any revised regulations that will impact the water associated with the land they farm."
BISMARCK, N.D. (AP) — A newly formed panel for North Dakota's voter-approved ethics commission chose its top two officers and set monthly meetings through next spring.
The five-member panel on Thursday chose retired district judge Ron Goodman as chairman. Cynthia Lindquist, president of Cankdeska Cikana Community College in Fort Totten, was chosen as the panel's vice chairman.
The governor and Senate majority and minority leaders last month selected the commission members to oversee the conduct of legislators, statewide officials, candidates and lobbyists.
Other members are former Williston mayor Ward Koeser, attorney Paul Richard, and retired North Dakota Army Guard general David Anderson.
The commission is seen as key to implementing a constitutional amendment to overhaul North Dakota's government ethics.
BISMARCK, N.D. (AP) — A North Dakota agency has confirmed the presence of a Palmer amaranth plant in a seventh county in the state.
The state Department of Agriculture said Wednesday they found the plant in Emmons County, in the south of the state, just weeks after they found it in nearby Grant County.
The Bismarck Tribune reports that Palmer amaranth can grow up to 7 feet (2.13 meters) and can resist herbicides. Purdue University research shows the plant's heavy infestation can cut soybean yields by as much as 79% and corn yields by up to 91%.
Brian Jenks is a North Dakota State University weed scientist. He says this summer's weed discoveries were in fields with millet.
Agriculture Commissioner Doug Goehring says producers should monitor millet plantings for Palmer amaranth to avoid infestation.
FARGO, N.D. (AP) — A Fargo father charged with driving drunk and causing a crash that killed one of his young sons and critically injured another is expected to change his plea.
Thirty-one-year-old Christopher Devine has entered not guilty pleas to criminal vehicular homicide and criminal vehicular injury in a March crash that killed his 7-year-old son and injured his 5-year-old son. KFGO reports a change-of-plea hearing is set for Sept. 23.
A judge ruled last month that a blood test administered after the crash could be used at Devine's trial. Authorities say his blood alcohol level was 0.26, more than three times the legal limit to drive.
Prosecutors say Devine was driving nearly 60 mph in the 35 mph zone at the time of the crash.
HEBRON, N.D. (AP) — A Dickinson man is being held on possible reckless endangerment and drug charges after leading law enforcement officers on an interstate chase in Morton County.
Authorities say speeds exceeded 100 mph as the fleeing driver zigzagged in and out of traffic on Interstate 94 near Hebron Monday. The chase started after a sheriff's deputy tried to stop the speeding vehicle.
Deputies and Highway Patrol officers eventually stopped the suspect by laying down tire-deflating spike strips. Authorities say they found marijuana, methamphetamine and drug paraphernalia in the vehicle. The 24-year-old driver is being held in the Burleigh Morton Detention Center on $5,000 cash bail. The Bismarck Tribune says a passenger in the car was arrested on Burleigh County warrants.
BISMARCK, N.D. (AP) — A judge is allowing the Standing Rock Sioux Tribe to intervene on a proposed expansion of the Dakota Access pipeline.
Administrative Law Judge Tim Dawson approved the tribe's petition for status as an intervenor Thursday in the case before the Public Service Commission.
Dawson's order says there was no opposition to the petition.
Texas-based Energy Transfer wants to double the capacity of the line to as much as 1.1 million barrels daily. The pipeline has been moving North Dakota oil through to a shipping point in Illinois since 2017.
A hearing is set for Nov. 13 in Linton on the proposed expansion.
Standing Rock attorney Timothy Purdon has said intervenor status would allow the tribe to cross-examine the company and call witnesses.
In sports…
Due to rain on Thursday September 12, the Jamestown Blue Jays have reschedule contests.
Boys tennis vs. Minot is been postponed to September 26 at 4:15 p.m. at Bolinger Courts.
The Blue Jay girls golf had their Minot Invitational scheduled for Friday, Sept. 13,  cancelled along with the Aberdeen cross country invitational.
Blue Jay X-Country and girls golf will play again this Saturday.
Cross Country at the Devils Lake Meet.
Girls Golf at the Williston Invite is at The Links of North Dakota.
Class A, Class B, 9-Man Football Polls…
Class A
Langdon/Edmore/Munich (17) 3-0 89
Oakes 2-0 66
Bishop Ryan (1)  3-0 49
Velva 2-0 39
Thompson 2-0 23
Others Receiving Votes: Shiloh Christian 3-0 Bowman County 1-1, Lisbon  2-0
Class B 9-Man
New Rockford-Sheyenne (16) 3-0 88
Cavalier (2) 3-0 74
MayPort CG 3-0 50
Lamoure LM 3-0 21
Beach 3-0 16
Other Teams Receiving votes: Linton HMB  3-0, Central McLEan  3-0 , St John 2-1, Finley Sharon HP 3-0
Thursday High School Volleyball…
Medina-Pingree-Buchanan def. Ellendale, 25-17, 25-6, 25-17
Bismarck Legacy def. Turtle Mountain, 25-11, 25-8, 25-8
Carrington def. Edgeley-Kulm, 25-9, 25-10, 25-15
Drake/Anamoose def. Surrey, 25-13, 25-16, 18-25, 14-25, 15-6
Garrison-Max def. Standing Rock, 25-5, 25-11, 25-18
Glenburn def. Newburg-Westhope, 25-18, 25-19, 25-18
Hettinger/Scranton def. Beulah, 25-10, 25-9, 25-19
Hillsboro/Central Valley def. Drayton/Valley-Edinburg, 25-6, 25-15, 25-22
Kindred def. Sargent Central, 25-22, 25-18, 25-14
Langdon-Edmore-Munich def. Thompson, 21-25, 25-17, 25-22, 25-20
May Port CG def. Park River/Fordville Lankin, 25-14, 25-16, 19-25, 25-17
New Salem-Almont def. Washburn, 3-0
Northern Cass def. Hankinson, 25-20, 25-13, 25-21
Oakes def. LaMoure-Litchville-Marion, 25-21, 25-22, 25-19
Our Redeemer's def. Velva, 25-7, 25-17, 25-16
Rolla def. St. John, 25-21, 25-18, 25-18
Rugby def. Benson County, 26-24, 25-9, 25-23
Sheyenne def. Grand Forks Red River, 25-14, 22-25, 25-22, 25-14
Stanley def. Tioga, 22-25, 25-22, 25-22, 25-12
Towner-Granville-Upham def. Nedrose, 3-2
Underwood def. Grant County, 25-16, 25-18, 20-25, 20-25, 15-11
Bismarck  (NDG&F)  The North Dakota Game and Fish Department reminds hunters to monitor on- and off-road travel conditions as many hunting seasons will open this weekend.
Recent moisture will make travel difficult on section line trails, unimproved roads and in harvested grain fields where hunting might take place.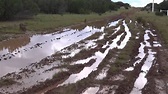 Game and Fish strongly discourages driving on soft, muddy roads, trails and section lines. In addition, hunters are advised to seek permission from landowners before attempting any off-road travel in fields.
UNDATED (AP) _  The Nationals gained ground and solidified their hold on the first NL wild card as Anthony Rendon (rehn-DOHN') and Juan Soto each homered and drove in three runs in a 12-6 pounding of the Twins. Adam Eaton and Yan Gomes (yahn gohmz) also homered and Asdrúbal (as-DROO'-bul) Cabrera added a pair of run-scoring hits for the Nats. Nelson Cruz homered for Minnesota, which saw its lead in the AL Central cut to 3 ½ games over idle Cleveland.
The Phillies also are two games behind the Cubs and Brewers after Philadelphia belted four home runs in a 9-5 win versus the Braves. Cesar Hernandez, J.T. Realmuto (ree-al-MOO'-toh), Jean Segura and Adam Haseley (HAYZ'-lee) provided the longballs as the Phils gained a split of the four-game set. Ronald Acuna Jr. hit his 39th homer for the Braves, who now lead the NL East by eight games over Washington.
The Milwaukee Brewers and Chicago Cubs remain in a dead heat for the second NL wild card, and they continue to trail the first-place St. Louis Cardinals in the NL Central.
Ryan Braun's two-run homer in the third inning gave the Brewers a 3-1 lead in their seventh consecutive win, 3-2 at Miami. Mike Moustakas (moos-TAH'-kahs) lifted a sacrifice fly in the top of the first, but Milwaukee needed Braun's 19th homer of the season to complete a four-game sweep of the National League's worst team.
Yu Darvish struck out a season-high 14 and allowed only two hits over six shutout innings as the Cubs downed the Padres, 4-1 in San Diego to keep pace with the Brewers. Ian Happ had two of the Cubs' eight hits, including a two-run single that put Chicago ahead, 3-0 in the fourth. The Cubs gained a split of the four-game set and blanked the Padres until Manny Machado was hit by a pitch with the bases loaded and two out in the bottom of the ninth.
The Cardinals avoided a three-game sweep by homering five times in a 10-3 dismantling of the Rockies in Colorado. Dexter Fowler and Kolten Wong opened the game with successive home runs to set the tone after the Redbirds dropped a pair of 2-1 decisions in the first two games of the series. Marcell Ozuna (oh-ZOO'-nah), Rangel (RAHN'-hehl) Ravelo and Harrison Bader also went deep for St. Louis.
Elsewhere in the majors:
_ Juan Lagares (lah-GAH'-rehs) hit his first grand slam and added a two-run blast to finish with a career-high six RBIs in the Mets' 11-1 laugher over the Diamondbacks. Michael Conforto, Todd Frazier, Robinson Canó (kuh-NOH') and Tomas Nido (toh-MAHS' NEE'-doh) also went deep as the Mets set a team record for a home game by belting six homers. Marcus Stroman allowed a run and four hits over 6 1/3 innings to help New York stay within two games of Milwaukee and Chicago for the second NL wild card.
_ Matt Olson hit a two-run homer while the Athletics were scoring three times off Justin Verlander over the first three innings of a 3-2 win at Houston. Homer Bailey yielded three hits and one run in 5 1/3 innings to win his fourth straight decision and improve to 13-8, matching his career-high victory total. Oakland won the last three games of the series after the AL West leaders rolled to a 15-0 rout in the opener.
_ The A's now hold the first AL wild card following the Rays' 6-4 loss to the Rangers. Nick Solak homered off Nick Fairbanks, the pitcher he was traded for two months ago. Rougned Odor (ROOG'-nehd oh-DOHR') homered against Tampa Bay again, one night after his three-run blast ended the Rays' six-game winning streak. Oakland now leads Tampa Bay by a half-game in the wild-card race, with the Indians one game back.
_ The Dodgers put together a three-run sixth to beat the Orioles, 4-2. Cody Bellinger singled home the tying run in the sixth before he and Corey Seager scored on a passed ball by Pedro Severino later in the inning. Severino's solo blast gave Baltimore a 2-1 lead in the fifth.
_ Luke Voit (voyt) was 3-for-5 with a two-run homer, three RBIs and three runs scored in the New York Yankees' 10-4 rout of Detroit in Game 1 of a doubleheader. Voit became the sixth Yankee to hit 20 homers this season, one off the team record set in 2009. Edwin Encarnacion (ehn-kahr-nah-see-OHN') homered for the fourth time in eight games since returning from a broken wrist, but he had to leave in the fifth inning with a strained left oblique muscle.
_ The Yanks completed the sweep with a 6-4 victory and the Tigers' major league-leading 102nd loss of the season. CC Sabathia (sah-BATH'-ee-uh) allowed two runs over 3 1/3 frames in his latest comeback from a knee injury. Aaron Judge and Gio Urshela (ur-SHEH'-luh) each hit two-run homers for the AL East leaders.
_ Xander Bogaerts (BOH'-gahrts) hit his 50th double of the season and Marco Hernandez drove in two runs in the Red Sox's 7-4 win at Toronto. Bogaerts and Rafael Devers (DEH'-vurz) are the first pair of Red Sox teammates with 50 in the same season. J.D. Martinez reached base three times as Boston ended a five-game losing streak.
_ The Pirates doubled up the Giants, 4-2 as Joe Musgrove held San Francisco to four hits while striking out seven over five innings. Musgrove also tripled and scored on Adam Frazier's RBI single that put Pittsburgh ahead, 3-0 in the fifth. Jacob Stallings homered in the seventh for the Bucs, one inning after Evan Longoria's two-run blast got the Giants within 3-2.
_ Hunter Dozier's three-run shot in the sixth inning was the difference in the Royals' eighth victory in 11 games, 6-3 against the White Sox. Jorge Soler (HOHR'-hay soh-LEHR') homered for the third time in two days and later singled before scoring on Dozier's blast. Lucas Giolito (jee-oh-LEE'-toh) took the loss despite setting a team record with eight consecutive strikeouts.
_ Mariners rookie Kyle Lewis tied a major league record by hitting a home run in his first three games, but the Reds erased a 5-2 deficit and routed Seattle, 11-5. Freddy Galvis put Cincinnati ahead with a grand slam in the seventh. Eugenio (ay-oo-HEH'-nee-oh) Suarez and Curt Casili belted two-run homers for the Reds. Suarez finished with three RBIs after belting his team-high 45th home run.
MLB-NEWS
Yelich won't need surgery
UNDATED (AP) _ Brewers star outfielder Christian Yelich (YEH'-lihch) is likely done for the remainder of the regular season and the playoffs because of a broken right kneecap.
The reigning NL MVP was injured while fouling a ball off the knee during Tuesday's win over the Marlins. The team says Yelich won't need surgery, but added the expected recovery time is 8 to 10 weeks.
Yelich batted .329 with 44 home runs and 97 RBIs this year, putting him in the mix for the NL batting title and home run crown before the injury.
NFL-BUCCANEERS/PANTHERS
Bucs trip up Panthers
UNDATED (AP) _ The Tampa Bay Buccaneers showcased a strong defense and a balanced attack in earning their first win of the season.
Peyton Barber ran for 82 yards and a touchdown on 23 carries as the Bucs silenced the Panthers, 20-14 at Carolina. The Panthers had a 12-10 lead until Barber furnished a 16-yard rushing TD with 4:20 remaining in the third quarter.
Jameis (JAY'-mihs) Winston was 16 of 25 for 208 yards, one touchdown and no interceptions to help Tampa Bay bounce back from their 31-17 loss to the 49ers in the season opener. Chris Godwin was Winston's prime target with seven receptions for 121 yards and a score.
Carolina had a chance to pull out the win until Christian McCaffrey was stuffed short of the end zone on fourth-and-goal from the 2 on the Panthers' final drive.
The Bucs didn't allow a touchdown as the Panthers settled for four Joey Slye field goals and a fourth-quarter safety for their points. Christian McCaffrey was held to 37 yards on 16 carries, and Cam Newton completed just 25 of his 51 passes for 333 yards.
NFL-NEWS
Jets' Darnold has mono, could miss weeks
UNDATED (AP) _ New York Jets quarterback Sam Darnold has mononucleosis and will miss the team's upcoming game against the Cleveland Browns Monday night.
Coach Adam Gase says Trevor Siemian (SIHM'-ee-ihn) will start in Darnold's place.
The team learned of Darnold's diagnosis Wednesday and coach Gase went to the second-year quarterback's home to deliver the news to him in person. The coach says Darnold's biggest concern is weight loss.
Elsewhere in the NFL:
_ Odell Beckham Jr. says his current Cleveland teammates have told him that former Browns defensive coordinator Gregg Williams instructed players to hurt him while playing for the New York Giants in a 2017 preseason game. The Pro Bowl wide receiver sustained a severe ankle injury when Cleveland's Briean Boddy-Calhoun cut his legs out. Beckham's next game is Monday against the New York Jets, whose defensive coordinator is Williams.
_ Redskins running back Derrius Guice (GYS) had right knee surgery that coach Jay Gruden called a "minor procedure." The operation reportedly was to fix a torn meniscus.
_ The NFL has launched the Helmet Challenge aiming to stimulate the development of a new helmet for players that outperforms all helmet models currently worn in the league. Up to $3 million will be available in the challenge, including $2 million in grant funding to support the development of a helmet prototype, and a $1 million award.
NHL-NEWS
Jets' blueliner inks extension
UNDATED (AP) _ The Winnipeg Jets have signed defenseman Josh Morrissey to an eight-year, $50 million contract extension.
The deal starts in the fall of 2020, ends in the summer of 2028 and has an average annual value of $6.25 million. Morrissey had a career-high 31 points in 59 games with the Jets last season.
Morrissey returns to a Jets blueline that lost Jacob Trouba, Tyler Myers and Ben Chiarot during the offseason.
PGA-GREENBRIER
Tour rookie leads at Greenbrier
WHITE SULPHUR SPRINGS, W.Va. (AP) _ Scott Harrington enjoyed his long-awaited debut as an official PGA Tour member.
In his 17th year as a professional, the 38-year-old rookie shot a 6-under 64 that puts him within two shots of leader Robby Shelton through one round of the PGA's season-opening event at The Greenbrier in West Virginia.
Harrington turned pro in 2003 and played in four Tour events over the next 12 years. He locked up his first PGA Tour card with a runner-up finish last month at a Korn Ferry event in his hometown of Portland, Oregon.
Like Harrington, Shelton has his tour card for the first time after winning two Korn Ferry events in May. The 8-under 62 is his lowest score on tour.
Defending champion Kevin Na, Lanto Griffin, Mark Hubbard and Zack Sucher matched Harrington at 64.
TENNIS-CLIJSTERS RETURN
Clijsters eyes tennis comeback
BRUSSELS (AP) _ Four-time Grand Slam champion Kim Clijsters (KLY'-sturz) is planning another comeback, saying in an interview with WTA that she wants a new challenge.
The 36-year-old mother of three retired after the 2012 U.S. Open and previously went on a 26-month hiatus in 2007 to have her first child. She won the 2009 U.S. Open shortly after her return to become the first mother to win a Grand Slam title since Evonne Goolagong at Wimbledon in 1980.
Elsewhere in tennis:
_ Local organizers and the WTA say the Hong Kong Open has been postponed indefinitely due to widespread protests in recent months. It was scheduled to be held from Oct. 5-13 on outdoor hard courts at Victoria Park.
OBIT-GRANDI
Longtime gymnastics federation president Grandi dies at 85
LAUSANNE, Switzerland (AP) — Bruno Grandi, the longtime president of the international gymnastics federation who oversaw changing the "perfect 10" scoring system, has died. He was 85.
The FIG says Grandi, the federation's leader from 1997-2016, died today in Italy after an unspecified illness.
Disputes in gymnastics at the 2004 Athens Olympics led to a review of the scoring system and the maximum mark of 10.
Under Grandi's leadership, the gymnastics body also imposed minimum age limits in competition — 16 for females and 18 for males.
Grandi was an International Olympic Committee member for four years through 2004.
In world and national news…
HOUSTON (AP) — Early front-runner Joe Biden took on the most fire at Thursday's Democratic presidential debate, and former Obama Housing Secretary Julián Castro was the most explicit in arguing it was time for a new generation.
Castro also seemed to allude to speculation about the 76-year-old Biden's mental acuity during an exchange about health care. When Biden denied that his health plan required people to buy into Medicare, Castro exclaimed, "Are you forgetting what you said two minutes ago?"
Sen. Bernie Sanders faced sharp criticism about his universal health care plan from several candidates, and Sen. Elizabeth Warren was more in the background than in prior debates but didn't damage herself.
The likely result is little change in a primary that has been remarkably static for months.
NOME, Alaska (AP) — Alaska Native women say the Nome Police Department has a history of failing to conduct full investigations on rape complaints.
Nome police data show that from 2008 through 2017 just 8% of calls about sexual assaults against adults resulted in an arrest.
Nome's prosecutor says limited resources make it hard for police to respond to calls of all kinds.
Survivors and advocates contend that Nome police pay less attention and investigate less when sexual assaults are reported by Alaska Natives. More than half of Nome's population is Alaska Native, but all of its police department's sworn officers are non-Native.
This year the City Council approved the hiring of the police department's first victims advocate and passed an ordinance to create a civilian oversight committee to monitor police conduct.
BANGKOK (AP) — Nagasaki Archbishop Joseph Mitsuaki Takami, who heads the Catholic Bishops' Conference of Japan, has welcomed Pope Francis' upcoming visit, saying he and others in the Japanese church have been asking him to come for years.
He acknowledged Friday that Japan does not have as many Christians as some other nations.
But he said Francis has special feelings for Japan, referring to how last year the pope had the Vatican print thousands of cards showing a Nagasaki nuclear bombing child survivor carrying his dead brother on his back. The card had the words "The fruit of war" printed on it.
"I think the pope was laying the groundwork for this visit," the archbishop said in a statement.
"We will work hard to make the pope's visit to Japan a meaningful one."
UDON THANI, Thailand (AP) — Catholics in Thailand are celebrating the official announcement of the first papal visit in 35 years, but one 77-year-old nun in a far-flung corner of the country has a connection that makes the occasion particularly special.
Pope Francis is due to arrive in Thailand Nov. 20 for a four-day visit, officials announced Friday.
The pontiff's arrival will lead to a reinvigoration of belief among the nearly 400,000 faithful here. But for Sister Ana Rosa Sivori, it also means a family reunion.
Originally from Buenos Aires in Argentina, Sister Ana Rosa came to Thailand in 1966 and has worked as a missionary in several parts of the country. She shares a great-grandfather with Jorge Mario Bergoglio, who six years ago became Pope Francis. So, she and the pontiff are second cousins.
BOSTON (AP) — Actress Felicity Huffman is returning to court to be sentenced for her role in a sweeping college admissions bribery scandal.
The "Desperate Housewives" star is scheduled to appear in Boston's federal court Friday after pleading guilty to a single count of conspiracy and fraud in May.
She has admitted to paying an admissions consultant $15,000 to have a proctor correct her daughter's SAT exam answers in 2017.
Prosecutors are recommending a month in prison and a $20,000 fine. Huffman's lawyers say she should get a year of probation, 250 hours of community service and a $20,000 fine.
Huffman says she has "a deep and abiding shame" for her actions but was only trying to be a good parent. She's the first parent to be sentenced among 34 charged in the scheme.
WASHINGTON (AP) — President Donald Trump on Thursday makes his first visit to Baltimore since describing it nearly two months ago as a "disgusting, rat and rodent infested mess" where "no human being would want to live."
Trump won't be inspecting conditions in the city, though. Instead, he'll be speaking to congressional Republicans attending an annual retreat in a hotel on the city's waterfront.
Hundreds of protesters are expected to gather nearby. But inside, the president will find a friendly audience of legislators whose political futures are closely tied to how well he performs in next year's election.
By midday Thursday, protesters already were making their presence felt. They inflated a giant rat carrying a cell phone and adorned with yellow hair and a red tie to make clear their mocking intentions.