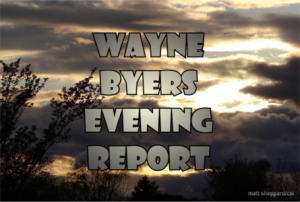 CSi Weather…
.TONIGHT…Mostly clear. Lows in the upper 40s. South winds around 5 mph.
.SATURDAY…Decreasing clouds. Highs in the lower 70s. Southwest winds 5 to 10 mph.
.SATURDAY NIGHT…Mostly clear. Lows in the lower 50s. West winds
around 5 mph.
.SUNDAY…Sunny. Highs in the upper 70s. Southwest winds 5 to
10 mph.
.SUNDAY NIGHT…Mostly clear. Lows in the upper 50s.
.MONDAY…Sunny. Highs in the lower 80s.
.MONDAY NIGHT…Mostly clear. Lows in the mid 60s.
.TUESDAY…Mostly sunny. Highs in the lower 80s.
.TUESDAY NIGHT…Partly cloudy. A 20 percent chance of showers
and thunderstorms after midnight. Lows in the lower 60s.
.WEDNESDAY…Mostly sunny with a 20 percent chance of showers and
thunderstorms. Highs in the mid 70s.
.WEDNESDAY NIGHT…Partly cloudy with a 20 percent chance of rain
showers and thunderstorms. Lows in the mid 50s.
.THURSDAY…Partly sunny with chance of rain showers and slight
chance of thunderstorms. Highs in the upper 60s. Chance of
precipitation 30 percent.
Friday afternoon dry air moves into the Northern Plains.
Warmer with highs low 60s and low 70s southwest.
Dry weather and a very nice moderation in temperatures will result as high temperatures warm back into the 80s by Monday and for the most part Tuesday.
Valley City  (VCPS)  Valley City Superintendent Josh Johnson, is updating the community with street project updates.
Jefferson Parents and Guardians,
We would like to provide you with an update on the Central Avenue Construction prior to the weekend and also allow you to preview upcoming changes for next week. At this time we are providing you the information we know, however, understanding that weather and other factors may impact exact dates. We will follow up with you as soon as possible if dates/information changes;
1) 12th Street and Central Avenue
– We have been informed that the barricades, traffic signals, and road closure signs will be coming down either this weekend or at the beginning of next week at the intersection of 12th Street and Central Avenue.
– This will allow our parents and guardians to access the Hanna Field student pickup/dropoff parking lot from the north (12th Street).
2) 9th Street and Central Avenue (Intersection)
– We have been informed that the intersection of 9th Street and Central Avenue will need to be closed once again at the end of next week for approximately one week to complete additional work.
– This will again block access to Jefferson from the south and require our parents/guardians to access the Hanna Field student pickup/dropoff from 12th Street.
Thank you very much for your continued patience and willingness to be flexible with all of these projects. Please know that we plan to keep the buses on 12th Street until all construction is completed in the area around Jefferson Elementary. At the end of next week we will be sending out a communication updating you on the projects and also providing information about the Hanna Field parking lot.
If you have any questions about these projects and our continued efforts to provide for a safe student arrival and departure from the school please let us know.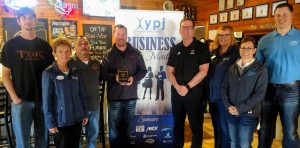 Jamestown  (CSi)  Members of the chamber Young Professionals of Jamestown and the Chamber Ambassadors recently presented the Business of the Month Award to IDK Bar & Grill of Jamestown for their outstanding customer service and continued commitment to the community.
The nomination stated, "I have never had a bad experience with IDK. Every time I've visited or picked up an order, I'm always treated like I'm worth their time. Their staff goes above and beyond to ensure you have a memorable experience. I highly recommend them for any occasion or event. When it comes to community involvement, their name is tied to numerous events, fundraisers, and more."
The Young Professionals of Jamestown honor businesses that provide superior customer service, exhibit community spirit and provide a positive economic impact to the community.  This award provides recognition throughout the month with a plaque and a recognition banner for the month.  All of the other monthly winners, will be considered for the Business of the Year to be awarded at the Chamber's Annual Banquet in January of 2020.  Business of the Month award nomination forms are available at the Chamber office and online at www.jamestownchamber.com .  Call 701-252-4830 for more information.
Jamestown  (CSi)   DAV Chapter 31 will be conducting their annual Forget Me Not Drive Friday and Saturday, September 20, 21.
Volunteers and members from the area will be at Hugo's Family Marketplace from 10-am to 4-pm those days to sell Forget Me Nots.
The news release states, "Forget Me Not weekend is held nationally each September.  All of the money collected from the little blue flowers go to support Veterans programs in our state like the Veterans Home in Lisbon, ND, VA Transportation network and the Veteran's Clinic here in Jamestown."
The DAV has been involved with Forget Me Nots since the 1920's following WWI for helping returning Veterans with getting them artificial limbs and any other help they may have needed.
The idea of a Blue Flower came from returning Veterans who had seen the spring flowers on the graves of their fallen comrades.
You're asked to stop by Hugo's Family Marketplace September 20th and 21st and make a donation to help out Disabled Veterans.
For more information or to make a donation, contact Rod Olin at 701-659-0308.
Bismarck  (NDDOT)  ND Hwy 13 approximately 3 miles west of Kulm will be temporarily closed for part of next week for maintenance work on the railroad crossing by Dakota Missouri Valley & Western Railroad. The closure will begin on Tuesday morning, September 17 and is scheduled to reopen on Thursday afternoon, September 19. A signed detour will be provided on adjacent gravel roads.
Large and oversize load will need to use an alternate route.
The NDDOT would like to remind motorists to slow down and use caution throughout the work zone. For more information about construction projects and road conditions throughout North Dakota, call 511 from any type of phone or visit the Travel Information Map on the NDDOT website at http://www.dot.nd.gov/travel-info-v2/
TORONTO (AP) — The serious lung illness affecting hundreds of people in the U.S. who vaped cannabis-based oil is giving Canadian health officials pause as that country prepares to allow the sale of vaping products in its legal marijuana market.
No illnesses have yet been reported north of the border, but officials are monitoring the situation closely. British Columbia's top health official, Dr. Bonnie Henry, says it's just a matter of time before symptoms are reported in Canada.
Canada last year became the second nation to legalize marijuana, but legal sales of edible and vaping products are not due to begin until later this year.
Anne McLellan, the former Canadian health minister, says people shouldn't use the products until researchers learn a lot more about their effects.
In world and national news…
BOSTON (AP) — Felicity Huffman gets 14 days in prison in admissions scandal, possible sign of what's to come for others charged .
A tearful Huffman addressed the court Friday before her sentencing.
"I'm sorry to you judge. I am deeply sorry to the students, parents and colleges impacted by my actions," the Emmy-award winning actress confessed. "I am sorry to my daughters and my husband. I have betrayed them all."
"My mind keeps returning to the 30-minute drive to the testing center. I kept thinking, turn around," she said.
Huffman, 56, had pleaded guilty to one count of conspiracy to commit mail fraud and honest services mail fraud in May. She confessed to paying an admissions consultant $15,000 to have a proctor correct her older daughter's answers on the SAT. She considered the same for her younger daughter but decided against it.
LONDON (AP) — A German radio station is reporting that European Commission President Jean-Claude Juncker says he isn't optimistic about finding alternatives to the Irish border provision that has become a main sticking point in the Brexit stalemate.
Deutschlandfunk radio said in a preview Friday of an interview with Juncker being broadcast Sunday that Juncker hopes for alternative proposals but says "time is getting short." He stressed anew that reopening the previously reached Brexit withdrawal agreement isn't possible.
Juncker is meeting Monday with British Prime Minister Boris Johnson, who insists that Britain must leave the European Union on Oct. 31 with or without a deal.
Deutschlandfunk reported Juncker said a disorderly no-deal Brexit would cause chaos and it would take years to put right. He added: "Anyone who loves his country, and I assume that there are still patriots in Britain, would not want to wish his country such a fate."
DETROIT (AP) — The United Auto Workers union has extended its national contracts with Ford and Fiat Chrysler, but the pact with General Motors is still set to expire on Saturday night.
GM has been picked as the union's target company, meaning it's the focus of bargaining and will be the first company to face a strike. The four-year contract with GM will expire at 11:59 p.m. Saturday.
Experts say a strike against GM is likely given the wide gulf between the union and company on wages, plant closures and other issues.
One Detroit local union hall already has posted picket line schedules with no dates attached.
WASHINGTON (AP) — House lawmakers investigating the market dominance of Big Tech are asking Google, Facebook, Amazon and Apple for a broad range of documents including internal communications.
Letters went out to the four companies on Friday from the leaders of the House Judiciary Committee and its subcommittee on antitrust, which has been conducting a sweeping antitrust investigation of the companies and their impact on competition and consumers.
The companies have said they'll cooperate fully with the congressional investigation.
The lawmakers set an Oct. 14 deadline for the companies to provide the documents.
Judiciary Committee Chairman Rep. Jerrold Nadler says the documents will help the committee understand "whether they are using their market power in ways that have harmed consumers and competition."
The Justice Department and the Federal Trade Commission are conducting competition investigations of the companies.
(AP)  Two people with direct knowledge of the decision say Antonio Brown will be eligible to play for the New England Patriots.
The people spoke to The Associated Press on condition of anonymity on Friday because the decision has not been announced.
Brown has been accused of rape and sexual assault in a civil case in Florida. He won't go on the commissioner's exempt list because no criminal charges have been filed. Brown has denied the allegations by his former trainer.
Players on the commissioner's exempt list can't play in games or practice with a team, but are still paid. The Patriots play at Miami on Sunday.
The wide receiver was acquired in a trade with Oakland this month after requesting and receiving his release from the Raiders.
WASHINGTON (AP) — Former National Security Agency contractor Edward Snowden has written a memoir, telling his life story in detail for the first time and explaining why he chose to risk his freedom to become perhaps the most famous whistleblower of all time.
Snowden says his time working for the NSA and CIA led him to conclude the U.S. intelligence community "hacked the Constitution" and put everyone's liberty at risk.
He says he had no choice but to reveal it to the world.
The book, "Permanent Record," is being released Tuesday. It offers by far the most expansive account of how he came to reveal secret details about the government's mass collection of emails, phone calls and Internet activity in the name of national security.
Snowden now lives in Russia to avoid arrest under the U.S. Espionage Act.
NASHVILLE, Tenn. (AP) — The family of rock Star Eddie Money says he has died at 70.
Money died Friday.
The husky-voiced, blue collar performer was known for such hits as "Two Tickets to Paradise" and "Take Me Home Tonight." In 1987, he received a best rock vocal Grammy nomination for "Take Me Home Tonight," which featured a cameo from Ronnie Spector.