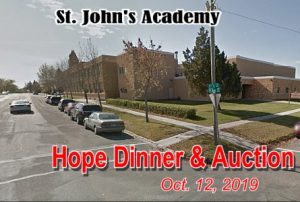 The 2019 Hope Dinner & Auction has been sold out.
Jamestown  (CSi)  The St. John's Academy HOPE Dinner & Auction: to support the education of about 250 Pre-K through 6th graders, will be held on Saturday, October 12 @ St. John's Academy.
4 p.m. social
5 p.m. early bird prize drawing
6:30 dinner
Join us for a fun night of food, entertainment, and both silent and live auctions to support private education in Jamestown. Tickets: $100/person includes meal and open bar. More info? (701) 252-3397.
$7.5 million construction project includes:
Chapel
cafeteria/kitchen
commons area for meetings/student gatherings
renovations and expansion of current classrooms
secure entrances
tripling space of childcare area