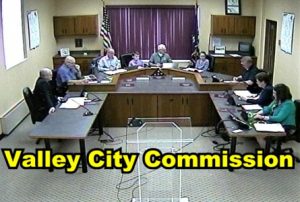 Valley City  (CSi)  The Valley City Commission met Tuesday evening at City Hall.  Commissioner Bishop was not present.
APPROVAL OF CONSENT AGENDA ITEMS:
A Raffle Permit for Sheyenne Care Center.
A Parade Application for Valley City State University Homecoming on September 28, 2019 on Central Avenue at 10:30 AM
Approved a Blocking off Street Request on 4th Street NE for City-County Health District on October 1, 2019 from 4:00 – 7:00 PM for the Welcome to the Block Party.
Approved was a raffle permit for Valley City Fast Pitch.
PUBLIC COMMENTS
Attorney General's "A Citizen's Guide to North Dakota Open Records & Open Meetings Laws" *A member of the public does not have the right to speak to the governing body at an open meeting. The public is only entitled to see and hear what happens at a meeting, and to record or broadcast those observations.
No personal attacks to persons present or not
No inflammatory language used during time that you have the platform
5 minute maximum or as directed by the chair
Thank you for participating in City Government.
A citizen former City Commissioner, Madeline Luke indicated salary increases in the proposed 2020 city budget, for city officials, and compared them to  similar positions in other cities, saying the Valley City salaries in the proposed increases were higher than the average salaries in other cities.
She said the city is borrowing from the electric fund for other city budgets,
and indicated a bond rating decrease for Valley City.
City Auditor, Avis Richter said, Moodys issued a negative notice, but the bond rating had not decreased.
No comments were made by the Commissioners.
PUBLIC HEARING
A Public Hearing for 2020 Annual Budget City Auditor Richter Declared the public hearing open.
Former Mayor Bob Werkhoven asked about how the salary increases are determined.  He asked if the City Attorney is still a paid position, along with a private practice, which could possibly lead to a conflict of interest. City Attorney Martineck said there is no conflict of interest between his private practice and handling city legal matters.
No other comments were made.
Commissioner Powell said salary increases should be considered on a merit basis.
Following the Public Hearing, the City Commission approve first reading of the 2020 Annual Budget Ordinance.
ORDINANCE
Approved was the second and final reading of Ordinance , an Ordinance Amending Title 14, Motor Vehicles & Traffic. City Attorney Martineck indicated a slight change in the First Reading, which was approved by law enforcement.

Considered was a recommendation to begin Renewal Application for Valley City Renaissance Zone Authority board, Chairman, Jim Knutson,  said the Zone came into effect in 2000, and 119 projects have been approved, at $36 million and the when finished while provide the city with a half million dollars.
Commissioners approved to start the renewal process.
Considered was a construction extension for Brockopp Brewing, LLC pursuant to V.C.M.C. 4-01-11(1.b.iii).  City Attorney Martineck recommended a six month construction extension, which was approved by the Commission.
Considered was the purchase of Christmas decorations for the new street lights on Central and Main St. for $14,000.  City Administrator Schelkoph said the existing decorations will not work on the new light poles.  The decorations have been approved by a city committee.  The City Commission approved on a 3-1 vote, just over $13,000 to purchase 42 new wreaths.  The dollars were previously earmarked for a cold storage shed.  Commissioner Erickson voted no.
Approved on a 3-1 votre was a  Construction Engineering Agreement for Permanent Flood Protection Phase III with KLJ in an amount not to exceed $182,500.  Commissioner Erickson voted no.
CITY ADMINISTRATOR'S REPORT:
David Schelkoph indicated the drop off location at the landfill, for trees and lawn debris is available 24/7.
He noted the street lighting improvements being installed.
CITY UPDATES & COMMISSION REPORTS:
KLJ updated upcoming additional changes in traffic flows, which he will communicate with Valley City Public School, to pass along to parents and others.
Mayor Carlsrud noted the additional work performed by city employees during street constructed, and pointed to Jefferson School parents for handling access changes to the school stemming from street construction detours and changes in the traffic flows, as school began this year.
The meeting was shown live on CSi 68 followed by replays.