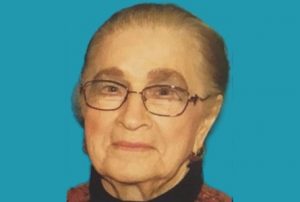 Lemmon, SD (Valley News Live) The Silver Alert that was issued earlier this week for the missing South Dakota woman has been cancelled.
Authorities say Clara Mae Braun has been located alive.
She was last seen around  six O'Clock on Monday September 16 driving north on South Dakota Highway 73 toward the city of Lemmon, SD, which is on the North Dakota – South Dakota state line.
Police sent out the alert because they considered her endangered because she has dementia.
INFORUM reports, that Harding County Sheriff Wyatt Sabo, says she  was found Thursday, Sept. 19 around 9:20 a.m. by a farmer south of Mott, N.D., which is roughly 110 miles north from her home in Buffalo.
Sabo says Braun was found lying by her vehicle, which was stuck in a field, and he suspects she had likely been there since shortly after she had last been reported seen, which was at 6:30 a.m. Monday, Sept. 16.
"She had run out of gas," said Sabo, who was not only happy for her family but personally happy, as he's known Braun all his life.
The 87-year-old from Buffalo, SD, had not been in contact with family or friends since Monday.
Previously….
As of Thursday morning authorities, including the Civil Air Patrol will still search for a South Dakota woman.
On Wednesday a Silver Alert was  issued at the request of Harding County Sheriff Office in South Dakota.  Clara Mae Braun of Buffalo, South Dakota is a 87 year old White Female.  She is 5 feet 1 inch tall, weighs 120 pounds and has Blue eyes.
HER last known whereabouts Monday September 16 at 6:30 am traveling northbound on South Dakota highway 73 15 miles south of Lemmon South Dakota.
SHE is believed to be driving a 2012 Chrysler 300 South Dakota license plate 35C588.
If you have any information regarding this incident, please contact South Dakota at 605-375-3414.