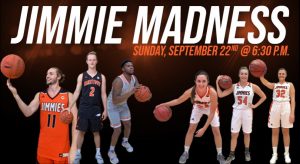 Jamestown  (uj.edu) The University of Jamestown Jimmie men's and women's basketball teams will host "Jimmie Madness", a midnight madness style event starting at 6:30 p.m. on Sunday, September 22nd at the Harold Newman Arena. The event is free and open to the public. There will be free food, fan contests, giveaways, and much more!
Women's Head Basketball Coach  Thad Sankey adds,"We invite everyone to come and enjoy a fun night of activities as we introduce this year's teams. Our team is excited and we look forward to the competition this season brings."
Activities include team introductions, a three-point shootout for both teams, a dunk contest, team scrimmages, and also a fan competition, the half-court shot. The first 50 people in the door will receive a free t-shirt. There will also be many more giveaways throughout the night!
Head men's Basketball coach Danny Neville says"We're excited to put on this event for our players, students and the community," said head men's coach Danny Neville. "We want to pick up right where we left off with our fan support from our students and the community. We feel that this is a great chance for people to see our team, and get excited for what should be a great season."