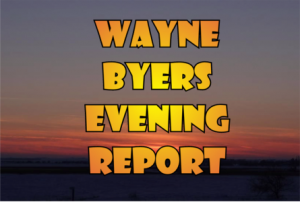 CSi Weather…
.TONIGHT…Clear in the evening, then mostly cloudy with chance of showers and slight chance of thunderstorms after midnight.
Lows in the lower 60s. Southeast winds 10 to 15 mph. Chance of precipitation 30 percent.
.FRIDAY…Mostly cloudy with slight chance of showers and
thunderstorms in the morning, then mostly sunny with showers and
thunderstorms likely in the afternoon. Highs in the lower 80s.
South winds 15 to 20 mph. Chance of precipitation 60 percent in the Jamestown area, 50 percent in the Valley City area.
.FRIDAY NIGHT…Showers and thunderstorms. Lows in the lower 60s.
South winds 15 to 20 mph. Chance of precipitation 90 percent.
.SATURDAY…Partly sunny with chance of showers and slight chance
of thunderstorms. Highs in the upper 60s. Southwest winds 10 to
15 mph shifting to the west 15 to 25 mph in the afternoon. Chance
of precipitation 50 percent.
.SATURDAY NIGHT…Decreasing clouds. Chance of rain showers and
slight chance of thunderstorms. Lows around 50. Chance of
precipitation 30 percent in the Jamestown area, 20 percent in the Valley City area.
.SUNDAY…Sunny. Highs in the upper 60s.
.SUNDAY NIGHT…Mostly clear. Lows in the upper 40s.
.MONDAY…Sunny. Highs in the lower 70s.
.MONDAY NIGHT…Partly cloudy. Lows in the lower 50s.
.TUESDAY…Partly sunny. Highs around 70.
.TUESDAY NIGHT…Partly cloudy. Lows around 50.
.WEDNESDAY…Mostly sunny. Highs in the lower 60s.
There are chances for thunderstorms across western and central
North Dakota late Thursday night. A few of these storms may become
strong.
There are chances for thunderstorms Friday and Saturday. Some
storms may become strong to severe on Friday.
Heavy rain is also expected during this period, with one to 2
inches possible, with locally higher amounts. The heaviest
rainfall will be across the central and north. The rain will
occur over a 24 to 36 hour period, and this is expected to reduce
the flooding threat. However, with the recent abundant rains, more
rapid runoff is possible.
Update: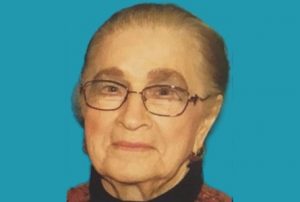 Lemmon, SD (Valley News Live) The Silver Alert that was issued earlier this week for the missing South Dakota woman has been cancelled.
Authorities say Clara Mae Braun has been located alive.
She was last seen around  six O'Clock on Monday September 16 driving north on South Dakota Highway 73 toward the city of Lemmon, SD, which is on the North Dakota – South Dakota state line.
Police sent out the alert because they considered her endangered because she has dementia.
INFORUM reports, that Harding County Sheriff Wyatt Sabo, says she  was found Thursday, Sept. 19 around 9:20 a.m. by a farmer south of Mott, N.D., which is roughly 110 miles north from her home in Buffalo.
Sabo says Braun was found lying by her vehicle, which was stuck in a field, and he suspects she had likely been there since shortly after she had last been reported seen, which was at 6:30 a.m. Monday, Sept. 16.
"She had run out of gas," said Sabo, who was not only happy for her family but personally happy, as he's known Braun all his life.
The 87-year-old from Buffalo, SD, had not been in contact with family or friends since Monday.
In sports…
Jamestown  (CSi)  The Jamestown Tourism, Grant/Executive Board meetings were held Thursday at Historic Franklin School.
Members present: President, Matthew Woods, Frank Balak, Taylor Barnes, Paulette Ritter, Tena Lawrence
Tourism Director, Searle Swedlund
Ex-Officio Member:  Corry Shevlin representing the Jamestown/Stutsman Development Corporation.
At the Grant Board meeting, requests were made by:
Hockey Day ND, Pure Skills USA
Buffalo City Tournament Association
Classic Car Club Winter Wheels Show
UJ Basketball Shootout
Jamestown Rural Fire Department/Knights of Columbus, fishing tournament
Jamestown Tennis Association request, Indoor Tennis Tournament.
The Buffalo City Tournament Association's request for Pool Tournament Funding was tabled to next month's meeting, pending additional information.
With Hockey Day ND, Pure Skills USA, Nick Bruns  said  the organization is requesting $10,000  toward marketing costs, for the three days of outdoor activities at the University of Jamestown campus, January 17, 18, 19, 2020, with teams participating from across North Dakota.  Many levels of play will be offered to pique fan interests including high school and college games.  The event is planned for the University of Jamestown's Allen Field.
Other sources of funding include….First Community Credit Union at $25,000, Central Sales at $10,000,
Hugo's $10,000, Cavendish $5,000.  A grant from Ottertail Power Company is pending.
With the estimated 3,000 in attendance, the economic impact is put at $550,000.
The board unanimously approved granting the full $10,000 with the stipulation that the dollars will all be used for marketing the event.
The Jamestown Classic Car Club represented by Jack Meikle, requested $5,000 for the Winter Wheels Car Show on Saturday January  25, 2020, at the Jamestown Civic Center.
Other sources of income are, Public admission fees of $8, $6 and $2, vehicle fee of $25 each, the vendor fee of $40, to $75, plus undetermined donation amounts.
The estimated attendance is between 950 and 1,350, with an economic impact of $100,000 to $120,000.
The group is working to bring the 1966 Batmobile back to Jamestown in 2020.
The board voted unanimously to grant $2,000.
With the University of Jamestown UJ Basketball Shootout,  $5,000 was requested for the event, to be held December 27, 28, 2019, at Both the UJ Harold Newman Arena, and Jamestown High School's Jerry Meyer Arena.
Jamestown Men's and Women's Basketball applied for the grant.  Spokesperson, Thad Sanky said 950 are expected to visit Jamestown during the Shootout days, representing Class "B" high schools in the region, with an economic impact of $132,500.
He pointed out that in past years the majority of teams participating were from farther than 50 miles from Jamestown, and 61 percent were spectators, traveling over 50 miles to Jamestown.
The board voted 4-0 to recommend funding the full amount of $5,000.  Tena Lawrence declared a conflict of interest in voting, due to her affiliation with the University of Jamestown.  Her abstention was allowed by the board
The Jamestown Rural Fire Department requested $4,000 for February 15, 2020 Ice Fishing Tournament at Jamestown Reservoir.  Travis Lemieux said, the funding would be used for advertising costs.
The economic impact is estimated at $87,500.   He said the Jamestown Civic Center is being rented for an after- tournament event, including entertainment.
The board voted to recommend the full $4,000 request, citing continued growth with the event and bringing participants from outside Stutsman County.
The Jamestown Tennis Association represented by Eric Watne requested $2,500 for an indoor tennis tournament, "Burst the Bubble," sanctioned by the USTA, November 1-3 at Two Rivers Activity Center.
Other funding sources include, $600 from registrations, and $500 from sponsorships.
The estimated economic impact is $12,500, with the goal of having 32 participants in the men's and women's flights.  He said participants in the past have come from as far away as Rapid City, South Dakota, and areas of Minnesota.
The board voted unanimously to approve $1,000 for marketing the event, only.
At the Executive Board Meeting
Tena Lawrence's abstention on the UJ Shootout voting was the only conflict.
The Financial Report was given by Taylor Barnes and approved.
With the Tourism Report – Searle Swedlund said the next Grant meeting will hear requests for the Promotion Capital Construction Fund, grant requests, with the next applications due by October 1.
He noted that the Stutsman County Museum's new sidewalk project has been completed, and features Stutsman County historical mentions, stamped into the concrete.
Swedlund added that the 2020 NAIA National Women's Wresting Tournament will return to Jamestown in March 2020.
He said it's likely that dollars will need to be expended in 2020 toward major refurbishing of the World's Largest Buffalo monument.
Ex-Officio Reports:
Jamestown/Stutsman Development Corporation, Business Development Director, Corry Shevlin said  the Airport Business Park development is about 95 percent complete, adding the JSDC will go before the Jamestown City Council's Finance and Legal Committee, on Tuesday, September 24, with funding requests.
Under New Business, discussion was held on the CD Renewal, as the board asked Swedlund to "shop around," for the best rate, with the renewal due in November this year.
The Executive Director's Annual job performance, Review Process was re-explained to the board members, consisting of a voting scale of efficiencies, with the outcome at the Annual Review meeting.
Jamestown  (CSi)   The James Valley Street Machines Car Club and Don Wilhelm Chevrolet, Buick, GMC, and 4-H, host the 9th Annual Car Show to support research for the Huntington's Disease Society of America, on Saturday September 21.
The show will be at Don Wilhelm Chevrolet, Buick, GMC, on Business Loop West in Jamestown.
Contact Steve "Skovy," Jaskoviak at 701-252-2950, or 701-202-7067 for more information.  Don Wilhelm Chevrolet, Buick, GMC
Set up is from 8-a.m., to 10-a.m.
Registration donation is before September 15 is $15, after that date, $20. One hundred percent of the donations will go to the Huntington's Society.
In conjunction with the show there will be a 5K Run/Walk from 8-a.m, to 10-a.m.  The set up is from 7-a.m., to 8-a.m.
Registration before September 21:
Adults $20, Youth 12 and under $15, Seniors 60 and older $15.  After that date $5 more in each category.
Prizes will be awarded to car owners:
Plaques for all cars, while supplies last
Car-Truck-Bike Show Cash Awards
Show Stopper Trophys Plus $250  1st Place, $150 2nd Place, $75 3rd Place
Peoples Choice Trophys plus $150 1st Place, $100 2nd Place, $5o 3rd Place.
Owners Choice Trophy , Plus $150, Overall Wow Rat Rod, $100.
Raffle tickets are $20 each.
Prizes:
1st Place: 1971 Chevy C-10 Resto-Rod.
2nd Place:  Rocky Mountain Elk 35th Anniversary "Golden Boy" (1 of 350 made.)
3rd Place:  $500 in cash.
4th Place:  $500 in cash.
Need not be present to win.
All raffle proceeds to be disbursed  between Huntington's Disease Society of America, and Stutsman County 4-H.
BISMARCK, N.D. (AP) — North Dakota will use $16.6 million in federal funds and state loans to cover damages from widespread spring flooding.
The North Dakota Emergency Commission, headed by Republican Gov. Doug Burgum, approved the spending Thursday.
Burgum requested federal help this spring in dealing with flooding that damaged homes, public infrastructure, hundreds of roads and thousands of acres of farmland in 19 counties in western, south central and eastern North Dakota.
President Donald Trump approved a disaster declaration for North Dakota in June that provided $14.4 million to help cover the costs.
The Emergency Commission voted to borrow Thursday to borrow an additional $2.2 million from the Bank of North Dakota for the balance.
OMAHA, Neb. (AP) — Bankers in rural parts of 10 Plains and Western states expect slow growth in the months ahead, but the ongoing trade war between the U.S. and China is weighing on the economy.
The Rural Mainstreet survey's overall index climbed into positive territory at 50.1 in September from August's 46.5. Any score above 50 suggests a growing economy, while a score below 50 indicates a shrinking economy.
Creighton University economist Ernie Goss, who oversees the survey, says bankers are less confident because of the ongoing trade disputes and the lack of approval for a new North American trade agreement.
The confidence index remained low at 42.9 in September — up slightly from August's 42.
Bankers from Colorado, Illinois, Iowa, Kansas, Minnesota, Missouri, Nebraska, North Dakota, South Dakota and Wyoming were surveyed.
GRAND FORKS, N.D. (AP) — A Grand Forks man has been sentenced to 40 years in prison for sexually assaulting a 6-year-old girl.
Judge John Thelen went along Wednesday with the state's sentencing recommendation for Jeffrey Krogstad, citing concerns that the 53-year-old sex offender would reoffend if given the opportunity.
Jurors found Krogstad guilty of gross sexual imposition after a three-day trial in April during which the girl testified while clutching a teddy bear. The Bismarck Tribune says the abuse took place from February until July 2018.
Krogstad refused to cooperate with a mandated presentence investigation, which is routinely used to determine the level of risk a sex offender poses for reoffending.
RAPID CITY, S.D. (AP) — A federal judge has temporarily blocked enforcement of parts of new South Dakota laws that aim to prevent disruptive demonstrations against the Keystone XL pipeline.
A lawsuit spearheaded by the American Civil Liberties Union against Gov. Kristi Noem and others alleges that the legislation chills protected speech. U.S. District Judge Lawrence Piersol on Wednesday issued a preliminary injunction halting several provisions of the law.
The legislation passed in March allows officials to pursue criminal or civil penalties against demonstrators who engage in "riot boosting," defined in part as encouraging violence during a riot. It's meant to head off Keystone XL protests like those against the Dakota Access pipeline in North Dakota.
Piersol filed a separate order earlier Wednesday removing Pennington County Sheriff Kevin Thom as a defendant.
In sports…
Jamestown  (uj.edu)  The University of Jamestown is encouraging fans attending this Saturday's home football game vs. Dordt University to wear the color orange in support of Jamestown Regional Medical Center Hospice.
The game, scheduled to begin at 1 p.m. at Taylor Stadium, precedes the 13th-ranked UJ women's volleyball team hosting Briar Cliff University beginning at 5 p.m. at Harold Newman Arena. Those purchasing a ticket to the football game can attend the volleyball match free of charge.
JRMC will have a booth set up at both events to accept donations with the money being donated in the name of Tam Braunberger.
Jamestown  (uj.edu) The University of Jamestown Jimmie men's and women's basketball teams will host "Jimmie Madness", a midnight madness style event starting at 6:30 p.m. on Sunday, September 22nd at the Harold Newman Arena. The event is free and open to the public. There will be free food, fan contests, giveaways, and much more!
Women's Head Basketball Coach  Thad Sankey adds,"We invite everyone to come and enjoy a fun night of activities as we introduce this year's teams. Our team is excited and we look forward to the competition this season brings."
Activities include team introductions, a three-point shootout for both teams, a dunk contest, team scrimmages, and also a fan competition, the half-court shot. The first 50 people in the door will receive a free t-shirt. There will also be many more giveaways throughout the night!
Head men's Basketball coach Danny Neville says"We're excited to put on this event for our players, students and the community," said head men's coach Danny Neville. "We want to pick up right where we left off with our fan support from our students and the community. We feel that this is a great chance for people to see our team, and get excited for what should be a great season."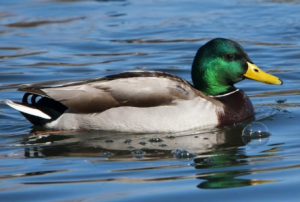 FARGO, N.D. (AP) — After weathering ups and downs in wetland conditions for the last few years, duck hunters in North Dakota and South Dakota are seeing positive trends in the popular waterfowl states.
The North Dakota Game and Fish Department's annual fall survey shows that duck hunting wetlands have increased about 65% statewide from a year ago. Officials cite record conditions in the south central and southeastern parts of the state.
Tom Moorman, chief scientist for Ducks Unlimited, says eastern North Dakota and South Dakota saw increases in both ponds and breeding waterfowl. He says there are dry conditions in Canada that typically drive some species into the Dakotas.
The regular duck hunting season opens Saturday in North Dakota. In South Dakota, it opens on Sept. 28 in some areas and Oct. 12 in others.
In world and national news..
WASHINGTON (AP) — The chairman of the House intelligence committee says he cannot confirm a press report that said a whistleblower's complaint concerned a promise President Donald Trump made on a phone call to a foreign leader.
Democratic Rep. Adam Schiff of California said Thursday the acting director of national intelligence is withholding the complaint from Congress in an unprecedented departure from the law.
Schiff said, "There is an effort to prevent this information from getting to Congress."
He said he believes the whistleblower's complaint "likely involves the president or people around him."
The intelligence community's inspector general, Michael Atkinson, appeared behind closed doors Thursday but declined to tell the panel the substance of the complaint.
The Washington Post reported it involved a promise Trump made to an unnamed foreign leader.
TORONTO (AP) — Canadian Prime Minister Justin Trudeau says he's wary of being definitive about how many times he's worn brown or blackface because he didn't recall the recent pictures that have surfaced.
Trudeau at first did not answer repeated questions about how many times he wore blackface or brownface. He later said he didn't recall the pictures that surfaced over the last day.
Trudeau's campaign moved to contain a growing furor Thursday after a yearbook photo surfaced of him in brownface at a 2001 "Arabian Nights" costume party and two other similar incidents came to light.
With his bid for re-election just a month away, the 47-year-old Trudeau begged Canadians to forgive him.
Trudeau says he's hurt people that thought he was an ally. He says he is an ally to visible minorities and it is something he deeply regrets and shouldn't have done.
He says it does not represent the person or leader he has become. He says he never talked about it publicly because he's embarrassed. He says he comes from a place of privilege.
DUBAI, United Arab Emirates (AP) — The Pentagon says the U.S. military is working with Saudi Arabia to find ways to provide more protection for the northern part of the country in the wake of the drone and cruise missile attack on the kingdom's oil industry.
Air Force Col. Pat Ryder, spokesman for the Joint Chiefs of Staff, told Pentagon reporters Wednesday that U.S. Central Command is talking with the Saudis about ways to mitigate future attacks. He would not speculate on what types of support could be provided.
Other U.S. officials have said adding Patriot missile batteries could be one option, but no decisions have been made. Ryder says a forensic team from Central Command is still in Saudi Arabia, where it's been examining debris from the strikes.
Pentagon spokesman Jonathan Hoffman says the department is providing the President Donald Trump with military options for any U.S. response, but no decisions have been made. He says the U.S. has a high level of confidence that officials will be able to accurately determine exactly who launched the attacks.
Yemen's Houthi rebels claim Saturday's attack was in response to the yearslong Saudi-led war there, but U.S. and Saudi officials say it was launched from the north. Iran and Iraq lie to the north across the Persian Gulf, while Yemen is in the south.
(AP) The Trump administration is threatening to cut a grant for a Middle East studies program run by the University of North Carolina and Duke University. The administration says the program misuses federal funds to advance "ideological priorities" and unfairly promotes "the positive aspects of Islam" but not Christianity or Judaism.
A recent letter from the Education Department orders the Duke-UNC Consortium for Middle East Studies to revise its offerings by Sept. 22 or risk losing funding from the National Resource Center program.
Education Secretary Betsy DeVos ordered an investigation following complaints that the consortium hosted a taxpayer-funded conference with an anti-Israeli bias.
The department objects to some of the consortium's offerings and says it has a "lack of balance" in its teachings on religion.
UNC and Duke declined to comment.
JERUSALEM (AP) — Israel's president, Reuven Rivlin, says he will begin consultations Sunday with all of the parties elected to parliament.
Rivlin's announcement Thursday is the first step toward what officials hope will be the formation of a new government after elections this week.
Under Israeli law, the president meets with leaders of each party, who recommend to him who they think should be prime minister.
Rivlin then chooses the politician he thinks has the best chance of forming a stable coalition. The prime minister designate gets six weeks to form a government.
Rivlin faces a difficult task. Neither of the two largest parties, Prime Minister Benjamin Netanyahu's Likud and challenger Benny Gantz's Blue and White, have a clear path to a majority.
The consultations are expected to last two days.
HOUSTON (AP) — Crews have rescued more than 1,000 people in the Houston area because of rising waters caused by the remnants of Tropical Depression Imelda.
Harris County Judge Lina Hidalgo says the rescues have happened in the eastern part of the county because of flooding. A flash flood emergency for the area will remain in effect until 3 p.m. Thursday.
Officials are urging the public to stay off the roads.
Harris County Sheriff Ed Gonzalez says among those rescued were nine children and employees from a daycare center that had taken on water in Aldine, about 10 miles (16 kilometers) north of Houston.