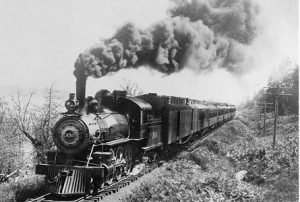 This Day In History, October 7, 1872 – The first train pulls into Jamestown.   *** from the 125th Anniversary Calendar of Jamestown History & Wikipedia***
First railroad passenger train arrives in Jamestown.
(*) Congress chartered the Northern Pacific Railway Company on July 2, 1864 with the goals of connecting the Great Lakes with Puget Sound on the Pacific, opening vast new lands for farming, ranching, lumbering and mining, and linking Washington and Oregon to the rest of the country.[1]
Congress granted the railroad a potential 60 million acres (243,000 km2) of land in exchange for building rail transportation to an undeveloped territory. Josiah Perham was elected its first president on December 7, 1864.[1] It could not use all the land and in the end took just under 40 million acres.
The North Coast Limited was the premier passenger train operated by the Northern Pacific Railway between Chicago and Seattle via Butte, Montana and Homestake Pass. It commenced service on April 29, 1900, served briefly as a Burlington Northern train after the merger on March 2, 1970, and ceased operation on April 30, 1971, the day before Amtrak began service. The Chicago Union Station to Saint Paul leg of the train's route was operated by the Chicago, Burlington and Quincy Railroad along its Mississippi River mainline through Wisconsin.
The Northern Pacific's secondary transcontinental passenger train was the Alaskan, until it was replaced by the Mainstreeter on November 16, 1952.[19] The Mainstreeter, which operated via Helena, Montana and Mullan Pass, continued in service through the Burlington Northern merger until Amtrak Day (May 1, 1971). It had been reduced to a Saint Paul to Seattle train after the last run of the former Burlington Route Black Hawk on April 12–13, 1970.
The Northern Pacific also participated in the Coast Pool Train service between Portland and Seattle with the Great Northern Railway and the Union Pacific Railroad. NP and GN Coast Pool Trains lasted until Amtrak.
There were several other passenger trains which were discontinued before the Burlington Northern merger. These included:
(*) wikipedia