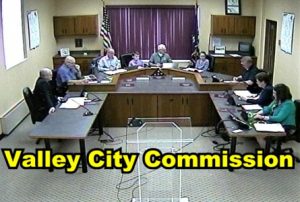 Valley City  (CSi)  The Valley City Commission met in Regular Session Tuesday evening at City Hall.  All members were present.
APPROVAL OF CONSENT AGENDA ITEMS:
Monthly Reports from the Fire Chief, Building Inspector, Auditor, Municipal Judge and Public Works Accountant.
Monthly Bills for the City and Public Works in the Amount of $1,859,455.08
Raffle Permit for St. Catherine School
Block off a Street Request by Connect Church for Trunk-or-Treat on October 31, 2019 from 4:00 PM to 8:00 PM on Central Avenue S from 3rd Street to 4th Street.
PUBLIC COMMENTS:  No One Spoke
PUBLIC HEARING
For the Issuance of Class B On-Sale and Off-sale Beer License& Class C On-Sale and off-sale Liquor License to Jeremy Tjon dba The Club House, the former American Legion.
City Auditor Richter said the application was in order and the fee was paid.  City Attorney Martineck said the transfer of license is from Class A to Class B and C occurs  when the ownership changes.   It was stated that veterans activities will continue at the location.  The previous license suspension will no longer be in affect.
Following the Public Hearing, City Commissioners voted to approve, contingent on seeing the transfer of ownership documentation before the Issuance of Class B & C Licenses to Jeremy Tjon dba The Club House.
Approved was the second and final reading of the 2020 Annual Budget Ordinance.  City Auditor Richter  said a public hearing was held and the First Reading was held, with no opposition and no changes. Commissioner Powell voted in opposition.
Approved was first reading of an ordinance to adopt the Valley City Municipal Code and repeal all ordinances previously adopted with certain exceptions.   The approval will end the recodification process.
NEW BUSINESS
Approved a Gaming Site Authorization for North Dakota Winter Show at North Dakota Winter Show Event Center on December 6, 2019 and at Valley City Eagles Aeries 2192 on December 7, 2019.  City Auditor Richter said this is for the North Star Classic event.
CITY ADMINISTRATOR'S REPORT:
David Schelkoph said during this Energy Efficiency  Month each Valley City resident will receive a two energy Saving LED light bulbs, including eligibility for rebates.  He said if all 7,000 residents use the bulbs it saves 350KW of  electrical energy.
He said over $50 million have been earmarked for the Permanent Flood Control project, which will mean 275,000 fewer sandbags that will be needed in another flood event.
He added that stemming from the  manufacturer failing to send the city appropriately configured light poles the city provided in drawings, the street lighting project on Central Avenue has been delayed, pending receiving the replacements…. part of the  Streetscape Phase I project.
CITY UPDATES & COMMISSION REPORTS
KLJ reported that six new traffic control lights will be installed next week.
Fire Chief Scott Magnuson said next week is Fire Prevention Week, and the Valley City Fire Department will host an Open House on Sunday, October 6, from 2-p.m., until 5-p.m
It was noted that winter parking restrictions are now in effect in downtown Valley City.
Mayor Carlsrud thanked the public for their continuing patience during the street project work.
The meeting was shown live on CSi Cable 68 followed by replays.