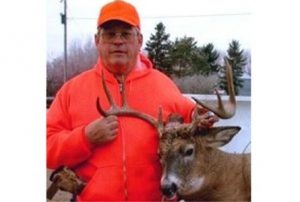 Berdean Thorsness, 73, Tappen, ND passed away at his family farm on October 6, 2019. The funeral service will be held at 10:00 AM on Wednesday, October 9, 2019 at St. James Basilica in Jamestown with family receiving friends from 9:00 AM to 10:00 AM.Berdean Dennis Thorsness was born on June 14, 1946 to Sidney and Rose (Cullen) Thorsness.  He grew up on the family farm raising cattle, pigs and milking cows. He graduated from Tappen High School and continued farming with his dad.Berdean married Darlene Bodvig on July 27, 1968 at St. Paul's Catholic Church in Tappen ND.  Ironically, 4 years before their marriage Berdean had given Darlene a senior picture of himself and wrote on the back "Best of luck with whoever it may be". Little did he know that he would be the lucky one. They lived on the family farm and later purchased it in 2000. Berdean earned his nickname "Turtle" as he had a tendency to always be late.  In fact, a number of people didn't know his true name.In his younger years; Berdean enjoyed driving in demolition derbies and horseback riding.  When his boys decided to fix up derby cars, he was right there giving them instructions even though they didn't always want to listen. Berdean also enjoyed hunting, fishing and the yearly family lake trip which always included his beloved fireworks.

Anyone who knew Berdean knew he loved to talk and was a great story teller and he enjoyed talking on the phone.

Berdean is survived by his wife Darlene; his children Tammy (Alan) Andres, Woodworth ND; Thad (Jan Thompson) Thorsness, Hawley MN; Brent (Dawn) Thorsness, Fargo ND;  Dana Schrader, Walcott  ND and Kelly (Brandon Addams) Thorsness, Bismarck ND; 5 granddaughters and their families Brooke Thorsness, Ashlyn Thorsness,  Kayla (Linda) Grizzle, Tara, Landon; Marissa (James) Hogness, Brianna Schrader (Joe Sayler), Bentlee, Serenitee, Sydnee;  siblings Roger (Stephany) Thorsness, Margaret Darnell, Ronda Thorsness, Valerie Vogel, Linnae (Tom) Thompson, Kevin (Marcia McMullen) Thorsness; brother-in-law Marvin (Violet) Bodvig, sister-in-law Sharon (Jerry) DeWitz and many nieces and nephews.

He was preceded in death by his parents, mother-in-law Lucille

Bowerman, father-in-law Galen Bowerman and nephew, Bryan Ehmann.

Arrangements with Eddy Funeral Home.