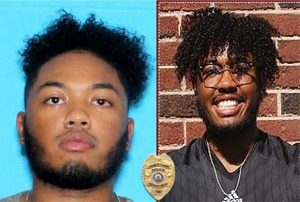 Jamestown  (JPD)   The Jamestown Police Department is asking for the public's assistance in trying to locate a reported missing person. Archie Covington McArthur IV was reported as missing by his family members to Jamestown Police.
The photo on the left is from 2018 and the date of the photo on the right is not known.
McArthur is a 20 year old African-American male, who stands 6'02" tall, weighs approximately 290 lbs., and has brown eyes and black hair.
Family members have not heard from McArthur in over a month and they are concerned about his welfare and are asking for him to contact them. McArthur has recently lived in Jamestown, ND, but also has ties to Fargo, ND and to the Las Vegas, NV area.
McArthur is not known to have a vehicle at this time. We are asking anyone with information regarding McArthur's whereabouts to contact the Jamestown Police Department at 701-252-1000.