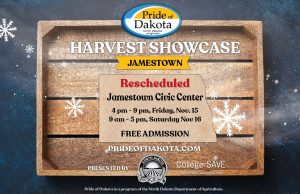 (CSi) The Pride of Dakota Harvest Showcase scheduled October 11 & 12 the Civic Center,  has been postponed until November 15 & 16, due to the major winter storm, affecting a significant portion of the state.
The Showcase is now scheduled from 4-p.m. to 9 -p.m., Friday, November 15th and 9-a.m., to 5-p.m. Saturday, November 16th.
Admission and reusable shopping bags are free and sponsored by the Bank of North Dakota College SAVE Plan. Parking is also free for Pride of Dakota shoppers.
North Dakota Ag-Commissioner Doug Goehring More than  100 vendors will be showing their products, goods, and services.
Pride of Dakota has grown to more than 500 North Dakota companies today.
Pride of Dakota, provides businesses resources and marketing opportunities that help them expand, with multiple products offered by North Dakota manufacturers and businesses.
Those bringing a non-perishable or fresh produce food donation, will be admitted for $1. can.  Bring a reusable cloth shopping bag and admission is free.
For more on the pride of Dakota Showcase in Jamestown, visit prideofdakota.com.