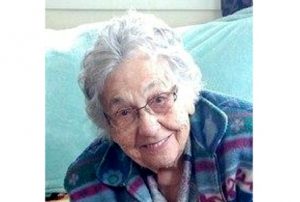 Margaret Irene (Gross) Kuske, 93, died peacefully on October 8, 2019 after suffering a stroke on September 30.
She was born on August 31, 1926 to Adolph & Christine (Rudel) Gross in Cassils, Alberta, Canada. They moved to North Dakota when Margaret was three years old. She attended rural school in the Manfred area through the eighth grade.She met her husband, Orval, at a church single's function in Fessenden, ND and they were married June 24, 1956. They were married for 40 years when Orval died of cancer in 1996.They lived and farmed near Carrington from the beginning of their marriage through 1968 when they moved into Carrington and Orval then continued to farm.

Margaret had many interests including gardening, scrapbooking, embroidery, reading voraciously, especially in retirement, letter writing, arts & crafts and her family! She was an excellent cook and baker and we will especially miss her potato salad and cookies!

She worked as a nurse's aide for over 20 years. She first worked in Fessenden with her mother while she was single and then later in Carrington at the Holy Family nursing home. She had a compassionate and giving heart! After Orval's death she moved to Jamestown to be closer to family.

She was a member of the Nazarene Church for 70 years. She was a faithful servant of the Lord Jesus! She never wavered in her faith and her consistency and loving kindness was a great example and influenced many people.

She is survived by her four children: Kathy (Raphael) Rodriguez of Jamestown, ND, Myron (Elaine) Kuske of Jamestown, Diane (Glenn) Schmidt of Overland Park, KS and Deborah Smith of Edwardsville, KS and two grandchildren, Zachary (Brittany Kelley) Smith of Edwardsville, KS and Paulina (Tory Leier) Kuske of Jamestown as well as three great grandchildren, Bentley and Marley Kuske and Benjamin Smith and a great grandbaby on the way, and her brother Wesley Gross of Fessenden, ND along with many nieces and nephews.

She was preceded in death by her husband Orval, her parents Adolph and Christine Gross, sisters Edna Krueger, LaVern Arndt, Esther Danielson, and brothers Donald and Kenneth Gross.

Visitation: 4:00 p.m. to 7:00 p.m., Monday, October 14, 2019 at Eddy Funeral Home.

Prayer Service: 7:00 p.m., Monday, October 14, 2019 at Eddy Funeral Home.

Funeral Service: 1:00 p.m., Tuesday, October 15, 2019 at the First Church of the Nazarene, Jamestown with Pastor Jim Kraemer.

Burial: Carrington Cemetery.

Arrangements are in the care of Eddy Funeral Home, Jamestown.