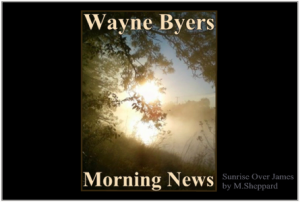 CSi Weather…
JAMESTOWN…
…WINTER STORM WARNING NOW IN EFFECT UNTIL 7 PM CDT SATURDAY…
Heavy snow expected. Total snow accumulations of 15 to 25
inches. Locally higher amounts are possible. The highest
snowfall amounts are expected east of Highway 83. Winds gusting
as high as 40 mph through Thursday night, and as high as 55 mph
Friday through Saturday afternoon when blizzard conditions are
possible.
VALLEY CITY…
…WINTER STORM WARNING NOW IN EFFECT FROM 1 PM THIS AFTERNOON TO 1 PM CDT SATURDAY…
Rain and snow gradually becoming all snow Thursday afternoon
or evening across the area. Heavy snow Friday into early
Saturday. Very tight snowfall gradient over the region with
total snowfall of 10 to 20 inches, with locally higher amounts
possible. Winds gusting as high as 50 mph on Friday into
Saturday, especially west of the Red River valley.
Forecast…
.REST OF TODAY…Snow. Areas of blowing and drifting snow.  Windy. Snow accumulation around 6 inches. Highs in the mid 30s. North winds 20 to 30 mph. Chance of snow near 100 percent.
.TONIGHT…Snow. Areas of blowing and drifting snow. Windy. Snow
may be heavy at times after midnight. Snow accumulation around 6 inches. Lows in the upper 20s. Northwest winds 25 to 30 mph.
.FRIDAY…Snow. Areas of blowing and drifting snow in the
morning. Blowing and drifting snow in the afternoon. Windy. Snow
may be heavy at times. Snow accumulation around 7-8 inches. Highs
in the lower 30s. Northwest winds 30 to 35 mph.
.FRIDAY NIGHT…Snow. Areas of blowing and drifting snow. Windy.
Light snow accumulations. Lows in the upper 20s. Northwest winds
around 35 mph with gusts to around 50 mph.
.SATURDAY…Snow likely. Areas of blowing and drifting snow.
Windy. Highs in the lower 30s. Northwest winds 25 to 35 mph.
Chance of snow 70 percent.
.SATURDAY NIGHT…Cloudy. A 20 percent chance of snow in the
evening. Patchy blowing and drifting snow in the evening. Lows in
the upper 20s.
.SUNDAY…Mostly cloudy. Highs in the lower 30s.
.SUNDAY NIGHT…Mostly cloudy. Lows in the mid 20s.
.COLUMBUS DAY…Partly sunny. Highs in the mid 30s.
.MONDAY NIGHT…Mostly cloudy. Lows in the mid 20s.
.TUESDAY…Partly sunny. Highs in the mid 30s.
.TUESDAY NIGHT…Partly cloudy. Lows in the lower 20s.
.WEDNESDAY…Partly sunny. Highs in the mid 30s.
Jamestown  (CSi)  The City of Jamestown reports that due to the winter weather forecast, and many trees still bearing leaves, the City of Jamestown Engineering Department is asking residents to adopt/monitor nearby storm sewer inlets to keep them from getting plugged with debris and prevent localized flooding in your neighborhood.
PLEASE NOTE:
The above schedule is contingent upon changing weather conditions.
Jamestown  (CSi)   James River Humane Society's Spay-ghetti Feed scheduled for this evening, has been postponed to October 24.
Jamestown  (CSi)  The Pride of Dakota Harvest Showcase scheduled for October 11 and 12 at the Civic Center,  has been postponed until November, due to the major winter storm, affecting a significant portion of the state.
It's been rescheduled to Friday and Saturday, November 15-16 at the Jamestown Civic Center due to the weather advisory calling for a major winter storm affecting a significant portion of the state.
Valley City (CSi)  Public speaking is a new class offered at Valley City High School this fall. It is currently being offered as a dual credit option through Valley City State University. Nearly forty seniors are enrolled, and they are hard at work on informative speeches that tie to the history of Barnes County. VCHS has partnered with the Barnes County Museum to help students dig into primary and secondary sources, structure speeches, and present them in front of a crowd.
Some of the speeches students are working on include changes in dental care over time, one-room schoolhouses, soda fountains and drug stores, developments in funeral service care, the history of the player piano, the role of women in WWII, and local African American history, to name a few. Each student is pursuing a unique and self-chosen topic.
Students will be presenting their local history speeches at the Barnes County Museum during their English class periods over a span of four days: October 14, 16, 21, and 25 at either 8:40 or 12:55. The public is invited to stop by at any time to learn more about our city and county.
Valley City  (VCPS)  The safety and well-being of students and staff is our top priority and the decision to close school is no simple matter.
Before deciding to close school due to extreme winter weather conditions, Valley City Public School Superintendent Josh Johnson consults with a variety of experts outside of the district. Our commitment is to keep families, staff, and the community informed of weather-related school closings and cancellations.
All decisions to cancel or delay school will be made by 6:30AM the morning of the decision. If school is delayed, it is important that you continue to monitor the situation as school could be cancelled and that announcement would come later. It may also be necessary to dismiss school early, in that event, an announcement will be made on the closing time of school.
More information on line at CSiNewsNow.com
Jamestown  (Chamber)  The Jamestown Chamber Ag/Energy Committee invites you to the 2019 Energy Luncheon, which will be held on Tuesday, October 15th from 12:00 – 1:00pm at the North Dakota Farmers Union building in Jamestown.  This year's guest speaker will be Greg Anderson of Otter Tail Power Company.
He will speak about Solar Energy and how it compares to other renewable energy. Tickets for the event are available online at www.jamestownchamber.com or can be picked up at the chamber office or at the event. Tickets are $10.00 for chamber members and $12.00 for non-members. The event is sponsored by Otter Tail Power Company, Great River Energy and North Dakota Farmers Union.
Jamestown (NDFU) Student-led radio stations KLHS and KLPS – broadcast from inside Linton Public High School in southcentral North Dakota – recently received a financial boost from Farmers Union Insurance that allows for studio expansion.
Linton Public School Superintendent Paul Keeney, says, "The sponsorship has allowed us to construct a third studio and provide enhanced kinesthetic learning. By that I mean, hands on learning.  We're the only high school station operating in the state. Students learn by doing."
In operation since February of 2017, the school's radio classes are the brainchild of instructor Jay Schmaltz. "Our goal is not just to develop broadcasters. The goal is to get kids back to the basics [of communication]. When they are done with this class, they will know how to interview and talk to people," he said.
The stations broadcast 24 hours a day, year-round. KLHS (AM 1620) is a low-watt station with a radius of about three miles around the city of Linton. It plays Oldies music and is broadcast on BEK TV's cable channel 22. KLPS is a strictly online format station that plays Outlaw Country music.
Students provide all the voice talent for the stations, write stories and ad copy, sell advertising and conduct marketing including prize giveaways.
Farmers Union Insurance Chief Sale, Marketing, & Brand Officer, Kevin Ressler says,"I was very impressed with the students and curriculum. It's a unique learning opportunity and one we're proud to support."
FUI is also the premier sponsor of the North Dakota High School Activities Association and the BEK Broadcasting Network which televises high school athletic competitions throughout North Dakota.
FARGO, N.D. (AP) — A Fargo man accused of killing his girlfriend and setting his apartment on fire has pleaded not guilty to charges.
Authorities say 52-year-old Denise Marie Anderson died of traumatic injuries before the fire at Sheldon Davis' apartment in August. The 44-year-old Davis is charged with murder, endangering by fire or explosion and arson and entered his pleas Wednesday in court.
His lawyer asked that Davis' bond be lowered from $1 million to $500,000, a request that was denied.
Davis is in the Cass County Jail, where he has talked to several media outlets and proclaimed his innocence. He's due back in court Jan. 9.
MOORHEAD, Minn. (AP) — A North Dakota man has been charged in Minnesota with allegedly showing a handgun to another driver during a road rage fit over a political bumper sticker on her vehicle.
KFGO radio reports that 27-year-old Joseph Schumacher, of Bismarck, North Dakota, was charged Wednesday with carrying weapons without a permit, the unlawful transportation of firearms and disorderly conduct.
Moorhead, Minnesota, police say a woman reported she was driving Monday when Schumacher pulled up and began yelling about her sticker supporting Democratic presidential hopeful Elizabeth Warren. Authorities say he pointed to his sticker supporting President Donald Trump and later flashed the gun.
Police tracked down Schumacher at a nearby restaurant. He was wearing a Trump 2020 cap. The complaint says he had two loaded guns in his vehicle.
Schumacher told police he was flirting with the woman and denied holding up a gun.
MINOT, N.D. (AP) — Police say a man armed with a knife who made threats at the Dakota Square Mall in Minot is facing possible terrorizing charges.
Authorities say the Minot man went to a business at the mall Tuesday afternoon to speak with a female employee and became disorderly when he wasn't allowed to talk to her.
Police say a male employee followed the man out of the mall and the suspect pulled out a knife and threatened the employee. He was arrested a short time later and taken to the Ward County Jail.
BISMARCK, N.D. (AP) — North Dakota Auditor Joshua Gallion says he will seek re-election.
Gallion says he will make a formal announcement on Thursday at Republican Party headquarters in Bismarck and Fargo.
The state auditor's office inspects the books of government agencies and North Dakota's university system. Gallion was elected in 2016 and has carried out performance audits that have uncovered waste and misuse of resources at about twice the rate of his predecessor.
The Legislature this year passed a measure aimed at restricting his ability to conduct reviews. Attorney General Wayne Stenehjem later issued an opinion saying the law signed by GOP Gov. Doug Burgum is likely unconstitutional.
Gallion tells The Associated Press that increased "accountability and transparency" is the "new norm" for the office.
BISMARCK, N.D. (AP) — A Bismarck couple has been charged with felony child neglect following the death of their baby.
Authorities say the parents kept a filthy apartment and missed medical appointments for their son, who was born 3½ months premature in December and spent three months in neonatal intensive care. The baby was found face down and unresponsive in a bassinet in August. A cause of death was not released.
The Bismarck Tribune reports a court affidavit says social services officials who conducted home visits stated there was "a risk of neglect due to inadequate parenting."
Ashlynn Seymour and Marcus Reineke, both 20, are being held in the Burleigh Morton Detention Center on $5,000 bail. Court documents do not list defense attorneys.
In sports…
Jamestown  (UJ)  University of Jamestown Women's Wrestling Head Coach Shauna Kemp will leave for Doha, Qatar, on Thursday, October 10, to represent the USA at the World Beach Games. Kemp will fly out of Fargo to Dallas, then have a 3-hour layover until boarding her non-stop, 22-hour direct flight to Doha. Doha is the capital of Qatar, located on the Arabian Sea in the Persian Gulf. There is an 8-hour time difference, and Doha is over 7,000 miles from Fargo.
Kemp will compete in the World Beach Wrestling Championships on Tuesday, October 15, in the 60 kilogram division. There are 20 wrestlers in the 60 kilogram weight class, with the entire competition taking place on Tuesday. Kemp is wrestling up a weight class at 60 kilograms, but that has not diminished her enthusiasm: "My goal is to win the gold medal."
"I have never been to the Middle East," said Kemp. "The opportunity to represent our country in a multi-sport games event is exciting and I get to compete alongside Olympians from other sports." Beach wrestling has its own style. As Coach Kemp describes it, "It is a cross between Olympic style and Sumo wrestling." The first competitor to 3 points wins the match. A take down or push out are 1 point and a throw to the opponents back is 3 points. Competitors cannot touch their own knee, or it results in a point for their opponent.
Wrestling is one of 17 disciplines will be featured at the inaugural World Beach Games, which are sanctioned by the Association of National Olympic Committees.
Established in 1883, the University of Jamestown is a private, liberal arts university granting Bachelor of Arts, Bachelor of Science and Science in Nursing degrees, as well as Master's Degrees in Education and Leadership, and a Fargo-based Doctor of Physical Therapy degree. The University of Jamestown offers more than 40 areas of study, integrating the liberal arts with sound professional programs. With the Jamestown Journey to Success, emphasis is placed not only on preparing students academically in their chosen areas of study, but also on preparing them through a student-centered experience.
College Soccer..
At Jamestown
Women…
(uj.edu)  The University of Jamestown women's soccer team crept above the .500 mark following a 2-1 win over Mount Marty (S.D.) College Wednesday evening at Jimmie Turf Field.
In moving their overall season record to 6-5, Jamestown also improved to 5-1 in the Great Plains Athletic Conference, bouncing back from their first conference loss last weekend.
Gabriella Diarte (SR/North Ogden, Utah) (6th minute) and Kamryn Fiscus (FR/Yakima, Wash.) (31st) minute supplied first-half goals as UJ took a 2-0 lead after 45 minutes. Jamestown maintained much of the offensive possession in the first half, getting off seven shots to the Lancers' one. Four of the Jimmies' shots were on target.
Kenyonique Thompson scored for Mount Marty in the 50th minute to cut the lead in half. Once again, the Jimmies kept putting pressure on the Lancers, taking 12 shots (four on target) while allowing just two (one on target).
Jamestown hosts a non-conference match Thursday against Providence University College of Manitoba at 3:30 p.m.
Men…
(uj.edu)  Two second-half goals helped the University of Jamestown men's soccer team build on a 1-0 lead, and the Jimmies defeated Mount Marty (S.D.) College 3-0 at Jimmie Turf Field Wednesday night.
The win improves UJ's overall record to 4-6 and 2-3 in the Great Plains Athletic Conference.
Jamestown had a chance to take the lead in the fifth minute, but Aaron Pike (SO/Milton Keynes, England)'s penalty kick hit off the left post and deflected back into play.
Karl Gatiramu (FR/Nairobi, Kenya) took a pass from Diego Valle (SO/Yucaipa, Calif.) in the 32nd minute and buried the ball in the back of the net to make it 1-0. A little over three minutes later, Mount Marty had its best scoring chance of the half. A through ball to Fernando Negrete found him with just the goalkeeper to beat, but Negrete's flick attempt rolled into the post, away from the net.
Gatiramu was awarded the Jimmies' second penalty kick of the half in the 44th minute, but his attempt was saved by Gabriel Ivlev. The rebound came back out to Gatiramu, and his follow-up shot was also turned away by Ivlev.
Pike atoned for his earlier miss from the spot with a goal in the 61st minute, giving UJ a 2-0 lead.
Valle earned his second assist of the night on JJ Mowrey (SR/Findlay, Ohio)'s 74th minute goal which put Jamestown ahead 3-0.
Jake Askew (SR/Rotherham, England) needed to make just one save to preserve the clean sheet.
Next up for the Jimmies is a non-conference match Thursday against Providence University College of Manitoba at 5:30 p.m.
College Volleyball  Wednesday at Harold Newman Arena
(uj.edu)The 11th-ranked University of Jamestown women's volleyball team swept Valley City State (N.D.) University in non-conference action Wednesday night at Harold Newman Arena. Set scores were 25-14, 26-24, 25-18.
Isabel Wedell (SR/Ellendale, N.D.) hit .450 for the match with 10 kills to lead the Jimmies. Taylor Sabinash (SO/Kensal, N.D.) added eight kills and Corina Ruud (JR/Breezy Point, Minn.) seven as Jamestown improved to 17-3 on the year.
Miranda Lowman (SR/Mandan, N.D.) and Jackie Meikejohn each passed out 14 assists, helping UJ to a .203 hitting percentage for the match.
Anna Holen (SO/LaMoure, N.D.) racked up a team-best 17 digs and Sydney Ellingson (JR/Langdon, N.D.) was also in double figures wth 13.
Britta Knudson (SR/Bismarck, N.D.) had three solo blocks as part of her four total block night. Ruud added three total blocks and Holen finished with two.
Next up for the Jimmies is a conference matchup against Mount Marty (S.D.) College on Friday, with first serve set for 7:30 p.m.
MLB PLAYOFFS-NLDS
Nats oust Dodgers, Cards dump Braves to reach NLCS
The Washington Nationals and St. Louis Cardinals will play for the National League pennant, beginning Friday in St. Louis. The Nationals advanced with an impressive comeback win over the Dodgers in Los Angeles after the Cardinals crushed the Braves in Atlanta. In both cases, the winners advanced on the road in Game 5 after trailing the NL Division Series two games to one.
Former Dodger Howie Kendrick launched a grand slam off reliever Joe Kelly with nobody out in the 10th inning to send the Nats to a 7-3 triumph at Los Angeles. Kendrick's blast knocks out the team that posted the National League's best record during the regular season and puts the Nats in the NLCS for the first time.
Max Muncy (MUHN'-see) and Kike (KEE'-kay) Hernandez homered off Stephen Strasburg to give the Dodgers a 3-0 lead through two innings before the Nationals rallied. Anthony Rendon (rehn-DOHN') and Juan Soto tied it with back-to-back solo blasts off Clayton Kershaw in the eighth, two innings after Soto's RBI single ended Walker Buehler's (BYOO'-lurz) shutout bid.
Daniel Hudson picked up the victory by tossing a scoreless ninth. Sean Doolittle closed it out by retiring the Dodgers in order in the 10th.
Buehler had to settle for a no-decision after limiting the Nationals to a run and six hits while striking out seven over 6 2/3 innings.
In Atlanta, the Cardinals sent 14 batters to the plate while erupting for 10 runs on five hits, four walks and a huge error in the first inning of a 13-1 rout of the Braves. The Braves had a chance to get out of the frame trailing just 1-0, but first baseman Freddie Freeman botched a potential inning-ending double play grounder.
Tommy Edman, Dexter Fowler and Kolten Wong provided two-run doubles following the error, allowing the Cardinals to turn the deciding game into a laugher. Pitcher Jack Flaherty walked with the bases loaded and Fowler reached base twice during the rally.
The 10 runs is a major league record for a postseason game.
Braves starting and losing pitcher Mike Foltynewicz (fohl-tih-NEH'-vihch) retired just one batter while surrendering seven runs – six earned – on three hits and three walks. Max Fried (freed) allowed three runs in the first and was lifted to start the third inning with Atlanta trailing 11-0.
Flaherty breezed through six innings to get the win, limiting the Braves to one run and four hits while striking out eight. Flaherty had a shutout until Josh Donaldson homered in the fourth.
The outcome puts St. Louis in the NLCS for the first time since 2014, when they fell to the Giants.
MLB-YANKEES-SABATHIA
Sabathia could be on Yanks' ALCS roster
NEW YORK (AP) _ CC Sabathia (suh-BATH'-ee-uh) could be on the New York Yankees' roster for the AL Championship Series after missing the previous round with an achy left shoulder.
Sabathia threw a bullpen session Wednesday and impressed manager Aaron Boone, who said the 39-year-old left-hander is feeling "considerably better." Boone says Sabathia is an option for the ALCS, but the Yankees haven't decided on their roster.
Relief pitchers Aroldis Chapman and Zack Britton are expected to be 100% for the ALCS.
Boone also says outfielder Aaron Hicks has recovered from a right elbow flexor strain. Hicks is healthy enough to play, but Boone says there is "trepidation" about activating him because he hasn't played in a game since Aug. 3.
Also around the majors:
_ Braves catcher Brian McCann is retiring after 15 major league seasons, making the announcement after Atlanta lost in the NLDS. McCann's career began and ended with the Braves, his hometown team. He hit .249 with 12 homers and 45 RBIs while sharing playing time with Tyler Flowers. McCann batted .262 with 282 home runs in a career that included stops with the New York Yankees and Houston Astros.
NFL-NEWS
Burfict's appeal denied
UNDATED (AP) _ Vontaze Burfict's appeal to overturn his suspension for a helmet-to-helmet hit has been denied, keeping the Oakland Raiders linebacker off the field the rest of the season.
Appeals officer Derrick Brooks has ruled that he would not reduce the longest suspension ever handed down for an on-field infraction. Brooks is appointed jointly by the NFL and the NFLPA and heard Burfict's appeal of the ban for the final 12 games of the regular season and the playoffs.
Burfict was punished for his hit on Indianapolis tight end Jack Doyle on Sept. 29. It was the third time Burfict has been suspended for a dangerous hit on the field.
In other NFL news:
_ Rams running back Todd Gurley missed practice Wednesday with a bruised left thigh. The team doesn't know whether their star ground-gainer will play Sunday against the 49ers. Coach Sean McVay says Gurley's injury "caught us all off-guard" when Los Angeles went back to work following a bye week.
_ The heavily underdog Giants are going to be without their top two running backs and their two leading receivers against the Patriots Thursday night. Saquon (SAY'-kwahn) Barkley will miss a third straight week with a high ankle sprain and Wayne Gallman will be out with a concussion. Wide receiver Sterling Shepard and tight end Evan Engram have also been ruled out.
_ Chargers head coach Anthony Lynn says center Mike Pouncey will have season-ending neck surgery after being injured during the first half of last Sunday's 20-13 loss to the Broncos. Dan Feeney will move to center and Forrest Lamp will take over at left guard with the nine-year veteran now done for the year.
_ The Chiefs could get star wide receiver Tyreek Hill back for Sunday's game against Houston, but the rest of the team's injury news is bleaker. The Chiefs placed defensive tackle Xavier Williams on injured reserve after he suffered a high ankle sprain in last weekend's loss to the Colts. Left tackle Eric Fisher remains out after core muscle surgery. Defensive tackle Chris Jones, wide receiver Sammy Watkins and offensive lineman Andrew Wylie all missed practice Wednesday after being hurt against the Colts.
_ Dolphins head coach Brian Flores says Josh Rosen will be his starting quarterback the remainder of the season. Rosen supplanted veteran Ryan Fitzpatrick in Week 3 and will start for the third game in a row Sunday against the Washington Redskins. Flores says Rosen has improved on a week-to-week basis, adding that he thinks Rosen "needs to get in there and develop and get reps and just improve."
_ Jets tight end Chris Herndon's return from suspension will be delayed by a hamstring injury that will sideline him for an undetermined amount of time. Herndon was eligible to return to the team this week after being suspended the first four games by the NFL for violating the league's substance-abuse policy.
_ San Francisco cornerback Richard Sherman says he'll apologize to Browns quarterback Baker Mayfield for accusing him of not shaking his hand before Monday night's game. Sherman initially said he felt Mayfield disrespected him before the pregame coin toss by ignoring him. But after videos showed that Mayfield did shake hands with Sherman, the outspoken Pro Bowler changed his tune.
_ Jaguars cornerback Jalen Ramsey practiced for the first time in three weeks Wednesday, rejoining teammates two days after seeing a back specialist. Ramsey participated in a limited capacity, taking part in individual drills before spending the rest of the session working with team trainers on the side. It remains to be seen whether Ramsey plays Sunday against New Orleans and the NFL's leading receiver, Michael Thomas.
NBA-CHINA
Silver expects Nets-Lakers games in China to be played
UNDATED (AP) _ NBA Commissioner Adam Silver has told the Brooklyn Nets and Los Angeles Lakers that the league is still expecting them to play in China as scheduled this week.
Silver made the announcement while the rift between the league and Chinese officials continued in ways that clearly suggested the two planned games in Shanghai and Shenzhen were anything but guaranteed.
NBA activity in the country is in jeopardy after Houston Rockets general manager Daryl Morey posted a since-deleted tweet last week that showed support for anti-government protesters in Hong Kong.
Protesters in Washington handed out T-shirts and held up signs in support of Hong Kong on Wednesday when the Wizards hosted a team from the Chinese Basketball Association.
NHL..
UNDATED (AP) _ The NHL's worst team last season is off to a 3-0-1 start this month.
The Buffalo Sabres blew a two-goal lead in the third period before Marcus Johansson scored 90 seconds into overtime to give them a 5-4 victory over the Montreal Canadiens. The game-winner was set up by Jack Eichel (EYE'-kul), who had two goals and two assists.
Jeff Skinner and Victor Olofsson also scored for the Sabres, and Carter Hutton made 23 saves.
Joel Armia (ahr-MEE'-uh) scored twice and had an assist for the Canadiens, who are 1-0-2 following their third straight overtime game.
Elsewhere on NHL ice:
_ Carter Hart turned back 25 shots in his first career shutout as the Flyers won their home opener, 4-0 over the winless Devils. Travis Konecny (kah-NEHK'-nee) had a goal and an assist after scoring twice in Philadelphia's season-opening win over the Blackhawks in Prague last week. Ivan Provorov (PROH'-vah-rahv) also had a goal and assist for the Flyers, who received their other scoring from Kevin Hayes and Sean Couturier (koo-TUR'-ee-ay).
_ J.T. Miller and Brandon Sutter combined for three goals and seven points as the Canucks blew out the Kings, 8-2. Sutter scored twice and Miller had a goal and three assists in the rout. Jakob Markstrom turned back 37 shots for Vancouver.
NHL-PENGUINS-INJURIES
Penguins place Galchenyuk on IR
PITTSBURGH (AP) _ The Pittsburgh Penguins placed forward Alex Galchenyuk (gal-CHEHN'-yuhk) on injured reserve after he aggravated an undisclosed injury that limited him during the preseason.
Galchenyuk joins center Evgeni Malkin and forward Bryan Rust and Nick Bjugstad (BYOOG'-stad) on IR for the Penguins, who are off to a 1-2-0 start. Galchenyuk has two assists in his first three games for the Pens since being acquired in an offseason trade with Arizona.
COLLEGE BASKETBALL-CALHOUN-LAWSUIT
Calhoun accused of sex discrimination
HARTFORD, Conn. (AP) _ Hall of Fame basketball coach Jim Calhoun has been accused of sexual discrimination by a former associate athletic director at the University of Saint Joseph, the Division III school where Calhoun now works.
Jaclyn Piscitelli alleges she was fired from the small Catholic school in Connecticut after complaining about the conduct of men in the athletic department including the 77-year-old former UConn coach. He was hired to form and coach the school's men's basketball team.
She alleges, among other things, that the former UConn coach once called her "hot" and on another occasion forced her to clean up coffee grounds he spilled, telling her it was something his wife would do for him.
In world and national news…
BEIRUT (AP) — Denmark and India have added their voices to the international condemnation and concerns over Turkey's invasion of northeastern Syria in an offensive there against Syrian Kurdish fighters.
Danish Prime Minister Mette Frederiksen called it "an extremely serious situation, and there is reason to be concerned about civilians."
Frederiksen said Foreign Minister Jeppe Kofod has summoned Turkey's ambassador to Denmark "for a conversation in which we will assert our position." No details were given as to when the Turkish. diplomat would meet Kofod.
India's foreign ministry issued a press release saying New Delhi is "deeply concerned at the unilateral military offensive by Turkey in north-east Syria."
It cautioned that Turkey's actions can undermine stability in the region and the fight against terrorism. Its action also has the potential for causing humanitarian and civilian distress.
India also urged Turkey to "exercise restraint and respect the sovereignty and territorial integrity of Syria."
WASHINGTON (AP) — As the impeachment inquiry swirls around 1600 Pennsylvania Ave., top White House officials have been largely absent from public view.
They've skipped the high-profile Sunday TV shows and avoided driveway gaggles with reporters. And many of those who are typically eager to defend the president have not appeared at all on television so far this month.
The disappearing act follows a well-worn strategy in the White House: senior officials conveniently finding themselves elsewhere when major controversy engulfs the building.
The press secretary during the impeachment of President Bill Clinton, Joe Lockhart, says President Donald Trump shouldn't be left to be his own defender and instead should be focused on his duties.
Lockhart says one of the reasons Clinton's impeachment strategy was effective was that Clinton almost never talked about it.
KYIV, Ukraine (AP) — Ukrainian President Volodymyr Zelenskiy says there was "no blackmail" in a phone call with U.S. President Donald Trump that helped spark an impeachment inquiry.
Responding Thursday to questions from The Associated Press, Zelenskiy said that he only learned after their July 25 phone call that the U.S. had blocked hundreds of millions of dollars in military aid to Ukraine.
Trump asked Zelenskiy during the call to investigate Democratic rival Joe Biden, and Congressional Democrats believe Trump was holding up the aid to use as leverage to pressure Ukraine.
Zelenskiy said he thought the call would lead to an in-person meeting with Trump and wanted the American leader to come to Ukraine.
Zelenskiy is giving an all-day "press marathon" amid growing questions about his actions as president.
SONOMA, Calif. (AP) — Millions of Californians are playing a waiting game with the winds after Pacific Gas & Electric cut power to prevent transmission lines from being toppled and sparking wildfires.
PG&E intentionally blacked out about 730,000 homes and businesses Wednesday in northern and central California because of predicted dry, gusty winds. The outages came in two phases, with the San Francisco Bay Area hit late Wednesday night.
There's no word on how long the outage will last, although PG&E says it could be days because power lines must be inspected and declared safe after the winds subside.
In the south, Santa Ana winds are expected to hit the region Thursday. Southern California Edison warns that it might cut power to nearly 174,000 customers in nine counties.
HALLE, Germany (AP) — Questions are being raised about police response after an attack on a synagogue in the German city of Halle after a gunman tried unsuccessfully to enter the house of worship during Yom Kippur observances and killed two people nearby.
The head of Germany's Jewish community, Josef Schuster, called the absence of police guards as "scandalous" as members of the synagogue described waiting behind locked doors for the police to arrive, which took more than 10 minutes.
The head of the Halle community, Max Privorozki, said Thursday "I thought, that door will not hold" as the attacker fired shots outside. Police union head Oliver Malchow said the response time showed "how thin police coverage is" and added that the wait "was especially long for the people who were in the synagogue."