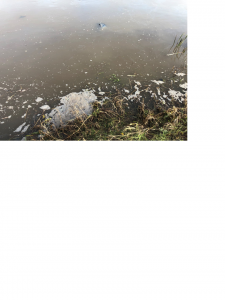 Hillsboro  (NDHP)    The North Dakota Highway Patrol reports on Wednesday about 8:35 a.m., a 35 year old  Fargo man fell asleep behind the wheel, on I-29  near MM 93 on ther bridge crossing Elm River, and his car plunged into the Elm River.
Darrin Paulson, was traveling southbound on I-29 in a 2004 Buick LaSabre when he fell asleep, lost control of his vehicle, drove through a cable median barrier and landed facing south with his vehicle fully submerged in the river.
Paulson was rescued from his vehicle and the vehicle was towed from scene of the crash. Paulson was transported by Hillsboro Ambulance Services for non-life-threatening injuries due to wearing his seatbelt.
Also responding to the scene were, the Traill County Sheriff's Office, Hillsboro Ambulance Service, and Grandin Fire Department
Photo provided by NDHP