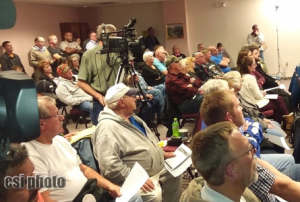 The full 1 hour & 33 minute meeting replays on CSi TV 10 – The Replay Channel and CSi 67.  Scroll down for the 33 minute formal presentation portion.  This is last weeks prediction, which are subject to revision.  
Jamestown  (CSi)  On Weds Oct 16, at Jamestown City Hall, residents were informed about the flood potential in Jamestown, and the expected discharges coming next week from Jamestown and Pipestem Dams.
Mayor Dwaine Heinrich said the city is being protected to a combined release from the dams to a projected 2400 cfs release, 1200 from each dam, that will raise the James River through Jamestown from between  9 to 15 inches.
He said officials are planning to limit property damage and protect lives.
He said the present sandbagging filling operations at Civic Center parking lot , Thurs:  8am – 6 pm, are hoped to be completed by this Friday and followed by placement by Tuesday of next week.  About 100 volunteers will be needed for placement.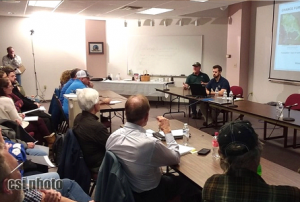 Matt Nelson with the U.S. Army Corps of Engineers said, following the sandbags being in place, the Corps of Engineers will ramp up the two dams releases by about 200 cfs per day, until the combined release of 2400 is reached. The normal maximum combined release is 1800 cfs.
He pointed out that withmore rain in the forecast for this coming Sunday and Monday the combined releases may increase, based on additional rainfall amounts locally and the basin north of town.
He added that the 2400 cfs combined releases is expected to hold in place until mid to late November this year, and then releases are expected to match inflows.
On Wednesday the Jamestown Reservoir inflow was 1290 cfs, with a release of 1000 cfs.
The water elevation was 1434.57 feet.
Pipestem Dam's inflow was 1460 cfs with the release of 800 cfs.  The water elevation was at 1460.43 feet.
Video from CSi TV 10 – The Replay Channel
Interstate Engineering's Travis Dillman says some low lying areas in Jamestown are being pumped at this time.
Interstate Engineering's Darrell Hournbuckle said 65,000 sandbags need to be filled and placed, primarily in the areas, near Klaus Park, the Townhomes near Taco Bell, the Ice House Dam area, and 17th Avenue, Southwest along the Pipestem.  Other areas are being looked at that may also need to be sandbagged.
He added that anyone with concerns about the rising water level on their property should call City Hall, so the property can be evaluated for additional flood protection.  During business hours call 252-5900, after hours  call the LEC Dispatch at 252-1000.
Nelson said, up until 30 days ago Jamestown Reservoir and Pipestem Reservoir were on target to reach the fall freeze up storage space in both dams.
However Allen Schlag with the National Weather Service said September was the wettest month on record with 5.69 inches of rain, with the average of 1-2 inches. The second highest August, September rainfall amount was 8.54 inches.
He said on September 20-21 this year Wells County received  8-10 inches of rain over that time period, and the water that collected there was and is flowing south in the basis above Jamestown and Pipestem Reservoirs, and following into to them.
Addition large rainfall events adding to the total were September 29, and 30, plus October 3,6 and 11th, the latter from last weekend's wet snow storm.
He said rainfall this coming Sunday and Monday is forecast at  between .25 and1.25 inches.
He added that next week dryer conditions are expected, with warmer temperatures.
He said the outlook for precipitation for November, December and January is for normal to above normal precipitation and above normal temperatures.
Nelson stressed that the two reservoirs water levels must be at the designed flood storage space this fall, in order to accommodate any possible spring runoff into the reservoirs, from snow melt and already saturated soil conditions.
The meeting was recorded by CSi Cable 10 The Replay Channel, with showings starting, Thursday.
Flood updates and water level updates  for the …
Sheyenne River Level Through Valley City
James River level through Jamestown.
Water amounts in the snow pack
The Latest Flood Warnings from The National Weather Service
https://ndresponse.gov/flood-region
Fire Danger Map for North Dakota
Jamestown  (CSi)  The City of Jamestown is asking for volunteers to assist in filling sandbags:
Wed: 1 pm to 3 pm
Wed: 5 pm to 6 pm
Thurs:  8am – 6 pm
outdoor at the Jamestown Civic Center parking lot.
On Wednesday afternoon volunteers included University of Jamestown Student athletes, JHS 9th grade football team members, Farmers Union, as the Red Cross supplied food and beverage for the sandbaggers.
Volunteers will be needed Friday and Saturday, Oct 18 & 19 for sandbag placement, and can arrive any time after 8am for disbursement instructions