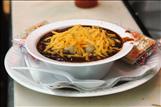 Jamestown  (CSi)  The Rick Dilallo Benefit Chili Feed, Gun Raffle, and Silent Auction will be held Friday Nov 8, 2019,  from noon to 6-p.m., at the Knights of Columbus Hall in Downtown Jamestown.
This is a rescheduled event from the October 12 snow storm.
Rick was diagnosed  with Squamous Cell carcinoma, in 2018. He underwent 29 radiation treatments and became cancer free.  This year at a check up appointment a lump was found…Rick's Cancer had returned.  He had surgery to remove the lump along with radiation and chemo  treatments.
For tickets…
Contact: Rick Dilallo,  368-1732
Matt Pepple, 269-5119
Corey Starlock, 320-7107
Levi Klose, 639-1730