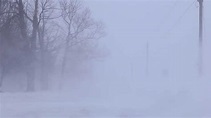 Periods of light snow are expected across western and central North Dakota through Tuesday night. On Tuesday afternoon, the snow will mainly be limited to areas south and west of the Missouri River.
Tuesday night into early Wednesday morning, a cold front will bring a period of light snow and gusty winds from north to south across all of western and central North Dakota. This may lead to areas of blowing and drifting snow, especially along west-to-east oriented highways.
Total snow accumulations of 2 to 4 inches are expected along and south of
Interstate 94 west of the Missouri River, with one half to one inch elsewhere.
Be prepared for difficult travel across the region Tuesday and
Tuesday night. Many roadways have already become slippery. Falling
temperatures Tuesday night may lead to a flash freeze. Brief periods of
significantly reduced visibility will also be possible.