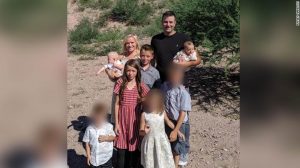 BISMARCK, N.D. (AP) — Services were held in Mexico for a former North Dakota woman and her four children and for four other American women and children killed by drug cartel gunmen.
The memorials and burials Thursday took place as Mexican soldiers stood guard, a reminder of the danger locals face living amid a drug cartel turf war. Six children and three women in all were killed in the attack on the convoy of three SUVs Monday.
In a grassy backyard before hundreds of attendees in La Mora, former North Dakotan Rhonita Miller was eulogized as an "innocent spirit" with a "beautiful heart." Miller's 7-month-old twins Titus and Tiana were remembered as "two perfect angels in the first precious moments of their lives." Son Howard Jr. loved basketball and daughter Kristal was "the apple of her daddy's eye."
Previously…
BISMARCK, N.D. (AP) — A woman who died with four of her children in an attack in Mexico is being remembered in North Dakota for her kindness and faith.
Jordan Kannianen, a state senator from Stanley, said he and his wife, Elizabeth, knew Rhonita María Miller and her children.
Jordan Kannianen says she often attended the Mormon Sunday school class he taught in Stanley, in northwestern North Dakota.
Kannianen says she was kind and "very earnest about her faith."
The Kannianens say the family left North Dakota several months ago and before their twins were born.
The Kannianens say Maria's children attended Sunday school with their children.
Elizabeth Kannianen says she can't tell her own children about the murders.
She says she fears "it's too much."
Earlier….
MEXICO CITY (Valley News Live) – A North Dakota family was part of the nine U.S. citizens killed in a Mexican highway ambush.
According to family member Heather Miller, five of those slain lived in the western North Dakota town of Williston.
Rhonita Miller, 30, Howard Miller, 12, Krystal Miller, 10, and 8-month-old twins, Titus and Tiana Miller were from Williston.
Local media described the killings as a highway ambush that happened in the Mexican border state of Sonora late Monday.
Two family members Valley News Live spoke with, Heather Miller and Lafe Langford, said the murders were done by Mexican drug cartels.
Miller said a motorcade of three vehicles came under attack while traveling to the airport.
The family lives in North Dakota part time and has a vacation home in a Mormon community in northern Mexico.
Congressman Kelly Armstrong, R-ND, told Valley News Live his office has been in touch with the State Department about the attack.
Rep. Armstrong added, "My heart breaks for this family. The loss and horror is unspeakable. Those who perpetrated this evil must be brought to justice. We are working to gather as much information as we can to ensure that that the survivors are being cared for in the best way possible under these circumstances."
Senator John Hoeven, R-ND, also sent Valley News Live a statement on the killings.
"Mikey and I send our deepest condolences to family and friends of the Miller family. The senseless killing of these women and children is despicable," Sen. Hoeven said. "The ruthless violence of the drug cartels in Mexico is abhorrent, which is why our nations should work together to stop the violence at the border."
At least nine U.S. citizens — including six children — were killed in what local media described as a highway ambush in the Mexican border state of Sonora late Monday, a family member told NBC News.
The dead included 8-month-old twins, said Kendra Lee Miller, who is related to many of the victims. Some of the eight survivors — all children — sustained serious injuries.
Miller added that the victims lived in La Mora, which is about 75 miles south of the U.S. border.