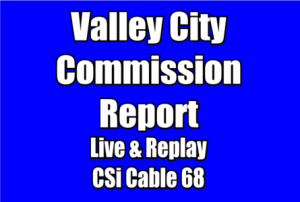 Valley City (CSi)  The Valley City Commission met in Regular Session Tuesday evening at City Hall.  All members were present.
Mayor Carlsrud read a proclamation, " No Shave November,"  In conjunction with Valley City Public Schools, to support awareness of funding for the Access For All Program.
The counseling is in partnership with Village Family Services in Fargo.
Voting results on the contest will be announced on November 27.
Sherry Larson has more information, including buttons available.
APPROVAL OF CONSENT AGENDA:
Monthly Reports from the Fire Chief, Building Inspector, Auditor, Municipal Judge and Public Works Accountant.
Monthly Bills for the City and Public Works in the Amount of $1,820,000.03
A Raffle Permit for Art Club Valley City High School, CHI Health at Home, ND Hereford Association, SHINE
PUBLIC COMMENTS
No One Spoke
Attorney General's "A Citizen's Guide to North Dakota Open Records & Open Meetings Laws" *A member of the public does not have the right to speak to the governing body at an open meeting. The public is only entitled to see and hear what happens at a meeting, and to record or broadcast those observations.
RESOLUTION
Approved was a  Resolution Placing City Sales, Use and Gross Receipts Tax Advisory Vote on Ballot of Municipal Election to be held June 9, 2020.  City Administrator, David Schelkoph said, the extension of the current sales tax from 30 years to 45 years, to be applied to permanent flood control project.
NEW BUSINESS
Approved was the 2020 Board Calendar.  City Auditor, Avis Richter said the calendar plans city meetings for the year.
Approved the Annual Maintenance Certification for NDDOT urban federal aid projects.  KLJ, said maintenance and cost participation is included.
Also approved was Amendment to Prepare the SRF Facility Plan for Paving Improvement District No. 119 & 119B (7th Avenue NW & 2nd Avenue NE), in an amount not to exceed $8,500.  KLJ said the amendment outlines tow project corridors, along with an engineering agreement, and prepares the required facility plan.
Approved was a Special Alcohol Event Permit for Fraternal Order of Eagles Aerie 2192 at North Dakota Winter Show for Cattleman's Auction on December 6, 2019.  The police and fire departments have signed off on the permit.
Council Members approved the end to the Flood Emergency, recommended by  City Adminisrator Schelkoph, based on criteria.  the Flood emergency was based on predictions by the National Weather Service rainfall predictions.  He said the city was protected to a river level of 16 feet, and ultimately to 18 feet, if needed.  He added that during the flood emergency the storm water outlets were closed, and the street flooding was pumped by over 20 pumps.
CITY ADMINISTRATOR'S REPORT
David Schelkoph said city residents will receive two free LED light bulbs to encourage residents to save energy and money.
CITY UPDATES & COMMISSION REPORTS
City Auditor Richter said Barnes County Emergency, Sue Lloyd is requesting a flood damage report, to apply for funding.
She added that the 2020 Census Committee  will continue promote participation in the upcoming census, to be counted.
Mayor Carlsrud gave a "shout out," to the behavioral health program and the Access for All program, and the No Shave November Contest to raise money to support the program.