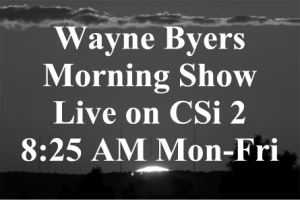 CSi Weather…
.REST OF TODAY…Mostly cloudy. Highs in the upper 30s. Southwest winds 5 to 10 mph.
.TONIGHT…Mostly cloudy. Lows in the mid 20s. Northwest winds 5 to 15 mph.
.SATURDAY…Cloudy. A 20 percent chance of snow possibly mixed
with rain in the morning in the Jamestown area, 50 percent in the Valley City area. Highs in the upper 30s. Northwest winds
5 to 10 mph.
.SATURDAY NIGHT…Cloudy. Slight chance of light freezing rain
possibly mixed with snow in the evening, then chance of snow
after midnight. Lows around 15. North winds 10 to 15 mph. Chance
of precipitation 30 percent.
.SUNDAY…Cloudy. A 20 percent chance of snow in the morning.
Colder. Highs 15 to 20. North winds around 15 mph.
.SUNDAY NIGHT…Mostly cloudy. Lows zero to 5 above.
.VETERANS DAY…Mostly sunny. Highs 10 to 15.
.MONDAY NIGHT…Mostly clear. Lows zero to 5 above.
.TUESDAY…Increasing clouds. Highs in the mid 20s.
.TUESDAY NIGHT…Cloudy. A 30 percent chance of snow after
midnight. Lows 15 to 20.
.WEDNESDAY…Cloudy with a 30 percent chance of snow. Highs
around 30.
.WEDNESDAY NIGHT…Mostly cloudy. A 30 percent chance of snow in
the evening. Lows 15 to 20.
.THURSDAY…Mostly sunny. Highs around 30.
The north will be transitioning from light rain or a mix to all snow by noon
Saturday. The south would stay warm enough for light rain until
closer to sunset.
Pockets of precipitation, with the possibility of a period of sleet or freezing rain in the late afternoon and early evening Saturday, mainly central and south.
By midnight Saturday night it will be enough for all snow.
Snow totals  Saturday through Sunday time period,  between a half inch and two inches, total.
Very cold, for Sunday and Monday, with highs just in the teens and lows a bit either side of zero.
The worst of the cold air pushes out for the start of warmer weather by Tuesday, and through the rest of next week.
Flood updates and water level updates  for the …
Sheyenne River Level Through Valley City
James River level through Jamestown.
Water amounts in the snow pack
The Latest Flood Warnings from The National Weather Service
https://ndresponse.gov/flood-region
Fire Danger Map for North Dakota
Omaha  (USACE)   The U.S. Army Corps of Engineers reports, new weather forecasts point to  the James River downstream of Jamestown and Pipestem Dams could see ice formation by the end of next week.
To mitigate the risk of freeze-up ice jams or other ice-related flooding, the target combined release rate before ice sets in is 800 cubic feet per second.
The U.S. Army Corps of Engineers – Omaha District will be stepping down releases 200 cfs per day with the target combined release rate of 800 cfs achieved Nov. 14th.
The table below details the current release schedule:
| | | | |
| --- | --- | --- | --- |
| | Jamestown Dam Releases (cfs) | Pipestem Dam Releases (cfs) | Total Combined Release (cfs) |
| Thursday Nov. 7 | 1,100 | 1,100 | 2,200 |
| Friday Nov. 8 | 1,000 | 1,000 | 2,000 |
| Saturday Nov. 9 | 900 | 900 | 1,800 |
| Sunday Nov. 10 | 800 | 800 | 1,600 |
| Monday Nov. 11 | 700 | 700 | 1,400 |
| Tuesday Nov. 12 | 600 | 600 | 1,200 |
| Wednesday Nov. 13 | 500 | 500 | 1,000 |
| Thursday Nov. 14 | 400 | 400 | 800 |
River ice forecasts will be continuously updated during this time.  If conditions change and the forecast ice-in date shifts, combined releases will be held at 1,400 cfs until three days before the new ice-in date.
This Day In History, November 8, 1937 – Charles A. Klaus, owner of the Gladstone Hotel,  passes *** from the 125th Anniversary Calendar of Jamestown History ***  
Information about Charles A. Klaus, from "North Dakota and People: Outlines of American History"
Jamestown  (CSi)  The North Dakota State Hospital invites the public to an Open House on Friday November 8  from 10-a.m. to noon, in celebrating its history and recognizing Superintendent Rosalie Etherington for  preserving history.
The celebration is from 10 am to noon at the museum on the fourth floor of the Learning Resource Center building on the State Hospital Campus.   Included an award presentation,
To her, recognizing she  received the 2019 Excellence in Local History Award by the North Dakota Historical Society.
There will be brief comments from hospital and historical society officials, refreshments, and tours.
Underwood, ND  (CSi)  – Midwest AgEnergy, the parent company to ethanol biorefineries, Blue Flint, near Underwood, ND and Dakota Spirit, near Spiritwood, ND is honored to announce it has been awarded the 2019 Honoring Investments in Recruiting and Employing American Veterans (HIRE Vets) Gold Medallion Award. By meeting the criteria required for a Gold Medallion Award, Midwest AgEnergy has demonstrated a model of patriotism worthy of praise, as well as, recognition of the value veterans bring to the workplace. Midwest AgEnergy is the first company in North Dakota to receive this prestigious award.
The Department of Labor established the HIRE Vets Program under the Honoring Investments in Recruiting and Employing American Military Veterans Act, signed by President Trump on May 5, 2017. The program recognizes employer efforts to recruit, employ, and retain our nation's veterans. Employer-applicants meeting criteria established in the rule receive a "HIRE Vets Medallion Award." The program recognizes large, medium, and small employers at two levels, platinum and gold, depending on the criteria met.
News Release courtesy of Jamestown Area Chamber of Commerce.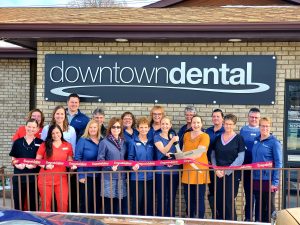 Jamestown  (Chamber)     Members of the Jamestown Area Chamber of Commerce Ambassadors and the Young Professionals of Jamestown held a ribbon cutting ceremony for Downtown Dental to celebrate Dr. Bruins buying into the practice and recent remodel of their lab. This business is located at 815 1st Ave. S. in Jamestown.
Businesses qualify for a ribbon-cutting ceremony if they open, move, remodel, are under new ownership or change their name.  For more information, contact Emily Bivens by emailing: director@jamestownchamber.com or call the chamber at 701-252-4830.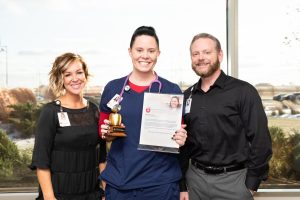 Jamestown  (JRMC) — Jamestown Regional Medical Center (JRMC) recently announced Erin Stewart as its most recent Legend Award recipient.
The Legend Award is the most prestigious distinction for a JRMC employee. The Legend Award recognizes employees who exceed expectations and make THE difference in the lives of those they serve.
The JRMC Emergency Department nominated Stewart because of her willingness to always go above and beyond to help out her coworkers.
JRMC Emergency Department Registered Nurse, Rachel Macdonald wrote:   "Every morning, Stewart stops down to ask if we need any help.  Erin is a team player and deserves to be recognized and thanked for going out of her way to make certain that other departments are doing okay."
Originally from Bakersfield, Calif., Stewart joined the JRMC team in 2016 and resides in Jamestown. She chose JRMC after hearing from former classmates that at JRMC you're more than just a number – you're part of a family.
JRMC's 350 employees cast anonymous votes to select each Legend Award winner.
The purpose of the Legend Award is to inspire, motivate and capture the moments that define JRMC. The goal is to help employees and volunteers connect to the sense of purpose that brought them to the organization. This award is for employees who've made extreme efforts to benefit their patients and colleagues.
JRMC President & CEO, Mike Delfs, stated, "The nominations inspire staff members to continually be the best, exceed expectations and make THE difference in the lives of those we serve."
Once nominated, both JRMC administration and employees vote on their favorite nominees and their stories.
JRMC Chief Operating Officer Ricki Ramlo, says,  "Erin has a 'can do attitude.' She has been instrumental in ensuring that JRMC provides quality and safe respiratory care. Erin is quick to step in to offer assistance and support her fellow co-workers.  We are blessed to havet his California 'clinician' on our North Dakota-JRMC team."
The Legend Award first began in 2012. Since then, more than 35 individuals have been named Legends and more than 110 employees were nominated.
To read Stewart's full story, visit www.jrmcnd.com.
About Jamestown Regional Medical Center
Jamestown Regional Medical Center is located at 2422 20th St. SW, Jamestown, N.D. and serves approximately 55,000 people in nine counties. In 2019, it was named a "Top 100 Critical Access Hospital" as well as a "Best Places to Work in Healthcare." For more information, visit www.jrmcnd.com or call 701-952-1050.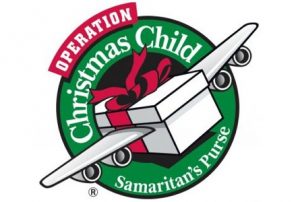 Jamestown  (CSi) This month, sites in the Jamestown area will be among 5,000 U.S. drop-off locations collecting shoebox gifts for children overseas during Operation Christmas Child's National Collection Week, Nov. 18-25.
Jamestown families, churches and groups are busy transforming empty shoeboxes into fun gifts filled with toys, school supplies and hygiene items. The Samaritan's Purse project partners with local churches across the globe to deliver these tangible expressions of God's love to children affected by war, disease, disaster, poverty and famine. For many of these children, it will be the first gift they have ever received.
This year, Jamestown-area residents hope to collect more than 10668 gifts to contribute to the 2019 global goal of reaching 11 million children.
Jamestown Location, Date and Time
Jamestown, ND – Temple Baptist Church
1200 12th Avenue NE
Jamestown, ND 58401-3541
Mon, Nov. 18: 9:00 AM – 4:00 PM
Tue, Nov. 19: 9:00 AM – 4:00 PM
Wed, Nov. 20: 9:00 AM – 4:00 PM
Thu, Nov. 21: 9:00 AM – 4:00 PM
Fri, Nov. 22: 9:00 AM – 4:00 PM
Sat, Nov. 23: 10:00 AM – 12:00 PM
Sun, Nov. 24: 9:00 AM – 12:00 PM
Mon, Nov. 25: 9:00 AM – 12:00 PM
Visit samaritanspurse.org/occ. Participants can donate $9 per shoebox gift online through "Follow Your Box" and receive a tracking label to discover its destination. Those who prefer the convenience of online shopping can browse samaritanspurse.org/buildonline to select gifts matched to a child's specific age and gender, then finish packing the virtual shoebox by adding a photo and personal note of encouragement.
Operation Christmas Child is a project of Samaritan's Purse, an international Christian relief and evangelism organization headed by Franklin Graham. The mission of Operation Christmas Child is to demonstrate God's love in a tangible way to children in need around the world and, together with the local church worldwide, to share the Good News of Jesus Christ. Since 1993, Operation Christmas Child has collected and delivered more than 168 million gift-filled shoeboxes to children in more than 160 countries and territories.
(NDHP) The North Dakota Highway Patrol reports,an 82 year-old Glenfield man was injured after his semi was struck by a BNSF Freight Train Thursday morning.
Arlo Stedman was traveling westbound on 15th Street Northeast from a soybean field to a rural grain elevator west of New Rockford when he failed to stop for an approaching freight train.
The grain trailer was struck by the train at the railroad crossing and the force of the collision sheared the trailer in half.
The semi and a portion of the trailer overturned onto its right side and came to rest on 15th Street NE. The other half came to rest on the north side of the railroad tracks west of the crossing.
Stedman suffered non-life threatening injuries and was transported by ambulance to CHI Saint Alexius Health Carrington. The BNSF Train crew was uninjured in the collision.
The scene was blocked for more than 3 hours due to investigation and clean-up. The train and all 83 cars were able to continue after the crash scene was cleared.
The incident remains under investigation by the North Dakota Highway Patrol.
Assisted by the Eddy County Sheriff's Office, New Rockford Fire Department, and New Rockford Ambulance Service.
WEST FARGO, N.D. (AP) — School officials in West Fargo are investigating threats a middle school student allegedly made about a school shooting.
According to West Fargo Public Schools, a group of students at Cheney Middle School spoke to the school's administration toward the end of the school day Wednesday about threats they were hearing from a fellow student about a school shooting.
In a statement, the district says the child's parents were contacted and his locker was searched, but nothing was found.
The district says the student was not in school Thursday and also will be out of school Friday as the alleged threats are investigated.
BISMARCK, N.D. (AP) — Services were held in Mexico for a former North Dakota woman and her four children and for four other American women and children killed by drug cartel gunmen.
The memorials and burials Thursday took place as Mexican soldiers stood guard, a reminder of the danger locals face living amid a drug cartel turf war. Six children and three women in all were killed in the attack on the convoy of three SUVs Monday.
In a grassy backyard before hundreds of attendees in La Mora, former North Dakotan Rhonita Miller was eulogized as an "innocent spirit" with a "beautiful heart." Miller's 7-month-old twins Titus and Tiana were remembered as "two perfect angels in the first precious moments of their lives." Son Howard Jr. loved basketball and daughter Kristal was "the apple of her daddy's eye."
Bismarck (Gov. Burgum's Office) – To help ranchers struggling with abnormally wet conditions for this time of year, Gov. Doug Burgum Thursday signed an executive order waiving hours of service requirements, fees and certain load restrictions for drivers of commercial vehicles transporting hay and livestock.
Record fall precipitation and cold temperatures have adversely affected ranchers and livestock producers, causing inadequate hay supplies to sustain livestock herds. Producers have been forced to purchase supplemental hay from other states, move herds to areas where feed supplies are more plentiful or, in extreme cases, sell off their herds. Truck drivers have had to move hay supplies in greater volumes and shorter times to meet the needs.
BISMARCK, N.D. (AP) — A fall survey indicates the mule deer population continues to recover in the western North Dakota Badlands thanks to another good year of fawn production.
Mule deer in the region endured three straight harsh winters ending in 2011 that led to record-low fawn production.
The Bismarck Tribune reported Thursday that biologists counted 2,218 mule deer during the October survey, close to last year's 2,446. The ratios of 41 bucks per 100 does and 84 fawns per 100 does also held steady.
State Wildlife Chief Jeb Williams says the stable numbers are encouraging even though they don't represent an increase.
Hunting mule deer does was banned for four straight seasons beginning in 2012 to help the population recover.
North Dakota's gun season for mule and white-tailed deer opens at noon Friday.
FARGO, N.D. (AP) — Longtime Minnesota U.S. Rep. Collin Peterson is waiting as usual to announce if he is running for re-election.
Peterson traditionally waits until early in an election year to announce his campaign. The 75-year-old conservative Democrat tells KFGO he will decide in January or February whether he'll seek a 16th term.
But Peterson says he's been doing "all the things" he normally does and has "been to some 40 parades."
Former Lt. Gov. Michelle Fischbach is running for the GOP nomination to challenge Peterson. Also seeking the GOP nomination is Dave Hughes, who is making his third run for the seat.
Peterson also says he has no regrets about being one of only two House Democrats to vote against a rules package for an impeachment probe of President Donald Trump.
In sports….
SIOUX CITY, Iowa (GPACSports.com) –The  Northwestern College, Red Raiders, will be the number one seed when the 2019 Cypress Risk Management Great Plains Athletic Conference (GPAC) Volleyball Tournament opens on Saturday, November 9.  Northwestern was  the regular season champion with a 16-0 league record.
The two seed will be The University of Jamestown, finishing with a league record of 14-2 .  Concordia, is the third seed with a  league play record of  11-5.  Midland the fourth seed, will be final host in the quarterfinals, finishing 10-6 in conference play.
Th fifth seed, Dordt, will be the five seed (9-7), with Doane as the six seed (8-8).  Morningside will be the seventh seed (8-8) and College of Saint Mary will be the eighth seed (7-9).  GPAC tie-breakers were used for all ties in the standings.
Northwestern will receive the GPAC regular season automatic berth to the 2019 NAIA National Volleyball Championship. The Cypress Risk Management GPAC Volleyball Tournament winner (runner-up if Northwestern wins) also receives an automatic berth to the NAIA National Volleyball Championship.
The 2019 NAIA Volleyball National Championship includes a field of 44  teams. Twenty-four teams will compete in 12 opening round matches played on campus sites nationwide on November 23. The top 19 seeds and final site host (Morningside) receive an opening round bye. Opening round winners will join the top 19 and host at the final site for a 32-team pool play NAIA National Championship December 3-7 in Sioux City at the Tyson Events Center.
GPAC Volleyball Quarterfinals – Saturday, November 9
Records listed as (Overall, GPAC)
#8 College of Saint Mary (22-13, 7-9) at #1 Northwestern (28-0, 16-0), 7pm
#5 Dordt (18-10, 9-7) at #4 Midland (18-9, 10-6) at, 7pm
#6 Doane (17-12, 8-8) at #3 Concordia (22-5, 11-5), 7pm
#7 Morningside (16-10, 8-8) at #2 Jamestown (26-4, 14-2), 4pm
GPAC Volleyball Semifinals – Wednesday, November 13
Highest Seed Hosts
#4/#5 Winner vs. #1/#8 Winner, 7pm
#3/#6 Winner vs. #2/#7 Winner, 7pm
GPAC Volleyball Championship – Saturday, November 16
Semifinal Winners, At Highest Seed, 7pm
Thursday…
UJ Women's Soccer
GPAC Quarter Finals At UJ
High School Volleyball
Thursday
Devils Lake def. Fargo South, 25-15, 19-25, 25-19, 22-25, 15-10
Grand Forks Central def. Fargo North, 21-25, 25-21, 25-21, 25-22
Class A West Region
Play In
Bismarck Legacy def. Turtle Mountain, 25-11, 25-21, 25-11
Dickinson def. Williston, 25-12, 25-19, 25-20
Minot def. Watford City, 19-25, 25-20, 25-20, 25-23
Class B Region 4
First Round
Dakota Prairie def. Lakota, 3-1
New Rockford-Sheyenne def. Dunseith, 25-17, 25-16, 25-14
St. John def. Four Winds/Minnewaukan, 25-19, 28-30, 25-22, 25-18
Class B Region 5
First Round
New Salem-Almont def. Grant County, 22-25, 25-23, 25-20, 26-24
Underwood def. Standing Rock, 25-13, 25-9, 25-10
Washburn def. Turtle Lake-Mercer-McClusky, 3-1
College  Basketball…
GRAND FORKS, N.D. (AP) — De'Sean Allen-Eikens had 22 points, Filip Rebraca added 20 and grabbed 11 rebounds and North Dakota easily defeated Division III-member Crown College 86-61 in a season opener on Thursday night.
Allen-Eikens grabbed eight rebounds and made six assists but had seven turnovers for the Fighting Hawks. Marlon Stewart had 12 points and seven rebounds.
Gunnar Ledin and Timothy Wendel scored 14 points apiece for the Storm, which played it as an exhibition game.
North Dakota plays Gonzaga on the road on Tuesday.
NFL-RAIDERS/CHARGERS
Raiders beat Chargers to put pressure on Chiefs
OAKLAND, Calif. (AP) _ The Oakland Raiders are back over .500 at 5-4 following a comeback win over the Chargers.
Josh Jacobs scored on an 18-yard run with 1:02 remaining as the Raiders pulled out a 26-24 victory in Oakland. Derek Carr led the Raiders down the field methodically 75 yards after Philip Rivers threw a 6-yard pass to Austin Ekeler that gave the Chargers a 24-20 lead with 4:02 remaining. Carr completed three passes to Jalen Richard and two to Hunter Renfrow before Jacobs finished the drive with his seventh touchdown of his rookie season.
Carr was 21 of 31 for 218 yards, one TD and no interceptions.
Melvin Gordon had 22 carries for 108 yards and a TD that put the 4-6 Chargers up 14-10 in the second quarter. Philip Rivers was picked off three times while throwing for 207 yards and two scores.
NFL-NEWS
Hunt eligible to play for Browns Sunday
UNDATED (AP) _ The Cleveland Browns will have a new running back when they take on the Buffalo Bills on Sunday.
Kareem Hunt has been officially reinstated to the roster this week after serving the eight-game suspension he received from the NFL for two physical off-field altercations. Hunt has been practicing for two weeks and is eligible to be on the field this weekend.
He was signed by the Browns in February after being released by Kansas City two months earlier. The Chiefs said he lied to them about an incident in which he shoved and kicked a woman during an argument.
Hunt led the league in rushing as a rookie in 2017.
Also around the NFL:
_ Saints running back Alvin Kamara says he feels good after practicing the last two days. Kamara missed two games with ankle and knee injuries after running for 373 yards and grabbing 33 passes for another 276 yards in New Orleans' first six games.
_ A person familiar with the negotiations says Browns center JC Tretter has agreed to a three-year, $32.5 million contract extension. The source says Tretter will receive a guaranteed $23 million in a deal that was first reported by NFL Network.
NBA-SCHEDULE
Celts win in Walker's return to Charlotte.
UNDATED (AP) _ Kemba Walker was a winner in his return to Charlotte.
Walker missed his first six shots before finishing with 14 points and six assists in the Boston Celtics' sixth straight win, 108-87 over the Hornets. He received a rousing, one-minute standing ovation from the home crowd after the Hornets showed a highlight tribute on the videoboard that left the point guard in tears. The three-time All-Star played eight NBA seasons in Charlotte and is the franchise's all-time leading scorer.
Jayson Tatum scored 23 points to help the Celtics say unbeaten since their opening-night loss at Philadelphia.
Gordon Hayward added 20 points and 10 rebounds for the Celtics, who scored 17 points off 21 Charlotte turnovers.
Checking out Thursday's other NBA action:
_ Lou Williams nailed a go-ahead jumper with 58 seconds left and added a 3-pointer to help the Los Angeles Clippers secure a 107-101 win against the Portland Trail Blazers. Williams finished with 26 points and Kawhi (kah-WY') Leonard had a team-high 27 with 13 rebounds in coach Doc Rivers' 900th career victory.
_ Jimmy Butler poured in 18 of his 34 points in the first quarter of the Heat's 124-108 thumping of the Suns. Goran Dragic (DRAH'-gihch) scored 20 of his 25 points in the second half, including a 3-pointer just before the buzzer that put Miami up, 93-86 through three quarters.
_ LaMarcus Aldridge delivered a season-high 39 points as the Spurs downed the Thunder, 121-112. Point guard Dejounte Murray had a career-high 10 assists along with 17 points and eight rebounds.
NBA-NEWS
Williamson says no timetable for return
UNDATED (AP) _ New Orleans Pelicans rookie forward Zion Williamson says he expects to miss less than half the regular season due to his knee injury but is offering no specific timetable for a return. The first player taken in this year's draft had surgery on his torn right lateral meniscus Oct. 21. The Pelicans originally announced that his recovery was expected to last six to eight weeks.
In other NBA news:
_ The league has fined the Clippers $50,000 for statements made by coach Doc Rivers and others that were "inconsistent with (Kawhi) Leonard's health status." The NBA says it confirmed that the team's decision to sit Leonard for management of an injury was consistent with league rules, adding that the Clippers reasonably determined that the power forward is suffering from an ongoing injury to the patella tendon in his left knee.
_ Blake Griffin has been cleared by the Pistons' medical staff for basketball-related activities. The power forward hasn't played at all this season because of hamstring and knee issues that will be monitored daily by the team. The Pistons are 4-5 without Griffin, who averaged a career-high 24.5 points, 7.5 rebounds and 5.4 assists last season.
_ The 76ers will be without guard Ben Simmons for Friday's game at Denver because of sprained AC joint in his right shoulder. Simmons was injured when he bumped into Royce O'Neal's chest on a post-up during the first quarter of last night's loss at Utah. The All-Star guard has averaged 13.1 points for the 5-2 Sixers, who have dropped their last two games.
NHL…
UNDATED (AP) _  Logan Couture (koo-TOOR') collected a goal and three assists while the Sharks were building a 6-2 lead in a 6-5 win against the Wild. Timo Meier scored during San Jose's four-goal first period and finished with two assists.
The Pittsburgh Penguins ended the New York Islanders' team-record 15-game winning streak in February 1982. The Pens have done it to the Isles again by stopping their second-longest winning streak in club history.
The Islanders had won 10 in a row before blowing a 3-0 lead in the third period of a 4-3 overtime loss to Pittsburgh. Bryan Rust scored twice, including the game-winner 3:25 into the extra session.
Semyon Varlamov (SEHM'-yuhn vahr'-LAH'-mahv) blanked the Pens until Jared McCann beat him 1:38 into the third. McCann also assisted on goals by McCann and Evgeni Malkin 2:32 apart.
Casey Cizikas (sih-ZEE'-kuhs) and Cal Clutterbuck tallied for the Isles.
Elsewhere on NHL ice:
_ The Capitals are 9-0-1 in their last 10 games after Tom Wilson furnished the tying and winning goals in a 5-4 overtime decision over the Panthers. John Carlson had a goal and two assists for Washington, which trailed 3-1 until Alex Ovechkin (oh-VEHCH'-kihn) tallied twice in the second period.
_ Joonas Donskoi (YOH'-nuhs DAHN'-skoy) scored his first career hat trick and the Avalanche used a six-goal second period to blast the Predators, 9-4. Nathan MacKinnon had a goal and three assists before sitting out the third with an upper-body injury.
_ John Tavares scored at 2:33 of overtime to complete the Maple Leafs' 2-1 victory over the Golden Knights. Tavares also assisted on Auston Matthews' goal and Frederik Andersen made 37 saves to help Toronto earn its third straight win.
_ The Blue Jackets ended a five-game skid as Gustav Nyquist had a goal and two assists to lead their 3-2 victory over the Coyotes. Emil Bemstrom got his first NHL goal and Joonas Korpisalo (YOH'-nuhs kohr-pih-SAH'-loh) stopped 31 shots for Columbus.
_ Sean Couturier's (koo-TOOR'-ee-ayz) flip shot trickled past a surprised Carey Price just 55 seconds into overtime to give the Flyers to a 3-2 victory over the Canadiens. Phil Myers and James van Riemsdyk (REEMZ'-dyk) also scored and Carter Hart stopped 22 shots as Philadelphia improved to 3-0-1 in its last four games.
_ The Rangers won for the fifth time in seven games as Pavel Buchnevich (booch-NEH'-vihch) provided a goal and an assist in a 4-2 verdict over the Hurricanes. Henrik Lundqvist made a season-high 45 saves and Brendan Lemieux (leh-MYOO') snapped a 1-1 tie with a power-play goal late in the second period.
_ The Blackhawks picked up a 5-2 win over the Canucks as Patrick Kane scored a power-play goal and had two assists. Alex DeBrincat (deh-BRIHN'-kat) and Andrew Shaw scored in the first period, and Dylan Strome (strohm) had three assists as Chicago dealt Vancouver its first regulation loss since Oct. 19 at New Jersey.
_ Noah Hanifin had a goal and two assists in the Flames' 5-2 win over the Devils. Derek Ryan, Mikael Backlund, Sean Monahan and Johnny Gaudreau also scored for Calgary, which took control during a four-goal second period.
_ The Senators wasted a late lead before Jean-Gabriel Pageau (pa-ZHOH') tallied 3:12 into OT to give Ottawa a 3-2 triumph over the Kings. Artem Anisimov (ahr-TEHM' ah-NEE'-sih-nahv) put the Senators ahead midway through the third period, but Los Angeles extended the game on a goal by Tyler Toffoli with eight seconds left in regulation.
NHL-NEWS
Alex Steen out 4 weeks
UNDATED (AP) _ St. Louis Blues winger Alex Steen will miss at least four weeks because of a high ankle sprain.
Steen injured his left ankle in a collision with Edmonton's Alex Chaisson (CHAY'-sahn) late in the second period of the defending Stanley Cup champions' 5-2 win over the Oilers on Wednesday night. The Blues put him on injured reserve Thursday, announcing he'd returned to St. Louis and would be re-evaluated in four weeks.
Steen has five assists in 17 games this season, his 12th with St. Louis.
In other NHL news:
_ Jets forward Bryan Little has a perforated eardrum and is dealing with vertigo after a teammate's shot struck him near the ear during Tuesday's game against the Devils. Jets coach Paul Maurice says Little is expected to make a full recovery, but there is no timeline for his return.
_ A Las Vegas Strip casino is suing Sharks forward Evander Kane, alleging he failed to repay a $500,000 gambling debt racked up during a playoff series in Las Vegas last April. The lawsuit alleges the 28-year-old Kane received eight casino credits of varying amounts about April 15.
MLB-NEWS
Trout gets 7th Silver Slugger Award
UNDATED (AP) _ Los Angeles Angels outfielder Mike Trout has received his 7th Silver Slugger Award after batting .291 with 45 home runs and 104 RBIs this season.
Atlanta's Ronald Acuña (ah-KOON'-yah) Jr., Freddie Freeman and Ozzie Albies are among the first-time winners on the National League side, along with Los Angeles outfielder. First-timers for the American League are Cleveland first baseman Carlos Santana, New York Yankees infielder DJ LeMahieu, Houston Astros infielder Alex Bregman, and Minnesota catcher Mitch Garver.
The other AL recipients are Red Sox shortstop Xander Bogaerts (BOH'-gahrts) and Boston outfielder Mookie Betts, Astros outfielder George Springer and Twins designated hitter Nelson Cruz.
Rounding out the NL squad are Rockies shortstop Trevor Story, Nationals third baseman Anthony Rendon (rehn-DOHN'), Phillies catcher J.T. Realmuto (ree-al-MOO'-toh), Brewers outfielder Christian Yelich (YEH'-lihch) and Arizona pitcher Zack Greinke (GREHN'-kee), who actually finished the season with the American League's Astros.
In other MLB news:
Mets first baseman Pete Alonso and Houston Astros slugger Yordan (yohr-DAHN') Álvarez have been picked as this year's top rookies by Baseball Digest. Alonso drove in 120 runs and set a rookie record with 53 homers for New York, becoming the first rookie to lead the majors outright in homers. Álvarez made his debut June 9 and batted .313 with 27 homers, 78 RBIs and a 1.067 OPS in only 87 games for the American League champions.
_ Blue Jays second baseman Devon Travis has become a free agent after refusing an outright assignment to Triple-A Buffalo. The 28-year-old spent the entire 2019 season on the injured list following surgery on his left knee. Travis had a .274 average with 35 home runs and 153 RBIs in four seasons with Toronto.
GOLF-PRESIDENTS CUP
Woods adds self to Presidents Cup roster
UNDATED (AP) _ U.S. Presidents Cup captain Tiger Woods has used one of his four wild-card selections on himself.
The decision makes Woods the first playing captain in the tournament since Hale Irwin in the inaugural edition 25 years ago.
Woods is the reigning Masters champion and is No. 6 in the world ranking. He tied the PGA Tour record with his 82nd career victory, capturing the Zozo Championship in Japan two weekends ago.
Woods also took Tony Finau (FEE'-now), U.S. Open champion Gary Woodland and Patrick Reed as his other wild-card selections.
The Presidents Cup is Dec. 12-15 at Royal Melbourne.
PGA TOUR CHAMPIONS
Maggert has lead with 63
PHOENIX (AP) _ Jeff Maggert is the first-round leader through one round of the Charles Schwab Cup Championship.
Maggert shot an 8-under 63 in perfect conditions at Phoenix Country Club to take a one-stroke lead over Bernhard Langer. Miguel Angel Jimenez, Paul Goydos and Steve Flesch are another shot back and one ahead of Jerry Kelly, Retief Goosen (GOO'-sehn), Lee Janzen and Scott Parel.
Langer, Kelly, Goosen and Colin Montgomerie made moves to catch Scott McCarron in the PGA Tour Champions' season standings. McCarron is tied for 22nd in the 34-man field after a 69.
UFC FIGHTER-MISSING STEPDAUGHTER
Man charged in missing stepdaughter case caught in Florida
PENSACOLA, Fla. (AP) — Authorities have arrested the man wanted in the disappearance of UFC heavyweight Walt Harris' stepdaughter.
Jail records show Ibraheem Yazeed was arrested in Florida and booked into the Escambia County Jail early today. He's charged with first-degree kidnapping in the disappearance of 19-year-old Aniah Blanchard, who was last seen at a gas station in Auburn, Alabama, on Oct. 23.
Blanchard was reported missing the next day. Her car was later found abandoned in Montgomery, more than 50 miles (90 kilometers) away. Police said the car contained evidence that Blanchard had been harmed.
Auburn police this week released images of Yazeed showing him at the gas station while Blanchard was there.
In world and national news…
RABAT, Morocco (AP) — Ivanka Trump is weighing in on the House impeachment inquiry of her father from half a world away in Morocco.
President Donald Trump's daughter and White House adviser tells The Associated Press she shares her father's view that the impeachment investigation is about "overturning the results of the 2016 election."
But she seems to part ways with the president and allies who have been pressuring the news media to publicly identify the whistleblower whose complaint launched the investigation.
Ivanka Trump tells AP that the whistleblower's identity is "not particularly relevant" to the inquiry. She wouldn't speculate on the motives behind the whistleblower's complaint.
The president's daughter is wrapping up a three-day visit to Morocco, where she has been promoting a U.S. program aimed at helping empower women economically.
WASHINGTON (AP) — There were three words President Donald Trump wanted to hear from the Ukraine president: Investigations, Biden, Clinton.
That's according to the transcript, released Thursday, of an impeachment inquiry interview with career State Department official George Kent.
Kent told investigators that that was his understanding of what Trump wanted Ukraine President Volodymyr Zelenskiy to say in order to unlock U.S. military aid, as relayed to the official by others, including those in direct contact with the president.
LA MORA, Mexico (AP) — After burying some of the nine American women and children slain in a cartel ambush, residents of this town of about 300 are left to come to grips with the fear the attacks inspired among the tightly knit community.
"I do not feel safe here, and I won't, because the truth is we aren't safe here as a community," David Langford said at the funeral for his wife, Dawna Ray Langford.
While the sibling community of Colonia Le Baron has been peaceful since the 2009 murder of one of its members and subsequent installation of a security base, La Mora lacks such a presence — at least until Monday's killings prompted state and federal forces to deploy in the town.
How long they stay could be crucial to its future.
BEIRUT (AP) — Residents of eastern Syria hope the U.S. troop mission there will have an impact far broader than just protecting oil fields, counting on it to bring stability and prosperity and keep out the Syrian government.
Expectations are being piled onto the operation, which keeps U.S. troops in the middle of a complex political geography packed with forces from multiple rivals, even after President Donald Trump flip-flopped on the scope and duration of the deployment.
Trump initially ordered all troops out of Syria last month, then decided to keep a force in place to hold the oil infrastructure.
That keeps the U.S. troops in the middle of eastern Syria's complex political geography, rich in oil and gas and packed with Turkish, Kurdish, Russian, Syrian and Iranian-backed troops.
(AP)  As Turkish forces launched assault in northern Syria, social media users propagated images of Turkey's soldiers hugging, cradling or feeding children.
But none of those images actually reflected the ongoing offensive in northern Syria. Some weren't of Turkish soldiers. None of them were recent and some had been taken in other countries.
Experts say the false and misleading posts promoting Turkey appeared to get a boost from a coordinated network of Twitter accounts that amplified the content through trending hashtags and retweets.
The online campaign follows a pattern of social media propaganda that seeks to sway global opinion when controversial, international events erupt.
The images began making the rounds after President Donald Trump's widely criticized withdrawal of U.S. troops opened the way for the Turkish offensive against the Kurds.
LONDON (AP) — Social media companies are under pressure to combat political misinformation ahead of next month's general election in the United Kingdom.
The Dec. 12 election will be among the first since Twitter announced a ban on political ads to stem the flow of election-related misinformation.
Facebook has been criticized for its policy of not fact checking or removing false political ads, but the company insists it's taking other steps to safeguard Britain's election. They include the creation of an operations center to quickly identify online election hoaxes.
Despite those efforts, Britain remains vulnerable because government officials have yet to act on recommendations for preventing the spread of misleading political ads and content.
Misinformation played a significant role in Britain's 2016 Brexit vote as well as in the U.S. election in 2016.