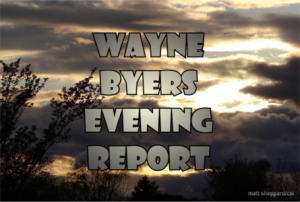 CSi Weather…
.TONIGHT…Mostly cloudy. Lows in the mid 20s. Northwest winds 5 to 15 mph.
.SATURDAY…Drizzle possibly mixed with snow, sleet and freezing drizzle in the morning, then drizzle likely in the afternoon. Little or no snow and sleet accumulation in the Jamestown area,
Snow accumulation up to 1 inch in the Valley City area.
Highs in the mid 30s. Northwest winds 5 to 15 mph. Chance of precipitation near 100 percent. . Highs in the mid 30s. Northwest winds 5 to 10 mph.
.SATURDAY NIGHT…Cloudy. Chance of drizzle and slight chance of
light freezing drizzle in the evening, then slight chance of snow
after midnight. Lows 15 to 20. North winds 10 to 15 mph. Chance
of precipitation 30 percent in the Jamestown area, 20 percent in the Valley City area.
.SUNDAY…Cloudy. A 30 percent chance of snow, in the morning.
Colder. Highs 15 to 20. North winds around 15 mph.
.SUNDAY NIGHT…Mostly cloudy. Lows zero to 5 above.
.VETERANS DAY…Mostly sunny. Highs 10 to 15.
.MONDAY NIGHT…Mostly clear. Lows zero to 5 above.
.TUESDAY…Increasing clouds. Highs in the mid 20s.
.TUESDAY NIGHT…Cloudy. A 30 percent chance of snow after
midnight. Lows 15 to 20.
.WEDNESDAY…Cloudy with a 30 percent chance of snow. Highs
around 30.
.WEDNESDAY NIGHT…Mostly cloudy. A 30 percent chance of snow in
the evening. Lows 15 to 20.
.THURSDAY…Mostly sunny. Highs around 30.
The north will be transitioning from light rain or a mix to all snow by noon
Saturday. The south would stay warm enough for light rain until
closer to sunset.
Pockets of precipitation, with the possibility of a period of sleet or freezing rain in the late afternoon and early evening Saturday, mainly central and south.
By midnight Saturday night it will be enough for all snow.
Snow totals  Saturday through Sunday time period,  between a half inch and two inches, total.
Very cold, for Sunday and Monday, with highs just in the teens and lows a bit either side of zero.
The worst of the cold air pushes out for the start of warmer weather by Tuesday, and through the rest of next week.
Flood updates and water level updates  for the …
Sheyenne River Level Through Valley City
James River level through Jamestown.
Water amounts in the snow pack
The Latest Flood Warnings from The National Weather Service
https://ndresponse.gov/flood-region
Fire Danger Map for North Dakota
Omaha  (USACE)   The U.S. Army Corps of Engineers reports, new weather forecasts point to  the James River downstream of Jamestown and Pipestem Dams could see ice formation by the end of next week.
To mitigate the risk of freeze-up ice jams or other ice-related flooding, the target combined release rate before ice sets in is 800 cubic feet per second.
The U.S. Army Corps of Engineers – Omaha District will be stepping down releases 200 cfs per day with the target combined release rate of 800 cfs achieved Nov. 14th.
The table below details the current release schedule:
| | | | |
| --- | --- | --- | --- |
| | Jamestown Dam Releases (cfs) | Pipestem Dam Releases (cfs) | Total Combined Release (cfs) |
| Thursday Nov. 7 | 1,100 | 1,100 | 2,200 |
| Friday Nov. 8 | 1,000 | 1,000 | 2,000 |
| Saturday Nov. 9 | 900 | 900 | 1,800 |
| Sunday Nov. 10 | 800 | 800 | 1,600 |
| Monday Nov. 11 | 700 | 700 | 1,400 |
| Tuesday Nov. 12 | 600 | 600 | 1,200 |
| Wednesday Nov. 13 | 500 | 500 | 1,000 |
| Thursday Nov. 14 | 400 | 400 | 800 |
River ice forecasts will be continuously updated during this time.  If conditions change and the forecast ice-in date shifts, combined releases will be held at 1,400 cfs until three days before the new ice-in date.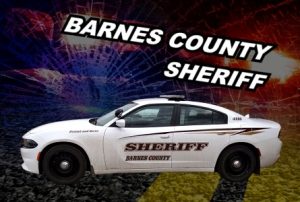 Valley City  (Barnes SO) The Barnes County Sheriff's Office reports that on November 8, the North Dakota Parole and Probation, Barnes County Sheriff's Office and Valley City Police Department conducted a search of a residence in the 100 block of 6th Street North West in Valley City.
The news release goes on to say:
A variety of narcotics, narcotic paraphernalia along with two firearms were located and seized from the residence.  Two individuals were taken into custody and criminal charges are pending. This incident is currently under investigation so if you have any additional information please contact the Barnes County Sheriff's Office.
Attention was drawn to the residence through the anonymous Barnes County Tip411 program.  Sheriff McClaflin would like to thank the public for their vigilance and assistance in this and other matters.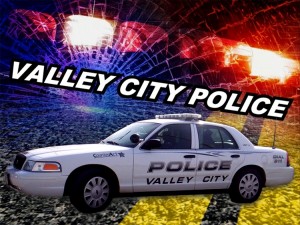 In another report, Valley City Police reports that, in the late evening of November 7 or early morning hours of November 8, a 2008 Chevy Impala was stolen from a Valley City location.
The vehicle is dark gray in color and has pink RM Stoudt paper plates. One thing noticeable on the vehicle is the clear coat is coming off on the drivers side.
Lt. Dana Rustebakke is reminds residents, to make sure you pull your keys from your vehicle and lock the doors. Don't leave anything of value in plain view in the vehicle. Anyone with information is asked to call the Valley City police department at 701-845-3110.
Valley City  (CSi)  Shop Downtown and Around Valley City on November 9th
from 7am – 5pm for Ladies Day, 2019.
Valley City  (CSi)  Valley City Public Works, City Hall and the Transfer Station, will be closed Veterans Day, Monday, November 11.
Garbage Schedule: Week of November 11
Monday's route will be picked up on Tuesday, November 12.
Tuesday and Wednesday's route will be picked up on Wednesday, November 13.
Regular schedule resumes on Thursday, November 14.
Jamestown (CSi) Jamestown Public Works reminds residents that due to the Veterans Day Holiday, there will be NO garbage or recycling collected on Monday, November 11, 2019.
Monday's garbage route will be collected on Tuesday. Tuesday's route will be collected on Wednesday. Wednesday's route will be collected on Thursday. Thursday's route will be collected on Friday, November 15, 2019.
The baling facility will be closed on Monday, November 11, 2019.
All collection routes begin at 7:00 a.m.
Jamestown (CSi) The All Vets Club in Jamestown will be having a full day of celebration on Veterans Day on Monday November 11, starting with a free Pancake and Sausage Breakfast at 7:30-a.m., served by the Sertoma Club and volunteers.
There will be a Free Soup Buffet at 11-a.m., followed by Family Bingo.
The Evening Celebration Banquet includes a performance by the Jamestown Drum & Bugle Corps at 5:30-p.m. and the American Legion POW-MIA Remembrance Ceremony at 6-p.m.
The evening Celebration Banquet is free for all area veterans and includes musical entertainment and door prizes.
Gulf War and Afghanistan Veterans are being recognized and honored this year.
For more information contact the All Vets Club at 701-252-8994.
Argusville N.D. (Gov. Burgum's Office) – Gov. Doug Burgum and state Agriculture Commissioner Doug Goehring Friday applauded the announcement that U.S. Secretary of Agriculture Sonny Perdue has approved the governor's request for a secretarial disaster designation for 47 of North Dakota's 53 counties, making assistance available to farmers and ranchers struggling with the impacts of an early blizzard and abnormally wet fall.
Burgum submitted the request to Perdue last Friday, working in cooperation with Goehring, North Dakota's congressional delegation of U.S. Sen. John Hoeven, U.S. Sen. Kevin Cramer and Congressman Kelly Armstrong, the federal Farm Service Agency and agencies across state government. Friday's announcement was made as U.S. Department of Agriculture (USDA) Under Secretary for Farm Production and Conservation Bill Northey was in North Dakota to see and hear about the tremendous challenges facing the state's farmers and ranchers.
"We deeply appreciate Secretary Perdue's quick response to our request, because help can't come soon enough for our farmers and ranchers facing one of the most difficult and stressful seasons on record," Burgum said. "We continue to explore every available avenue to make sure our ag producers have the resources and tools they need to cope with these unprecedented wet conditions that are delaying the harvest and hurting our livestock producers. We're extremely grateful to the state, federal and local officials and all the agencies that helped prepare the disaster request."
"We are extremely grateful to Secretary Perdue for his swift reply to our request," said Goehring, who is currently in Mexico with Perdue on a trade mission. "The designation makes resources available to help alleviate the difficult situation North Dakota agricultural producers are facing."
A secretarial disaster designation allows for implementation of FSA's Emergency Farm Loan Program and the Small Business Administration's (SBA) Economic Injury Loan Program for farm-related business. The Wildfires and Hurricanes Indemnity Program+ (WHIP+) is also available to eligible producers in presidential disaster-declared and secretarial-designated primary counties for 2018 and 2019 qualifying disaster events, which are flooding, snowstorm, tornado and wildfire in North Dakota.
Of the 47 counties included in the designation, 45 have experienced a minimum 30 percent production loss of at least one crop due to natural disaster, and the other two are eligible for the designation because of the inability to secure commercial financing to cover losses.
This morning, Burgum and state Deputy Agriculture Commissioner Tom Bodine helped welcome Northey to Argusville for a roundtable discussion hosted by Hoeven with Cramer and local producers. Burgum and Goehring invited Northey to North Dakota last month to see how record fall precipitation, flooding, an early October blizzard and cold temperatures have delayed fall harvest and caused hundreds of millions of dollars in crop losses already, with billions more at risk. A field tour was planned after the roundtable.
In the last week, Burgum, working in cooperation with Goehring and other state agencies, has signed executive orders waiving certain restrictions on hauling of hay, livestock, propane and other petroleum products to help farmers, ranchers and agribusinesses dealing with the compressed harvest season.
Individuals affected by flooding and adverse conditions can find information on other farm and ranch assistance at www.NDResponse.gov.
BISMARCK, N.D. (AP) — North Dakota legislative leaders are promising a fix to inflexible laws that make mandatory criminal investigations into some audit findings that may be the result of an unintentional mistake.
Recent agency audits that were referred for criminal prosecution have sent a ripple of fear throughout state government, said North Dakota United President Nick Archuleta, whose union represents 11,500 public employees and educators.
"Everyone supports transparency but sometimes honest mistakes are made," Archuleta said. "If I was a public employee finding myself in this position, I would be very worried. Now they have to get an attorney because they may have charges."
North Dakota Auditor Joshua Gallion acknowledged Friday that some recent audits may have resulted in the "unintended consequences" of potential criminal charges. But he said he's obliged to report alleged wrongdoing found in audits to the attorney general's office, which also is required to investigate under state law.
"We execute the laws that are on the books. I can't imagine the intent is to have everything investigated," Gallion told The Associated Press. "We need to have some flexibility that allows for human mistakes, and discretion on the investigation side."
"I'm not opposed to making some adjustments (in state law)," he said.
Republican Senate Majority Leader Rich Wardner called it an "issue that needs to be resolved."
"He's doing his job," Wardner said of Gallion, also a Republican who was elected to the post in 2016. "I don't think anybody is questioning his findings. He's right to question how we handle them after we find them."
LINCOLN, N.D. (AP) — Burleigh County sheriff's officials have arrested a man for drunken driving after he rear-ended a police squad car.
Authorities say a Lincoln police officer was completing a traffic stop about 11 p.m. Thursday when the patrol car was struck by a pickup truck. The 27-year-old driver then struck the vehicle which the officer had pulled over.
The 29-year-old driver who had been stopped was taken to a hospital. All others involved were treated at the scene.
In sports….
SIOUX FALLS, S.D. (AP) — Native American football is enjoying a rebirth in South Dakota thanks to a new league formed by smaller schools this fall.
The first All Nations Football Conference championship on Friday is giving players a chance to realize their dream of claiming a big victory at "the Dome" where championship games are decided in South Dakota.
Some schools say their teams have grown by as much as two-thirds since the conference gave them a more competitive environment. Two schools are fielding teams for the first time.
Supporters say the teams are giving students a reason to stay in school and out of trouble, while giving communities a reason to come together.
In world and national news..
WASHINGTON (AP) — Former national security adviser John Bolton has information about "many relevant meetings and conversations" related to Ukraine that House impeachment investigators have not yet heard testimony about.
That's according to a letter that Bolton's attorney, Charles Cooper, sent Friday to the House that suggests Bolton would appear in the probe only if a court orders him to do so.
In the letter, Cooper says there's a tall barrier to forcing Bolton and his former deputy, Charles Kupperman, to testify because any testimony that they would give would implicate sensitive matters of national security and foreign affairs. Kupperman has sued to request a judge's guidance on whether he can be forced to appear.
The letter says both Bolton and Kupperman are prepared to appear if a federal judge resolved the dispute in Congress's favor.
WASHINGTON (AP) — President Donald Trump on Friday dismissed a Chinese official's assertion that his administration has agreed to roll back some the higher tariffs it's imposed on Chinese goods. The Chinese official had said Thursday that the two sides had agreed to a phased cancellation of their tariff hikes as part of an emerging agreement.
Trump's pushback suggested that negotiations haven't progressed as far as hoped as the world's two biggest economies struggle to negotiate an end to their trade war, which has hurt both economies.
"They'd like to have a rollback," Trump told reporters at the White House, referring to the Chinese. "I haven't agreed to anything."
The two sides have been working on an initial "Phase 1" deal that was announced Oct. 12 but that still isn't final.
LA MORA, Mexico (AP) — After burying some of the nine American women and children slain in a cartel ambush, residents of this town of about 300 are left to come to grips with the fear the attacks inspired among the tightly knit community.
"I do not feel safe here, and I won't, because the truth is we aren't safe here as a community," David Langford said at the funeral for his wife, Dawna Ray Langford.
While the sibling community of Colonia Le Baron has been peaceful since the 2009 murder of one of its members and subsequent installation of a security base, La Mora lacks such a presence — at least until Monday's killings prompted state and federal forces to deploy in the town.
How long they stay could be crucial to its future.
BEIRUT (AP) — Residents of eastern Syria hope the U.S. troop mission there will have an impact far broader than just protecting oil fields, counting on it to bring stability and prosperity and keep out the Syrian government.
Expectations are being piled onto the operation, which keeps U.S. troops in the middle of a complex political geography packed with forces from multiple rivals, even after President Donald Trump flip-flopped on the scope and duration of the deployment.
Trump initially ordered all troops out of Syria last month, then decided to keep a force in place to hold the oil infrastructure.
That keeps the U.S. troops in the middle of eastern Syria's complex political geography, rich in oil and gas and packed with Turkish, Kurdish, Russian, Syrian and Iranian-backed troops.
NEW YORK (AP) — U.S. health officials are reporting a breakthrough in their investigation into the cause of an outbreak of vaping illnesses.
A government lab found the same chemical compound in lung fluid from 29 patients. The compound — vitamin E acetate — was previously found in vaping fluid used by many of those who got sick.
But officials said Friday that this is more direct evidence that the chemical may be to blame.
Vitamin E is safe as a vitamin pill or to use on the skin, but inhaling oily droplets can be harmful. It has recently been used as a thickener in vaping fluid, particularly in black market vape cartridges.
More than 2,000 Americans who use electronic cigarettes have gotten sick this year, and at least 40 have died.
SEATTLE (AP) — Family and friends of a former Twitter employee accused of spying for Saudi Arabia say he is a dedicated husband and father who has overcome recent mental health struggles.
Authorities say Ahmad Abouammo acted as an agent of Saudi Arabia without registering with the U.S. government. Prosecutors say he and another man were rewarded by Saudi royal officials with a designer watch and tens of thousands of dollars funneled into secret bank accounts.
Abouammo is due in Seattle federal court Friday for a detention hearing. Two other suspects are believed to be in Saudi Arabia.
Relatives and friends of Abouammo say in letters of support filed to the court that he was always willing to help others, even after he moved to the United States.