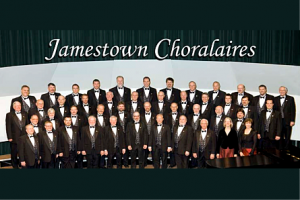 Jamestown  (CSi)  The Jamestown Choralaires' Christmas Dinner Concert is again on Friday December 6 at the University of Jamestown, Reiland Arts Center, lobby.
On Tuesday's Wayne Byers Show on CSi Cable 2, Choralaires member, Roger Cane said, seating and the social is at 6:30-p.m., with the concert at 7-p.m.
Advanced Reserve Seating Tickets are available only at Looysen I Care at 821 First Avenue, South in Jamestown, during regular business hours.  The ticket price is $40 dollars each.
The deadline to order the advanced tickets is that Monday December 2.
He said the Choralaires, between singing sets, will be serving the meal of Cornish game hens prepared by Sodexo from the University of Jamestown.
Under the directions of Pam Burkhart, with accompanist   Rick Wallentine, the singers will be performing traditional Christmas songs.  Besides the group sing, there will be solo performances.
The concert is supported in part by a grant from the North Dakota Council on the Arts, which receives funding from the state legislature and the National Endowment for the Arts.
The Choralaires will also lead the sing-a-long at the After Parade Party, at  planned after the Holiday Dazzle on Main Parade, at Shady's.
Roger also pointed out that the 2020 regional Big Sing will be in Eau Clair, Wisconsin.
Jamestown will host the Big Sing in 2022.
He also said the Choralaires will host a spring concert in Jamestown in 2020.