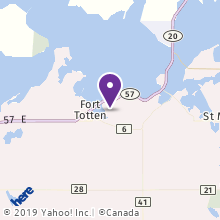 Washington (Sen. Cramer's Office)   – The U.S. Senate through a Unanimous Consent (UC) request by U.S. Senator Kevin Cramer (R-ND) Thursday passed S.2099, the "White Horse Hill National Game Preserve Designation Act," a bill Senator Cramer introduced to rename the National Game Preserve within the Spirit Lake Indian Reservation known as "Sullys Hill" to "White Horse Hill," its traditional Dakota name. This is the first piece of legislation written by Senator Cramer to pass the Senate.
"With all the issues the federal government faces, this may seem small, but it is no small issue to the people of Spirit Lake,"  Senator Cramer said in remarks on the Senate Floor. "This mistake has taken over 100 years to correct. I am sorry for that, but I am grateful my colleagues are joining us now to correct it."
Senator John Hoeven, the bill's original cosponsor and chair of the Senate Indian Affairs Committee, also offered his support:
"Now that the Senate has approved this legislation, we are one step closer to reinstating the traditional Dakota name of White Horse Hill, which honors the heritage of the Spirit Lake Tribe and this area." 
Sullys Hill was named in 1904 after General Sully, a Civil War and the Indian Wars military officer who gained notoriety for committing several massacres against Native Americans, including one of the greatest massacres in North Dakota's history. Many descendants of his victims live on the land surrounding the hill.
The North Dakota congressional delegation – with the support of  Governor Doug Burgum  and Tourism Director Sara Otte Coleman – introduced this legislation in July after the tribe requested the hill return to its historic Dakota name. The Senate Environment and Public Works (EPW) Committee, which Senator Cramer sits on, advanced this legislation at the end of September. There, Senator Cramer delivered remarks on the importance of this legislation, as did EPW Ranking Member Tom Carper (D-DE).
"This action by our committee will help to ensure that the Spirit Lake Tribe's story of the white stallion will be ingrained in our Nation's history for years to come," said Ranking Member Carper. "Quite simply, this is the right thing to do, and I want to thank Senator Cramer for his work."