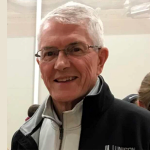 Gary Riffe, 73, of Savage, MN, (formerly Jamestown, ND) died Sunday, November 17, 2019, at Fairview Southdale Hospital in Edina, MN after suffering from an amyloid stroke.
Visitation will be from 9-11 AM, followed by a funeral at 11 AM, Monday, November 25, 2019, at Eden Prairie Assembly of God, 16591 Duck Lake Trail, Eden Prairie, MN.
There will be a live simulcast of the funeral at 11 AM, Monday, November 25, 2019, at Jamestown First Assembly, 1720 Eighth Avenue SW, Jamestown, ND. Interment will be at 10:45 AM, Tuesday, November 26, 2019, Assembly Area 3, in Fort Snelling National Cemetery, Minneapolis, MN.
Gary Riffe, 73,  of Savage, Minn., died Sunday, Nov. 17, in Fairview Southdale Hospital.
Funeral Services for Gary Riffe will be at  11:00 AM – Nov 25, 2019 at Eden Prairie Assembly of God 16591 Duck Lake Trail Eden Prairie, 55346 Directions
Visitation will be at  9:00 AM – November 25, 2019 – 11:00 AM
Eden Prairie Assembly of God Church 16591 Duck Lake Trail Eden Prairie, 55346 Get Directions
Burial  will be at  10:45 AM – November 26, 2019 at Fort Snelling National Cemetery 7601 34th Ave S Minneapolis, 55450
From Caringbridge Post:  Journal entry by Heidi Gustafson
God is our refuge and strength, a very present help in trouble.
Therefore we will not fear, even though the earth be removed.  And though the mountains be carried in to the midst of the sea, though its' waters  roar and be troubled and the mountains shake with its swelling.
Be still and know that I am God.The Lord of hosts  is with us. The God of Jacob is our refuge.  (excerpts from Psm 46)
 At 10:10pm last evening (Nov 17, 2019),  my dearest husband and best friend, took his last breath on earth and his first breath in God's new heaven.  Our children had gathered for a time of reflection, laughter and tears in the room that was our small haven for the past 15 days.  I was reminded of the promise we made to each other 51 years ago, we would remain with each other until death parted us.  To me, he would have said the same.  The Vikings pulled out a late 4th quarter win after scoring zero points in the first half.  That win was for Gary.  I think he was cheering them on.  Now we knew it was our time to say goodbye.
 Amin, our young Somali nurse, was with us the last 3 nights, and grew to be a huge part of us!  His medical knowledge and caring words provided us comfort as he provided comfort to Gary.  He gently administrated the morphine every 30 minutes until the final release.  During these last days, we learned more about Amin.  We learned about his culture, he shared pictures of his 2 beautiful children, his celebration of Ramadan, and the food he enjoys; just don't bring him any Sushi!  He made us laugh, although he didn't know anything about about Ole' and Lena.  He was so very kind, compassionate, and genuinely caring.  He wasn't afraid to hug us.  And he witnessed our faith in action.
.
I'm so thankful for each of our children who could be there in these final hours.  Two of them left to return home; gather their family on a late school night.  God had sent us unseen Angels to this holy place.  Heidi,  Brandon and I placed our hands on Gary's body and prayed.  We released him to God.
He is home.
 .
It is well with my soul. It is well, it is well, with my soul.
Blessed assurance, Jesus is mine.  Oh what a foretaste of glory divine. Heir of salvation, promise of God; born of His spirit, washed in His blood.
This is my story, this is my song.  Praising my Saviour all the day long.
This is my story, this is my song, praising my Saviour all the day long.