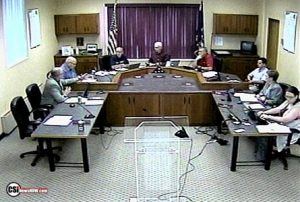 Valley City  (CSi)  The Valley City Commission met in Regular Session, Tuesday evening at City Hall.  Commissioner Magnuson was not present.
APPROVAL OF CONSENT AGENDA:
A Raffle Permit for American Fisheries Society Student Sub-unit.
A Raffle permit for the Valley City Fire Department.
A Permit for the Parade of Lights, and street block off for the parade.
PUBLIC COMMENTS … No one spoke.
RESOLUTION:
Approved was Resolution Approving the Oxbow Addition Plat.
Approved was a Resolution Authorizing Filing of Addition with North Dakota Department of Environmental Quality for a Loan under the Clean Water Act and/or Safewater Drinking Act.  It replaces a refunding bond at a lower rate, and will be reimbursed from special assessments.
NEW BUSINESS
Commissioners approved City Recommendations for Streetscape II on Main Street and Central Avenue, improvements to be submitted to the NDDOT. The city's share of the $2.2 million costs is $500,000, previously approved by commissioners.
City Commissioners approved a Contract between Western Area Power Administration (WAPA), Missouri River Energy Services (MRES) and the City of Valley City regarding Scheduling & Payment.
Approved was the Annual Blue Cross Blue Shield Contract for 2020.  City Attorney Martineck said a committee decided to look at another provider for next year, due to premium increases, but stay with the 2020 contract with Blue Cross Blue Shield.
CITY ADMINISTRATOR'S REPORT:
David Schelkoph said flood mitigation accomplished over the past few years, including permanent flood walls, and property buyouts protected the city to a river rise of 18 feet, this fall which included two feet of free board.  The river level this fall rose to about 16 feet.
He said the city incurred a flood fight cost of $487,000 including erosion control.  Without that additional cost, the flood fight itself cost the city about $160,000.  The costs have been submitted to FEMA for reimbursement.
He added that energy efficient lights bulbs, two each, are being distributed to Valley City electric utility users, in an effort to show energy usage reduction.
CITY UPDATES & COMMISSION REPORTS:
Mayor Carlsrud reported that the Corps of Engineers is lowering the elevation of Lake Ashtabula, in an effort to lower the lake's level and increase flood control storage.
The meeting was shown live on CSi Cable 68 followed by replays.