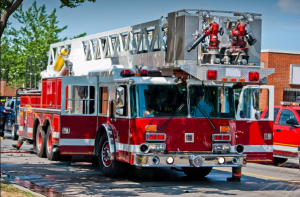 Jamestown  (CSi)   The Jamestown City Council's, Police & Fire, and Public Works Committees met Thursday evening at City Hall.
POLICE & FIRE COMMITTEE:
An update was given on the Jamestown City Fire Department's ladder truck.  Mayor Heinrich said the city continues to work on finding funding, for the purchase or other means to obtain a replacement truck which is currently not usable.
PUBLIC WORKS COMMITTEE
A Presentation was given by Ben Aaseth, of Interstate Engineering, of the NDDOT Main Street Road Diet project, including the timeline, purpose, area, scope, amenities, improvements and next steps.
He said the public comment period is over, with a report on the comments sent to the NDDOT.
He indicated a majority of the public comments indicated the traffic signal elimination proposal was not a favorable move in the proposed plan.
He pointed out specifics that will need to be considered for alternatives.
Mayor Heinrich said the project will continue, based on the NDDOT recommendations.
He said it would cost the city as much dollar wise to stop the project as to accept it.
Bids for the project will be let, in the near future.
Discussion was held concerning the Jamestown Snow Emergency routes.  Travis Dillman from Interstate Engineering said, minor changes are indicated with better representation based on the effort it takes to remove the snow.  It was pointed out that if the Road Diet plan is approved, Main Street snow will need to be wind rowed to the center and then hauled away. The map on the city's web site will be updated.
Considered was the 2021-2024 NDDOT Urban Roads and Urban Regional State Transportation Improvement Program (STIP) list.  Items include a Highway 20 mill and overlay in town, and reconstructing an area of business loop west, starting from the base of Mill Hill where the concrete pavement ends.  Also on the list is construction of an overpass in town.  A ranking process determines the priorities, with considerations coming from the city.
City officials will discuss recommendations at next month's Public Works Committee meeting for consideration at the January City Council meeting.
Discussion was held concerning the elimination of the I-94 exit 257, which would also eliminate the on ramp there.  The Land Use and Transportation Plan includes the elimination of the exit. The City is on record to keep the exit open.  A 17th Street overpass has been suggested if the exit is eliminated at the city's cost of several million dollars.  It would also entail improving the frontage road there, and realigning I-94.
INFORMATIONAL:  A Recycling collection update by Ralph Friebel, Recycle North Dakota was passed along.  The public is being informed to leave four feet between the garbage and recycling bins so the automated trucks can utilize the mechanical arms more efficiently.
The meeting was shown live on CSi Cable 67, followed by replays.