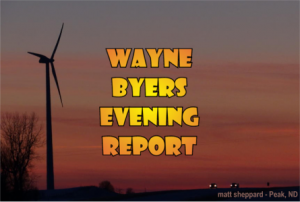 CSi Weather…
.TONIGHT…Mostly cloudy. Lows 15 to 20. South winds around 5 mph shifting to the west after midnight.
.THURSDAY…Decreasing clouds. Highs in the mid 20s. Northwest winds 5 to 15 mph.
.THURSDAY NIGHT…Partly cloudy. Lows 5 to 10 above. West winds
5 to 10 mph.
.FRIDAY…Partly sunny. Highs in the mid 20s. Southwest winds
5 to 10 mph shifting to the south around 15 mph in the afternoon.
.FRIDAY NIGHT…Decreasing clouds. Lows 15 to 20.
.SATURDAY…Mostly cloudy. Highs in the lower 30s.
.SATURDAY NIGHT…Mostly cloudy. Lows 15 to 20.
.SUNDAY…Mostly cloudy. A 20 percent chance of snow in the
afternoon. Highs in the lower 20s.
.SUNDAY NIGHT…Mostly cloudy with a 40 percent chance of snow.
Lows near zero.
.MONDAY…Mostly cloudy with a 30 percent chance of snow. Highs
5 to 10 above.
.MONDAY NIGHT…Mostly cloudy. Lows around 5 below.
.TUESDAY…Partly sunny. Highs 5 to 10 above.
Expect a colder day on Thursday with highs in the lower 20s north to around 30 degrees far south.
Temperatures should easily plummet into the single digits
Temperatures will warm back up on Friday and Saturday.
Highs in the 30s can be expected across central North Dakota, especially where snowpack is still significant.
Precipitation chances return to the area late Saturday night
through Sunday night.
A widespread swatch of accumulating snow is expected Sunday through Sunday
night, with most of western and central North Dakota picking up an
inch or two of snow by Monday morning.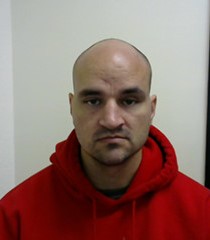 Jamestown  (CSi)  Jamestown Police is warning the public regarding a new convicted sex offender, living in Jamestown.
Travis Lee Wedmore resides at 2605 Circle Drive, North Dakota State Hospital, CTC House, Jamestown, ND
He presently has no vehicle.
He is a 35 year old white male, six feet tall weighing 202 pounds with hazel eyes, and brown hair.
Wedmore has been assigned a high risk assessment by the North Dakota risk level committee of the North Dakota Attorney General's Office.
Offense:  Sexual Assault, admitting to his probation officer that he was having a sexual relationship with a 16 year old girl.
Conviction Date:  May 2005, in Burleigh County, ND, District Court.
Disposition:  One year, three months suspended, two years supervised probation.
Wedmore is currently on GPS Monitoring.
He is not wanted by police at this time, and has served the sentence imposed by the court.
This notification is meant for public safety and not to increase fear in the community, nor should this information be used to threaten, assault, or intimidate the offender.
Any attempts to harass, intimidate or threaten these offenders, their families, landlords, or employers will be turned over for prosecution.
Printed handouts of the demographics of Travis Lee Wedmore, are available at the Jamestown Police Department.
More information on registered sex offenders is available at the North Dakota Attorney General's web site: www.sexoffender.nd.gov
Jamestown  (CSi)  Stutsman County Veterans Service Officer David Bratton says starting in January, his office will have available, access to the Veterans Administration telehealth assistance, with a doctor at the Fargo VA Clinic.
On Wednesday's Wayne Byers Show on CSi Cable 2, David said those not able to get immediate assistance for mental health or other health related problems can access the Telehealth conferencing and speak with a physician within about three minutes of initiating the call.
On another topic the AmVets Post 9- will host a Suicide Awareness  Seminar in Bismarck on December 16, at 7-p.m., open to the public.
On hand will be speakers with presentations concerning suicide prevention, along with National Guard resources that are available.
Also on our show, he reminded that The All Vets Club in Jamestown will host the Annual Vietnam  Era, Christmas Social on Friday December 6, starting at 5-p.m.,  with a no-host social, dinner at 5:45-p.m.
The Guest Speaker will be Dale Marks, giving a presentation on Ft. Seward, after the meal.
The annual event is open to all who served during the Vietnam Era of service, 1961-1975.
Family, spouses and guests are welcome.
For more information call the All Vets Club and 701-252-8994.
David Bratton can be reached at the Stutsman County Veterans Service Office, located at the lower level of the Law Enforcement Center in Jamestown at 701-252-9043, open Monday through Friday from 8-a.m. to noon and 1-p.m., to 5-p.m.
Valley City  (CSi)  The Valley City Rotary Club has announced that the annual Valley City Rotary Club Wine & Beer tasting social held November 21 in Valley City raised $500 for the Barnes County Historical Society and Museum.
Sponsored Valley City Rotary Club, they all the vendors and participants for their support, helping to make the fundraiser another successful event for the Barnes County Historical Society and Museum.
Jamestown   (JPS)  Jamestown Public Schools will begin the Holiday Break at the close of the regular school day on Friday, December 20, 2019.
School will resume at the regular time on Monday, January 6, 2020.  Buses will run at the regular scheduled time.
Bismarck  (AP)  The trial for a man accused of killing four people at a North Dakota property management company has been pushed back six months after attorneys requested more time to review evidence and prepare for the case. The trial for Chad Isaak will begin Sept 14. in Morton County.
The 45-year-old chiropractor is charged with four counts of murder in the deaths of RJR co-owner Robert Fakler and employees Adam Fuehrer and Bill and Lois Cobb, who were married. The four were found shot and stabbed April 1 at the Mandan business. A motive is unknown.
Bismarck  (NDHP)  On Wednesday, Nov. 27, and Sunday, Dec. 1, the two busiest travel days of the season, the North Dakota Highway Patrol conducted an All-Hands Enforcement event. Over these two days, all available NDHP Troopers patrolled the state's roadways. During the event, the NDHP conducted 629 traffic stops, issued 561 citations, performed 43 commercial motor vehicle inspections, investigated 14 crashes, and assisted 83 motorists.
Sixty-two percent of issued citations were for speeding. Speeding endangers everyone on the road as it increases the potential for loss of control; greatly reduces a driver's ability to slow a vehicle when necessary and steer safely around an unexpected curve, another vehicle, or an object in the road. Speed limits are put in place to protect all road users.
During the two-day event, NDHP troopers made 20 drug-related arrests and six DUI (Driving Under the Influence) arrests. Alcohol and drug-related crashes are 100% preventable. The NDHP encourages drivers to be responsible for their own safety and the safety of others by choosing to not drive while impaired.
Every driver is responsible for their personal driving behaviors. Preventing tragedy and protecting the lives of others as well as your own, always takes precedence over convenience. NDHP reminds drivers to drive distraction-free; obey posted speed limits; and never drive while impaired. Every driver has the responsibility to help North Dakota work toward Vision Zero: zero fatalities, zero excuses.
In sports news…
Jamestown  (CSi)  The UJ men's and women's basketball teams invite the community to the  Samaritan's Feet Barefoot Basketball Games and Shoe Drive to be held on Wednesday, December 4 as the Jimmies host Dordt University in a doubleheader at the Harold Newman Arena. The women's game will tip off at 6-pm followed by the men's game at 8-pm.
Fans  in attendance donating new children's shoes will be admitted to the game for free.  (One free admittance per pair of shoes.) The need is for athletic shoes in size Toddler 10-13 or Children's 1-5.
Coach Thad Sankey and his women's basketball staff along with Coach Danny Neville and his men's basketball staff will coach their games in their bare feet to help bring awareness to the need for shoes across the United States U.S. and worldwide.
On Saturday, February 1st, a shoe distribution will be held to benefit local students in area communities.
In world and national news…
WASHINGTON (AP) — House Speaker Nancy Pelosi has got a simple, direct question for fellow Democratic lawmakers. While a House committee was moving through a contentious hearing on impeaching President Donald Trump, she asked a larger group behind closed doors on Wednesday, "Are you ready?" The answer, according to those present, was a resounding yes. That's crucial because of the likely political aftermath for lawmakers running for reelection next year. Meanwhile, the Judiciary Committee heard from legal experts on whether Trump's effort to have Ukraine intervene in the 2016 U.S. election was grounds for impeachment. Republicans said it was all a sham.
WASHINGTON (AP) — A law professor and witness for the Republicans is explaining to lawmakers why he thinks impeaching President Donald Trump would be wrong. Jonathan Turley teaches at George Washington University and is one of four professors testifying Wednesday in the House impeachment inquiry. Turley tells members of the House Judiciary Committee that he thinks the impeachment proceedings are being rushed for no reason. Turley also says the evidence against Trump isn't strong enough to meet the threshold of an impeachable offense. The other three professors who testified Wednesday disagreed, saying the evidence was there for impeachment.
WASHINGTON (AP) — The Trump administration is tightening work requirements for the federal food stamp program in a move that would slash benefits for hundreds of thousands of people. The final rule will limit the ability of states to exempt work-eligible adults from having to obtain steady employment in order to receive benefits through the Supplemental Nutrition Assistance Program. The program feeds more than 36 million Americans. Scaling back public benefits for low-income Americans has long been a Trump administration priority. USDA officials say the rule announced Wednesday would save roughly $5.5 billion over five years. Benefits would be cut roughly 688,000 recipients.
RICHMOND, Va. (AP) — Virginia is taking steps toward dropping requirements that new Medicaid enrollees have a job and pay part of their premiums. Those provisions were key parts of a bi-partisan compromise nearly two years ago that allowed Virginia to expand Medicaid to low-income, able-bodied adults. Democratic Gov. Ralph Northam said Wednesday that he's pausing the state's pursuit of federal approval for those provisions. He said Virginia is unlikely to implement those provisions after Democrats won control of the General Assembly last month.
WASHINGTON (AP) — Birth control pills work great if women remember to take them every day but missing doses can mean a surprise pregnancy. Now scientists are developing a once-a-month pill. The contraceptive is packed into a tiny star-shaped gadget that unfolds in the stomach and gradually releases the drug. It's still years away from drugstores. But Wednesday, Massachusetts Institute of Technology researchers reported the capsule worked as designed in a key test in pigs. More safety and other tests are required before the pill could be tried for the first time in women. The research was published in Science Translational Medicine.
COLUMBUS, Ohio (AP) — An Ohio proposal aimed at outlawing abortions would present some doctors with a difficult choice. They'd either have to face potential criminal prosecution or attempt a procedure considered medically impossible. Under the Republican-sponsored bill, a doctor who terminates a pregnancy could face murder charges unless it's done to save a woman's life. But the bill also says doctors could be prosecuted if they fail to do whatever they can to preserve the pregnancy. And that would include trying to move a fertilized egg into the uterus if it implanted elsewhere. The American College of Obstetricians and Gynecologists says that simply cannot be done.