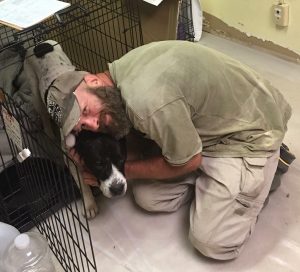 (Turtle Mountain Animal Rescue/CSi)     Keith Benning is a municipal judge and deputy sheriff in Rollette County, ND. He's also an avid animal lover and owner and founder of Turtle Mountain Animal Rescue (TMAR), the only animal-shelter within 200 miles. December 3, on GivingTuesday, Keith spent the day rallying his community to give back to the shelter's Fundraiser via a Facebook Live video stream…from inside of a dog cage! The videos showed viewers what it's like for animals living in a cage, and it struck a chord, inspiring many.
In just a short time, the grass-roots shelter raised more the $35,000 through their Facebook Fundraiser<https://www.facebook.com/donate/987103261668029/10157658583835629/>!
Currently Turtle Mountain Animal Rescue is operated out of Keith's garage, but now he's more than two-thirds of the way to having the funds he needs to build a much-needed stand-alone shelter. The Turtle Mountain Animal Rescue is the first and only shelter in this rural community that sees an abundance of animal overpopulation and relies entirely on donations to support their organization.
In the last year TMAR has also begun facilitating animal adoptions with an average of 50 animals a month. Keith is also FEMA certified and travels to disaster-stricken areas to assist with animal rescue efforts, and has become the local area's 'on-call' resource for animal medical emergencies as the nearest veterinarian is 90-miles away.
Photo Credit: Turtle Mountain Animal Rescue