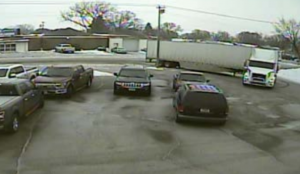 Jamestown  (JPD)  Jamestown Police on Friday said  the semi being sought in a hit and run involving a utility pole in Southeast Jamestown Thursday has been located.
Lt. Sid Mann reports, thanks to public assistance, with tips, that police were able to track the vehicle.
At this time, no charges have been filed.
The semi pulling a trailer took out the pole turning right off 5th Avenue in the 1100 bock, heading into the Park Plaza parking lot,Thursday morning about 10:12 a.m.
Previously…
Jamestown (JPD) The Jamestown Police Department is requesting assistance in locating a Semi-truck and trailer involved in a hit-and-run property accident in Southeast Jamestown. The accident happened on Thursday, December,5  at approximately 10:12 a.m. near the 1100 block of 5 Ave SE, in an adjacent parking lot.
Major Justin Blinsky reports, The semi involved in the incident appears to be a white Volvo semi pulling a white enclosed refrigerated type trailer. There also appears to be a company name on both truck doors and possibly on the lower-front corners of the trailer.
The semi's trailer struck a power pole and likely has damage to the right side of the trailer, located near the rear axle. The semi left the scene of the accident without notifying Law Enforcement. The power pole was destroyed in the incident.
Anyone with information regarding the owner and/or driver of the semi involved in the accident is asked to contact the Jamestown Police Department at 701-252-1000.  This incident remains under investigation.
CSiNewsNow.com learned that Otter Tail Power Company crews replaced the pole Thursday afternoon.