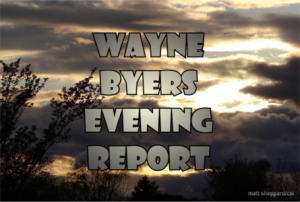 CSi Weather…
.TONIGHT…Mostly cloudy. Patchy fog after midnight. Lows 15 to 20. Southwest winds 5 to 10 mph.
.SATURDAY…Cloudy. Patchy fog in the morning. Highs in the lower 30s. South winds 5 to 10 mph.
.SATURDAY NIGHT…Mostly cloudy. Lows 10 to 15. West winds 10 to
15 mph shifting to the north after midnight.
.SUNDAY…Cloudy with a 40 percent chance of snow in the Jamestown area, 50 percent in the Valley City area. Highs in the lower 20s. North winds 10 to 15 mph.
.SUNDAY NIGHT…Mostly cloudy. A 40 percent chance of snow in the
evening in the Jamestown area, 50 percent in the Valley City area. Lows around 5 below.
.MONDAY…Mostly sunny. Highs around 10.
.MONDAY NIGHT…Mostly cloudy. Lows around 10 below.
.TUESDAY…Mostly sunny. Highs near zero.
.TUESDAY NIGHT…Partly cloudy. Lows around 15 below.
.WEDNESDAY…Mostly sunny. Highs near zero.
.WEDNESDAY NIGHT…Increasing clouds. Lows around 10 below.
.THURSDAY…Partly sunny. Highs 10 to 15.
1 to 3 inches of snow across the southwest and south central, with a 4 inch amount possible from Saturday night through Sunday night.
After the snow ends Monday morning, several arctic high pressure
systems will reinforce cold air into the region through Thursday
morning. High temperatures during this period will only rise to
around zero east to the teens west, and overnight lows 10 to 15
below zero. Wind chills could fall into the advisory category of
25 below central and east.
Cold and dry for the week after Monday.
ELDRIDGE  (Valley News Live)– A construction accident west of Jamestown has left one person dead.
Deputies with the Stutsman County Sheriff's Department tell us they responded to an industrial accident in Eldridge Friday. They tell us a construction crew was working on a grain elevator when part of a crane broke off and fell, killing one construction worker and injuring another.
Deputies say the injured was taken to a Fargo hospital.
Update…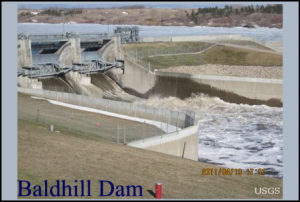 St. Paul  (USACE)  The U.S. Army Corps of Engineers, St. Paul District, is reducing outflows into the Sheyenne River at Baldhill Dam, located northwest of Valley City, North Dakota, from 800 cubic feet per second, or cfs, to 200 cfs, beginning Sunday, Dec. 8.
Outflows are being reduced so rock, or riprap, can be placed along the streambank in order to prevent erosion and protect existing power lines south of Valley City.
On Friday the current elevation of Lake Ashtabula was 1,264.7 feet and the temporary reduction in flows will have little effect on the overall winter drawdown progress.
Corps staff plan to increase outflows up to 600 cfs on Tuesday, Dec. 10.
The public is urged to avoid going out on the ice along the Sheyenne River below Baldhill Dam if possible and should expect changes in river levels and degrading ice quality. Lake ice conditions will vary throughout the winter and lake users should exercise caution at all times.
Update…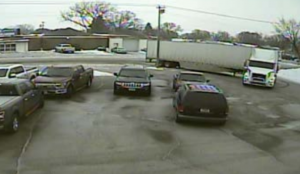 Jamestown  (JPD)  Jamestown Police on Friday said  the semi being sought in a hit and run involving a utility pole in Southeast Jamestown Thursday has been located.
Lt. Sid Mann reports thanks to public assistance, with tips, that police were able to track the vehicle.
At this time, no charges have been filed.
The semi pulling a trailer took out the pole turning right off 5th Avenue in the 1100 bock, heading into the Park Plaza parking lot,Thursday morning about 10:12 a.m.
Jamestown (CSi) The All Vets Club in Jamestown will host the Annual Vietnam Era, Christmas Social on Friday December 6, starting at 5-p.m., with a no-host social, dinner at 5:45-p.m.
The Guest Speaker will be Dale Marks, giving a presentation on Ft. Seward, after the meal.
The annual event is open to all who served during the Vietnam Era of service, 1961-1975.
Family, spouses and guests are welcome.
For more information call the All Vets Club and 701-252-8994.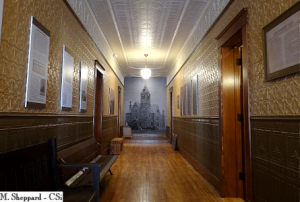 (CSi) 1883 Stutsman County Courthouse, Site Supervisor, Steven Reidburn says, the community will have two opportunities to visit the Christmas Open House, on December 8, and 15, from 1-p.m., to 4-p.m., each day.
On Thursday's Wayne Byers Show on CSi Cable 2, Steve said, 17 Christmas trees have been provided courtesy of sponsors, and decorated by volunteers, adding volunteers have worked about 100 hours on the project in November this year. He added that each tree will have a tag indicating the name of the sponsor.
He added that trees will have a theme and visitors can vote on their favorite, and pay $1 per ballot, with proceeds going to the 1883 Stutsman County Courthouse supporting future programming and planning.
New this year is Santa's Café, and workshop, at the main hallway.
Steve also shared progress regarding the new exhibit which is expected to be open on Memorial Day 2020 with a dedication and Open House.
At a recent Jamestown Tourism, Grant/Executive Board meeting, the 1883 Stutsman County Courthouse – Citizenship Exhibit was represented by Robert Hanna, State Historical Society, Site Manager, from Bismarck.
He requested $26,795 for the Courthouse Citizenship Exhibit, to help make the 1883 Courthouse the first museum in the United States specifically addressing the exercise of citizenship. Specified rooms in the courthouse will contain various aspects of citizenship, along with artifacts of such items as office equipment and other historic artifacts representing the time period 1880-1950. Each courthouse room will have artifacts, many will be interactive for visitors, to have a hands-on experience.
The Tourism Board has approved, $24,115. Steve Reidburn pointed out that the additional funding plus funds from the State Historical Society will allow all rooms to have exhibits available for the opening, rather than just one room at a time
He says schools will be able to utilize the courthouse for future classes and lessons. He says there will also be an exhibit up during the open house with artwork based on women's suffrage, in cooperation with University of Jamestown students, to be set up in the Jurors Room.
Visit the 1883 Stutsman County Historic Courthouse Facebook page.
He added that the 1883 Courthouse has the Escape Room open during the winter months.
Those wishing to participate should make reservations no more than two weeks ahead of the requested date.
Jamestown  (CSi)  The Jamestown community is invited to share a Magical Medora Christmas when a group of traveling performers entertain in Jamestown on Monday, December 9, with  Christmas music and stories .
The family friendly performance is at 7:30 p.m. at the  University of Jamestown, Reiland Fine Arts Center. The show features five of Medora's legendary performers. Tickets are $30 for adults, kids six and under will be admitted free.
The performers travel to cities in  North Dakota, Minnesota, South Dakota, and Montana.
Jamestown  (CSi)  The James River Humane Society says while adopting animals is a year round activity at the shelter, giving them as surprise Christmas gifts is not a good idea.
On Friday's Wayne Byers Show, on CSi Cable 2, Humane Society President, Gary Sahr said, animals should be acclimated to a new household, to see if the animals would be a good fit, especially in the home as pet already living there.  He suggests after Christmas, bringing your pet to the shelter to socialize with the dog or cat you've chosen to see if they get along.
Also with sub zero temperatures in the forecast next week, to not let pets outside for an extended period of time, adding that animals paw pads can freeze quickly, and to also keep that in mind when walking pets.
Keep pets away from electrical cords they may chew on, and some holiday plants are toxic if a pet may eat it.
The James River Humane Society is open seven days a week from 9:30-a.m., to 11:30-a.m., and 5:30-p.m., to 6:30-p.m., or by appointment.
The shelter is located off the I-94 Bloom Exit.   Call 701-252-0747, or on line visit jamesriverhumanesociety.org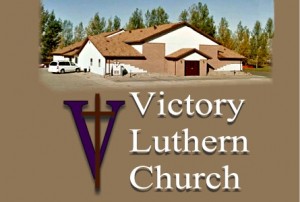 Jamestown  (CSi) Victory Lutheran Church, located at 510 9th Ave. SW, will host its 16th Annual Community Christmas Dinner, Sunday, December 15th, from 11:30 – 1:30 p.m. in the Fellowship Hall.
A complete turkey meal with all the trimmings will be served.  Meals will also be delivered to those who are unable to attend at the church. Please call the church office at 251-1570 before 3 p.m. on Friday, December 13th to be assured of home meal delivery Sunday.
This Community Christmas Dinner is an outreach to the community of Jamestown because "Jesus is the Reason for the Season"!  Anyone wishing to join us as we celebrate the birth of Jesus is welcome!
Jamestown  (CSi)   The City of Jamestown is currently accepting applications for the following:  2 open positions on the Board of Adjustments—3 year terms to January 2023
1 open position on the Civil Service Commission—5 year term to January 2025
1 open position on the Jamestown Regional Airport Authority—5 year term to December 2024
Anyone interested in serving on the above committees/boards should complete an "Application for Appointment". The application may be obtained in person at City Hall, 102 3rd Ave SE, Jamestown, ND, by calling 701-252-5900 or online at jamestownnd.org and select government tab/city committees to download the form.
The application should be returned by December 27, 2019, to:
City of Jamestown
Attn: Appointments
102 3rd Avenue SE
Jamestown, ND 58401-4205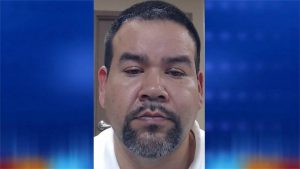 Fargo, N.D. (Valley News Live) The U.S. Marshals are warning the public about a fugitive considered dangerous that escaped from a recovery center in Fargo.
Authorities want to find 37-year-old Timothy Beaulieu, Jr. He's described as a Native American man from Red Lake, MN, who is wanted for suspicion of escape.
Beaulieu Jr. failed to return to Centre, Inc. after signing out at 6:32 pm Thursday to go to Lighthouse Church in Fargo.
Beaulieu Jr. is 5'8" and weighs approximately 218 pounds. He was last seen wearing a brown overcoat, black zip-up jacket, red t-shirt, blue jeans, and red sneakers.
On September 20, 2016, Beaulieu Jr. pleaded guilty in U.S. District Court in St. Paul, MN, to aiding and abetting possession with intent to distribute heroin.
He was sentenced to serve 5 years in prison. The U.S. Bureau of Prisons placed him at Centre, Inc. in September 2019 to serve the remainder of his federal sentence. He was due to be released on January 30, 2020.
Beaulieu Jr. should be considered dangerous due to previous convictions for violent crimes.
If you see Beaulieu Jr. or have information about his location do not approach him. Instead, call local law enforcement or the U.S. Marshals Service at (701)297-5760.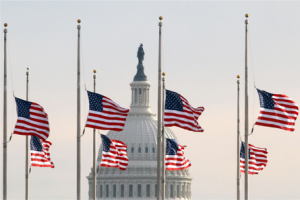 Bismarck  (Gov. Burgum's Office)– Gov. Doug Burgum has directed all government agencies to fly the United States and North Dakota flags at half-staff on Saturday, Dec. 7, and encourages North Dakotans to do the same at their homes and businesses, in observance of National Pearl Harbor Remembrance Day.
The governor's directive is in accordance with a proclamation issued today by President Donald Trump, which states, "Seventy-eight years ago today, the course of our Nation's history was forever altered by the surprise attack at Pearl Harbor on Oahu, Hawaii. On National Pearl Harbor Remembrance Day, we solemnly remember the tragic events of that morning and honor those who perished in defense of our Nation that day and in the ensuing 4 years of war."
WASHINGTON (AP) — A Republican senator has blocked a resolution that would recognize the mass killings of Armenians by Ottoman Turks a century ago as genocide. Sen. Kevin Cramer of North Dakota said he blocked the resolution Thursday at the request of the White House. Officials called the timing inappropriate, since President Donald Trump had just returned from a NATO summit in London, where Turkey's role in the mass killing was discussed by NATO leaders. Turkey is a NATO member. Turkey disputes the description of mass deportations and killings of Ottoman Armenians as genocide.
BISMARCK, N.D. (AP) — North Dakota State College of Science's president and two of its vice presidents are billing the state more than $36,000 in legal fees after a prosecutor declined to pursue criminal charges against them in the wake of a critical audit report, records obtained by The Associated Press show.Attorneys for the Wahpeton-based school President John Richman and vice presidents Tony Grindberg and Dennis Gladen argue their clients are due the fees under North Dakota law, although state lawyers have not made that determination.
In sports…
Friday…
Afternoon…
NAIA National Championship, Sioux City, Iowa
Jamestown def Lindsay Wilson College 18-25 32-30 21-25 27-25 15-8
The Jimmies take on Northwestern College at 8:15-p.m., Friday.
Valley City  (Chamber report)  The Valley City Parks & Recreation 4th Annual Pizza Corner Youth Basketball Tournament  will be held in Valley City, Saturday, December 14.
There will be lots of activity as there is 64 teams coming to town ages 4th grade through 8th grade.  Games will be starting at 9 am through 8 pm in the Rec Center, Wellness Center and at the HAC.
Lexington, KY-  The University of Jamestown's Britta Knudson (SR/Bismarck, N.D.) and Isabel Wedell (SR/Ellendale, N.D.) were named to the American Volleyball Coaches Association West Central Region First Team, as the organization announced its regional honors Thursday.
Knudson currently leads the Jimmies with a career-high 309 kills, a .355 hitting percentage, and 166 total blocks. She ranks second nationally in blocks and is 10th in hitting percentage.
Wedell is second on the team with a career-best 290 kills and is hitting .238. She has a .948 serving percentage in 427 attempts.
Assistant coach Jake Fulsom was named West Central Region Assistant Coach of the Year.
2019 marks the 12th consecutive season Jamestown has had one or more players earn AVCA All-Region recognition.
2019 AVCA NAIA Regional Awards
In world and national news…
PENSACOLA, Fla. (AP) — Two U.S. officials have identified the shooter at the Naval Air Station in Pensacola as a second lieutenant in the Saudi Air Force. The officials say authorities are investigating whether Friday's attack was terrorism-related. The officials spoke on condition of anonymity to disclose information that had not yet been made public. The shooting was the second at a U.S. Navy base this week. Escambia County Sheriff David Morgan says 11 people were shot, four of whom died, including the shooter. Base commander Capt. Timothy Kinsella Jr. says the base will remain closed until further notice.
HONOLULU (AP) — A U.S. military official says the Navy sailor who fatally shot two people at Pearl Harbor before killing himself was unhappy with his commanders and was undergoing counseling. The official spoke Friday on condition of anonymity to discuss personnel matters not made public. He also said that sailor Gabriel Romero faced an administrative process for minor misconduct. Romero also wounded another person in Wednesday's attack before turning the gun on himself at the storied military base. In a second attack at a Navy base this week, a shooter opened fire Friday at Naval Air Station Pensacola in Florida. Four people were killed, including the assailant.
MIAMI (AP) — Court and prison records show the two robbery suspects who hijacked a UPS driver on a wild police chase across South Florida had criminal histories. Cousins Lamar Alexander and Ronnie Jerome Hill died along with UPS driver Frank Ordonez and an unidentified bystander during Thursday's gunbattle with police. Officials say Alexander and Hill robbed a jewelry store, seized the UPS truck and fired at pursuing officers before getting in at a stoplight. Relatives of the victims are questioning why officers had to unleash a torrent of gunfire. Policing experts say they had to contain the criminals before others were taken hostage.
BAGHDAD (AP) — Iraqi officials say 15 people have been killed in Baghdad's Khilani Square as unknown assailants fired live ammunition from cars. Security and medical officials say at least two of the dead were policemen. Protesters fearing for their lives ran from the plaza to nearby Tahrir Square and mosques to take cover. Protesters are occupying part of Jumhuriya, Sinak and Ahar bridges in a standoff with security forces. All bridges lead to or near the heavily-fortified Green Zone, the seat of Iraq's government.
WASHINGTON (AP) — The Trump administration is slapping sanctions on three Iran-backed Iraqi militia leaders for violent suppression of protests that have wracked the country. The Treasury and State Department also hit a wealthy Iraqi businessman with sanctions for bribery and corruption. The sanctions freeze any assets those targeted may have in U.S. jurisdictions and also bar Americans from doing business with them. The move comes amid reports that some 400 people have been killed in crackdowns against demonstrators protesting corruption and misgovernance.