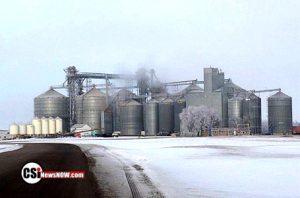 (INFORUM)  Names have been released in a construction accident that killed one and injured another on Dec. 7 at Eldridge, North Dakota.
Stutsman County sheriff, Chad Kaiser says 25 year old Darin Dejno, of Grand Forks, was killed in the accident.  54 year old David Kutcka, from the Grand Forks area, was injured and airlifted to a Fargo hospital for treatment.
The accident occurred during construction work at Country Grain Cooperative when a segment of the crane arm detached from the rest of the arm and fell to the ground striking the two men.
Kaiser adds the Stutsman County investigation to the incident has been completed although other agencies also investigated.
Previously…
.ELDRIDGE  (Valley News Live)– A construction accident west of Jamestown, at Eldridge, on Friday has left one person dead.
Stutsman County Sheriff Chad Kaiser reports that the accident at Country Grain Cooperative, involved a construction crane working on a grain elevator, about 1:20-p.m.
Kaiser says, a section of the crane's boom slid off and fell, striking two people on the ground. One individual was pronounced dead at Jamestown Regional Medical Center and the other was airlifted to a Fargo hospital for treatment.
More information as the story develops.