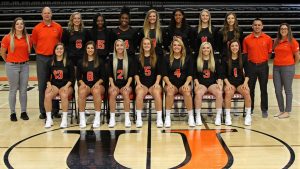 Update…
Please note the updated estimated time of arrival for the UJ Women's Volleyball Team
is 3 p.m. on Sunday, December 8. Watch for any additional updates via UJ social media posts.
Jamestown  (uj.edu)  The University of Jamestown Women's Volleyball Team placed in the top four teams in the nation on Saturday, December 7, at the NAIA National Tournament.
This is the highest placing ever for any UJ team at a national tournament.
Join us at approximately 3 p.m. on Sunday, December 8, inside Harold Newman Arena on the University's campus as we welcome the busload of Jimmie players and their coaches back to Jamestown. Plan to greet them in your orange and black Jimmie attire.
Watch for updates on UJ social media for posts about the arrival of our team in Jamestown.
Dr. Polly Peterson, University of Jamestown President, says, "We are extremely proud of these young women. The passion and perseverance they have shown throughout the season, and especially at the national tournament, has been an inspiration to watch.
Many of our Women's Volleyball players have grown up watching the Jimmies, dreamingof the day that they would have a chance to place in the Final Four while wearing the orange and black. Their journey has been a joy to watch."
SIOUX CITY, Iowa  (uj.edu)  — The most successful season in University of Jamestown athletics history came to an end Saturday as the eighth-ranked Jimmie volleyball team lost 3-1 to No. 11 Marian (Ind.) in the semifinals of the NAIA Women's Volleyball National Championship presented by Marriott South Sioux City Riverfront.
Jamestown ends the season with a record of 33-6, a new program record, and advanced further in the postseason than any other Jimmie team.
Marian (37-2) will face Westmont (Ca.) in the championship match Saturday at 7 p.m.
The Knights took set one by a score of 25-16. Leading 12-10, Marian ran off five straight points and eight of the next nine to open up a 20-12 advantage. Jamestown made six attack errors and was outhit .250-.082 in the set.
UJ reversed its fortune in the second set, winning 25-18 on the strength of a .311 hitting percentage. The Jimmies had only two attack errors compared to Marian's eight.
Marian took a 2-1 match lead with a 25-20 third set victory. The Knights had 17 kills to UJ's eight, and despite 10 attack errors, outhit the Jimmies .125-.002.
The Knights kept up their strong offensive play in closing out the match 25-20. Jamestown hit .173 with seven errors while Marian had three errors and hit .269.
Isabel Wedell (SR/Ellendale, N.D.) (14 kills, .250 hitting) and Taylor Sabinash (SO/Kensal, N.D.) (career-high 13 kills, .333 hitting) led the Jimmie offense.
Both Miranda Lowman (SR/Mandan, N.D.) (22 assists, 17 digs) and Jackie Meiklejohn (SO/Dickey, N.D.) (20 assists, 12 digs) recorded double-doubles.
Sydney Ellingson (JR/Langdon, N.D.) (24), Anna Holen (SO/LaMoure, N.D.) (22), and Hannah Schiele (SO/Jamestown, N.D.) (20) combined for 66 of UJ's 102 digs. Corina Ruud (JR/Breezy Point, Minn.) had four total blocks, followed by Jordan Thomas (SR/Pingree, N.D.) and Britta Knudson (SR/Bismarck, N.D.) with three. Ellie Michaletz (JR/Aitkin, Minn.) had Jamestown's only solo block.
Ellingson finished the season with 663 digs, which is the sixth-most in a single season. Knudson ended the year with 184 total blocks to lead the NAIA. That total puts her second on UJ's single-season list. She also hit .345 this season, which is the seventh-best in program history.