Jamestown  (JRMC) — Jamestown Regional Medical Center (JRMC) recently announced that Jayde Van Fleet and Tabitha Kleingartner are the most recent Legend Award recipients.
Photo: Courtesy JRMC,  (L to R): JRMC Chief Financial Officer Bev Fiferlick, Chief Nursing Officer Trisha Jungels, Tabitha Kleingartner, Jayde Van Fleet, Pharmacy Manager Brian Ament, President & Chief Executive Officer Mike Delfs.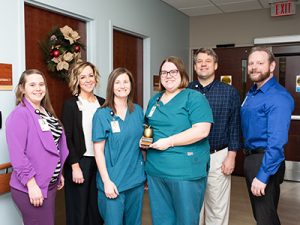 The Legend Award is the most prestigious distinction for a JRMC employee. The Legend Award recognizes employees who exceed expectations and make THE difference in the lives of those they serve.
The JRMC Emergency Department and Pharmacy Manager, Brian Ament, nominated Van Fleet and Kleingartner because of their extraordinary work to help prevent their patients from traveling miles for their treatment and going the extra mile to provide the best care for them.
JRMC Pharmacy Manager, Brian Ament wrote, "JRMC received notification that two different patients were to receive a chemotherapy drug on Friday, Oct. 11 at the JRMC Cancer Center. Due to the weather, it was unlikely that JRMC would receive the drugs in time. Van Fleet and Kleingartner worked with the vendor, FedEx, Fargo Sanford's pharmacy and the Jamestown Area Ambulance to safely deliver the chemotherapy drugs, so that the patients could have treatment."
Originally from Devils Lake, Van Fleet joined the JRMC team in 2018. Kleingartner, a Jamestown native, joined JRMC in 2016.
JRMC's 350 employees cast anonymous votes to select each Legend Award winner.
The purpose of the Legend Award is to inspire, motivate and capture the moments that define JRMC. The goal is to help employees and volunteers connect to the sense of purpose that brought them to the organization. This award is for employees who've made extreme efforts to benefit their patients and colleagues.
JRMC President & CEO, Mike Delfs, addsm "The nominations inspire staff members to continually be the best, exceed expectations and make THE difference in the lives of those we serve."
Once nominated, both JRMC administration and employees vote on their favorite nominees and their stories.
JRMC Chief Operating Officer Ricki Ramlo says, "Weather-related events bring out the best in JRMC employees. Jayde and Tabitha are an example of the amazing accomplishments and delivery of care from the staff at JRMC during inclement weather. Their quick thinking and actions are celebrated and are part of the JRMC work culture.  Medical emergencies and cancer treatments do not rest during blizzard conditions; creativity and diligence are paramount as staff provides care in undesirable conditions. Jayde and Tabitha were THE difference to our patients."
The Legend Award first began in 2012. Since then, more than 40 individuals have been named Legends and more than 112 employees were nominated.
To read their full story, visit www.jrmcnd.com.
About Jamestown Regional Medical Center
Jamestown Regional Medical Center is located at 2422 20th St. SW, Jamestown, N.D. and serves approximately 55,000 people in nine counties. In 2019, it was named a "Top 100 Critical Access Hospital" as well as a "Best Places to Work in Healthcare." For more information, visit www.jrmcnd.com or call 701-952-1050.