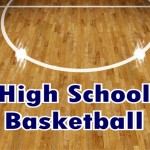 Valley City –  (Kari Bodine, VCSU) – The bracket for the 103rd annaul Barnes County Boys Basketball Tournament has been set.
Eight teams will converge on Valley City State University for the annual tournament in January.
The quarterfinals of the tournament will be played on Tuesday, Jan. 14. The semifinals are on Thursday, Jan. 16, and the tournament concludes with the championship and placing games on Friday, Jan. 17.
All 12 games will be played at Valley City State University's W.E. Osmon Fieldhouse. Tournament history, records and past results can be found at www.vcsuvikings.com/bct.
Enderlin has been named the top seed for this year's tournament and will open with the 3 p.m. game against  No. 8 Finley-Sharon/Hope-Page on Jan 14. Milnor/North Sargent is the No. 4 seed and plays No. 5 LaMoure/Litchville-Marion at 4:30 p.m.
Griggs County Central is the No. 2 seed and takes on No. 7 Sargent Central at 6 p.m. in the first round. No. 3 seed Maple Valley will play No. 6 seed Barnes County North at 7:30 p.m. on Jan 14.
Games on Jan. 16, and Jan. 17, begin at 3 p.m.
Major tournament sponsors include the Valley City Convention and Visitors Bureau, the Valley City Chamber of Commerce, Pizza Corner, Valley City State University, and VCSU Athletics.
At VCSU…
Tuesday Results…
Enderlin 85, Finley-Sharon/Hope-Page 52
LaMoure/Litchville-Marion 46, Milnor/North Sargent 37
Griggs County Central 50, Sargent Central 46
(2OT) Maple Valley 62, Barnes County North 61
(Scores Courtesy of Kari Bodine, VCSU)
Next:
The 2020 Boys Barnes County Tournament resumes Thursday, Jan. 16 with the following games:
Consolation Semis
3 p.m. – Finley-Sharon/Hope Page vs. Milnor/North Sargent
4:30 p.m. – Sargent Central vs. Barnes County North
Semifinals
6 p.m. – Enderlin vs. LaMoure/Litchville-Marion
7:30 p.m. – Griggs County Central vs. Maple Valley
Friday, Jan. 17
3 p.m. – 7th place
4:30 p.m. – 5th place
6 p.m. – 3rd place
7:30 p.m. – Championship