The community is the reason the JRMC  is here. Jamestown Regional Medical Center is welcoming the public to a Business After Hours on January 14.
In conjunction with the Chamber of Commerce, Business After Hours will celebrate the JRMC Clinic and JRMC Cancer Center. Attendees can tour the spaces and see new equipment, purchased by the community. Some of that equipment includes vein lights, R.O.S.I.E. the germ-zapping robot and future fetal heart monitors.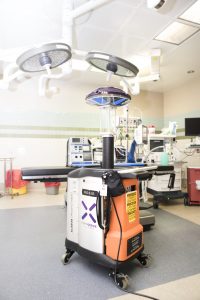 JRMC, President, and CEO, Mike Delfs, says, "JRMC's had a big year. With the opening of the cancer center, the onboarding of new physicians and implementing new equipment <like R.O.S.I.E.,  and the fetal heart monitor, we're grateful. This is how we can be THE difference in the lives of those we serve. We hope the community will join us in celebration."
Business After Hours at JRMC is set for 4:30 p.m. to 6 p.m. Tuesday, Jan. 14. Please use the clinic entrance at on the southwest side of the building. The event is free and open to the public.
About Jamestown Regional Medical Center
Jamestown Regional Medical Center is located at 2422 20th St. SW, Jamestown, N.D. and serves approximately 55,000 people in nine counties. In 2019, it was named a "Top 100 Critical Access Hospital" for the sixth consecutive year. Modern Healthcare named JRMC a "Best Places to Work in Healthcare" each year since 2017.  For more information, visit www.jrmcnd.com or call (701) 952-1050.