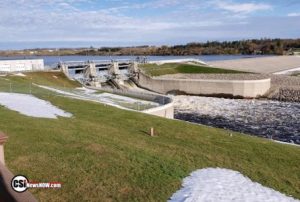 St. Paul, MN  (USACE)  –The U.S. Army Corps of Engineers, St. Paul District, is adjusting the amount of water being released from its Baldhill Dam, near Valley City, North Dakota.
Water management officials plan to begin releasing 400 cubic feet per second, or cfs, on Monday, Jan. 13, in order to increase the amount of flood storage capacity within Lake Ashtabula. The new target lake elevation for the spring snowmelt is now around 1,259.0 feet NGVD29. This is 3.5 feet lower than the previous goal of 1,262.5 feet NGVD29.
The changes are being made due to recent snow surveys conducted within the basin that indicated around 2 inches of water within the snowpack. Corps staff will continue monitoring conditions within the basin and additional water level changes may be made in the future.
Ice conditions may become less safe as a result of the increased outflows from the dam. People recreating on or near Lake Ashtabula or downstream of Baldhill Dam on the Sheyenne River should use extreme caution.