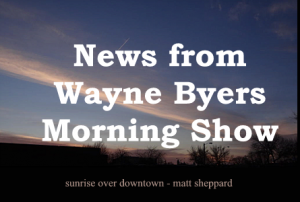 CSi Weather…
.REST OF TODAY…Mostly sunny. Colder. Highs zero to 5 above. Northwest winds 10 to 20 mph. Lowest wind chills around 30 below in the morning.
.TONIGHT…Snow. Snow accumulation around -3  inches. Patchy blowing and drifting snow after midnight.  Lows around 10 below. North winds 10 to 15 mph. Wind chills around 25 below.  Chance of snow 90 percent.
.WEDNESDAY…Mostly cloudy with a 30 percent chance of snow in
the morning, in the Jamestown area, 50 percent in the Valley City area,  then mostly sunny in the afternoon. Highs around 5 below. Northwest winds 15 to 20 mph. Wind chills around 30 below.
.WEDNESDAY NIGHT…Mostly clear. Lows around 20 below. Northwest
winds 5 to 10 mph. Gusts up to 25 mph in the evening.
.THURSDAY…Increasing clouds. Highs around 5 below. North winds
around 5 mph shifting to the southeast in the afternoon.
.THURSDAY NIGHT…Mostly cloudy. Lows around 10 below.
.FRIDAY…Cloudy. Chance of snow in the morning, then snow likely
in the afternoon. Highs 15 to 20. Chance of snow 60 percent.
.FRIDAY NIGHT…Mostly cloudy. Snow likely in the evening, then
chance of snow after midnight. Patchy blowing and drifting snow
after midnight. Lows around 5 below. Chance of snow 60 percent.
.SATURDAY…Mostly sunny. Patchy blowing and drifting snow
through the day. Highs zero to 5 above.
.SATURDAY NIGHT…Partly cloudy. Lows around 10 below.
.SUNDAY…Partly sunny. Highs zero to 5 above.
.SUNDAY NIGHT…Mostly cloudy. A 20 percent chance of snow in the
evening. Lows around 10 below.
.MARTIN LUTHER KING JR DAY…Partly sunny. Highs zero to 5 above.
A return to a cold and active pattern is expected for the extended
period featuring hazardous wind chills and frequent chances for
light snow. A late week storm system may bring higher snow chances
to the region.
The James Valley looks to receive at least some light snow accumulations Friday/Friday night.  The exact amount is not know at this time.
Jamestown  (CSi) – Jamestown and Valley City are challenging each other to be the most counted during the 2020 U.S. Census.
A kickoff event has been scheduled for January 14, 2020, at 2 p.m. in the Jamestown City Council Chambers.
Valley City Mayor Dave Carlsrud has challenged Jamestown Mayor Dwaine Heinrich to a response rate competition. The competition will pit Jamestown against Valley City to see who can get more residents to respond and get counted for the 2020 U.S. Census.
Mayor Carlsrud says, "After the census response period ends on July 31, we will compare the cities' "self-response rates" — that is, the percentage of residents in each city who voluntarily self-responded to the census, as tabulated by the U.S. Census Bureau."
The city with the higher self-response rate/percentage will be declared the winner.  The "losing" city's mayor will have to wear a baseball cap promoting the "winning" city (e.g., "I Love Valley City") at the next televised city meeting. This is a friendly competition that is aimed at raising awareness and participation in both communities.
Manager of the Census Office at the North Dakota Department of Commerce, Kevin Iverson says, "Counting everyone across the state is vitally important. Every person we fail to count will cost the state of North Dakota more than $19,000 over the next 10 years. That is money we need for roads, emergency services, healthcare services, school programs, etc."
The challenge event was created by the Jamestown Complete Count Committee (CCC), a volunteer committee established by local governments and community leaders to increase awareness about the 2020 U.S. Census and encourage local residents to respond.
Mayor Heinrich adds, "Each CCC is charged with developing and implementing an outreach plan designed to target and address the needs of its community. This process involves identifying populations within the communities that are traditionally undercounted and working with the 'trusted faces' of those groups to increase self-response rates."
Both mayors will give short statements, during the January 14, event.
Jamestown, (CSi)  The City of Jamestown is currently accepting positions for:
One open positions on the Board of Adjustments—3 year terms to January 2023
One open position on the James River Valley Library System Board—3 year term to March 2023
Anyone interested in serving on the above committees/boards should complete an "Application for Appointment". The application may be obtained in person at City Hall, 102 3rd Ave SE, Jamestown, ND, by calling 701-252-5900 or online at jamestownnd.org and select government tab/city committees to download the form.
The application should be returned by February 14, 2020, to:
City of Jamestown
Attn: Appointments
102 3rd Avenue SE
Jamestown, ND 58401-4205
Valley City  (CSi)  The District 24 Democratic-NPL will be holding its annual convention on Sunday, January 26 at 4 pm at the Gaukler Wellness Center (2nd floor) at 733 8th Avenue Southwest in Valley City.
Scheduled business will include the revision and approval of the District platform, endorsing State House and State Senate candidates, electing delegates to the North Dakota Democratic-NPL State Convention which will be held in Minot on March 19-21.
Speakers at the District Convention will be Senator Joan Heckaman, minority leader of the ND Senate and Representative Joshua Boschee, minority leader of the State House.
Also, information will be shared on how Democrats can participate in the Dem-NPL Presidential Primary Voting. A new method will be used and folks can vote either by mail or in person for this presidential primary. The in-person voting for the Democratic Presidential Primary/caucus will be on March 10 at District 24 Dem-NPL Headquarters in the Straus Mall.
Residents of District 24 are encouraged to attend this District 24 Dem-NPL convention.
For more information or questions call Sharon Buhr at 701-840-0973.
Valley City (CSi)  The North Dakota Winter Show in Valley City is March 1-7, 2020 in Valley City.
The  "Leap into NDWS" Concert will be held on February 29th with the Party in the Dirt Entertainer, Jerrod Nieman.
Regional favorite Tripwire, will open the concert.
Tickets are available now and are $30 or $35 the day of the show. Show is courtesy of i3G Media, the North Dakota Winter Show, Enterprise Sales, Didiers Ag Center, and Budwieser.
Click HERE for the tentative schedule
MINOT, N.D. (AP) — Minot police have released the name of a 29-year-old man who was fatally shot over the weekend. Authorities identify the victim as Dominick Stephens of Minot. Officers were called to northwestern Minot early Sunday on a report of gunshots. A few minutes later, dispatchers received a report of a vehicle that crashed near the Minot State University Dome. Authorities determined that Stephens, who was driving the vehicle, had been shot. He was pronounced dead at a Minot hospital. Investigators are working on multiple leads, but police on Monday reported no arrests. Police are calling the shooting an isolated incident.
(AP)  A Minnesota man has been sentenced to 35 years in prison for a fatal drive-by shooting in Fargo. Forty-five-year-old Miguel Cooley earlier pleaded guilty to intentional homicide in Cass County Circuit Court. Cooley killed 20-year-old Gabriel Perez as the victim sat on a curb outside a McDonald's restaurant in September 2018. Court records say investigators believed Cooley was jealous over a relationship his wife had with Perez. Cooley, from Moorhead, was arrested the day after the shooting in Mower County, Minnesota. The judge, in sentencing Cooley Monday, went along with the recommendation of both the prosecution and
Bismarck   Gov. Doug Burgum has proclaimed Jan. 26-Feb. 1 to be School Choice Week in North Dakota. The governor joins hundreds of city and county officials, as well as more than a dozen governors who have issued similar official proclamations for National School Choice Week 2020.
Throughout the Peace Garden State, 68 events and activities will raise awareness about educational opportunity. Whether assemblies at schools, discussions within homes, or rallies on the steps of the capitol building, these events aim to spark conversations about what educational options are already available and what educational options North Dakota parents still want for their children.
Across the country, more than 50,000 events will take place during National School Choice Week.
As a nonpartisan, nonpolitical public awareness effort, National School Choice Week shines a positive spotlight on effective education options for students, families, and communities around the country. From January 26 through February 1, 2020, more than 50,000 independently-planned events will be held in celebration of the Week. For more information, visit www.schoolchoiceweek.com/north-dakota.
In sports…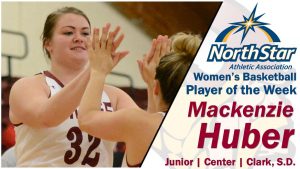 Madison, SD – Mackenzie Huber of Valley City State (N.D.) was selected to the No. 12 edition of the North Star Athletic Association (NSAA) Women's Basketball Player-of-the-Week, announced by the conference office Monday.
Mackenzie Huber is a  6'0″ – Senior – center from  Clark, S.D. – Huber shot 65.7 percent overall from the field (23-of-35 field goals) as Valley City State (N.D.) went 1-2 record for the week.  She also was near perfect at the free-throw line, converting 18-of-19 free-throws (94.7 percent).  After scoring 13 points and grabbing eight rebounds at Jamestown (N.D.) on Jan. 7, Huber scored a season-high 26 points and collected seven rebounds in helping the Vikings defeat Dakota State (S.D.) 82-72 on Jan. 10.  She followed up with a double-double of 25 points and 12 rebounds along with her career-high five blocks, despite a 72-63 home defeat against Bellevue (Neb.).  For the week, Huber averaged 21.3 points (64 total points), 9.0 rebounds (27 total rebounds), 2.0 blocks (6 total blocks) and 1.0 steals (3 total steals) per game for the Vikings.

Jamestown  (CSi)  Jamestown High School  senior setter Kameron Selvig was named the North Dakota Gatorade Volleyball Player of the Year. Selvig was a two-year starter for Sara Hegerle helping the Jays to a fifth place finish at the state tournament back in November.
Coach Hegerle, says, "This is a well deserved honor for Kameron. She has spent hours in the gym working and getting better.  I'm happy for her and looking forward to cheering her on during her college days at UMary."
Selvig was one of three athletes named Class A Senior Athlete of the Year following the state tournament. She finished the year with 883 assists, 136 kills and 176 digs.
Selvig maintains a 4.0 and is the number one student in her class. She is also a member of the student council and has volunteered as a youth volleyball coach.
Selvig also played on the 2017 state runner-up as a rotational player. She finished her career with 1757 assists.
Monday
BOYS PREP BASKETBALL=
Hazen 56, Underwood 54
Kenmare 57, Ray 52
Oakes 59, Napoleon/Gackle-Streeter 44
Strasburg-Zeeland 68, Bismarck Century 51
Tri-State 57, Waverly-South Shore, S.D. 44
Warwick 64, Mandaree 47
GIRLS PREP BASKETBALL=
Burke Central/ Bowbells Co-op 46, Powers Lake 45
Carrington 67, Barnes County North 6
Cavalier 44, Finley-Sharon/Hope-Page 40
Dakota Prairie 52, Lakota 25
Des Lacs-Burlington 64, South Prairie 34
Dickinson Trinity 53, Beulah 34
Drayton/Valley-Edinburg 49, Griggs County Central 25
Hazen 55, Richardton-Taylor 17
Hettinger/Scranton 61, Killdeer 25
Kindred 77, Central Cass 59
LaMoure-Litchville-Marion 64, Lisbon 31
Maple Valley 57, Midkota 51
Medina-Pingree-Buchanan 51, Edgeley-Kulm-Montpelier 39
Midway-Minto 63, Hatton-Northwood 33
Mobridge-Pollock, S.D. 37, Standing Rock 20
Mohall-Lansford-Sherwood 67, Lewis and Clark-Berthold 40
Our Redeemer's 61, Bishop Ryan 50
Park River/Fordville Lankin 49, Hillsboro/Central Valley 39
Richland 51, Oak Grove Lutheran 29
Rugby 61, Drake-Anamoose 17
Shiloh Christian 57, Flasher 46
Stanley 63, Ray 30
Thompson 70, Larimore 40
Velva 63, Towner-Granville-Upham 33
Westhope-Newburg 44, Nedrose 31
Wyndmere-Lidgerwood 44, Hankinson 32
COLLEGE FOOTBALL PLAYOFF
LSU takes CFP title
UNDATED (AP) — Joe Burrow's latest virtuoso performance has turned the LSU Tigers into CFP champions.
The Heisman Trophy winner threw for 463 yards and five touchdowns as the boys from Baton Rouge whipped the defending-champion Clemson Tigers, 42-25. Burrow also ran for 58 yards and a touchdown on 14 carries while guiding LSU to its third national championship since the 2003 season.
The five TD passes and 463 yards passing are the most for a BCS or College Football Playoff title game as are his six total touchdowns. Burrow is the first major college quarterback to throw 60 touchdown passes in a season.
Ja'Marr Chase was Burrow's favorite target with nine receptions for 221 yards and two scores. Thaddeus Moss also had two touchdown grabs as LSU completed a 15-0 season while ending Clemson's 29-game winning streak.
Clyde Edwards-Helaire (heh-LEHR') logged 164 yards of offense for LSU, including 110 on the ground.
Clemson's offense stalled after taking a 17-7 lead in the second quarter. Trevor Lawrence finished with 234 yards passing, but he completed just 18 of his 37 throws and had just 58 yards in the second half. Lawrence also ran for a one-yard score in the opening half.
Clemson tailback Travis Etienne ran for 78 yards and one touchdown while LSU held Tee Higgins in check. Clemson's top wideout was held to three catches for 52 yards, but he also scored on a 36-yard run.
It's the 10th national championship for an SEC school since 2006.
COLLEGE FOOTBALL-NEWS
Hubbard staying at OSU
UNDATED (AP) — All-America running back Chuba Hubbard will return to Oklahoma State for his junior season.
Hubbard ran for 2,094 yards and 21 touchdowns this season, enough to make him consider declaring for the NFL draft. He joined Barry Sanders as the only players in school history to rush for at least 2,000 yards in a season.
Also in college football:
— Arizona State football coach Herm Edwards' has received a two-year contract extension through 2024, pending approval by the state's board of regents. The Sun Devils were 7-6 on Edwards' first year at the helm in 2018, earning a trip to the Las Vegas Bowl. They went 8-5 in 2019 and beat Florida State in the Sun Bowl, leaving ASU 15-11 in two seasons under Edwards.
MLB-ASTROS-SIGN STEALING
Astros fire manager and GM after suspensions for sign-stealing
UNDATED (AP) — Major League Baseball Commissioner Rob Manfred has laid down punishment against the Houston Astros, and he's coming after the Boston Red Sox.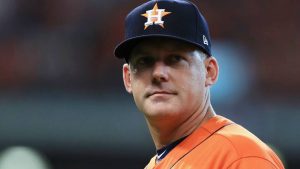 The Astros have fired manager AJ Hinch and general manager Jeff Luhnow (LOO'-now) after the pair were suspended by MLB for sign-stealing during the Astros' run to the 2017 World Series title. A league investigation found that the Astros used the video feed from a center field camera to see and decode the opposing catcher's signs. Players banged on a trash can to signal to batters what was coming, believing it would improve the batter's odds of getting a hit.
Houston was fined $5 million for sign-stealing by the team during its run to the 2017 World Series title and during the 2018 season, the maximum allowed under the Major League Constitution. The Astros will forfeit their next two first- and second-round draft picks.
Alex Cora was the bench coach on the 2017 Astros before spending the last two seasons with the Red Sox. Manfred said Cora developed the sign-stealing system used by the Astros. The Red Sox are under investigation for sign stealing in Cora's first season as manager in 2018, when Boston won the title.
In other MLB news:
— The Diamondbacks have finalized a three-year, $22 million contract with outfielder David Peralta (peh-RAHL'-tah) that runs through 2022. The 2019 Gold Glove Award winner in left field avoided his final year of salary arbitration by agreeing to the deal. Peralta played in 99 games last year, batting .275 with 12 homers despite battling a shoulder injury.
— The Nationals say 23-year-old pitching prospect Fausto Segura has died. ESPN Deportes reported that Segura died in a traffic accident Sunday night in his native Dominican Republic.
NBA..
UNDATED (AP)  — Shai Gilgeous-Alexander registered his first triple-double by furnishing 20 points, a career-high 20 rebounds and 10 assists in the Thunder's 12th victory in 15 games, 117-104 against the Timberwolves. Danilo Gallinari scored 30 points as Oklahoma City won for the sixth time in its last seven road games. The Thunder led by just three at halftime before reeling off runs of 11-2 and 10-3 in the third quarter.
The Boston Celtics squandered most of an 18-point halftime lead before winning their second straight since a season-high three-game skid.
Jayson Tatum contributed 21 points and Jaylen Brown had 19 as the Celtics downed the Bulls, 113-101. Boston led 55-37 before Chicago opened the second half on a 17-5 run. Zach Lavine (lah-VEEN') scored six of his game-high 30 points during the spurt.
Enes Kanter had 15 points and nine rebounds for the Atlantic Division leaders, who moved 2 ½ games ahead of Toronto and 3 ½ in front of Philadelphia.
Checking out Monday's other NBA action:
— The Lakers are a Western Conference-leading 33-7 after LeBron James contributed 31 points and eight assists in 33 minutes of a 128-99 blowout over the Cavaliers. Dwight Howard had 21 points and 15 rebounds off the bench for Los Angeles, which trailed by one at halftime before outscoring Cleveland 81-51 the rest of the way.
— T.J. Warren scored 21 points and blocked a late 3-pointer that would have given Philadelphia the lead before the Pacers held off the 76ers, 101-95. Malcolm Brogdon also had 21 points and added seven rebounds and nine assists as Indiana beat the Sixers for the second time in two weeks. Ben Simmons delivered 24 points and 14 rebounds for the 76ers, who fell to 1-2 since losing center Joel Embiid (joh-EHL' ehm-BEED') to a torn tendon in his left ring finger.
— Aaron Gordon made a three-point play with 1.1 seconds remaining to give the Magic a 114-112 triumph over the Kings. Gordon finished with 19 points and nine rebounds in his return to Orlando's lineup after missing one game with calf tightness. Nikola Vucevic (VOO'-she-vihch) had 26 points and 15 rebounds, while Evan Fournier scored 25 points for the winners.
— Damian Lillard's 30-point performance included a buzzer-beating 3-pointer from nearly halfcourt to end the third quarter of the Trail Blazers' 115-112 victory against the Hornets. Anthony Tolliver scored each of his season-high 16 points in the fourth quarter as Portland stopped a two-game skid and handed Charlotte its fifth consecutive loss. CJ McCollum finished with 27 points, for the Blazers, who won after wasting a 17-point lead.
— Lonzo Ball scored five of his 17 points in overtime to push the Pelicans past the Pistons, 117-110. Jalil Okafor had 25 points and 14 rebounds for New Orleans, which blew a 16-point lead over the final 11 minutes of regulation before winning for the eighth time in 11 games. Derrick Rose had 23 points and eight assists in Detroit's 12th loss in 15 games.
NBA-CAVALIERS-WINDLER
Cavs rookie done for season
CLEVELAND (AP) —Cavaliers rookie swingman Dylan Windler will miss the rest of the season with a leg injury he sustained during the preseason.
The No. 26 overall pick in last year's draft is still dealing with symptoms from a stress reaction in his lower left leg and will undergo surgery next Tuesday. The 6-foot-8 Windler averaged 21.3 points and 10.8 rebounds as a senior at Belmont last season.
NHL..
UNDATED (AP) — The Washington Capitals halted a two-game losing streak and padded their lead in the NHL's Metropolitan Division.
Alex Ovechkin (oh-VEHCH'-kihn) scored two first-period goals and Ilya Samsonov (sam-SAH'-nahv) notched his first career shutout by handling 23 shots in the Caps' 2-0 win against the Hurricanes. The first goal was the 685th for Ovechkin, moving him past Teemu Selanne (tay-mee she-LAH'-nee) for 11th place on the NHL's career list.
The win leaves the Capitals six points ahead of Pittsburgh and nine in front of the Islanders for the Metropolitan lead. The Hurricanes are 11 points back.
St. Louis continues to share the NHL's overall lead with the Caps following the Blues' 4-1 win over the Ducks.
Alexander Steen scored the first goal and Brayden Schenn added two assists as the Blues won their ninth straight at home to tie the team's single-season record.
Tyler Bozak, Jaden Schwartz and Ivan Barbashev (BAHR'-bah-shehv) also tallied for the defending champs, who have won four in a row after a three-game skid.
Elsewhere on NHL ice:
— Travis Konecny (kah-NEHK'-nee) scored in the fifth round of the shootout before Brad Marchand overskated the puck at center ice on his shootout attempt, completing the Flyers' 6-5 comeback over the Bruins. Travis Sanheim scored twice in regulation for the Flyers, who rallied from a three-goal deficit. David Krejci had two goals but couldn't stop Boston from falling one point off the NHL's overall lead.
— The Rangers rolled over the Islanders, 6-2 as Artemi Panarin (ahr-THE'-mee pah-NAH'-rihn) delivered two goals and three assists. Jesper Fast (YEHS'-pur fahst) had a goal and two assists to back Alexandar Georgiev (gee-OHR'-gee-ehv), who stopped 32 shots and improved to 3-0-1 versus the Isles. Jordan Eberle and Brock Nelson each had a goal and an assist for the Islanders who are 5-6-2 in their last 13 games to fall off the pace in the Metropolitan Division.
— Carey Price made 31 saves for his second shutout of the season as the Canadiens ended the Flames' five-game winning streak, 2-0. Price claimed his 46th shutout with the team, tying Ken Dryden for third on the franchise's career list. Jordan Weal and rookie Ryan Poehling scored for the Canadiens, who have won two straight since losing eight in a row.
NHL-NEWS
Leafs lose Rielly for at least 8 weeks with broken foot
UNDATED (AP) — The Toronto Maple Leafs have lost defenseman Morgan Rielly for at least eight weeks with a fractured foot.
Rielly blocked a shot in the first period of Sunday's 8-4 loss in Florida but managed to finish the game. Teenage defenseman Rasmus Sandin was called up from the AHL's Toronto Marlies in a corresponding move.
In other NHL news:
— Oilers forward Zack Kassian has been suspended for two games without pay for an altercation with Matthew Tkachuk (kah-CHUHK') during Saturday's loss to Calgary. Kassian grabbed the Flames forward by the collar, threw him to the ice and punched him several times to receive a double-minor for roughing and a 10-minute misconduct.
— A person with direct knowledge of the plans confirms to The Associated Press that women's national team players representing the United States and Canada will compete in a three-on-three event at the NHL All-Star game in two weeks. It's unclear when the three-on-three scrimmage will be held during the weekend of festivities in St. Louis. The scrimmages are seen as the next step in the league's bid to promote women's hockey.
NFL-BROWNS-STEFANSKI
Stefanski officially hired as Browns coach
UNDATED (AP) — Kevin Stefanski is getting a turn at fixing the busted Browns.
The Vikings offensive coordinator was officially hired by Cleveland on Monday as the 18th full-time coach in franchise history and 10th since the Browns' 1999 expansion return, which to this point has been a resounding two-decade debacle.
The 37-year-old Stefanski spent 14 seasons as an assistant in Minnesota and has never been a head coach at any level. He will be introduced at a news conference Tuesday at FirstEnergy Stadium.
In other NFL happenings:
— A New Hampshire prosecutor says a cocaine possession charge against Patriots safety Patrick Chung will be dropped. Chung must undergo periodic drug testing and perform 40 hours of community service. Chung was indicted in August after police in Meredith allegedly found a small quantity of drugs in his possession.
— Giants quarterback Eli Manning has won the 2020 Athletes in Action/Bart Starr Award. The award is given to an NFL player who best exemplifies outstanding character and leadership in the home, on the field and in the community. Manning just finished his 16th and possibly last season with the Giants.
COLLEGE BASKETBALL POLL
Baylor moves up to second spot
UNDATED (AP) — Baylor climbed to No. 2 in The Associated Press men's college basketball poll after resounding road wins over Texas Tech and Kansas last week.
Gonzaga maintained the top spot after breezing to a pair of victories while Duke dropped to third and unbeaten Auburn rose to fourth.
Butler rounded out the first five, followed by the Jayhawks and another unbeaten in San Diego State.
Oregon, Florida State and Kentucky rounded out the top 10.
NCAA-STUDENT ATHLETES-FLORIDA
Florida lawmakers debate if college athletes can be paid
TALLAHASSEE, Fla. (AP) — Florida lawmakers began considering on Monday whether they would allow college athletes to profit from their fame. The debate comes as the NCAA looks into possibly removing its longstanding prohibition against it.
Florida would follow the lead of California, which last year ignored pleas by the NCAA to keep the prohibitions in place. The NCAA had argued that allowing the practice "would erase the critical distinction between college and professional athletics." College sports generate billions of dollars in revenue, including $1 billion annually for the NCAA. But none of that money goes to college athletes.
In world and national news…
WASHINGTON (AP) — Senate Republicans are signaling they will reject the idea of simply voting to dismiss the articles of impeachment against President Donald Trump. As the House prepares to send the charges to the chamber, senators are still negotiating the ground rules for the historic trial. Trump has suggested Republicans could dismiss the charges. But key senators say that is not likely and they want to hear the case. Trump is charged with abuse of power for pushing Ukraine to investigate Democratic rival Joe Biden. He also faces a charge of obstruction of Congress in the probe. Trump says he did nothing wrong.
TEHRAN, Iran (AP) — Iran's judiciary says arrests have been made over the shootdown of a Ukrainian plane that killed all 176 people on board. A judiciary spokesman says that "extensive investigations have taken place and some individuals are arrested." He was quoted by Iranian state media on Tuesday, but did not say how many individuals have been detained or name them. Earlier in the day, Iranian President Hassan Rouhani called for a special court to be set up to try those responsible for the plane shootdown.
DUBAI, United Arab Emirates (AP) — The United States is warning of threats to commercial vessels in and around the Persian Gulf in the wake of its confrontation with Iran. It said vessels transiting the key oil-trading route could encounter GPS interference or communications jamming. It said some vessels have reported communications from "unknown entities falsely claiming to be U.S. or coalition warships." Tensions have soared since the U.S. airstrike that killed Gen. Qassem Soleimani, Iran's top general and the architect of its regional military activities. Iran responded by firing ballistic missiles at U.S. troops in Iraq, without wounding anyone, and accidentally shot down a Ukrainian jetliner near Tehran, killing all 176 on board.
BOSTON (AP) — A U.S. cybersecurity company says Russian military agents successfully hacked the Ukrainian gas company at the center of the scandal that led to President Donald Trump's impeachment. Russian agents launched a phishing campaign in early November aimed at stealing the login credentials for employees of Burisma Holdings, the gas company, according to Area 1 Security, a Silicon Valley company that specializes in e-mail security. It is not clear what the hackers were looking for or may have obtained, although the operation's timing suggests that Russian agents may have been searching for material that could damage former U.S. vice president Joe Biden, whose son Hunter previously served on Burisma's board.
(AP) Delta Air Lines says it earned $1.1 billion in the fourth quarter by operating more flights and filling a higher percentage of seats. That's an 8% increase from Delta's profit in the same quarter a year earlier. Lower fuel prices helped Delta save more than $300 million. The financial results beat Wall Street expectations. Delta and other U.S. airlines are enjoying a prolonged period of profitability thanks to steadily rising demand for travel. Delta CEO Ed Bastian thinks the industry's good times will continue because travel is outpacing many other sectors of the economy.