Jamestown  (CSi)  At the Jamestown/Stutsman Development Corporation (JSDC) monthly meeting on Monday, the Board approved  $250,000 in the 2020 Flex Pace Loan fund.
On Tuesday's Wayne Byers Show on CSi Cable 2, JSDC Business Development Director, Corry Shevlin said, the funds come from the City Sales Tax and the Stutsman County Economic Development Mill Levy.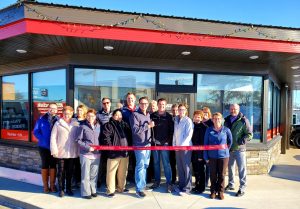 He added that the JSDC Board approved CDBG funds for Nick Bruns Nodak Mutual Insurance Agency for façade improvements to the new location on First Avenue North in Jamestown at a former gas station that has been rehabbed.
Following a Public Hearing at the January 6 meeting the Jamestown City Council approved, carrying out the city's  community development responsibilities related to the $33,334.00 Community Development Block Grant (CDBG) for River Rock Investments, 302 1st Ave North, and to obtain citizen views and to respond to proposals and questions.
Mayor Heinrich has said, that the funding comes from the CDBG program to improve building facades.
In other JSDC business Shevlin said the Board approved the 2020 goals, and pointed to new projects coming soon, funded by JSDC.