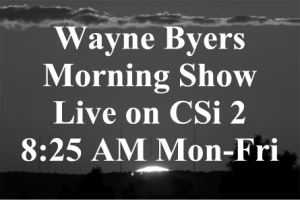 CSi Weather…
…WIND CHILL ADVISORY REMAINS IN EFFECT UNTIL 3 PM CST
THURSDAY…
…WINTER STORM WATCH IN EFFECT FROM FRIDAY EVENING THROUGH SATURDAY EVENING..
* WHAT…For the Wind Chill Advisory, very cold wind chills. Wind
chills as low as 40 below zero.
For the Winter Storm Watch,blizzard conditions possible. Total snow accumulations of 1 to 3 inches possible. Winds could gust as high as 50 mph.
* WHERE…Portions of south central and southeast North Dakota.Portions of northeast and southeast North Dakota.
* WHEN…For the Wind Chill Advisory, until 3 PM CST Thursday. For
the Winter Storm Watch, from Friday evening through Saturday
evening.
* IMPACTS…Plan on slippery road conditions. Widespread blowing
snow could significantly reduce visibility. The hazardous
conditions could impact the morning or evening commute. Gusty
winds could bring down tree branches. The dangerously cold
wind chills could cause frostbite on exposed skin in as little
as 10 minutes.
PRECAUTIONARY/PREPAREDNESS ACTIONS…
Use caution while traveling outside. Cover all exposed skin.
Prepare for possible blizzard conditions. Continue to monitor the
latest forecasts for updates on this situation.
Forecast…
TODAY…Sunny. Highs around 5 below. South winds 5 to 10 mph shifting to the southeast around 15 mph in the afternoon. Wind chills around 35 below.
.TONIGHT…Partly cloudy. Patchy blowing and drifting snow through the night. Not as cold. Lows around 5 below. Temperatures rising into the upper single digits after midnight. Southeast winds 15 to 20 mph increasing to around 25 mph after midnight. Wind chills around 30 below.
.FRIDAY…Increasing clouds. A 40 percent chance of snow in the Jamestown area, 70 percent in the Valley City area. Patchy blowing and drifting snow. Not as cold. Highs in the upper 20s. Southeast winds around 25 mph.
.FRIDAY NIGHT…Snow. Areas of blowing and drifting snow in the
evening. Blowing and drifting snow after midnight. Visibility one
quarter mile or less at times after midnight. Windy. Light snow
accumulations. Lows near zero. Southwest winds 15 to 25 mph
increasing to northwest 30 to 35 mph with gusts to around 50 mph
after midnight.  Chance of snow 90 percent.
.SATURDAY…Mostly cloudy.  A 30 percent chance of light snow in
the morning.  Blowing and drifting snow. Visibility
one quarter mile or less at times. Windy, colder. Highs zero to
5 above. Northwest winds 30 to 35 mph with gusts to around
50 mph.
.SATURDAY NIGHT…Partly cloudy. Areas of blowing and drifting
snow through the night. Lows around 10 below.
.SUNDAY…Mostly sunny. Highs near zero.
.SUNDAY NIGHT…Partly cloudy. Lows around 10 below.
.MARTIN LUTHER KING JR DAY…Sunny. Highs 5 to 10 above.
.MONDAY NIGHT…Mostly clear. Lows around 5 below.
.TUESDAY…Sunny. Highs around 20.
.TUESDAY NIGHT…Partly cloudy. Lows 5 to 10 above.
.WEDNESDAY…Partly sunny. Highs in the lower 20s.
Jamestown  (CSi)  A former patient of the North Dakota State Hospital charged with attempted murder and and aggravated assault of a State Hospital staff member is tentatively scheduled to go on trial next month
32 year old Jason Benefiel, is accused of striking and choking an employee of the State Hospital on March 29, 2019, at the State Hospital.
Southeast District Court Judge, Cherie Clark tentatively scheduled the jury trial for February 25 in Jamestown.
Clark denied a request from the Stutsman County state's attorney's office to order a third psychiatric evaluation of Benefiel. Joseph Nwoga, assistant state's attorney said the additional evaluation would be conducted by someone who is an expert in cases of malingering or faking medical or mental health issues.
Scott Sandness, Benefiel's court-appointed attorney, said the request amounted to the prosecution not being happy with the results of the previous evaluations and requesting another.
Nwoga argued that the accusations of malingering or faking were only raised during investigative interviews late in 2019.
Clark expressed concern for the number of continuances in the case while the previous psychiatric evaluations were conducted. The final report of the second evaluation is expected by the end of January.
Jamestown  (Chamber)  The Chamber AgEnergy Committee will welcome ND Ag Commissioner, Doug Goehring; ND Farmer's Union President, Mark Watne; ND Soybeans Growers Association Executive Director, Nancy Johnson; and ND Stockmen's Association Executive Director, Julie Ellingson as panelists.
The Panel will be moderated by Mick Kjar of the Ag Central Radio Network, and will be focused on effects of trades and tariffs on our local and regional economy. It is set to take place at the Winter Ag and Construction Expo on January 16th at 10:30am in the Jamestown Civic Center. This event is free and open to the public.
The AgEnergy Committee strives to educate and inform the public on issues that affect our two largest industries in North Dakota. Hosting this panel is just another great example of the innovation and initiative of this committee. Please join them for what is going to be a great discussion.
For more information visit www.jamestownchamber.com  or call 701-252-4830.
Bismarck  (CSi)  North Dakota Parks & Rec will be holding a Youth Safety Class on Snowmobile Safety in Jamestown January 17 at 5-pm at the Bunker, located at 1520 3rd St. SE.
North Dakota law requires youth ages 10 and older, who do not have a valid driver's license or permit, to take a safety certification class. In addition, those 10 and 11 also need to be directly supervised by a parent or guardian while on public lands.
"The certification is needed in order to legally operate a snowmobile on any public land which includes the state snowmobile trail system and ditches,"
In order to become certified, the following guidelines must be met:
Attend a scheduled classroom or hands-on class in your area, or take the online certification course from home.
Be at least 10 years of age.
Successfully complete the safety certification test.
The classroom certification fee is $20. While the classes are aimed at certifying young riders, anyone who wishes to learn more about snowmobile safety (such as parents or children under 10) is encouraged to attend; no fee is charged.
Jamestown  (NDFU)   – North Dakota Farmers Union President Mark Watne called the signing of a partial trade deal between the U.S. and China a good first step toward resolving the ongoing trade war between the two countries.  He says, "We hope this first phase of the deal is real and not just rhetoric. The trade war the president said would be easy has been extremely difficult.  Farmers and ranchers paid the price."
While the type of agricultural products China will purchase was not disclosed, the agreement calls for China to purchase $40 to $50 billion in agricultural products in each of the next two years. In 2017, China purchased nearly $24 billion. Watne said the agreement will be a solid increase, if China follows through.
Watne adds, "I'm cautiously optimistic, but the agreement doesn't cover our lost sales to China, and it will take time to regain our market share and restore our reputation as a reliable trading partner.  Hopefully, this will create the demand we need to move our markets up."
U.S. agricultural exports to China fell from $21.4 billion in 2016 to $9.2 billion in 2018. Soybeans, which have long been the top overall U.S. export to China, fell from $14.2 to $3.1 billion over the same time period.
Watne says, "Until vessels carrying U.S. agricultural products are landing in Chinese ports, I'm going to be holding my breath a bit," noting the Chinese purchased 800,000 tons of Brazilian soybeans last week. Enforcement will be the key. We will need to mend fences with other countries to hold China's feet to the fire. We should have used a coalition of trading partners from the start."
Regardless of the agreement, Watne said the administration and Congress can't let their guard saying,  "This is the first step forward after many steps back. We know the effects of the trade war will be felt for years to come. As the administration works to rebuild our markets, they must also support producers dealing with the lingering fallout."
BISMARCK, N.D. (AP) — Bismarck Public Schools is believed to the first district in North Dakota to own an airplane. The School Board has given administrators the go-ahead to buy a Cessna 150, single-engine plane for the student aviation program at the district's Career Academy. The Bismarck district has offered an aviation program for the past 12 years at the academy where about 70 students are learning to fly a plane. Grand Forks, Fargo, Minot and Williston also have high school aviation programs. The Bismarck Tribune says district business manager Darin Scherr says the plane will cost between $15,00 and $30,000 depending on its condition.
In sports…
Jamestown  (CSi)  According to reports from individuals  within the local racing community, local driver and former Jamestown Speedway track owner and promoter Don Gumke has died.
Gumke was believed to be killed after becoming pinned under his race car while working on it Tuesday night in Arizona.
He was 66 years old.
Wednesday
Women's Bball
At Newman Arena
Jamestown 71 Briar Cliff  67 (OT)
Jamestown  (uj.edu)  Two three-pointers by Kia Tower (FR/Bigfork, MN) to open overtime sparked the University of Jamestown women's basketball team to a 71-67 victory over Briar Cliff (Iowa) University Wednesday night at Harold Newman Arena.
The quick 6-0 run put UJ ahead 65-59 with 3:56 in the extra frame, but the Chargers rallied over the next three minutes to tie the game at 67.
Emma Stoehr (JR/Woodbury, MN)'s free throws with 18 seconds left proved to be the game-winning points. Briar Cliff had a chance to take the lead, or at least tie, in their last possession, but a steal by Makensi Higlin forced the Chargers to foul and stop the clock. Hannah DeMars (FR/Grand Rapids, MN) knocked down a pair of foul shots with six seconds remaining to preserve the victory.
Wednesday's win was the 100th in the coaching career of Thad Sankey, who won 75 games at Concordia (Mich.) before taking over as head coach of the Jimmies prior to last season.
Tower finished with a team-high 14 points, while Stoehr added 13. Courtney Mosloski (SR/Fairmont, MN) chipped in with 12 points and six rebounds off the bench.
Briar Cliff (5-14 overall, 2-9 Great Plains Athletic Conference) was led by Konnor Sudmann's game-high 26 points and also got 23 points from Madelyn Deitcher.
Jamestown (11-7, 5-6 GPAC) hosts Doane (Neb.) Saturday afternoon at 2 p.m.
Jimmie Men…
Jamestown 95 Briar Cliff 86
Jack Talley (JR/Sioux Falls, SD) scored 23 points to lead six players in double figures as the University of Jamestown men's basketball team defeated Briar Cliff (Iowa) University 95-86 Wednesday night at Harold Newman Arena.
Brady Birch (JR/Melrose, MN) scored 13 points while Isaiah Dobson (SR/Stillwater, MN), Terrell Alfred (SR/Orlando, FL), Marc Kjos (FR/Lake City, MN), and Mason Walters (FR/Jamestown, ND) all finished with 11.
Briar Cliff led 45-39 at the half on the strength of 58.6 percent (17-of-29) shooting. The Jimmies hit on 40 percent (16-of-40) of their first half shots.
The second half proved to be better for Jamestown, as they shot 57.1 percent (20-of-35), outscoring the Chargers 56-41 over the final 20 minutes. UJ held Briar Cliff to 13-of-32 shooting and turned the Chargers over 10 times.
Talley scored with 17:57 to go, tying the game at 48. A basket by Austin Roetman gave Briar Cliff a 52-49 lead at the 16:45 mark, but a Brock Schrom (JR/Grand Rapids, MN) bucket and a pair of Talley free throws put UJ ahead 53-52 just 45 seconds later.
The Jimmies would not relinquish the lead ,which grew as large as 14 after a Talley basket made it 81-67. Briar Cliff would get as close as six points the remainder of the contest.
Roetman and Jackson Lamb each had 22 points for Briar Cliff (11-9 overall, 2-8 Great Plains Athletic Conference).
Talley narrowly missed a double-double, finishing with nine rebounds. Dobson passed out five assists and Kjos recorded three steals.
Jamestown (13-7, 4-6 GPAC) hosts Doane (Neb.) Saturday afternoon at 4 p.m.
(AP) Douglas Wilson scored 22 points as South Dakota State romped past North Dakota 87-66. Noah Freidel had 16 points and six rebounds for South Dakota State, which won its fifth straight. Matt Mims added 14 points and Alou Dillon had 12 points. Marlon Stewart had 17 points and seven rebounds for the Fighting Hawks. Kienan Walter added 15 points and De'Sean Allen-Eikens had 14 points.
(AP)  Vinnie Shahid had 21 points and Tyson Ward made a layup with 1.4 seconds to play to help North Dakota State beat South Dakota 72-70. Stanley Umude led the Coyotes with 23 points and nine rebounds.
(AP) Daniel Oturu had his 12th double-double of the season with 26 points and 14 rebounds, Marcus Carr added 27 points and Minnesota came from behind to beat Penn State 75-69. The Nittany Lions missed 13 straight shots at one point and went without a field goal for almost 12 minutes as the Gophers went on a 16-5 run to take the lead. Myreon Jones and Seth Lundy each had 15 points for Penn State, which has lost three in a row.
UNDATED (AP) —   Domantas Sabonis (doh-MAHN'-tahs sah-BOH'-nihs) matched a season high with 29 points and added 13 rebounds and six assists to lead the Pacers to their third straight win, 104-99 against the Timberwolves. Malcolm Brogdon added 21 points and Doug McDermott scored 14 off the bench for Indiana.
Tobias Harris scored 34 points, including two big baskets in the final two minutes as the 76ers beat the Nets 117-106. Ben Simmons had 20 points and 11 assists to help the 76ers improve to 19-2 at home.
The Trail Blazers earned a 117-107 win at Houston as Damian Lillard scored 25 points and CJ McCollum added 24. Russell Westbrook had a triple-double with 31 points, 12 assists and 11 rebounds for the Rockets, who pulled within five before McCollum and Carmelo Anthony drained consecutive 3-pointers for Portland to make it 111-100 with four minutes left.
The Miami Heat have leapfrogged over the Boston Celtics for the No. 2 spot in the NBA's Eastern Conference by improving to 18-1 at home.
Kendrick Nunn scored 33 points and Goran Dragic (DRAH'-gihch) added 17 in the Heat's 106-100 victory over the Spurs. Nunn hit consecutive baskets to put Miami ahead, 94-83 with 3:42 remaining.
Bam Adebayo (ad-ah-BAY'-oh) contributed 14 points, 13 rebounds and seven assists to help Miami beat coach Gregg Popovich, who cut him from USA Basketball's national team last summer.
DeMar DeRozan scored 30 points on 12-of-14 shooting for San Antonio.
In Boston, Sekou Doumbouya (SEH'-koo doom-boo-YAH') scored a season-high 24 points and the Pistons snapped a three-game losing streak with a 116-103 win over the Celtics. Markieff Morris matched his season best with 23 points and Derrick Rose added 22 while Detroit was shooting a season-best 60.3%.
Gordon Hayward finished with 25 points and Jaylen Brown had 24 for the Celts, who played without Jayson Tatum because of soreness in his right knee.
Checking out Wednesday's other NBA action:
— Markelle Fultz notched his second career triple-double and hit two big layups in the final minute as the Magic ended the Lakers' nine-game winning streak, 119-118. Fultz provided 21 points, 11 rebounds and 10 assists, while Aaron Gordon had 21 points to help Orlando become the first team with a losing record to knock off Los Angeles this season.
— Luka Doncic (DAHN'-chich) recorded his league-high 12th triple-double by delivering 25 points, 15 rebounds and a career-high 17 assists for the Mavericks in a 127-123 win at Sacramento. Seth Curry scored 21 points off the bench as Dallas won its third straight despite the absence of Kristaps Porzingis (KRIHS'-tahps pohr-ZIHN'-gihs), who sat out his ninth consecutive game.
— Rookie reserve Michael Porter Jr. scored 19 points and recent call-up P.J. Dozier had a big Denver debut as the duo led a 100-86 victory over the Hornets. Dozier finished with 12 points in 13 minutes after replacing Jamal Murray, who had to leave the game in the second half with a left ankle injury.
— Norman Powell scored 23 points, and the Raptors blew much of a 30-point lead before knocking off the Thunder, 130-121. Pascal Siakam (see-A'-kam) and OG Anunoby (an-oo-NOH'-bee) each added 21 points for Toronto, which shot a season-high 61.2% from the field.
— The Bulls earned a 115-106 win over the Wizards behind Zach LaVine's (lah-VEENZ') 30 points, seven rebounds and seven assists. Thaddeus Young had 18 points and eight boards, and Tomas Satoransky scored 18 points against his former team.
NBA-NEWS
Williams to make NBA debut next week
UNDATED (AP) — The New Orleans Pelicans have announced that Zion Williamson will make his long-anticipated NBA debut next Wednesday against the San Antonio Spurs. T
The first player taken on last year's draft has missed New Orleans' first 41 games this season and will sit out three more while rehabilitating from arthroscopic surgery to repair the lateral meniscus in his right knee. His arrival comes at a good time for the Pelicans, who have won nine of their last 13 to pull within four games of a playoff spot.
Williamson played in four preseason games before his injury, averaging 23.3 points and 6.5 rebounds. He had surgery in mid-October.
In other NBA news:
— Hawks forward Chandler Parsons was involved in a car wreck after practice Wednesday. The team said Parsons sustained a concussion and whiplash. He will enter the NBA's concussion protocol and won't travel to Friday's game at San Antonio.
— The Suns have signed forward Tariq Owens to a two-way contract. The 6-foot-10, 205-pound Owens was already playing with the Suns' NBA G League affiliate in northern Arizona.
— The Warriors are keeping former two-way guard Damion Lee around for the remainder of the season after he signed a multiyear contract. Forward Marquese Chriss also is back with the team as a two-way player just more than a week after he was waived to clear room for Lee on the roster.
NFL-NEWS
Larry Fitzgerald returning for 2020 season
UNDATED (AP) — Wide receiver Larry Fitzgerald has ended speculation that he will retire.
The Arizona Cardinals have re-signed the 36-year-old Fitzgerald to a one-year contract after he led the team with 75 receptions, 804 receiving yards and four touchdown grabs this season.
Fitzgerald is the Cardinals' all-time leader with 250 games played, 1.378 receptions, 17,083 receiving yards, 120 receiving touchdowns, 120 total touchdowns and 49 100-yard games. He ranks second on the NFL all-time list in receptions and receiving yards, while his touchdown catches are sixth.
In other NFL news:
— Former Commissioner Paul Tagliabue (TAG'-lee-uh-boo) has made the Pro Football Hall of Fame in his fifth attempt. He and former New York Giants general manager George Young made it to Canton, Ohio, as contributors. Ex-Dallas Cowboys safety Cliff Harris and former Cleveland receiver Mac Speedie completed the centennial class. Also going into the hall are Harold Carmichael, Donnie Shell, Steve Sabol, Bobby Dillon, Jim Covert, Winston Hill, Duke Slater, Ed Sprinkle, Alex Karras, Bill Cowher and Jimmy Johnson.
— Steelers president Art Rooney II says the team is confident quarterback Ben Roethlisberger (RAWTH'-lihs-bur-gur) can return to form in 2020. Roethlisberger is in the early stages of rehabilitation after undergoing surgery on his right elbow. Rooney says the team is confident Roethlisberger will be ready for his 17th season next fall.
— Former NFL player Steve Gleason has received the Congressional Gold Medal for his work as an advocate for people with Amyotrophic Lateral Sclerosis, also known as Lou Gehrig's disease. The 42-year-old Gleason was diagnosed with ALS in 2011. He says receiving the Congressional Gold Medal is a sublime honor which represents some joy, some encouragement and some triumphs for the tens of thousands of families living with ALS.
— Veteran referee Bill Vinovich will head the crew for the Super Bowl. Vinovich is in his 15th season as an NFL official and previously worked the 2015 game between New England and Seattle.
T25 MEN'S BASKETBALL
Alabama, Seton Hall, South Carolina pull off upsets
UNDATED (AP) — Three of the AP's top-10 teams in the men's basketball poll tasted defeat, including previously-unbeaten Auburn.
The fourth-ranked Tigers had been 15-0 until Kira Lewis Jr. torched them for 25 points to lead Alabama's 83-64 romp over their archrivals. Herbert Jones had 14 points and 12 rebounds for the Crimson Tide, who led wire-to-wire and held Auburn to a season low for scoring.
Auburn shot just 31.7% in becoming the second-to-last Division One team to lose a game this season. Only San Diego State remains unbeaten.
— Devin Vassell (vah-SEHL') scored 18 points, including a 3-pointer and a pair of free throws in the final seconds to send ninth-ranked Florida State to its eighth consecutive victory, 54-50 over Virginia. Anthony Polite came off the bench to drill four 3-pointers for the Seminoles, who have won 15 of their last 16.
Myles Powell scored 19 of his 29 points in the second half as 18th-ranked Seton Hall rallied past No. 6 Butler, 78-70 at Indianapolis. Gill matched his career high with 17 points for the Pirates, who trailed by 10 at halftime and closed on a 13-4 run to earn their eighth straight victory.
The Bulldogs ended a six-game winning streak despite Kamar Baldwin's 19 points and six assists.
South Carolina pulled off the other upset as freshman Jermaine Couisnard (KOOZ'-nahrd) hit a 3-pointer at the buzzer to give the Gamecocks an 81-78 triumph over No. 10 Kentucky. Couisnard had a career-high 26 points and completed South Carolina's rally from a 14-point hole in the second half.
Keyshawn Bryant scored 15 points for the Gamecocks, who had four players in double figures.
In other top-25 finals:
— Freddie Gillespie had 14 points and 11 rebounds to lead No. 2 Baylor to its 13th straight win, 68-55 versus Iowa State. Jared Butler had 19 points and Davion Mitchell added 17 as the Bears moved to 14-1 overall and 4-0 in the Big 12.
— Quinton Rose scored 19 points and Temple used a strong defensive performance to upset No. 16 Wichita State 65-53. Jake Forrester and Monty Scott each chipped in 11 points as the Owls held the Shockers to 30% shooting while ending a three-game losing skid.
— Georgetown was an 83-80 winner against No. 25 Creighton as Omer Yurtseven had 20 points and 13 rebounds for the 12-6 Hoyas. Mac McClung scored 19 points for the Hoyas, who pulled away for good during a 13-2 run early in the second half.
NHL-SCHEDULE
Flyers stop Blues' home winning streak
UNDATED (AP) — The Philadelphia Flyers needed overtime before halting the St. Louis Blues' team record-tying nine-game home winning streak.
The Flyers wasted a 3-1 lead in the last half of the third period before Jakub Voracek scored in the extra session to complete their 4-3 triumph over the Blues. Tyler Pitlick, Michael Raffl and Travis Konecny scored to give Philadelphia a two-goal cushion, but the defending Stanley Cup champs tied it on tallies by Ryan O'Reilly and Alexander Steen over the last 9:25 of regulation.
The Blues managed to gain a point to take over the NHL's overall lead by one over Washington, but the Capitals have a game in hand.
Elsewhere on NHL ice:
— Zack Smith scored twice and Corey Crawford handled 32 shots as the Blackhawks won for the seventh time in 10 games, 4-1 at Montreal. Alex DeBrincat (deh-BRIHN'-kat) and Drake Caggiula also scored for the Hawks, who are within four points of a postseason berth after slipping to 12-15-6 on Dec. 14.
NHL-GOLDEN KNIGHTS-GALLANT FIRED
DeBoer replaces Gallant in Vegas
UNDATED (AP) —The Vegas Golden Knights have fired coach Gerard Gallant less than two years after he led them to the Stanley Cup Final in their first season of existence.
Peter DeBoer was named as his replacement a month after being fired by the San Jose Sharks. Vegas has lost four in a row to fall out of a playoff position in the Western Conference. The team is just three points back of first place in the Pacific Division. Gallant is the seventh coach to lose his job this season and the fifth for performance reasons. DeBoer joins his fourth NHL team as head coach.
COLLEGE FOOTBALL-NEWS
Higgins leaving Clemson for NFL draft
UNDATED (AP) — Clemson wide receiver Tee Higgins is forgoing his final college season to enter the NFL draft.
Higgins grabbed 59 passes for 1,167 yards and 13 yards as the Tigers won the ACC championship and the CFP semifinal before losing to LSU in the championship game. He had a team-record 27 touchdown catches in three seasons with the Tigers.
In other college football news:
— Running back Clyde Edwards-Helaire, receiver Justin Jefferson and safety Grant Delpit are among seven players from LSU's national championship team who've stated their intention to enter this spring's NFL draft. Offensive linemen Saahdiq Charles and Lloyd Cushnberry also announced they are turning pro, as did linebackers Patrick Queen and Jacob Phillips.
— Bobby Petrino is the new head football coach at Missouri State. He replaces Dave Steckel, who was fired last week after winning just 13 games in five seasons. Petrino has a 119-56 record in 14 seasons at Arkansas, Western Kentucky and Louisville.
— An LSU spokesman says the school has contacted NCAA and SEC officials following Cleveland Browns receiver Odell Beckham Jr.'s apparent cash payments to Tigers players on the field after the national championship game. Michael Bonnette said initial information suggested that Beckham handed out "novelty bills" to players after the top-ranked Tigers defeated Clemson on Monday night. However, further investigation showed that Beckham may have given away real money, Bonnette added.
MLB-NEWS
Dodgers bring back Wood
LOS ANGELES (AP) — The Los Angeles Dodgers have brought back Alex Wood by working out a one-year, $4 million deal with the left-hander.
Wood helped the Dodgers win the 2018 National League pennant before being traded to Cincinnati. He made just seven starts for the Reds while struggling to overcome a back injury that didn't allow him to pitch for the team until late July.
Wood went 16-3 with a 2.02 ERA in 2017, earning his first All-Star selection.
TENNIS-FED CUP-WILLIAMS
Serena Williams to highlight Fed Cup roster for US
WHITE PLAINS, N.Y. (AP) — The USTA says Serena Williams will be part of the U.S. team for its Fed Cup qualifier against Latvia.
It will be the first time Williams has participated in the Fed Cup since 2018. Williams is 13-0 in singles and 3-2 in doubles in 10 previous Fed Cup competitions since her first appearance in 1999.
The U.S. will face Latvia on Feb. 7-8 in Everett, Washington.
AUSTRALIA OPEN-AIR QUALITY
Australian Open defends playing despite poor air quality
MELBOURNE, Australia (AP) — The tournament director for the Australian Open is defending the decision to hold qualifying matches even though the air quality in Melbourne has been among the worst in the world.
Smoke from wildfires devastating parts of Australia has reached the tennis site and some players had trouble breathing.
Tournament director Craig Tiley says the Australian Open's medical team was "satisfied" the conditions were OK for competition.
Play was delayed for an hour one day and two hours another day. Some rain has helped improve the air quality at Melbourne Park.
In world and national news…
TEHRAN, Iran (AP) — Iran's president says there is "no limit" to the country's enrichment of uranium following its decision to abandon its commitments under the 2015 nuclear deal. That move came in response to the killing of its top general in a U.S. airstrike. In a speech before the heads of banks, President Hassan Rouhani said the nuclear program is in a "better situation" than it was before the nuclear agreement with world powers. President Donald Trump abandoned that agreement in May 2018 and has since imposed crippling sanctions on Iran. Last summer, Iran began openly breaching limitations of the agreement in response.
MOSCOW (AP) — Lawmakers in Russia are set to vote on the appointment of a new prime minister a day after President Vladimir Putin kicked off an unexpected reshuffle of his inner circle. Mikhail Mishustin, the chief of Russia's tax service, has already arrived at the the lower house of parliament, or Duma, on Thursday and is meeting with lawmakers. The Duma is widely expected to approve his appointment. The 53-year-old Mishustin would replace Dmitry Medvedev, who was Putin's longtime ally and Russia's prime minister for the past eight years. Medvedev resigned Wednesday together with the whole Cabinet after Putin proposed sweeping changes to the constitution that could keep him in power well past the end of his term in 2024.
ISLAMABAD (AP) — The Taliban say they have given the U.S. envoy a document outlining their offer for a temporary cease-fire in Afghanistan that would last between seven and 10 days. The offer is seen as an opportunity to open a window to an eventual peace deal for Afghanistan that would allow the United States to bring home its troops and end the 18-year war, America's longest conflict. The cease-fire offer was handed to Zalmay Khalilzad, Washington's envoy for talks with the insurgents, late on Wednesday in Qatar, a Gulf Arab country where the Taliban maintain a political office.
WASHINGTON (AP) — One day after signing a new trade deal with China, President Donald Trump is expected to get more good news on his trade agenda. The Senate on Thursday takes up the new North American trade pact. The House has already overwhelmingly approved the United States-Mexico-Canada Agreement. The Senate is expected to do the same and send the measure to Trump's desk for his signature before senators turn to articles of impeachment. Senate Majority Leader Mitch McConnell describes the pact as a "major win for the Trump administration, a major win for those of us who are already ready to move past this season of toxic political noise."
BEIJING (AP) — China has welcomed an interim trade deal with Washington and said the two sides need to address each other's "core concerns." A foreign ministry spokesman said Thursday that the "Phase 1" agreement shows Beijing and Washington "can find appropriate and effective solutions to relevant issues through dialogue." China agreed to buy more American farm exports and Washington dropped plans for additional tariff hikes on Chinese goods. Beijing still wants earlier punitive tariffs to be lifted, which the agreement fails to do. Asian financial markets were mixed amid questions about how China can carry out promises to buy billions of dollars of U.S. soybeans, gas and other exports.