Jamestown  (CSi)  A former patient of the North Dakota State Hospital charged with attempted murder and and aggravated assault of a State Hospital staff member is tentatively scheduled to go on trial next month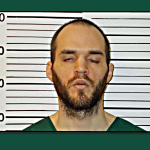 32 year old Jason Benefiel, is accused of striking and choking an employee of the State Hospital on March 29, 2019, at the State Hospital.
Southeast District Court Judge, Cherie Clark tentatively scheduled the jury trial for February 25 in Jamestown.
Clark denied a request from the Stutsman County state's attorney's office to order a third psychiatric evaluation of Benefiel.  Joseph Nwoga, assistant state's attorney said the additional evaluation would be conducted by someone who is an expert in cases of malingering or faking medical or mental health issues.
Scott Sandness, Benefiel's court-appointed attorney, said the request amounted to the prosecution not being happy with the results of the previous evaluations and requesting another.
Nwoga argued that the accusations of malingering or faking were only raised during investigative interviews late in 2019.
Clark expressed concern for the number of continuances in the case while the previous psychiatric evaluations were conducted. The final report of the second evaluation is expected by the end of January.