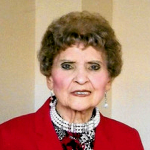 Joan Kahl Britton, 93, Carrington formerly of rural Heaton and Fessenden, passed away Thurs Jan 23, 2020 at Golden Acres Manor in Carrington. Her funeral will be held Thursday, January 30 at 11:00 A.M. at the Church of God in Bowdon with burial in the Heaton Cemetery. Visitation will be held Wednesday from 5 P.M. to 7 P.M. at the Nelson Funeral Home of Fesssenden.
Joan Seil was born January 1, 1927 at Fessenden. She was one of ten children born to Michael and Grace (Janisch) Seil and was raised in the Sykeston area where she attended a nearby country school. Growing up, Joan and her siblings each had certain household jobs to tend to and one of Joan's responsibilities was to get the bread dough ready for rising before she left for school.
On January 6, 1945, Joan was united in marriage to Gordon Kahl in Mandan. They made their home on a farm southwest of Heaton and for a number of years spent their winter months in Texas and California. Following Gordon's death in 1983, Joan made her home in Fessenden where she lived until moving to Carrington in 2015. She was also once married to Newman Britton.
Joan enjoyed cooking and baking, especially her delicious bread and caramel rolls which she shared with others and her bean and ham soup. She also enjoyed cleaning, which was evidenced by her immaculate homes. Joan loved to stay busy. Even as a resident of Golden Acres Manor, she tried to walk five miles a day as long as she was able, and, when relaxing, she would write wonderful letters to family and friends or play word puzzles. She was a great listener and could give advice without saying a word. As her granddaughter Scarlett once said, "Grandma's silence speaks volumes". Joan was adaptable and had the strength and wisdom to accept what came her way, knowing there was nothing she could do to change things.
She is survived by her son, Yori Kahl of Pekin, IL; her daughters, Lorna Adkins of rural Heaton and Loreen Montecino of Laguna Niguel, CA; 11 grandchildren; 17 great-grandchildren and 4 great-great-grandchildren.
Joan was preceded in death by her husbands, Gordon and Newman; her son, Frederick; daughters, Linda and Lonnie Jo; her parents; granddaughter, Scarlett Skiftun; great-grandchildren, Joan Holder and Matthew Adkins; and her siblings, Mary Speed, Catherine Seil, Margaret Wilson, Victor Seil, Harold Seil, Frank Seil, John Seil, Annie Grant and Betty Laber.